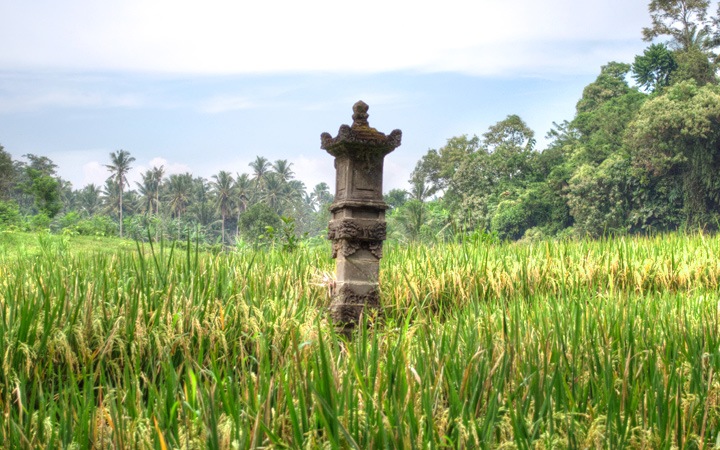 Amongst the green fields of central Bali, Ubud has become one of the island's most popular places to visit. You'll find the Eat, Pray, Love-ers, drinking smoothies and practicing their yoga poses, and the culturalists, touring temples and perfecting their Nasi Goreng on a cookery class. Then there's the general lazers like us, getting massages, drinking mojitos in lamp-lit bars and feeling a world away from the stresses at home. It's an easy place to while away time, but it's popularity does come with some downsides. But when the crowds, traffic and chatter of the street vendors gets too much, in a few minutes you can escape into what feels like a different world – and century – amongst the rice paddies.
Just off the main street, Jalan Kajeng leads you away from the chaos along a path with messages and names of visitors from all over the world carved into the concrete. At the end of the street you emerge into a world of greenery, with rice paddies stretching away in every direction. Even though it's so close to central Ubud, there were hardly any other walkers in sight as we followed the ridged paths along the edge of the fields. We waved at a few labourers resting under a palm tree and passed a flooded field full of quacking ducks, but otherwise all you could hear were the cicadas. You can see how the importance of religion in Balinese life extends out here in the rice fields, with shrines dedicated to the goddess of rice, Dewi Sri. They ranged from simple plaited leaves to stone shrines, all with fresh flowers and offerings.
It's not totally deserted out here though. Along one of the paths we came across the Sari Organik farm. It opened almost 10 years ago and employs local families who grow their organic produce out among the rice fields. You can take a look around the farm and try some of their produce straight out of the ground at their restaurant – from smoothies and cocktails made with fruit wine, to stir fries and fresh herb salads that you can pick yourself. The restaurant is on the second floor of the building with cool breezes and views right across the paddies. From a peaceful spot out there it's hard to believe that about 15 minutes' walk away the streets of Ubud are still packed full of noise and people.
Pin it