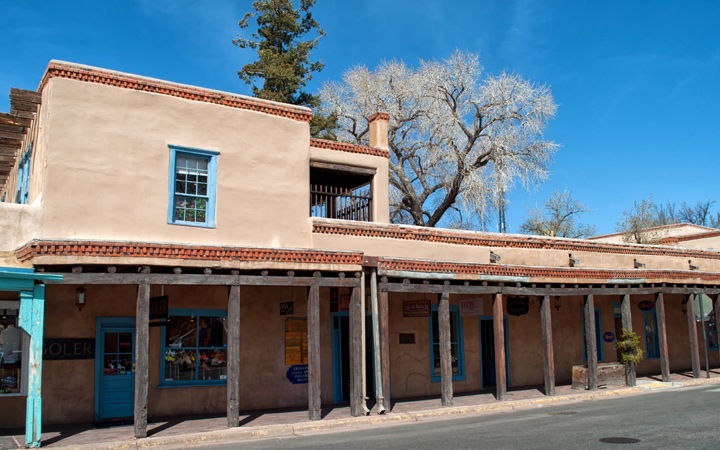 After two weeks road-tripping through national parks and country towns across the southwest, it was time to balance out all that fresh air and exercise with a bit of city living. Cocktails, dinner, shopping and art were all on the agenda, and where better to get my fill of them than the 'city different' – Santa Fe.
In the shadow of the Sangre de Cristo Mountains, the city is one of the oldest in the USA, with a distinctive southwestern look developed from a mixture of Native American, Spanish and Mexican residents over the years. Add in a huge creative and artistic community and a great food and drink scene and you have a laid-back city that warrants a few days' exploration. But with only one to spare before we headed onwards towards our flight home, it was time to see what you can do with one day in Santa Fe.
Santa Fe's street radiate from the central plaza, where every bench was taken with people relaxing on a sunny afternoon. The plaza is a national historic landmark and is surrounded by galleries, museums, shops and restaurants. It's an easy city to get around by foot, with lots of interesting-looking side streets to get diverted off down. The city has a really different architecture style from the other places we'd visited, with its terracotta-colored adobe buildings, made of a mixture of sun-dried earth and straw.
It's not all adobe in Santa Fe though, there are some buildings which look more like they've been transported in from Europe. One of the most interesting was the Gothic-style Loretto Chapel. Apparently inspired by Sainte-Chapelle in Paris, it was built in 1878 and is famous for it's 'miraculous staircase'. The story goes that when it was being built none of the local stonemasons knew how to build a spiral staircase.
So the nuns prayed for help and St Joseph – in the guise of a mysterious travelling carpenter – arrived and built them one that's still there today. There are no visible supports so it's a mystery how it stays up. The chapel's now a museum so you can go and see it to try and work it out for yourself.
Being surrounded by mountains and with its high-altitude clear light, Santa Fe has a long tradition of attracting artists. Visiting its museums and galleries is one of the most popular things to do in Santa Fe. The most famous is one dedicated to the painter Georgia O'Keefe who lived and painted in New Mexico. As well as the museums there's the half-mile long Canyon Road where you can check out over 100 art galleries and studios.
There are artworks dotted all around the city, so we came across mosaics, sculptures and murals as we wandered. As well as art, Santa Fe's also known for its silver and turquoise Native American jewellery – with local artists selling their work in a line outside the Palace of the Governors – and leather goods, blankets and rugs.
Heading away from the plaza, we also took a walk around the city's redeveloped railyard district. This part of the city had fallen into disrepair after the train route through town stopped running. But instead of knocking down the old warehouses they've been converted into galleries, art and craft stores and restaurants. There's a huge farmers' market as well as a park which cleverly incorporates reminders of its past life with old railway tracks and train wheels mixed in with native plants and trees.
But enough walking, it was time for that well-deserved drink – though at 7000 feet above sea level you might feel it a bit more than you would normally. We headed up higher still to the Marble Bewery Tap Room on a terrace overlooking the plaza. This New Mexican microbrewery do a tasting board where you can sample six of their most popular beers, which we soaked up with pizzas from the neighbouring Rooftop Pizzeria.
The blue corn base added a Santa Fe-style twist to the pizza and the chilli added the kick. You can't get away from chilli peppers in New Mexico – they're the state's official vegetable and you can choose whether you'd like yours red, green or 'Christmas' (a mixture of both).
One day definitely wasn't enough time to properly experience Santa Fe – we didn't see all the museums, make it to the opera or try out a spa, let alone getting out into the mountains and countryside beyond. But it was just enough to get a taste of the city and a different kind of southwest lifestyle.
Pin it