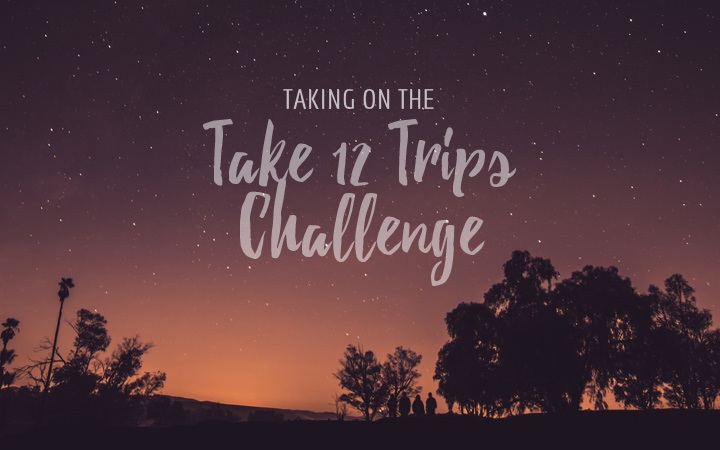 I love reading travel blogs, learning about new destinations and experiencing other people's adventures across the world. But I know that the tales of people who give up their jobs, homes and lives to live out of a rucksack indefinitely can sometimes be hard to relate to. 'Part-time traveller and full-time travel obsessive' is how I describe myself, and although travel is my passion it's not my only one – I have a husband, family, friends, business, house and a couple of cats that all take up their share too.
On the Luce has always focused on combining travel with everyday life and making the most of the time that you have available to travel. So I love the idea that Claire from Need Another Holiday came up with to celebrate her first blogging anniversary. She wants to encourage other part-time travellers with full-time jobs to fit in as much travel as they can, so came up with a challenge to 'Take 12 Trips'.
The idea is to take a trip each month for the next year – it can be an overseas holiday, a weekend near home or even just a day out. It challenges you to incorporate travel into your everyday life, committing to do at least one trip every month and making sure you've always got a trip or two to look forward to. Your trips don't have to be big or expensive either, it's also a good excuse to see more of your local area.
So I'm taking on the Take 12 Trips challenge. I've got a little bit of an advantage in that I work for myself so am not such a slave to the annual holiday allowance. But after a hectic and expensive year, and with big work projects and winter coming up it should help push me out of my comfort zone (which is in front of the wood burner with a glass of wine and a cat on my lap at the moment) and keep me travelling. The challenge started in September so I've already made a start. So where are my 12 trips taking me?
My first trip in September was a relaxing four-day break down on the north Cornish coast. There was a lot more rain than sun, but we managed a sunset walk on the beach and the rest of the time were happy to hibernate in our gorgeous cottage. Then October saw me make my second visit of the year to Portugal, this time for a week in a villa in Lagos with the family. Being spread across the country we don't all get together that often now so it was great to all catch up and get a first taste of the Algarve.
Then coming up in November is a trip to London for the World Travel Market travel conference, where exhibitors from around the world will provide me with lots of inspiration for next year's travels. And in December I head out to Paris for a long weekend just before Christmas. I've never been there in winter so look forward to seeing the city's Christmas decorations, lights and markets. Then beyond that there's another eight months to fill with trips, but you'll have to wait until the New Year to find out where!
You can follow my progress on the Take 12 Trips challenge here on the blog, on Facebook, Twitter and Instagram. You can also check out Claire and the other bloggers taking part by following the #Take12Trips hashtag on Twitter. Or why not join us and take on the Take 12 Trips challenge yourself?
Pin it