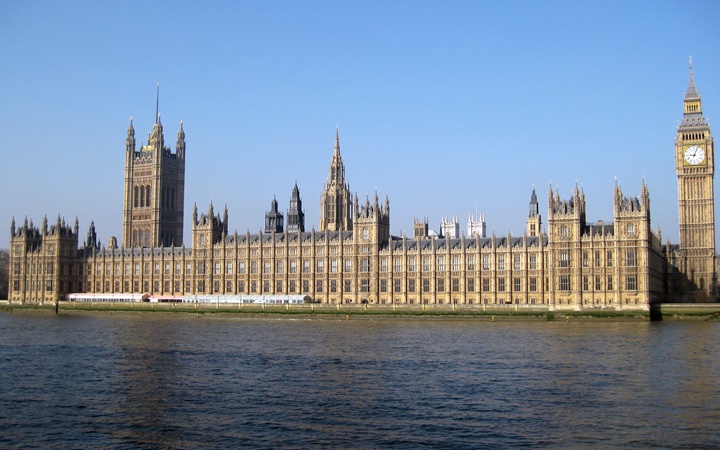 As part of my mission to 'Take 12 Trips' in 2014, I'm taking at least one trip a month – which can be anything from a local day out to an international trip. After starting the year with two trips to the north of England, it was lovely to see some sun on last month's mini-honeymoon in Morocco. But by the time my April trip came round, spring was on its way, with blossom on the trees in my destination of the month – London. I lived in London for over ten years, but despite that there's still a huge list of places I never got around to visiting. Why is it we're always worst at exploring our own backyard? So now every time I visit the city I take the chance to play tourist and see some of the sights while I'm there. This time I brought my sister with me to celebrate her birthday with a trip to one of the city's most iconic buildings.
Yes it's the Houses of Parliament – or more accurately I should say the Palace of Westminster. One of the things I learnt on my visit is that the building is actually a palace. It gets its more usual name from what goes on inside – as a meeting place for the two parliaments of the House of Commons and House of Lords. It used to be that the only way you could get inside the building was for UK residents to book a tour with their local Member of Parliament. But now it's open for public tours when Parliament isn't sitting. So that's Saturdays as well as some weekdays during the Christmas, Easter and summer recesses. One of which happened to coincide with my April trip to London, so I booked us in for an audio tour.
The tour took us from the cavernous Westminster Hall, the oldest part of the building, through a series of rooms with grand names like the 'Queen's Robing Room' and 'Royal Gallery'. But the highlights were the House of Commons and House of Lords. Growing up in the UK I must have seen them pictured in news footage or newspaper articles almost every day, so it was all strangely familiar. In real life the House of Lords was gloriously opulent, full of deep reds and gold details, and the House of Commons looked almost ordinary in comparison, in subdued dark greens.
By the end of the tour we were overflowing with information so headed off to our next stop to digest it (and a tasty lunch) at Westminster Abbey. We left exploring the Abbey itself for another day and went straight to the Cellarium restaurant. The restaurant is set in a 14th-century stone building next to the Abbey and is spread over different levels, from the cellar itself with its arched ceiling all the way up to a light and airy terrace. It's run by the Benugo chain who have restaurants in a lot of London museums and tourist attractions, with British classic dishes like my Cornish lamb casserole. The sun was just about out so we took advantage of it and had lunch and a couple of celebratory birthday proseccos upstairs.
After lunch we hopped on the Tube across to Hyde Park, passing our second palace of the day – Kensington Palace. Originally built in the 1600s, it's been home to generations of the British Royal Family. One of the best-known recent residents was Princess Diana, who lived there from her marriage to Prince Charles up to her death in 1997. I was visiting London on the day she died and remember walking past the palace and seeing thousands of bouquets piled up outside the gates. These days Diana is memorialised by a fountain in Hyde Park and the palace is home to her son William and his family. You can take a tour of Kensington Palace and have a fantastic afternoon tea in their Orangery, but we headed on for a slightly less fancy tea and cake stop in one of the park cafés overlooking the Serpentine.
The Serpentine lake covers 40 acres, cutting right across the centre of Hyde Park. The water was filled with people in rowing boats and pedalos, though the spring weather wasn't quite warm enough to get anyone into the water. A section of the lake is roped off as a lido which is open to the public in summer and hosted the swimming section of the triathlon at the 2012 Olympics. Or if you're feeling brave then members of the Serpentine Swimming Club can swim there all year – they even get into the water on Christmas Day for a 100-yard race called the Peter Pan Cup. Even in April it was at least 20 degrees too cold to get me into the water, but maybe a swim in a London lido might be one my for next visit!
Are you taking part in the #Take12Trips challenge and where are your travels taking you in May? Although I'm heading off to Norway this week, my #Take12Trips for May is actually going to be to another surprise European destination – follow me on Twitter or Facebook for a sneak preview!