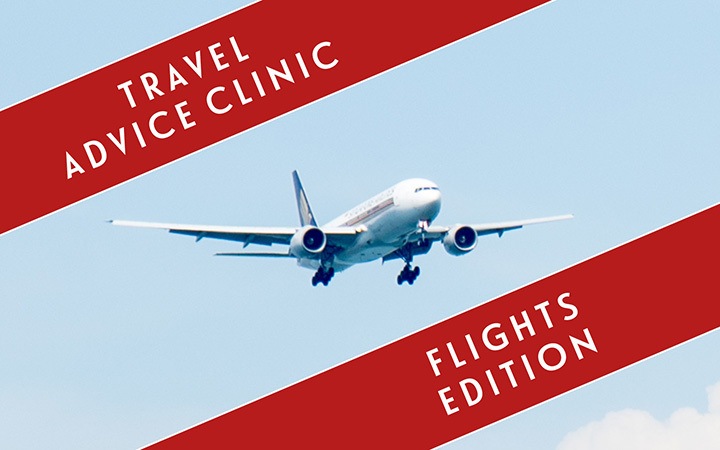 Welcome to the second edition of my travel clinic, where I share advice I've picked up over years of planning trips. These are the tips and tricks that I use to keep costs down and make my travel life easier. The first edition was all about accommodation, but this time we're talking flights. I have to admit I'm happier travelling by train, but there's a lot of the world you can only really get to on board a plane. The flight might only be a relatively small part of the trip, but that doesn't mean that delays and bad service can't spoil your holiday. So how do you find the right airline – and for the right price?
How do you find the best flight deals?
There are so many different flight booking sites you can easily waste days searching for the best deal. Skyscanner is one of my favourites to start with, especially if you're flexible on dates or location – I love their 'everywhere' search for a last-minute trip. If you're more fixed on dates or routes then try comparison sites like Kayak and TravelSupermarket. It's also worth trying consolidators like Expedia or Opodo as well as package tour operators (sometimes it's cheaper to book a package and not use the accommodation).
It's a good idea to follow the airlines on social media or sign up for their email newsletters to get notified of upcoming sales. You're also advised to empty the cookies from your web browser after searching as the site records your visit and can up the price when you come back. If you can then book in advance – around 60 days is best – but not too far as the prices aren't properly calculated before six months in advance. The cheapest time to fly is usually on Tuesday or Wednesdays in the early morning or late at night, and steer clear of busy periods like Christmas, Easter and the school holidays. If you can't book early then there can be last-minute bargains if airlines still have seats available.
Budget airlines may look cheaper but make sure to factor in all the extra fees for baggage, booking fees and credit card surcharges. And remember that cheapest isn't necessarily best for flights, you also have to factor in other things like the number of connections and transfer times. That flight which saves you £100 might not be such a bargain if you lose a day's holiday and end up spending half that on airport food.
I've found a really cheap flight with a random airline, how do I know if they're any good?
Sometimes a great deal shows up on a flight search but it's with an airline you've never heard of. So how do you find out how good they are – and more importantly how safe? Skytrax ranks airlines from one to five stars, based on the quality of the plane and the service. Everything from the cleanliness of the bathrooms to the enthusiasm of the staff is rated, in both economy and business class, plus there are reviews from recent travellers. Five-star airlines include Cathay Pacific, Singapore and Qatar Airways going down to Korea's Air Koryo with one star. British Airways gets four stars, Easyjet three and Ryanair two.
Even if you're not too bothered about the frills then safety's still vital. It's hard to compare safety records but Airline Ratings do a one to seven star ratings system. Generally domestic carriers in Africa, Asia or South America come out worst as if a plane is permitted in European or US airspace then it's usually safe.
Is it worth paying the extra for business class?
It depends on your priorities! I would love a bed in business class for long-haul flights but the price difference has always been so big that I'd rather spend the money on accommodation or activities instead. I've flown business class a couple of times this year though on short-haul flights, either using air miles or where the price wasn't that much higher. The main difference was getting fast-track access through security, airport lounge access, a bigger seat (two people share the space for three seats) and better food and service. Flying from London to Marrakech it was only £50 extra to fly business class which was almost what we'd pay for dinner and drinks at the airport. If you do want a taste of luxury without splashing out on a pricey ticket, then you can pay for lounge access – No 1 Traveller Lounges give you fast-track security as well as getting food, drinks and spa access for £18–£40 (depending on location).
Are frequent flyer schemes worth it?
If you fly a lot, frequent flyer schemes can be a good way to earn free flights or upgrades. But you need to weigh up whether you're likely to fly with the same airline (or at least one from the same alliance) often enough to make it worthwhile. If you're just searching by price it'll probably be cheaper to use different airlines or budget carriers that don't have frequent flyer schemes. Most major airlines have their own schemes and they combine into different alliances – Oneworld (including British Airways, American Airlines and Cathay Pacific) and Star Alliance (Air Canada, Air New Zealand and United) are the biggest two.
As well as earning miles by flying, you can collect them by signing up for credit cards – with the most offers found in the US. You can also collect miles by shopping online and on car rental and foreign currency. You can use your miles for flights (either partially or in full) or upgrades, though there's limited availability so you need to book well in advance. You still have to pay airline taxes, which are really high in the UK, so sometimes a long-haul economy flight doesn't work out much cheaper using miles, but redemptions are better value in business class or for short-haul trips. See Head for Points (UK) or The Points Guy and Travel Hacking Cartel (USA) for lots of information on collecting and redeeming miles.
Can I get compensation if my flight is delayed or cancelled?
I know all about this one! Under the EU's Denied Boarding Regulation, you get certain rights if you're flying with an EU-based airline (or on a non-EU airline if it's flying from an EU airport). If you're delayed over two hours you're entitled to refreshments as well as hotel accommodation if you're stuck overnight.
You can also get compensation if you're delayed over three hours, though 'extraordinary circumstances' like extreme weather, strikes or wars are excluded. The airlines have tried to count technical problems as extraordinary circumstances, but they lost a court case and their appeal was recently thrown out, so you can now claim for flight delays back to 2005. The amount depends on the distance you're travelling and how late you are – starting from €250 if you arrive three hours late on a flight under 1000km, up to €600 if you're four hours late and travelling over 3500km. You're also entitled to a refund if you decide not to fly.
Do you have any other flight questions or tips and tricks to share? The next travel clinic will be about photography, so if you have any questions get in touch.
Pin it