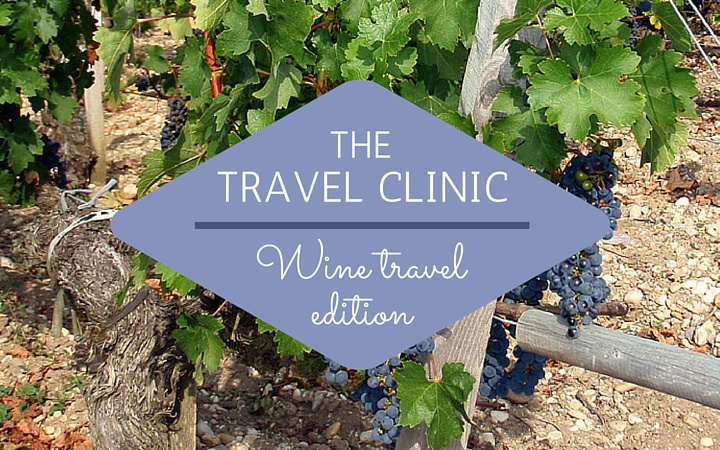 Welcome to the fifth edition of my travel clinic, where I share the tips and tricks I've picked up over the years to help make your travel life easier. This time I'm bringing two of my passions together with questions on wine travel. In one of my lives away from blogging I've been studying wine (and no that doesn't just mean doing a lot of tasting, though practical work is very important!) and one day I'd love to lead wine tours around the world. Until then I love visiting wine regions on my travels, and have picked up a few tips from vineyard visits everywhere from Herefordshire to New Zealand. So pour yourself a glass and let's get started…
Where's a good place for a first-time wine trip?
There are so many to choose from! Your perfect wine trip will depend on how far you want to travel and what kind of wines you like, but here are some of my favourites to get you started. France is the classic European wine destination and there are lots of good weekend break options – you could stay in Bordeaux and travel out to some of the world's most famous and expensive vineyards (pack your credit card!). You could stay in Beaune and visit the Burgundy vineyards, or go Champagne tasting in Reims, with some big names like Veuve Clicquot right in town and lots of smaller producers in the surrounding countryside.
In Portugal you can go port tasting in Porto then take the scenic train up into the Duoro valley which produces lots of good reds. In the US you can combine a trip down the Californian coast with tastings in Napa, Sonoma or Santa Barbara. Or across the border in Canada there's the Okanagan Valley, with wineries surrounded by beautiful lakes and mountains. Marlborough in New Zealand is home to some of the world's best Sauvignon Blancs and some stunning coastline, or in Argentina you can drink amazing Malbec on a backpacker budget. There are also cities with wine regions nearby where you can combine the two – like Cape Town (Stellenbosch), Sydney (Hunter Valley), Santiago (Maipo) and Auckland (Waiheke Island).
What about more unusual wine destinations?
If you've already been to the famous wine regions or fancy something a bit different, there are lots of places that have great wines you'll probably never have heard of. A lot the time they don't make enough to export so you can only buy it out there. In Europe, you can head to Croatia's Istria peninsula where they make good white wines from a grape called Malvasia. You can also find the same grape growing in the Canary Islands, where vines grow in holes dug into the black volcanic soil rather than in the usual neat rows.
Hungary is famous for a sweet wine called Tokaj that's grown in the north-east of the country, but it has seven wine regions that produce dry reds and whites too. Neighbouring Romania was a huge wine producer back in the 1980s but the wine industry collapsed after the Revolution. It's on the up again now and you can find good whites in Transylvania and reds in Dealu Mare, north of Bucharest. A bit further afield Lebanon is one of the world's oldest wine-producing regions, with great reds being made in the Beqaa Valley. Or if you're feeling really adventurous Thailand, India and China all produce their own wines too.
Does someone have to drive?
Being the designated driver does take the fun out of wine tasting, but there are ways around it if you don't have a teetotal friend to bring along. Some wine regions are more spread out than others, but a lot of the time there are enough wineries close together that you can get around by bike – I've done cycle tours around vineyards in Sonoma in the US and Marlborough in New Zealand. You can pick up a map of the wineries from the local tourist office or often bike hire shops will have a suggested route. Make sure you get a bike with panniers if you want to bring some wine back (or make arrangements to pick it up later).
If you want to cover a bit more ground then you can hire a driver for the day (a lot of the US wine regions have a 'wine limo' service) or take a tour. The Winerist website is a really good resource for booking wine tours around the world, with everything from a few hours to multi-day trips with accommodation.
How about wine tours in the UK?
The UK has a surprisingly big wine industry, with 500 vineyards and growing. And even more surprisingly some of it is really good, especially the sparkling wines which have been known to beat Champagne in blind tastings. A lot of vineyards are tiny family-run operations, but there are some that are open to visitors. One of the biggest is Denbies in Surrey, who do a whole range of different tours and tastings – from wine and cheese pairing to a tour through the vineyards on a miniature train (a standard tour with three tastings is £9.95). For something a bit more boutique, check out the English Wine Producers website for details of all the small producers across the country, many of which do their own tours and tastings.
If you don't want to stagger too far to bed after your tasting, you can stay on site at some UK vineyards. Three Choirs Vineyard near me in Gloucestershire rents out B&B rooms and wooden cabins and does wine tasting breaks which include accommodation, dinner, a tour and tasting (from £240 per night). There's also Camel Valley in Cornwall which has two self-catering cottages overlooking the vines (one sleeping two and one for four) and Valley Farm in the Suffolk countryside which has an eight-person self-catering barn.
How do I learn more about wine?
Lots of wineries, wine bars and wine shops offer tasting classes where you can try a few different wines, learn about how they're made and gets tips on food and wine pairing. If you want to teach yourself a bit more and get inspiration for future wine trips then check out the World Atlas of Wine (maps meet wine, no wonder it's one of my favourite books). Or if you want to get more serious about wine then look out for a course from the Wine and Spirit Education Trust (WSET). They have a wine school in London but their courses are taught and recognised all over the world. There are different levels from 1 (a one-day basic introduction) to 4 (a two-year diploma with exams and blind tastings), all of which you can do online.
Do you have any other wine travel questions or tips and tricks to share? The next travel clinic will be about skiing, so if you have any questions get in touch.
Pin it