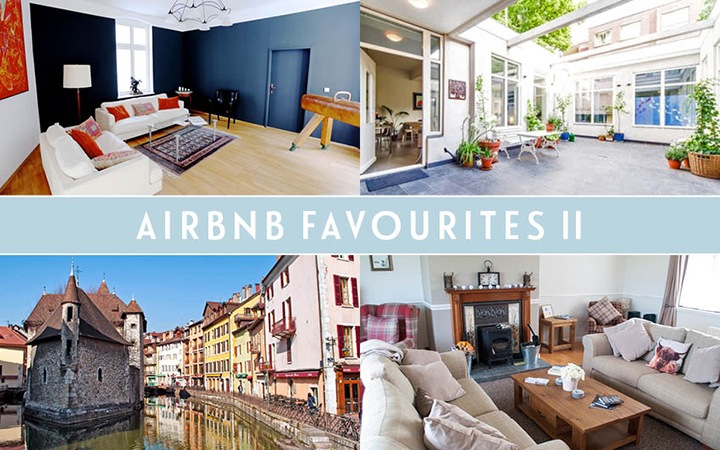 I've always liked the freedom and flexibility you get from renting a house or apartment when you travel. And over the last couple of years AirBnB has taken over the self-catering world – there aren't many destinations not covered on the site. It has its critics though, and like anything you need to be careful – make sure to check the reviews, always pay through the AirBnB site and never by bank transfer, and watch out for the cleaning and admin fees. I've luckily not had any bad AirBnB experiences, but the huge number of properties can be overwhelming – how do you pick a good one? A year ago I did a round up of my favourite AirBnB properties I'd stayed in. So I thought it was time for a second edition, this time including some great places I've tried out Berlin, Amsterdam, Annecy and the Outer Hebrides over the last year.
p.s. If you've not yet signed up with AirBnB, you can save £30 on your first stay with this link.
Read more: AirBnB favourites: Bergen, Strasbourg, Vienna & Praiano
Berlin, Germany
Apartment rentals come into their own when you're going away as a group and want to hang out together without having to sit on someone's bed. So for a winter trip to Berlin we picked an apartment in Mitte, a few minutes from Friedrichstrasse station. This area's is right in the centre of the city so you can walk to the major sights – the Reichstag, Brandenburg Gate, museums and Berlin Wall. There are a few restaurants and shops close by too. The building dates back to 1836 and the apartment's on the second floor. It sleeps up to six, with three bedrooms – two doubles and a twin – two bathrooms and a big kitchen with a dining table. The lounge also comes with the slightly unexpected addition of a pommel horse in case you want to try out your gymnastic skills! There's also a small balcony so you've got a place to sit outside if the weather's good. And inside was nice and warm even during a very chilly Berlin February.
What I loved: the pommel horse (a lot tougher than those Olympians make it look!).
What I didn't: the area's great for exploring but not so much if you're looking for crazy nightlife.
The cost: four nights for four people in February cost £476 in total (£30 per person per night).
Amsterdam, Netherlands
Like in London and Paris, hotel rooms in Amsterdam can blow the budget, and I'd ended up stayed in some pretty uninspiring spots on previous trips. So this time I went for an apartment in the Jordaan district instead. It's a great location close to the canals and 10 minutes from Anne Frank's House, and there are plenty of cafés, bars and restaurants nearby but is still quiet so you don't get disturbed. The apartment sleeps two, with a double bedroom and an open-plan kitchen and living area. It's clean and modern inside with a mix of old and new furniture and a well-equipped kitchen (there's a decent grocery shop in the parallel street). Outside there's a courtyard area shared with the neighbouring flats – unfortunately it rained almost all the time we were in Amsterdam but it would be a perfect spot for a drink on a sunny evening.
What I loved: the fantastic location in Jordaan and the stylish design.
What I didn't: the windows face the central courtyard so you do feel a bit exposed to any passing neighbours if you don't have the blinds shut.
The cost: two nights for two people in September cost £217 in total (£54 per person per night).
Annecy, France
With its mix of lakes, canals and castles, Annecy has to be one of France's prettiest spots. And we couldn't have found a better location than our apartment right at the heart of it (in the yellow building in the picture below). From high up on the top floor we could look out over the rooftops to the castle and snow-capped mountains in the distance. The apartment is open-plan and sleeps up to four people. There's a kitchen-dining-living room with a comfy double sofa bed, and a separate double bedroom. You're right in the centre of Annecy so it's an easy walk to everything, with plenty of places to eat nearby. It's also a 5-minute walk to a Monoprix supermarket if you want to stock up on food. Or there's a market selling local produce like cheese and cured meats along the canals on Tuesdays, Fridays and weekends.
What I loved: the location and views over the old town, stunning by day and night.
What I didn't: climbing up a ton of stairs to get those views – especially when you've got heavy bags.
The cost: six nights for four people in March cost £474 in total (£20 per person per night).
Isle of Lewis, Outer Hebrides, Scotland
My final pick is from the Isle of Lewis in the Outer Hebrides. The house is located in the tiny hamlet of Brue on the island's west coast. The surroundings are gorgeous, with sea views and big panoramic windows to make the most of them. You're 25 minutes from the main town Stornoway where you'll find supermarkets and the airport. There's also a great takeaway place, 40 North Foods, a few minutes away. The house has plenty of space, with a big kitchen-diner, a lounge and a snug with a TV. It sleeps up to 10, with four bedrooms – three doubles and a twin – plus a sofa bed. The master bedroom has an en-suite and there's a big bathroom with a shower and roll-top bath (with a view), as well as a downstairs toilet. It's really elegantly designed with a few quirky Scottish touches, like the antler light fittings. In summer there's a fire pit and BBQ outside or in winter there's a woodburner and warm blankets to snuggle up in.
What I loved: the cosy feel, having lots of room to spread out and those amazing views.
What I didn't: not much, though the rural location means you really need a car to get around, and hiring one is quite pricey in the Outer Hebrides.
The cost: four nights for seven people in August cost £887 in total (£32 per person per night).
Do you have a favourite AirBnB rental you'd recommend?
Pin it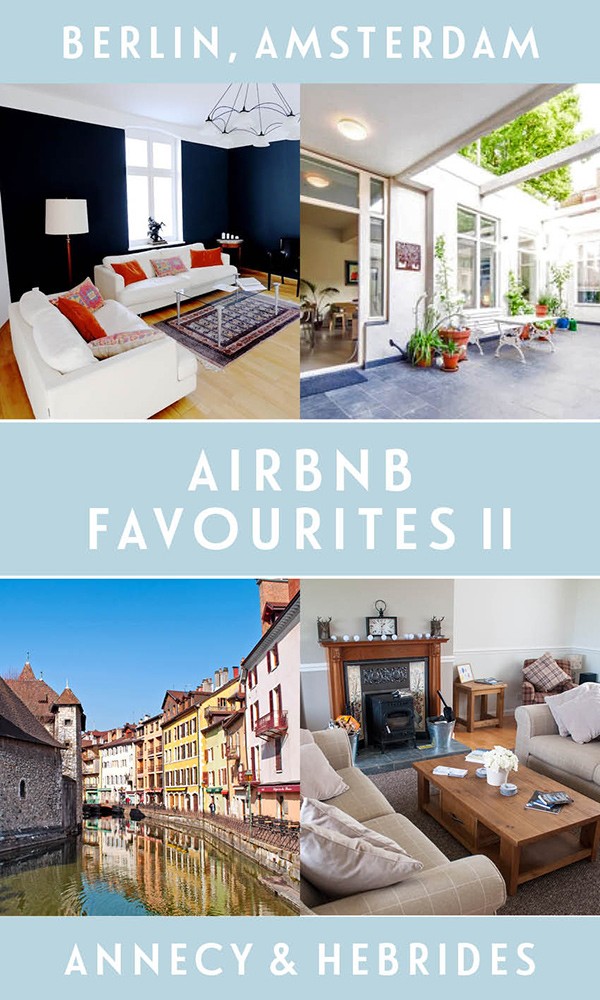 Some images are courtesy of AirBnB but I booked and paid for all my stays myself. This article contains affiliate links, where I get a small commission at no extra cost to you – thanks.