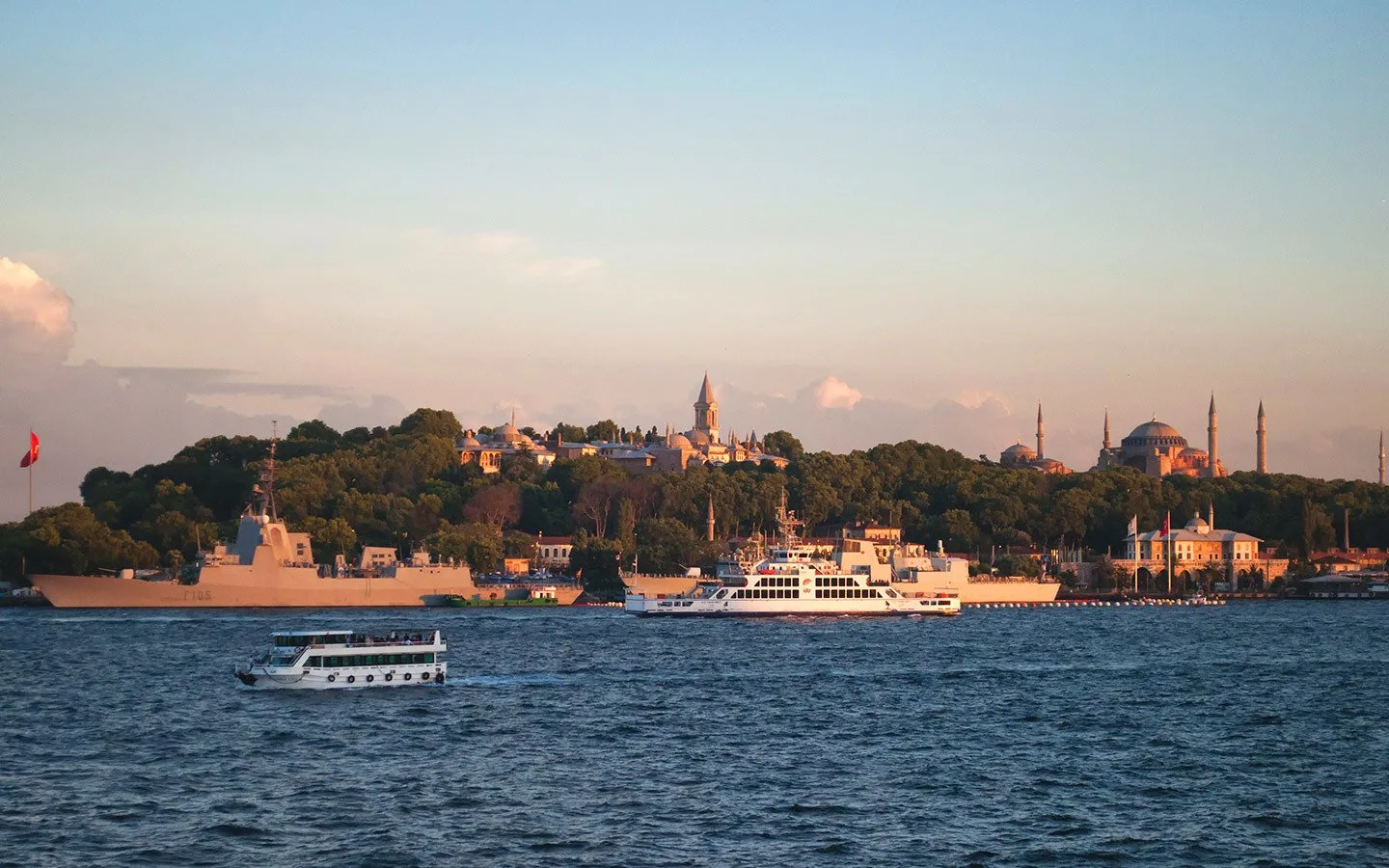 Istanbul is up there with places like New York, Paris and London as one of the world's great cities. Places where each different neighbourhood is almost a city in its own right, where you could spend a few months and still only scratch the surface. But what if you only have one day? Istanbul was the final stop on our Mediterranean cruise, and with only a limited time to explore, rather than spreading ourselves too thinly across the city, we headed straight to Sultanahmet.
Located on a peninsula, Sultanahmet is the old heart of Istanbul. Formerly known as Constantinople, it was once an entire city in its own right, protected by water on three sides and city walls on the other. Today it's just one part of modern Istanbul, but it's where you'll find some of the city's most famous historic buildings. You'd need more than a day to see it all, but as many of Sultanahmet's main sights are within a short walk of each other, you can pack a lot into a 24-hour stopover – so here's my itinerary for spending one day in Istanbul.
Things to do in Istanbul in one day
Visit the Blue Mosque
The Sultan Ahmed Mosque – better known as the Blue Mosque – is one of the most recognisable buildings in Istanbul, with its minarets visible from across the city. But when it was built in 1609 it caused uproar as it had six rather than the usual four minarets. Legend has it that the architect misunderstood the Sultan when he asked for golden (altin) minarets and thought he said six (alti), ending up with one of the world's grandest mosques.
Despite the name, the mosque isn't actually blue on the outside, but the huge domed ceilings inside are covered with over 20,000 ornately patterned blue Iznik tiles. The soft light through the stained-glass windows and the quiet murmur of prayer make it a peaceful escape from the bustle of the city outside. Note the mosque is closed for around 30 minutes five times a day for prayers, and women visitors need to cover their hair (scarves are available to borrow).
Experience a mix of cultures at the Hagia Sophia
Just across Sultanahmet Square from the Blue Mosque is another of Istanbul's most famous buildings – the Hagia Sophia (entry 100 Turkish Lira – or you can pre-book a guided tour with a skip-the-line ticket to avoid the queues). It was originally built as a Greek Orthodox church in the sixth century but over the years it's also been a Catholic cathedral and a mosque. It survived earthquakes, fires and wars. And today it's a non-denominational museum, with a mixture of east-meets-west influences adding up to make something unique and beautiful.
The Christians contributed the grand dome and the Biblical mosaics (which are well preserved as they were hidden away when it was a mosque), then the Muslims added the hanging chandeliers and Arabic calligraphy after it become a mosque in 1453. Combined together you have a dazzling mixture of gold-tinged paintings, carvings, mosaics and delicate latticework.
Get lost in the Grand Bazaar
Istanbul's Grand Bazaar is one of the world's oldest and largest covered markets, with more than 4000 shops spread through 64 streets and covering an area of 30,700 square meters. It started off as a 15th-century trading post between Europe and Asia, and has spread into a labyrinth of stalls along twisting and turning narrow streets. Businesses have sprung up to cater for the stallholders and you'll find restaurants and cafés selling local dishes in among the stalls.
The Grand Bazaar is a colourful and chaotic experience, with stallholders calling out to a flow of 250,000 visitors a day. You can pick up a range of local goods, from carpets and leather to ceramics and gold jewellery. Browse, chat with stallholders and share a cup of tea. But practice your haggling skills if you don't want to pay over the odds, and be prepared to get lost in the maze of alleyways – part of the fun is seeing what you come across when you do.
See how the Sultans lived at the Topkapı Palace
The Topkapı Palace was the main residence of the Ottoman Sultans for over 400 years until the mid-19th century. It was built by Sultan Mehmet II between 1466 and 1478, and at its peak it housed 4000 people with its own mosques, hospital and mint. Its now a museum, with some of the grandest rooms open to the public (entry 72 Turkish Lira plus and extra 42 for the Harem – or you can pre-book a guided tour with a skip-the-line ticket to avoid the queues).
Around four main courtyards you can see treasures like jewellery, calligraphic manuscripts and porcelain. You can also visit the Harem – home to the Sultan's mother, wives and up to 300 concubines, and beautifully decorated with painted tiles and stained glass windows. The palace also has fantastic views across the Bosphorus from its gardens and terraces.
Go underground at the Basilica Cistern
An underground cistern isn't the most obvious tourist attraction, but the Basilica Cistern is not your usual water tank. It was built for Byzantine Emperor Justinian in 552 AD and stored 80,000 cubic metres of water for the nearby palaces, which was delivered by 20km of aqueducts from a reservoir near the Black Sea. But when the emperors relocated from the Grand Palace, the cistern was abandoned and forgotten for centuries until it was eventually discovered in 1545.
After a massive restoration in 1985 the Basilica Cistern was opened to visitors. It's a moodily atmospheric place to visit – as well as being a cool refuge on a hot day (entry 20 Turkish Lira). The size of a cathedral, its domed ceilings are held up with 336 carved stone columns. They're lit with golden lights, glowing in the darkness and reflected in pools of water below.
Take a boat trip on the Bosphorus
As the peninsula is surrounded by water on three sides, a boat trip is one of the best ways to see Sultanahmet – as well making as a relaxing break from running around the city sights as there's a lot to into your one day in Istanbul. The Bosphorus Strait is about 20 miles long and divides Asia from Europe, joining the Black Sea to the Sea of Marmara.
There are a wide range of different boat trips you can take along the Bosphorus – from public ferries to tour boats, lasting from a couple of hours to a full day. As we came in on a cruise ship we got a Bosphorus cruise on our way into Istanbul, but you can also pre-book a daytime or dinner cruise. Or otherwise you'll find boats lined up along the Eminönü docks near the Galata Bridge, so you can just find the next one leaving (or with the best price).
Watch sunset from the Galata Bridge
Linking Sultanhamet with the more modern Beyoglu area, the Galata Bridge is more than just a way of getting across the water. The current bridge was built in 1992 on the site of three older bridges. Its top level hums with constant traffic from passing cars and trams. But underneath there's another level right on the water's edge, which is lined with restaurants and cafes where you can grab something to eat and drink, day or night.
In the daytime you can watch the fishermen and the ferries going past, and in the evening you can drink a beer or smoke a nargile water pipe as you watch the sun go down and the mosques silhouetted over Sultanhamet, making the perfect end to a day in Istanbul.
More time?
If you've got another day in Istanbul, then why not explore some of the city's other neighbourhoods? Head to hip Karaköy for trendy cafés and boutique shops. Explore Taksim Square and the SALT Galata art museum in Beyoğlu. Or take a walk along the promenade by the Bosphorus and party the night away in the waterfront bars and clubs of Arnavutköy.
You can also take a longer boat trip out to the Princes Islands, a peaceful archipelago of nine small islands in the Sea of Marmara where the only method of transport is a horse-drawn carriage. Or why not relax at a hamman – a Turkish bath house where you can get a sauna, scrub and massage. There's a variety available, from affordable basic local facilities to high-end spas.
Where to stay in Sultanahmet
If you want to splash out, the Four Seasons Hotel Istanbul has one of the most impressive views in town, with a roof terrace overlooking the Haghia Sophia, Blue Mosque and out to the Bosphorus. The building was formerly an Ottoman prison but has been refurbished in luxury style, with a spa, restaurant and courtyard garden. Double rooms from €255/£232 a night.
Or if you're on a budget, we stayed at the Cheers Lighthouse, a colourful hostel a few minutes' walk from the centre of Sultanhamet. There's a mix of dorm beds and private rooms, with a restaurant and bar attached. The staff also run activities like walking tours, pub crawls and communal dinners. Private triples from €75/£68 a night and dorm beds from €12/£11.
Pin it
This article contains affiliate links, where I get a small commission at no extra cost to you, thanks.