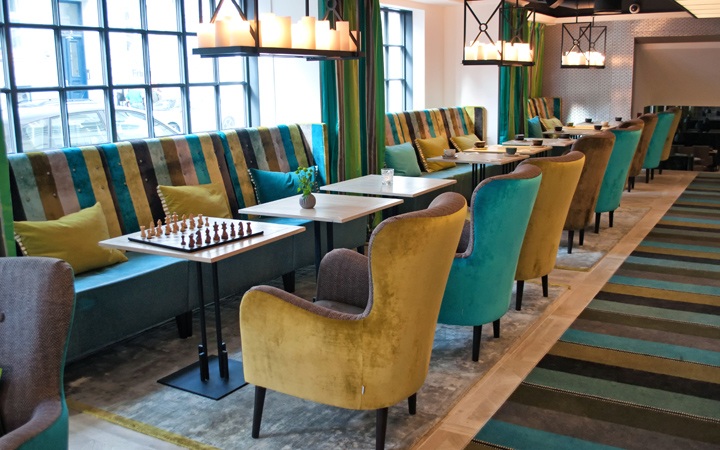 Although I do a lot of apartment stays, sometimes it's nice to just check into a hotel and let someone else do everything for you. By the time I got to Copenhagen I was in serious need of relaxation, and the Absalon Hotel certainly delivered it. One of Copenhagen's oldest family-owned hotels, the Absalon was founded in 1938 with just 11 rooms and is still owned by the same family today. It's grown a bit since the 1930s though, and has recently been completely refurbished with design help from the English Designers Guild. So rather than the stark, minimalist Scandi style you might expect too see in Denmark, instead there are lots of bright colours, patterns and rich fabrics which give it an opulent, warm and welcoming feel.
Read more: Visiting Copenhagen on a budget
The location
The hotel is located in Copenhagen's Vesterbro district, to the west of the city and close to the main train station. It takes less than 15 minutes by train from the airport and is only a five minute walk to the hotel from the station – much appreciated as our flight didn't get in until 11pm. Vesterbro had a slightly sketchy past as Copenhagen's red light district, but these days it's become one of the city's hippest neighbourhoods. You might still spot the odd shop window full of PVC underwear, but they're far outnumbered by trendy cafés, bars and design shops. Right on the hotel doorstep is the Meatpacking District, with great restaurants and a weekend food market. As well as being close to the station you're also a five-minute walk to the Tivoli Gardens, 10 minutes to the museums on Slotsholmen and 25 minutes to Nyhavn.
The rooms
The hotel has 161 rooms, ranging from the smallest Absalon Rooms up to junior suites with separate living rooms. We stayed in a Superior Room, which was right up on the top floor with views out across Copenhagen's rooftops. The colour scheme for the top-floor rooms is 'Grass', with a mix of bright green, fuschia and black – it sounds slight crazy but it worked really well. With the stripy cushions and curtains and a big armchair in the corner it all had a bit of an Alice in Wonderland feel. The room was huge with a seating area, big wardrobe and separate kitchenette with a sink, kettle and fridge. The en-suite bathroom was modern and clean, with a very high-tech lighting dial where you could change the colour of the LEDs above the shower. The only thing I could fault was the hairdryer, which committed the double sin of being attached to the wall and having a button you had to hold down (hairdryers are becoming my new hotel obsession!).
The food
It's easy to forget how many rooms the hotel has as it has much more of a small, boutique hotel feel, and even at breakfast it didn't feel crowded. Breakfast is a cold buffet, with two separate food stations that are constantly replenished, and plenty of seating areas. You get the usual European breakfast staples of juices, cereals, fruit, yogurt, ham and cheese – including a local cheese with a rather nifty wire cutter that spins around so you can cut wafer-thin slices. Plus there are some local touches like rye bread, herring and Danish pastries (or should that just be pastries here?). The hotel doesn't have a restaurant for the evenings but there are lots nearby. It does have a bar though, with a good cocktail selection (their mojito gets my taste test seal of approval, and I've tried a few!) with cool, colour-changing lighting along the bar.
The facilities
One of the reasons I like apartment rentals so much is because you have space to relax in away from your bedroom, but the Absalon had some of the best communal spaces I'd seen in a hotel for a while. As in the bedrooms the communal lounges have lots of bright colours, with big armchairs, artwork and sculptures, and piles of books. I especially liked the quirky design features like the lifts that looked like bookshelves and the computer inside a phone box.The lounge has a cooler with different flavoured waters throughout the day, and there are chess sets and board games you can borrow. Outside there are tables and couches made from recycled wooden pallets, and each floor has a seating area by the lifts. There's high-speed internet all the way through the hotel, and you can hire bikes from the friendly reception staff.
My tips
Guests are… a mixture, as it's a big hotel you'll find a bit of everything.
Staff are… plentiful and helpful – and speak impeccable English.
Don't forget… the hotel has a Concept24 option which you can request when you book and which lets you keep your room for 24 hours after check in for no extra charge.
Useful to know… if the breakfast area looks busy, head downstairs where there's a second buffet.
The details
Rooms at the Absalon Hotel start from DKK 950 (approx £95) for a medium-sized Original Room, up to DKK 1600 (£160) for a Junior Suite which has a separate living room with sofa bed. The hotel also does special packages which include entry to the Tivoli Gardens or Big Blue aquarium. The train from the airport to central station costs DKK 36 (£3.60) each way (or is free with a Copenhagen Card).
Pin it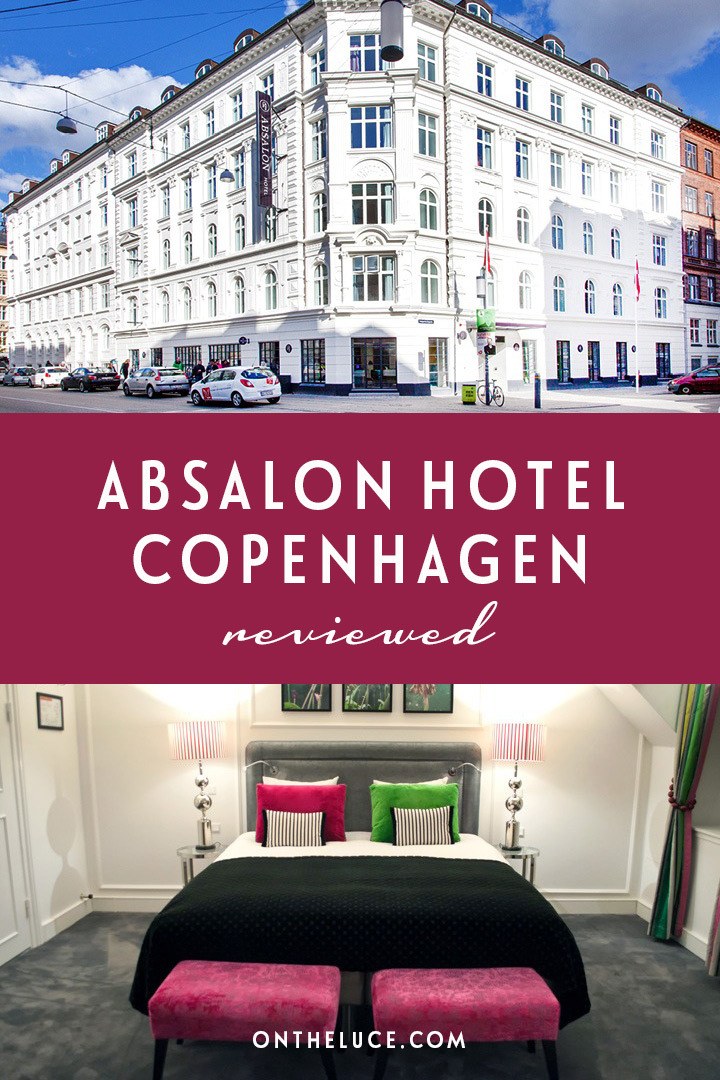 Many thanks to the Absalon Hotel for providing me with a complimentary stay. All views and opinions are, as always, my own. This article contains affiliate links, where I get a small commission at no extra cost to you.