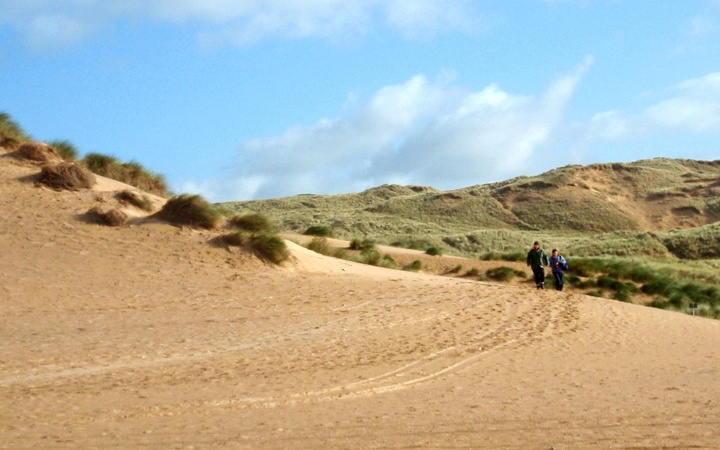 This week I'll be down in Cornwall, staying in a gorgeous holiday cottage on a mini-honeymoon with my new husband. Lots of lazing is on the cards as we recover from last week's wedding madness. But the last time I visited this part of south-west England was a lot more active – as a coastal conservation volunteer. The Conservation Volunteers ran several week-long Beachsweep trips to the coastline of Devon and Cornwall each year. In return for helping out with surveying work you got a bargain holiday with food and accommodation included, and the chance to explore some of the area's beautiful coastline. But would it be more boot camp than holiday? My mum and I signed up for a week in Cornwall one September to find out.
The thing with volunteering and conservation holidays is you never know how seriously people are going to take things. We had visions of ending up with a group who'd be in bed with a cup of cocoa at 8pm. So after arriving early into Falmouth station, we headed to a bar in the harbour for a last-minute glass of wine, just in case we wouldn't see another for a week. Our fellow volunteers started to arrive over the next few hours, with 12 of us in total, ranging from 18 to 70 years old. Most were solo travellers and several were on their second, third or even in one case even tenth conservation trip – a promising sign.
Our base for the week was Tredegna Lodge, a converted grain store on a farm out in the countryside not far from Falmouth. The lower floors have been converted into small dorm rooms and upstairs there's a kitchen and huge open-plan lounge/dining room. Our food costs were included in the holiday, but we shared out the shopping, cooking and washing up duties between the group. There was no shortage of food, with the cooks of the day whipping up everything from vast vats of risotto to apple and blackberry crumble made with blackberries that had been foraged from the farm's hedgerows.
Each day we set out to a different part of the Cornish coast. Our job was to collect and record the rubbish on the beach as part of the Marine Conservation Society's annual coastal survey. We were armed with litter pickers, bin bags and clipboards as we scoured the beach in pairs or small groups, tallying up what we found washed up. I was expecting it to be mostly litter, but by far the biggest category was rope and net, where fishermen cut up tangled nets and the broken ends get washed into the sea. You could also kit yourself out for a seaside holiday with the odd flip flops and broken buckets and spades we found.
Cornwall has some amazing beaches and we managed to see about ten of them over the week – ranging from the walled harbour at Mullion Cove to the windswept dunes of Holywell Bay on the north coast.  Being England in September meant we had no idea what weather to expect, and had sunshine, gales and showers within the week. It wasn't all hard work though – there were stops for tea and biscuits in the morning and afternoon, long lunch breaks and plenty of time to chat as we picked. There were also free afternoons to explore Falmouth, go rockpooling and visit the seal sanctuary in Gweek, where we learnt a bit more about the effect of litter on the wildlife and the difference our work makes.
And as for the cocoa-drinking early nights? Well, after our suggestion of a wine kitty went down a storm we ended up with such a surplus that we donated the extra cash. It was a really different type of holiday for me, where I spent the week in waterproofs and woolly hats and didn't put on a bit of makeup or take my hair straighteners out of the bag the whole time. But we had a lot of laughs and came home with the glow that comes from doing something worthwhile – either that or it was the coastal winds.
The details
Sadly The Conservation Volunteers (formerly the British Trust for Conservation Volunteers) who ran our Beachsweep trip have now discontinued running their conservation holidays. But there are other organisations running similar trips in the UK, like the National Trust who have a range of different holidays across the country starting at £85 for a short break.
Pin it