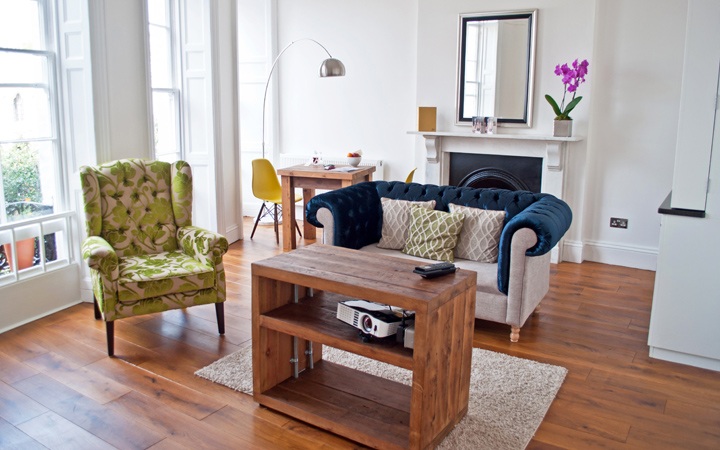 I'm always raving about how much I love apartment rentals when I travel, but I will admit that although you gain in freedom you can lose a bit in luxury. There's nothing particularly glamorous about making your own bed or cracking open a bottle of wine from the off-licence. So how can you combine the luxury of a hotel with the flexibility of an apartment? The Berkeley Square Hotel in Bristol's Clifton conservation area is trying to bring the two together in their Berkeley Suites. Just around the corner from the hotel they've opened five luxury apartments in a converted 18th-century house in Berkeley Crescent. So you get the privacy of having your own space but still get hotel facilities like housekeeping and a 24-hour concierge. We checked in for a night to see if this apartment-meets-hotel combo would be the best of both worlds.
Read more: A day trip to Bristol with National Express
The location
Bristol is only an hour away from home for me so it was an easy journey, and if you're driving there's secure parking for hotel and suite guests in a building on Berkeley Square. If you're travelling by train it's about a mile and a half to the main Temple Meads train station. The suites are on a crescent overlooking a little communal garden on the edge of Clifton. You're right next to Bristol Art Gallery and Museum and a short walk to the Cabot Tower for great views across Bristol. There are lots of shops and restaurants around – with a little Waitrose just up the street for self-catering supplies. If you head downhill it's 10 minutes walk to the city centre and waterfront. Or if you head the other way it's 10 minutes to Clifton Village, one of Bristol's smartest areas, with pretty tree-lined Georgian squares full of boutique shops, bars and restaurants.
The rooms
The best thing about apartment rentals is the amount of living space, and the Berkeley Suites has plenty. The big lounge area is light and airy, with lots of gorgeous original features – fireplace, high ceilings, tall windows. But there are modern touches too, like fast wifi and instead of a TV there's a cinema-style projector which shows artworks or you can hook it up to the TV or a laptop. The furniture's simple and stylish, with pops of colour among the wood and white walls. The bedroom is a bit more compact, but you're unlikely to spend too much time in there (at least not awake – the bed is really comfortable). It comes with a flatscreen TV and retro Roberts radio. The en-suite bathroom has been cleverly designed to get around the building's Grade II listed status. It couldn't be partitioned off so instead there's a glass wall, with solid sections at each end for the bath/shower on one side and the toilet and sink on the other.
The food
The suites come with complimentary fruit and sampler of local Bristol cream sherry (first time I'd tried my gran's old favourite in years but it was really tasty). Looking round the living room I had one question though – where's the kitchen? But in a genius bit of design the suites have a mini-kitchen hidden away in a cupboard. You've got a sink, hob, fridge, microwave, coffee maker, toaster and even a little dishwasher. The doors have racks for all your crockery and glasses, and when you've finished you can just fold it away. Having said that we didn't actually cook more than a cup of tea, as there were too many good options nearby for eating out. For dinner we took a walk into Clifton Village for dinner at No 4, owned by the same company as the suites. In another lovely Georgian building, it does modern British food using ingredients from the Bristol and Somerset area, like my delicious ballotine of chicken stuffed with mushrooms.
The facilities
The suites are totally self-contained with everything you need, but the bonus of it being a hotel apartment is that you also get access to the facilities at the hotel too. You check in at the reception desk in the Berkeley Square Hotel, and the hotel has a restaurant, The Square Kitchen, where you can have breakfast. There's also a private members club for people in the arts and media underneath the hotel called The Square. It acts as the hotel bar and lounge so suite guests can come and have a drink there – there's lots of outside seating space so we had a cocktail on the terrace (my Champagne and lemon concoction was amazing, with two for one on cocktails in the early evenings). And although the hotel doesn't have its own pool, guests are given a pass to use the pool and sauna at the Nuffield Health Club, 300 metres away.
My tips
Guests are… mainly couples, though you'll only spot other people at breakfast.
Staff are… helpful and friendly if you need them, but unobtrusive.
Don't forget… to bring a film to watch for your own private cinema experience.
Useful to know…  at the moment the suites are all one-bedroom, but the owners' next project is The Townhouse, a bigger building on Berkeley Square which will have a range of different-sized apartments.
The details
Rooms at the Berkeley Suites in Bristol start from £169 a night for a two-person deluxe suite.
Pin it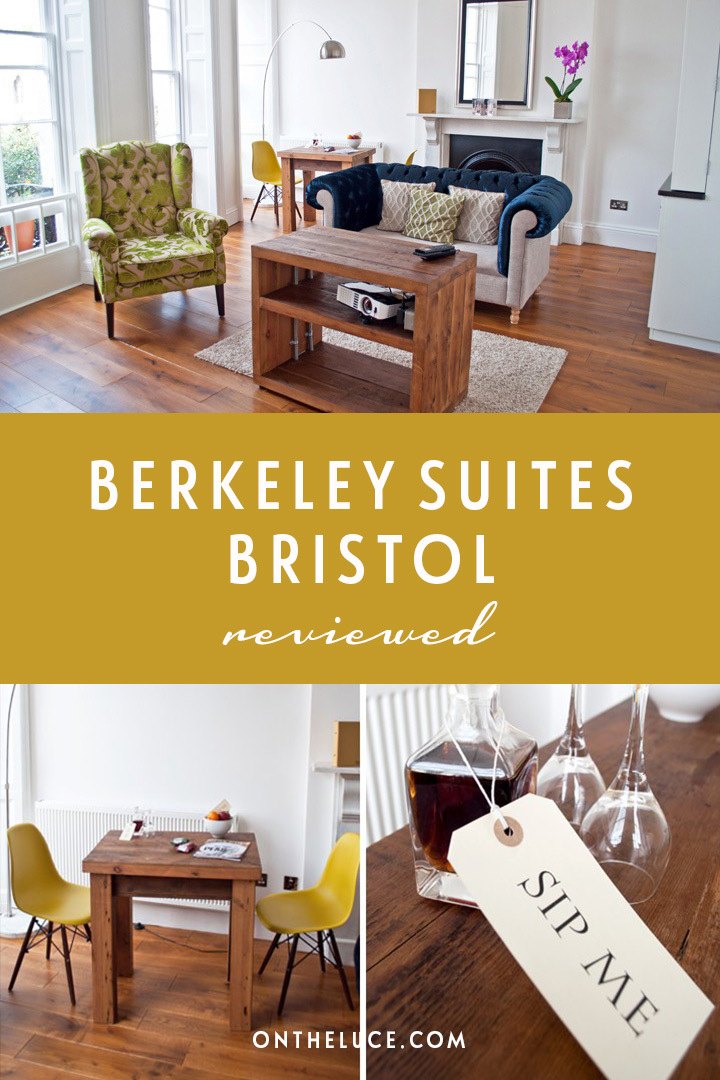 Many thanks to the Berkeley Suites for providing me with a complimentary stay. All views and opinions are, as always, my own. This article contains affiliate links, where I get a small commission at no extra cost to you.