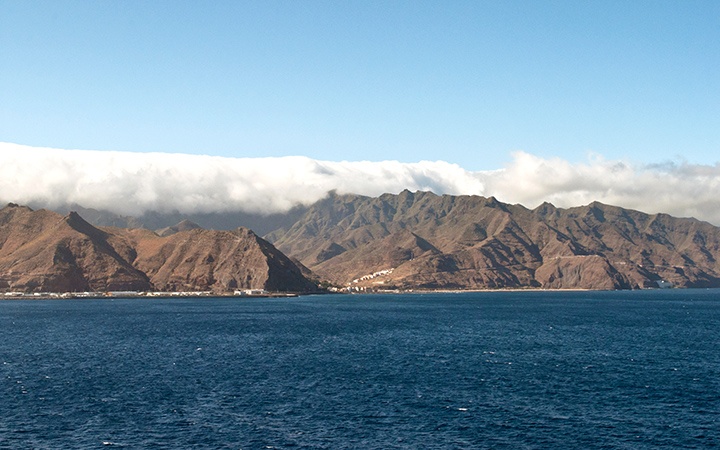 Volcanoes, black sand beaches and winter sun holidays – that was pretty much the extent of my knowledge of the Canary Islands. But as part of my cruise on board P&O Cruises' Britannia, I got the chance to visit three of the islands and discovered there's a lot more to them than I expected. The Canaries are a unique group of islands. They're part of Spain but are actually far closer to Morocco (60 miles away versus 600 miles). They were formed by underwater volcanoes that erupted millions of years ago. They're subtropical with long warm summers and mild winters. But what I didn't realise was just how varied they are.
There are seven Canary Islands, with famous names Tenerife, Lanzarote, Fuerteventura and Gran Canaria as well the lesser-known La Palma, La Gomera and El Hierro. They're surprisingly varied – the landscapes, architecture and even the climate can be totally different between islands only a few hours apart. So a cruise was a good way to island-hop and get a taste of the Canaries in La Palma, Tenerife and Lanzarote.
Read more: Cruise life: A day on board P&O Cruises' Britannia
La Palma
Our first port of call was the island of La Palma. It's the furthest north of the Canary Islands and the one with the steepest and rockiest landscape, with sharp peaks jutting up along the coastline as we sailed past. The 'Isla Bonita' hasn't had much major development over the years, so it still has a traditional feel and peaceful atmosphere. We took a walk around the capital Santa Cruz de la Palma, where you can catch a glimpse of what life was like during its glory days as one of the most important ports in the Spanish Empire.
Calle Real is lined with old colonial merchants' houses, Renaissance churches and pretty squares. Along waterside Avenida Maritima we found a row of colourful houses that looked straight from the Caribbean, with carved wooden balconies almost groaning with the weight of flowers. The town has a few museums, galleries and churches, but it's also good to just wander around or sit in a pavement café and people-watch.
What else to do: Tour a replica of Columbus' ship the Santa Maria, visit the Iglesia De El Salvador, check out the Flemish art at the Museo Bellas Artes, walk around the crater of the Caldera de Taburiente.
Tenerife
Our second stop was in Tenerife, the biggest Canary Island. It's famous for its beach resorts, but we headed to the north of the island to explore its greener side. Tenerife gets plenty of sunshine so the south is as dry as you'd expect from somewhere the same latitude as the Sahara Desert. But the trade winds condense humidity over the north so there's more rainfall and areas like the Ortavia Valle are surprisingly green.
The island has over 1400 different plant species, 100 of which aren't found anywhere else in the world. Our garden tour started with some of them in the Botanic Gardens. It's a lush green oasis filled with shady palm trees, exotic flowers, ponds full of waterlilies and lizards basking on the rocks. Even more colourful was the nearby Orchid Garden Sitio Litre, Tenerife's oldest garden. A historic mansion is surrounded by fountains and a rainbow of beautiful orchids. It's all very different to what you'd expect from a rocky volcanic island.
What else to do: Visit Mount Teide National Park and get the cable car to the top of Spain's highest mountain, hike the Masca Gorge, take a whale-watching boat trip, explore historic former capital La Laguna.
Lanzarote
After the rocky peaks of the other islands, Lanzarote's dusty landscape felt like being transported to the Moon. It's closest to Africa and has a dramatic mix of volcanoes, red and black beaches and lava tubes. One of the lava tubes makes up the quirky Jameos del Agua nightclub and concert venue, part of our tour of the north of the island. It's the work of local artist and architect César Manrique. When the island was developed developed for tourism in the 1960s he helped keep buildings low-rise and using traditional colours.
The Jameos has staircases cut into the rock down to an underground grotto with a clear pool of water that's home to a special species of tiny white blind crabs. We also visited the island's former capital Teguise, which was the oldest Spanish settlement in the Canaries. Its quiet streets were a contrast to the busy new capital Arrecife. Our last stop was a walk around Arrecife's lagoon, known as El Charco or 'the puddle'. It's more of Manrique's handiwork, with boats lined up and a backdrop of white buildings straight out of a postcard.
What else to do: Check out the rock formations and Fire Mountains in Timanfaya National Park, tour César Manrique's house and studio, visit the waterside Museo Historica in Arrecife.
Three days, three different islands and not one volcano or beach visited – have you even been to the Canary Islands, or would you like to visit?
Pin it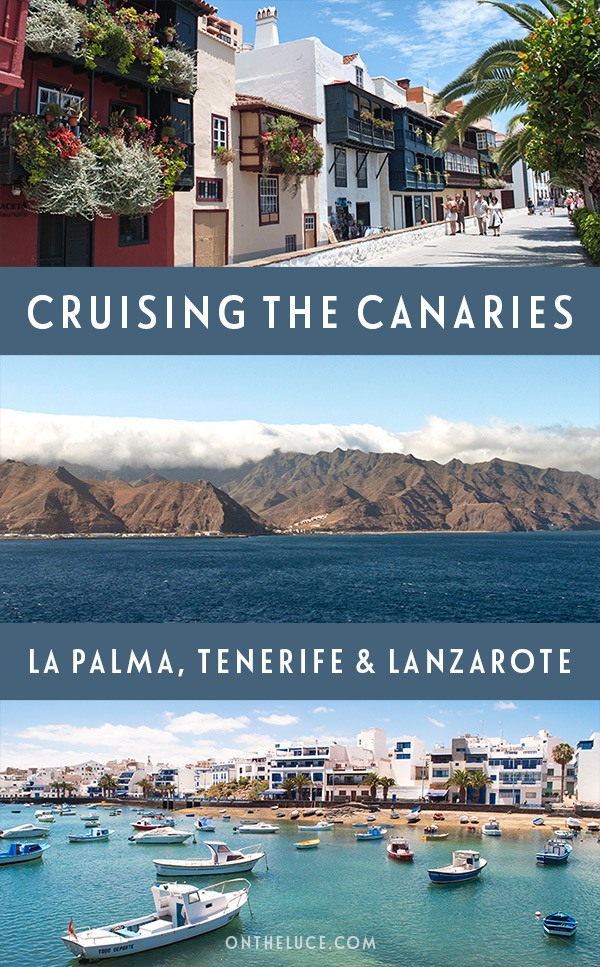 Many thanks to P&O Cruises for hosting us. All views and opinions are, as always, my own. We took P&O's Gardens of the Valley shore excursion in Tenerife (£34) and Discover the North (£40) in Lanzarote.