Christmas is creeping up on us, so it's time I got over my aversion to shopping and started getting organised. I've read a lot of Christmas gift guides for travellers, but there's only so many suitcases, adapters and travel clothes I need. So I've collated 23 of the best travel-themed presents for home and away. None are too expensive – half are under £25 and all are under £100. Most of these I've either been given or bought for other people, or are on my wishlist. So if you're looking a present for a travel-lover (or some suggestions for your own list for Santa), hopefully you'll find the perfect travel-inspired Christmas gift for you here.
Travel experiences
Tinggly gift box (from £59): For me the best Christmas gift has to be the gift of travel, but how do you buy someone a travel experience? Well you can with Tinggly, who offer travel gift box sets. You just choose a box (which you can have as an e-voucher if you've left it to the last minute) and the person you're giving it to gets to choose their own experience and dates.
Their Merry Christmas experience gift box covers over 560 activities in 100 plus countries, with everything from spa treatments and dinner cruises to white-water rafting and helicopter flights. Or there are specially curated boxes for weekend breaks or romantic trips for two. And they're all valid for five years so you don't have to worry about running out of time.
Travel membership (£60): Membership to a local heritage or parks organisation is a great present to get people exploring close to home. In England you can choose between English Heritage and the National Trust, but many other countries have something similar. Try the America the Beautiful National Park Pass in the USA or Heritage NZ in New Zealand.
Spicery subscription (£23 for three months): Ideal for food lovers and wannabe chefs, each month's Spicery subscription box contain a selection of recipes and the spices to go with them from a different country. There's enough to make a two-course meal for four people, and you'll learn to make dishes like Lebanese mezze, Moroccan tagine and Sri Lankan curry.
Travel inspiration
Lonely Planet's Travel Book (£26): I have a whole shelf of Lonely Planet books, but this is a coffee table book on a grand scale, with a double page spread for every country in the world. It's full of big, beautiful photographs as well as maps and information about each of the 230 countries, so you'll never run out of travel ideas (and learn lots of useful pub quiz facts).
36 Hours Weekend Guides to Europe, the USA and Canada or the World (£21): These New York Times weekend guides have a great selection of 36-hour itineraries. There are maps and recommendations for what to do, see and eat in a mix of city breaks, coastal and countryside escapes – and they're not just in obvious destinations either.
Travel magazine subscription (£32): A travel magazine subscription is a whole year's worth of inspiration, and there's something exciting about it arriving through your letter box every month. There are lots to choose from – I really like the Sunday Times Travel, but there's also Lonely Planet, Wanderlust, Condé Nast Traveller and National Geographic Traveler.
Travel books (from £5): There are so many travel-themed books around, from guidebooks to fiction, it can be hard to know where to start. I've got lots of recommendations in my 30 books for travellers post, but few of my favourites are On the Map for cartography lovers, Ticket to Ride for train fans and Love with a Chance of Drowning for travel memoirs.
Travel sustainably
Water bottle (£9): Single-use plastics have become public enemy number one this year, and at this bargain price there's no excuse not to get a refillable water bottle to carry with you. This stainless steel water bottle is plastic-free, insulated, comes in lots of different colours and will keep your water cold all day (or your flask of tea/mulled wine hot in winter).
Reusable picnic set (£25): This lunchbox and cutlery set is a smart and sustainable alternative to disposable plates and plastic cutlery. It's made from stainless steel with a vacuum seal so you don't have to worry about it leaking and a silicone strap to attach the cutlery to the box so it doesn't get lost in the bottom of your bag.
Tropic skincare kit (£28): UK toiletry and make up brand Tropic use sustainable ingredients, are palm oil and paraben free, and approved by the Vegan Society – plus they smell amazing and are gentle on the skin. Their skincare discovery kit is perfect for travel and includes mini versions of their top products like the cleanser, skin feast moisturiser and Rainforest Dew serum.
4Ocean bracelet ($20): This bracelet is made from recycled glass beads with a cord made from recycled water bottles. But the organisation behind them also remove a pound of rubbish from the ocean for each one sold – and so far they've removed over two million pounds. The bracelets come in a variety of different colours named after different animals they help conserve.
Travel at home
Custom map wall print (€49): This is such a clever idea idea, turning a map of anywhere in the world into an artwork. Go to the Mapiful website, choose the place you want in the centre of the map, and zoom in or out as much as you like. Then add a caption, choose a size and they'll print it for you to hang on your wall. It's great for expats or to remember a special destination.
Airportag home accessories (from £15): Airportag is another great idea, with colourful designs inspired by airport codes. There are cushions, blankets, mugs and shower curtains featuring places from all around the world, some of which are customisable, as well as lots of other products like bags, travel journals, beach towels, poster prints and t-shirts.
Vintage-style travel posters (from £3): These reproductions of vintage posters are a real bargain (there's even a 'buy two get one free' offer). I have Caribbean and Italy prints on the wall in my lounge but there are lots of different destinations from around the world which you can choose from, and they're available in A4, A3 or A2 size so you can get a frame to fit.
World map cork pinboard (£30): Those scratch off maps of the world are a staple on travel gift lists. But if you fancy some travel-related décor that's a bit more practical, how about a corkboard map of the world? You can pin the places you've been or want to visit, or just use it as a noticeboard. Plus you can paint it to match or contrast with your walls.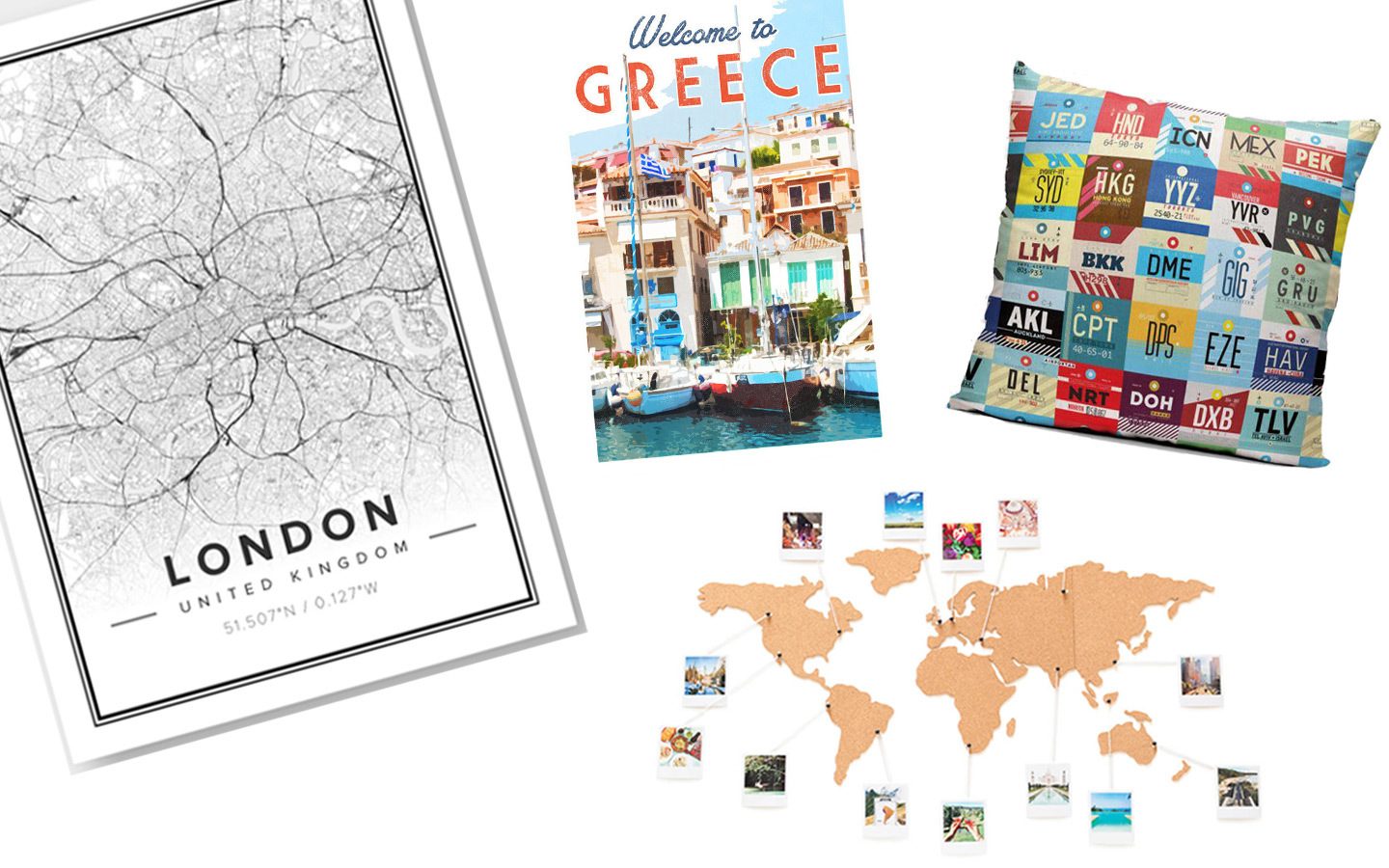 Travel kit
Packing cubes (£20): I know packing cubes are a bit of a travel gift list cliché, but they really do work! You don't have to be a long-term backpacker for them to be useful. They make it much easier to organise your clothes in your suitcase, make repacking much quicker if you're moving around a lot, and you can squeeze so much more into your case.
Portable battery charger (£13): The days when my old Nokia mobile lasted a week between charges are long gone. Now my iPhone barely makes it through a day. So a portable charger is a really good idea to carry around. They keep getting smaller, cheaper and more powerful – this one's the same size as a chocolate bar and will give an iPhone two full recharges.
Travel scarf ($50): This is an ingenious idea that's an upgrade on the dreaded money belt. The Speakeasy Travel Scarf has a hidden pocket that's big enough to store your passport, phone, credit cards and sunglasses in. So you keep them tucked away safely, but with a choice of different fabrics and colours you don't have to stand out as a tourist.
Leather travel wallet (£42): Bring a touch of style to your airport experience (even if you're likely to be flying economy) with a recycled leather travel wallet to store your tickets, passports and paperwork. They look smart but have lots of storage compartments inside, and come in lots of different bright colours which you can also get initials embossed onto.
Travel memories
Line a day diary (£10): A simple but clever idea, these diaries have a page for each day of the year divided into five sections for five years. Each day you write a couple of lines and then when you get to the end you start again in the next section. It gets more interesting the longer you do it, when you can look back and see what you were doing on the same day each year.
Compass necklace (£15): I'm not a big fan of obviously travel-themed jewellery, but these compass necklaces have a subtle travel theme without being too cheesy. They come in silver, gold or rose gold, with an adjustable length chain, and look a lot more expensive than they are!
Photo book credit (£30): Most travel-lovers have hundreds of photos on their computers doing nothing. I love photo books and try to do one each year with photos from that year's trips. Photobox books are good quality with easy to use online software. They often have sales where you can buy a photo book credit to give as a present which lasts for three months.
Custom UK map (£17): Ordnance Survey are the kings of maps in the UK and they now have a bespoke map service to let you create your own map. You choose your location and scale, and can put your own photos and text on the cover, then they'll print it for you.
So what's on your Christmas list this year?
This post is brought to you in association with Tinggly. It contains affiliate links, where I get a small commission at no extra cost to you – thanks.