I have to confess I'm a travel planner. Normally I'll buy a guidebook, read blog posts and come up with a shortlist of what to see before heading to a new destination. But my Copenhagen trip crept up on me and by the time I boarded the plane I'd not planned any further than booking a hotel. I was heading out blind, but decided to embrace it. To just relax and try out the Danish lifestyle – to walk, cycle, sit in parks, eat smørrebrød and drink wine on long summer evenings – without having to tick off the must-sees.
That's not to say Copenhagen doesn't have its share of tourist attractions – museums, churches, palaces, canal and Segway tours were among the things I didn't do. But you know what, it felt good to not have any particular purpose, to just be in a new city, walking around without a plan and seeing what you came across. It was one of my most relaxing trips for a while, and these were some of my highlights of Copenhagen.
Read more: Visiting Copenhagen on a budget
People-watching in Nyhavn
Nyhavn is pretty much Copenhagen's tourist epicentre, but still has its charm. Colourful waterside townhouses, sailboats on the canal, pavement cafés – it's the city's classic postcard shot, and just as beautiful in real life. The name means new harbour and it was built in the 1670s to connect the sea with the city so fish and cargo could be unloaded easily. It was where sailors came for a good time, and although today's pleasures are a little bit tamer (beer yes, prostitutes no), it was still packed with people on a sunny day.
It's not just a tourist haunt either, you see lots of locals sitting along the waters edge – they'll be the ones who've avoided the pricey bars and bought their own drinks and snacks. After lunch there on our first day (Heering restaurant is my pick of the waterfront options) we kept getting drawn back to Nyhavn, always grabbing a table out front in a prime spot to people-watch and listen to the buskers playing.
Park strolls in the Rosenborg Gardens
Copenhagen's parks all seem to come complete with their own castle. After a walk around the star-shaped fortress of Kastellet, our next discovery was Rosenborg Castle. It was built by one of the most famous Scandinavian kings, Christian IV, in the early 17th century as his summer house. It's home to the Danish Crown Jewels these days and you can take a tour around. But for me the best bit was the view of the outside from the gardens, where you can look out over the castle moat from the pretty walled rose garden.
The gardens were originally Christian's vegetable patch, but now there are acres of flower beds, tree-lined paths and lawns dotted with sculptures, full of people playing games and picnicking. On the way in we came across a café/restaurant in the castle's old orangery, the perfect spot for a glass of bubbly in the sun.
Twists and turns in the Rundetårn
Climbing up something tall to see the views is one of my city break must-dos. There are a few choices in Copenhagen, including the Church of Our Saviour with the staircase around the outside of the spire, but we went for the Rundetårn or Round Tower. It was another of Christian IV's projects, built as an stargazing observatory until light pollution got too bad in the 20th century and it was turned into a sightseeing tower.
What's unusual about the Rundetårn is that instead of climbing up steps to the top you go up a sloping ramp that twists and turns instead. It's called an equestrian staircase as it was designed so horses could ride up to the top – though in the 1900s someone drove a car up there too and now there's an annual unicycle race to the top and back. On a clear day you can see the Øresund Bridge and across to Sweden. We didn't quite manage that but did get a great view down onto the red roofs and across the city skyline.
Canal life in Christianshavn
With its narrow, gabled waterfront houses, cobbled streets and boats along the canal it feels like you've been transported to Amsterdam. But this is Christianshavn, Copenhagen's canalside district. It was founded in the 17th century by Christian VI (yes him again, he was a busy boy) as part of his plan to fortify Copenhagen. And it does have an Amsterdam connection as its architecture was inspired by Dutch cities, with wide canals surrounded by warehouses and wealthy merchants houses – now architects' studios or art schools.
Christianshavn is one of Copenhagen's most desirable neighbourhoods, mixing high-end and hippy style – both Michelin-starred Noma restaurant and the alternative community of Christiana are within a few hundred metres of each other. It's the sort of place I could easily picture myself living, but for I had to make do with a drink on board a floating bar and window-shopping for my perfect canalside house.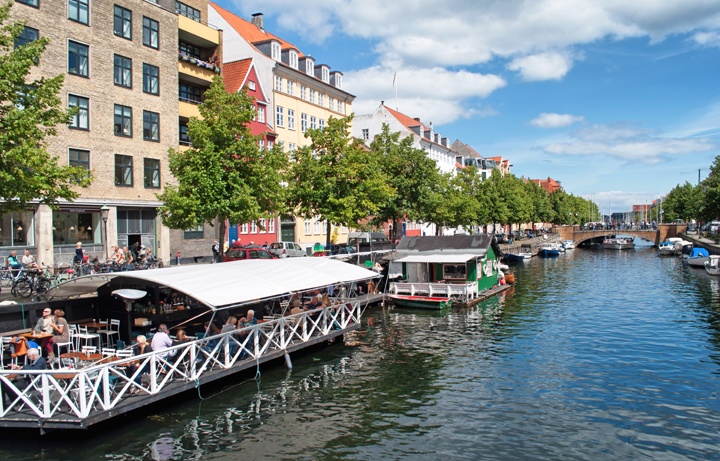 Beer tasting at the Nørrebro Bryghus
The Danes love their beer – everywhere you go you'll see people with a can in hand – and Carlsberg is the most famous name. You can visit the Carlsberg family's art gallery and tour their brewery. But Carlsberg isn't Copenhagen's only beer. Following a tip, we took a walk to the northwest of the city and the Nørrebro district. It's a working-class area that's become one of the city's hippest neighbourhoods – all vintage shops and ethnic restaurants (it's also where the Danish TV series The Killing was filmed).
Nørrebro is the base for the Nørrebro Bryghus, a craft brewery in an 1850s brick building with a restaurant and basement bar. The barman-slash-brewer took us through their range of beers, from regular staples to current experimental brews, including a 7.7% Baltic Porter (they also do wine if you're not a beer fan). It felt like the sort of place you'd find in Brixton in London, minus the hipster glasses and strange beards.
Night lights in the Tivoli Gardens
The Tivoli Gardens are a Danish institution – the world's second oldest amusement park, they were built in 1843 and were allegedly Walt Disney's inspiration for Disneyland. Gardens, lakes, bars and restaurants are set to a backdrop of the smell of candyfloss and the sound of excited screams from the rides. In summer it gets crazy busy, especially at weekends, so we waited until the sun had gone down to head into the park.
Now there are the usual rollercoasters, giant swings and spinning tops, but as a confirmed wuss when it comes to theme park rides (you'll find me holding the bags), I stuck to the more sedate pursuits of walking and snacking. The park has different zones – Arabian palaces, Chinese temples, pirate ships – as well as theatres, concert halls and even its own five-star hotel. And by night it was extra pretty, with the buildings illuminated and the trees hung with lanterns, and a firework display on Saturday nights.
Pin it