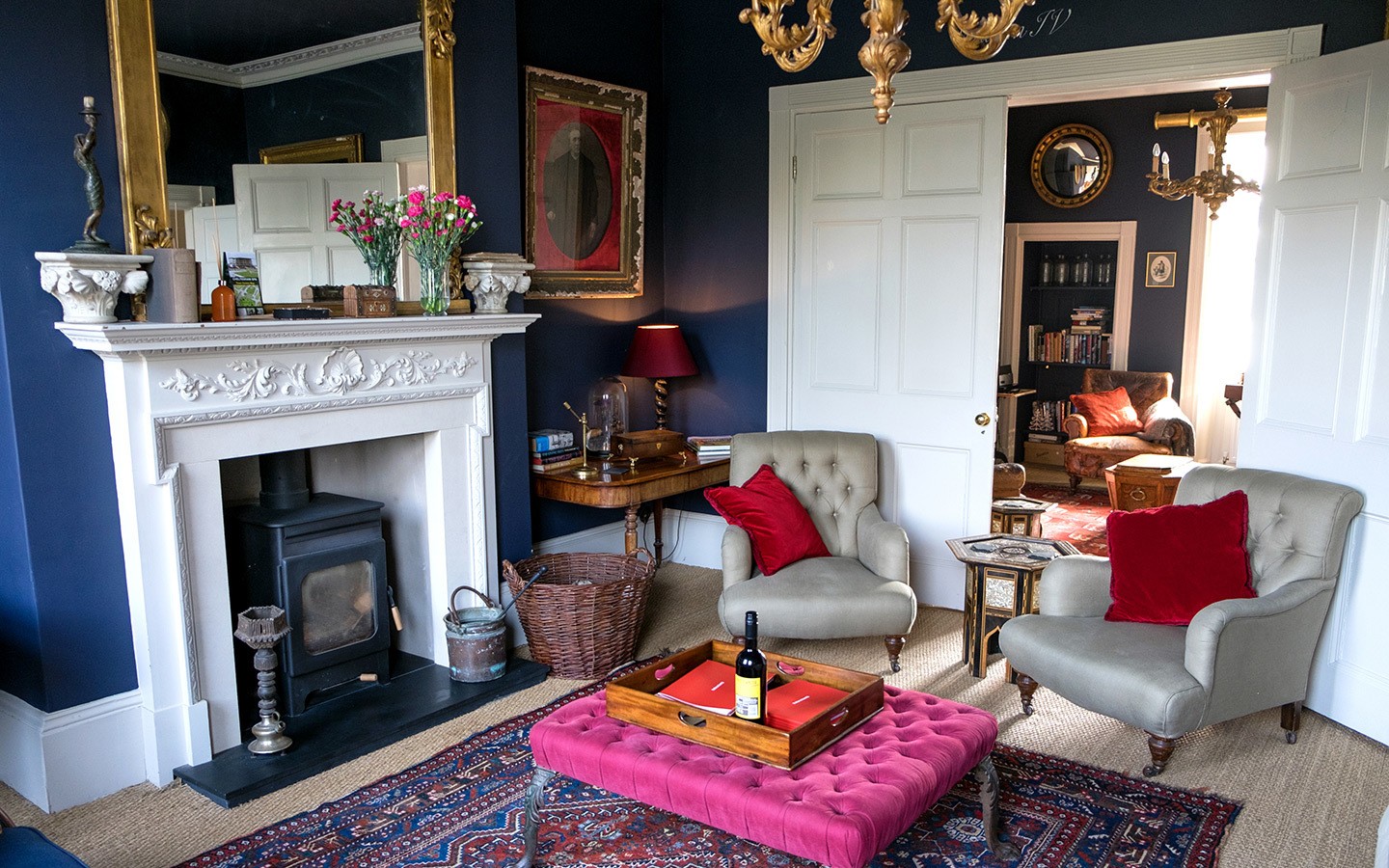 I'm a big fan of holidaying at home and showing off my local area, but I don't think I've ever holidayed anywhere quite so close to home as the Montpellier Town House. It's all of five minutes from my house in Cheltenham, in a classic white, Regency town house overlooking the park. But open the door and you enter a quirky wonderland packed with antiques and curios – from the vintage suitcases on top of the wardrobes and Victorian wine cooler to the antler chandelier and pile of top hats (that we may or may not have tried on after a few proseccos…). It's all a bit like staying at an eccentric rich friend's pad. But if you don't happen to have one of those, you can do what we did and rent the house for a weekend or mid-week break. Grab a group of friends, pop open a bottle and prepare yourself for a VIP-style Cheltenham break.
Read more: A weekend in Cheltenham
The location
As you'd guess from the name, the house is in Cheltenham's Montpellier area, probably the best location in town. It fronts onto Montpellier Gardens, so if you're visiting when one of the Cheltenham Festivals are on they'll be right outside your door. Otherwise it's a great place for a picnic on a sunny day. You've got a mix of places to eat and drink as well as independent shops and galleries on both sides of you in Montpellier and the Suffolks. Or it's an easy 10-minute walk into the centre of town where there are the usual high street shops as well as the Wilson Gallery and the Pittville Pump Rooms. If the sun's shining the Sandford Park Lido is nearby too (though avoid the school holidays when it's chaos). Outside town there's all of the Cotswolds to explore – try Broadway, Upper and Lower Slaughter, Winchcombe and Painswick for postcard-pretty villages, tea and cake. Or just short drive away there are some good Sunday walks on Leckhampton Hill and around Crickley Hill Country Park that are guaranteed to blow any cobwebs away.
The rooms
The house is spread over four floors, with five en-suite bedrooms – four doubles and one single. Starting on the first floor, the master bedroom (aka the Beau Nash Suite) has some serious wow factor. It's decorated in pastel turquoise and grey, with silk curtains, chandeliers and a four-poster bed that comes with its own set of velvet-covered steps to help you get in and out of bed (not that you'll want to leave). The other three doubles, spread across the first and second floors, can be set up with either twin or double beds, depending on which you'd prefer, and each has its own bathroom. Even the dinky single on the top floor has a tiny en-suite shower room. Each bedroom is decorated differently, with tactile fabrics, antique furniture and artwork, and muted, calming colour schemes which contrast with the craziness downstairs.
The food
The basement level is home to the dining room – complete with a portrait of the Queen and Vivienne Westwood red tartan wallpaper – and the two kitchens. Yep you also get a second 'chefs' kitchen' for food prep (or where you can hide the dirty dishes away). It's all set up for parties so there are tons of plates and glasses, plus three dishwashers and boiling and filtered water taps. The dining room seats 10–16 so would be perfect for a dinner party. But you're also right next to some of my favourite Cheltenham restaurants so it's a bit too tempting to eat out. Montpellier Lodge is just over the street in the converted park-keepers cottage. Or on nearby Suffolk Street you've got the Suffolk Kitchen, good for tapas-style sharing plates, and The Daffodil, an art deco former cinema turned stylish restaurant (and where I got married). The Daffodil's also good for cocktails, or head across the park to John Gordon's for a huge wine and G&T list.
The facilities
Being spread over four levels means there's loads of room and it never feels crowded, even with a house full. The whole of the ground floor is used as the lounge (sorry I mean Drawing Room), which is split into two sections. At the front there are big sofas and a wood-burning stove, decorated with gilt mirrors, blue walls and splashes of bright colour. Then the back section has more of a gentleman's club feel, with leather chairs, shelves of book, taxidermied creatures in bell jars and crystal decanters. Plus there's a concealed flatscreen TV in a cabinet, an iPod dock and wifi thoughout the house if you want to get back to the 21st century. There's a small courtyard garden out the back too, but with the park out front you've got tons of space for a picnic or game of rounders, along with tennis courts and a children's playground.
My tips
Guests are… the house sleeps nine and would be perfect for a family party or group of friends. If you're a bigger group there's also a two-bed apartment sleeping five a few minutes away.
Staff are… Kate & Tom's are a local company so they're right on your doorstep if you need anything.
Don't forget… You're provided with Neal's Yard toiletries, and a discount at their nearby shop.
Useful to know… If you don't feel like cooking you can hire a chef for dinner – or the weekend.
The details
Montpellier Town House is available through Kate & Tom's. You can rent it for a two- or three-night weekend break, mid-week or a full week. Weekends start from £2000 and mid-week breaks from £1500.
Pin it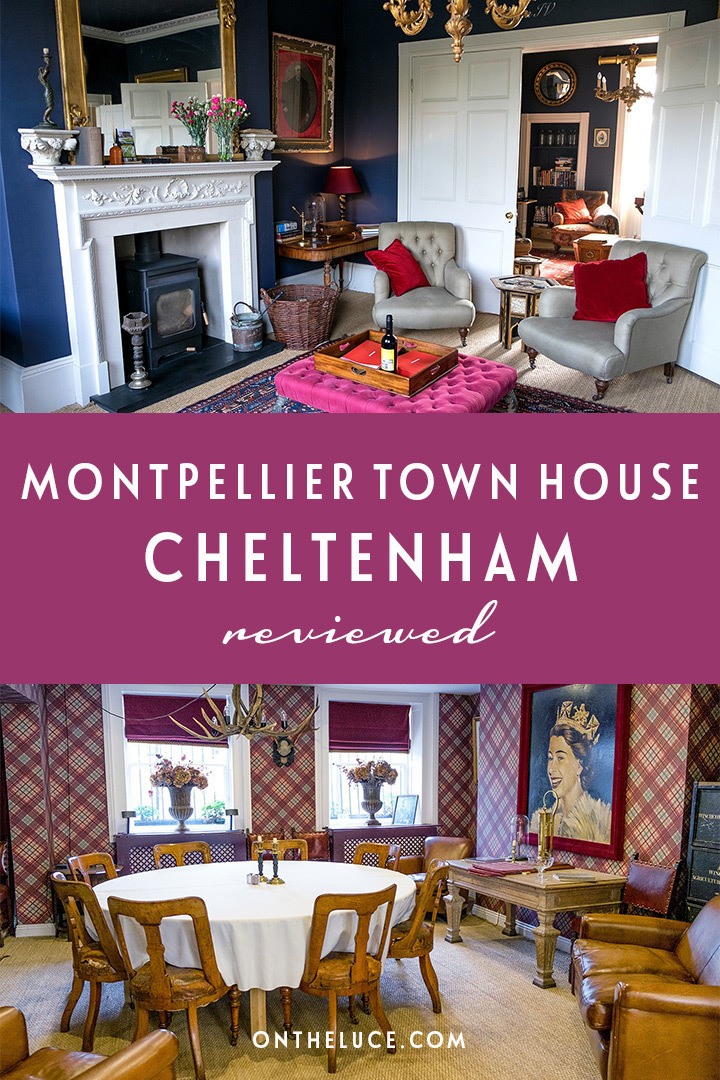 Many thanks to Kate & Tom's for hosting us. All views and opinions are, as always, my own.