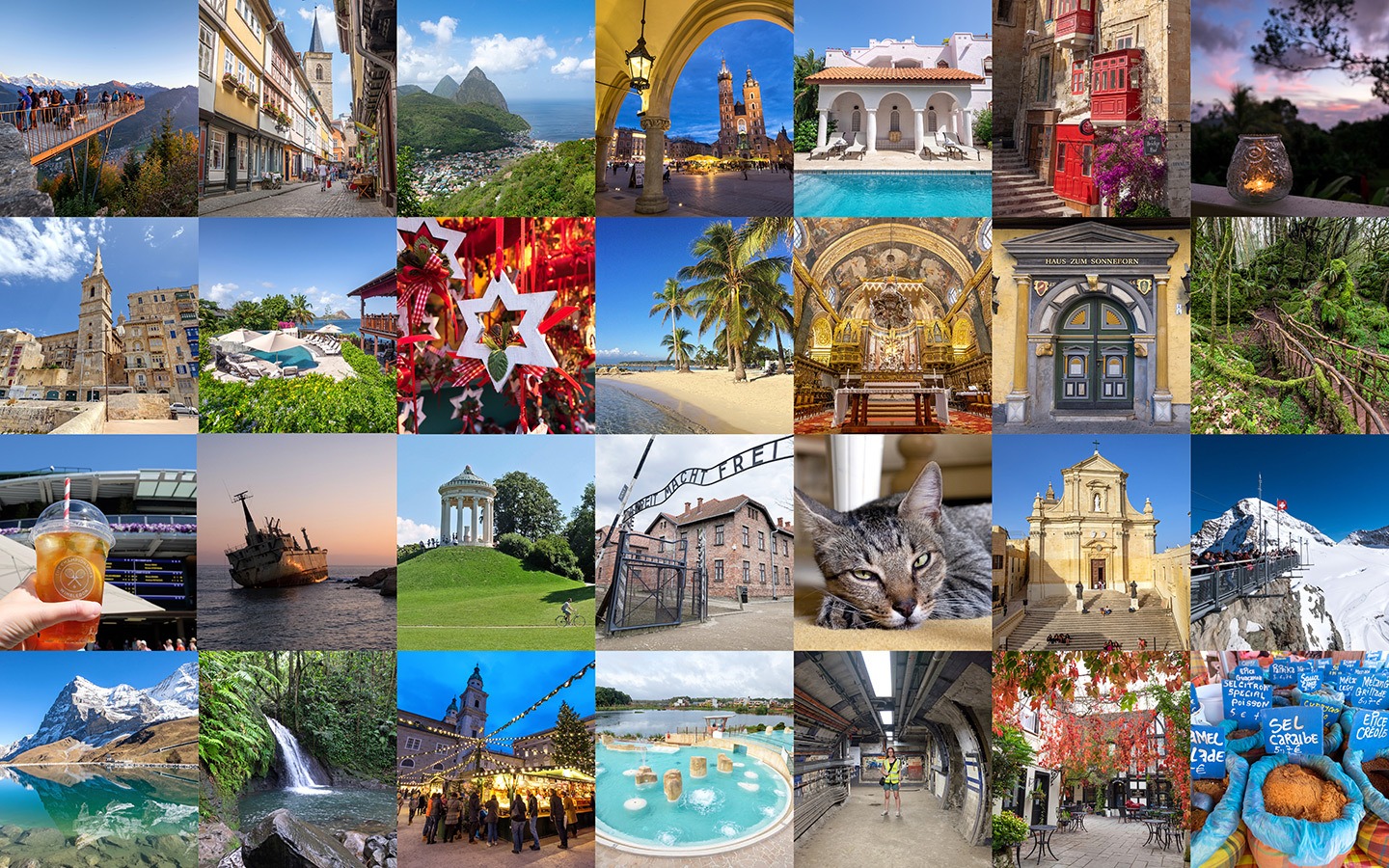 The sun's shining, the Champagne's on ice and there's a double birthday celebration for both me and the blog. On the Luce has reached it's seventh anniversary (and I've reached a slightly older age!) after another big year – I reached my goal of visiting 50 countries before turning 40, braved my fear of public speaking to run courses on Pinterest, and signed up for a big new adventure up north. More on that below, but as ever I want to say a massive thank you to everyone reading – whether you've been here since the beginning (in which case I apologise for some of those old posts!) or have just found this site this year. Your comments, support and the fact you keep on reading keep me going on this crazy blogging journey. So here are some of the highlights from the last year On the Luce, and a preview of what's coming next.
My top posts of year seven
New York film locations: A Manhattan walking tour – I feel like I worked hard for this post, walking for miles on a seriously sweaty July day, so I'm glad it's doing well! Part of my love for New York comes from growing up seeing it on screen in so many films and TV shows, so I decided to hunt down some of Manhattan's most legendary locations from Breakfast at Tiffany's to Ghostbusters and turn them into a walking tour.
On the Death in Paradise location trail in Guadeloupe – The BBC TV series Death in Paradise was what introduced me to the Caribbean island of Guadeloupe, so I had to go and check out some of the filming locations while I was there to see if it was just as gorgeous in real life (and it was). Clearly I'm not the only one who fancies taking their chances on making it out of Sainte-Marie alive as this post gets a boost in traffic every time the series is on TV – usually in the depths of winter when everyone's craving sun.
The first-timer's guide to visiting the Cinque Terre – My trip to the Cinque Terre last year was a major tick off the wishlist, so I condensed everything I learnt into this post to help other first-time visitors know when to visit, where to stay and how to get around. Basically everything I wish I'd known before I went. Plus it was a great excuse to post up a ton more Cinque Terre pics – this is one seriously photogenic place.
10 fabulous French weekend break ideas – I've had so many fantastic trips to France – it was the first country I ever visited as a kid and I usually make it out there at least once a year now. So in this monster post I shared 10 of my favourite French weekend break destinations, with what to see, eat and where to stay for each. Since then I've also published a British version and there's a wine weekend edition coming soon.
London underground: Euston's secret tunnels – What lies beneath the streets of London? I found out on a Hidden London tour of the secret tunnels underneath Euston station, preserved like a 1960s time capsule. I loved this tour so I'm glad the post has been so popular. In fact I'm heading underground again next month on another Hidden London tour, this time to the tunnels underneath Charing Cross station.
My top places of year seven
Kraków: My city crush of the last year has to be Kraków in Poland. It's got my perfect mix of fairytale architecture and fascinating history – plus some surprisingly brilliant food – and all for a bargain price. And though it feels weird to call visiting Auschwitz a highlight of the trip, it was one of the most moving experiences I've had on my travels so far and something that'll stay with me for a long time.
Jungfrau region: There's something about the mountains, and the peaks of Switzerland's Jungfrau region have to be some of the most beautiful I've seen – and when you add in some scenic trains I'm in heaven. This was one of the most fun press trips I've done, with a great group of people and non-stop beautiful views. I'm such a convert to summer in the mountains that I'm off to the French Alps this month for another dose.
Salzburg: If you love Christmas, you definitely need to get yourself to Salzburg next winter – this city takes festive to the extreme. We left a snowy England behind for a weekend packed with Christmas markets, glühwein, Mozart, palaces and Sound of Music locations (a British Christmas tradition, even if no-one in Austria's heard of it!). All we needed was a dusting of snow for it to be a perfect winter wonderland.
Guadeloupe: A patch of France in the Caribbean, Guadeloupe is a real departure from those Caribbean resort stereotypes. It was Death in Paradise than first made us want to visit, but the island was full of surprises – from the bridges through the jungle treetops to the eye-wateringly strong rum cocktails, volcano walks to joining in water aerobics sessions in the sea with the French retirees in the morning!
Saint Lucia: Guadeloupe wasn't my only Caribbean island of the year, I also made it out to Saint Lucia for a few days at the Cap Maison hotel. There were volcanic peaks, beachside BBQs, chocolate-making classes, cocktail-making sessions, Creole cookery and new cat friends. This year's definitely given me a taste for the Caribbean now and am plotting my next island (I'm taking suggestions so let me know your faves).
My goals for year eight
Do a Master's degree: Yes this is the big one – and it's coming soon. For years I've been thinking about going back to university and learning something new, and this year I finally did something about it (it must be a turning 40 mid-life crisis as two of my friends have done the same!). So this autumn I start a Master's degree in Tourism, Heritage and Sustainability. It's at the University of Glasgow, but they have a separate campus for their environmental degrees so I'll actually be based in Dumfries, in the far south of Scotland.
The course is really applied so there'll be lot of visits around the area – and I've never even been to Dumfries so I've got a whole new region to explore, with the Lake District and Scotland on my doorstep. I'll be splitting my time between student halls in Dumfries and home in Cheltenham so there'll be lots of train journeys, but I can't wait to get started and see where it takes me. The plan is to maybe do some consultancy for tourist boards and travel brands after – and there'll no doubt be more sustainability content on the blog.
Live more sustainably: Along with the academic side of the course, I'll be trying to bring some of the things I learn into my life and travels, and reduce my impact on the environment. I've already made a start – cutting down on using plastics, recycling more, buying second-hand and eating vegetarian during the week. And so far its been pretty easy. But next up I want to take it to the next level, like cutting down on flights (especially short-haul), buying ethically, going plastic free and eating locally and seasonally.
Up the passive income: Being a student means I won't be travelling in quite the same way for the next year, with fewer press trips and a lot less travel out of the country in term time. It's also going to cut into my blogging time so I'll be doing less collaborations. So to keep me in baked beans and Supernoodles (is that what students still eat?), I've been trying to build up sources of passive income. So that's why I now have ads on the site, and have set up a few affiliate schemes so I get a bit of income from my old posts.
Revamp all my old posts: On the subject of which, I've started a big review of my old content. I had 500 posts from the last seven years, and some were really awful! Think random 'what I did on my holidays' diary posts or picture posts of about 100 words. So I've been sorting out the wheat from the chaff and already deleted over 50 posts (you really won't miss them – no one actually read them!) as well as updating and combining others. There's still a few hundred to get through though so it'll keep me busy for a while.
Launch my gin blog: Because a girl can never have too many blogs, I've also registered a new site which is under development. Like all the best ideas this came to me after a few gins, this time on a distillery tour at Eden Mill in St Andrews. The site is called The Gin Map and it's going to be a directory of all the different gin tours and tasting experiences you do can around the UK. So I'll be checking out as many distilleries as I can over the next few months (it's a tough job I know) and hopefully launching at the end of the year.
Thanks again to everyone for reading and here's hoping year eight will be a good one!

p.s. you can get monthly updates on the latest blog posts and travel news by signing up for my newsletter.