The next hotel in my new Reviewed series, with good-value, individual accommodation with a touch of luxury on a budget, is Balam Bali Villa in the countryside just outside of Ubud. This inland area is a patchwork of rice paddies, palm trees and temples surrounding the city of Ubud. There are plenty of places to stay in the city itself, but after the bustle of the coast we decided on somewhere more rural where we could experience a bit more of Balinese life. With four days there we also had time to take day trips out to Mount Batur and the temples of Gunung Kawi and Tirtha Empul, as well as spending some time in Ubud.
The location
Balam Bali Villa's location is a real love it or hate it feature. It's about 30 minutes' drive outside of Ubud, so if you're looking to be able to get into town easily then it's not the place for you, as you need to take a taxi (about 120,000 rupiah or about £9 each way). But if you're looking to be out in the tranquil countryside and among the local villages of the 'real' Bali, then you'll love it. The hotel is just outside the village of Mengwi and is surrounded by rice fields – we did a free tour with manager Adi through the paddies and into the nearby village, where he told us about Balinese life and the flora and fauna along the route, and we watched local women preparing offerings for a festival.
The rooms
The hotel only has eight rooms, which are split into two areas – those in the more modern buildings surrounding the pool and those in the older, wooden 'Pirate House'. We couldn't get the same room for our whole four-night stay, so started off in the Bali room before moving on to the slightly smaller Toraja room. The rooms are cool and comfortable, with marble floors and bathrooms, and decorated with Balinese teak furniture and splashes of colour. Both were by the pool with their own terraces and sun loungers. We had a couple of little problems (the hot water went off when the gas tank ran out and there was some noisy plumbing) but they were sorted out quickly. The hotel's website has photos of each of the rooms and tips to help you choose the best one for you.
The food
The food is definitely one of the highlights of staying at Balam Bali Villa, starting off with breakfast. You can have it whenever you get up and eat on your patio or on the roof terrace, looking down onto the pool in one direction and over the rice fields in the other. You can choose from fresh fruit and juices, pancakes, omelettes, bread and cereals. The hotel also offers a three-course set dinner each night for US$10 and as it was quite a trek into Ubud we ended up eating in for three nights, with the roof terrace lit up by candles and joined by a chorus of cicadas and the odd gecko. The food was fantastic – like courgette soup, chicken wrapped in banana leaves, and chocolate torte with homemade ice cream. You can also order lunch or drinks throughout the day if you're too lazy to go out.
The facilities
The service is the real star at Balam Bali Villa. Each evening we were asked about our plans for the next day and if we needed transport or spa treatments booking for us. We wanted to do a tour around the nearby temples and they paired us up with an American couple also staying there so we could share the costs. They also gave us a great hand-drawn map of Ubud with recommendations of places to eat and things to see, and the route of a lovely walk through the rice fields. Back at the hotel you can have a massage or hire a bike to explore the area – or just laze by the pool. Its quite compact so with everyone sitting on their terraces you often ended up chatting to other guests. As you're out in the middle of nowhere, it's pretty quiet in the evenings so we mostly ended up having drinks around the pool and there's a huge library of DVDs you can borrow to watch in your room.
My tips
Guests are… mostly couples from all around the world (with the French owner meaning a lot of French guests), and families hiring out the whole of the Pirate House.
Staff are… attentive and super-helpful, anything you need just ask.
Don't forget… if you're heading into Ubud, either book a return taxi through Balam Bali Villa or take their phone number, as a lot of taxi drivers struggle to find the hotel. There's nothing nearby so you have to stock up in advance or head into Mengwi if there's anything you need.
Useful to know… you can put everything on your room bill (food, drinks, trips, massages, etc) which makes things easy, but you can get a bit of a shock at the end of your stay as all those cocktails by the pool add up!
The details
Rooms at Balam Bali Villa range from €59 to €89 a night for two people, with some rooms big enough to fit three or four people at a supplement. There is also a €20 extra cost in July and August.
Pin it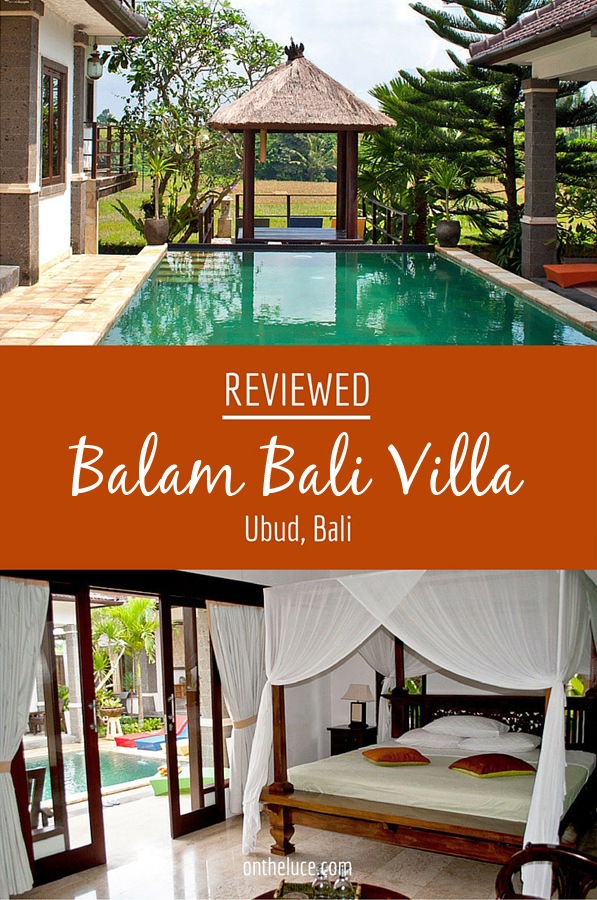 This article contains affiliate links, where I get a small commission at no extra cost to you – thanks.