November might not be the most obvious time for an English country break, but I love the combination of autumn leaves, misty mornings and evenings by the fire. Despite over 30 years living in the UK there are still big chunks of the country I haven't gotten around to visiting yet, and the Peak District is one. So it was time to put that right, and we couldn't have chosen a better spot than Douglas's Barn – one of two holiday cottages attached to a Derbyshire village farm. Originally an 18th century cowshed, owners John and Marion converted it from a decrepit wreck to a luxurious holiday cottage 15 years ago. Since then they've won a host of awards – and it's easy to see why. They describe their style as 'unflashy luxury' which is the perfect description. Everything is the highest quality – from the White Company bed linen to the Dualit toaster. But it's also comfortable and cosy, the kind of place where you can't help relaxing.
The location
The cottages are located in the village of Parwich, south of the Peak District National Park. You're only 90 minutes from Manchester, but feel a million miles from anywhere. We arrived at night in thick fog so had no idea where we were, but woke up to find ourselves amongst beautiful countryside where the only neighbours we heard were the birds. The chilly November weather made it hard to drag ourselves away from the fire, but when you do there are plenty of places to visit in the area. There's a huge amount of information in the cottage, with local walks, maps, leaflets and guidebooks. It's a great area for walking, with the Tissington Trail and High Peak routes nearby. There are also lots of other things to do (involving various levels of energy) – cross the stepping stones at Dovedale, visit the country houses at Chatsworth and Haddon Hall, sail on the Carsington Water reservoir or just eat and drink your way around the local pubs.
The rooms
Of the two barns, Tom's Barn is more country cottage style, with a wood burner and two-seater bath. Whereas Douglas's Barn is more contemporary with little touches of Africa creeping into the decor – a nod to Marion's father Douglas who worked in Africa and lived here when it was first converted. It's cleverly designed to make the most of the space and incorporates the quirky angles and features of the original barn. The ground floor is made up of a big open plan room, with a kitchen and dining area on one side and a lounge with a sofa and armchair set around the fire on the other. A spiral staircase in the corner of the room takes you up to the bedroom and bathroom on the first floor. The bedroom has an incredibly comfy king-sized bed (a combination of that and how quiet it was meant we slept for 11 hours one night!) and the en suite comes with a whirlpool bath and shower, plus all the extras like toiletries and cosy bathrobes.
The food
There are plenty of good places to eat in the area – and you're sent a list when you book in case you want to reserve a table – but there's also a lovely kitchen for self-catering. You're supplied with the essentials like bread, milk, butter and eggs from a local farm, as well as a jar of homemade marmalade and a cake freshly baked by Marion (her lemon drizzle was described as the 'best ever' by my husband, and he knows his cake). If you want to get organised and do an online shop in advance, then you can have it delivered and put away before you even arrive. Otherwise Ashbourne, about 15-minutes' drive away, has a few supermarkets, including a Waitrose and M&S food store. The kitchen is better equipped than a lot of people's homes, with everything from a dishwasher to a slow cooker. We kept spotting things and thinking 'that's a good idea' and came away with a shopping list of things to get for our own house!
The facilities
If the weather's bad there's wifi, Sky TV and a DVD player, piles of books and board games to keep you occupied. Or if you're there in summer, there's a patio outside with a table and chairs surrounded by pots of herbs and flowers as well as a Weber barbeque for you to use. But it's the attention to detail that makes the place so special. When we arrived the table was set for tea and cake, the fire was on and there were fresh flowers in the lounge and bedroom. Every little detail is taken care of – in fact it was hard to think of something they didn't have. Boot dryer? Check. This week's Radio Times? Check. Torch at the top of the stairs in case you need to go downstairs in the night? Check and check. It's also surprisingly modern, with an iPad for guests to use, pre-loaded with lots of useful information.
My tips
Guests are… it's a romantic bolthole for two or a solo escape from the world (though if you're in Tom's Barn then you can bring your dog along with you too).
Staff are… since our visit John and Marion have retired and passed the reigns onto new owners Angela and Robert, but they've kept up the same standards and friendly feel.
Don't forget… your walking boots, there are miles of footpaths around the Peak District with some right from the doorstep (even if you're not much of a walker it can get a bit damp and muddy).
Useful to know… the local pub also doubles as a mini shop, so if you've forgotten anything then you don't have to get into the car and drive anywhere (plus you can stop for a pint while you're there!).
The details
Premier Cottages features 1000 four- and five-star self-catering cottages across the UK, from romantic boltholes to large family-friendly country estates. A week's stay in Douglas's Barn for two starts from £495 and a short break from £345. To book, visit Premier Cottages or call the owners on 01335 390519.
Pin it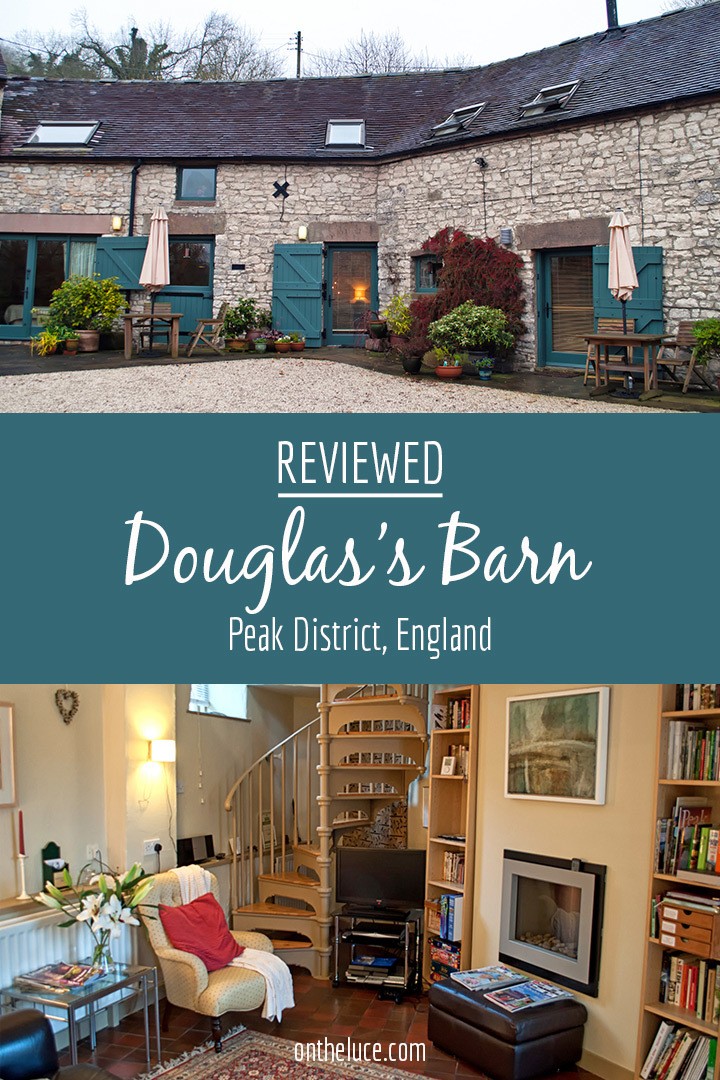 Many thanks to Premier Cottages for hosting me for my stay. All views and opinions are, as always, my own.