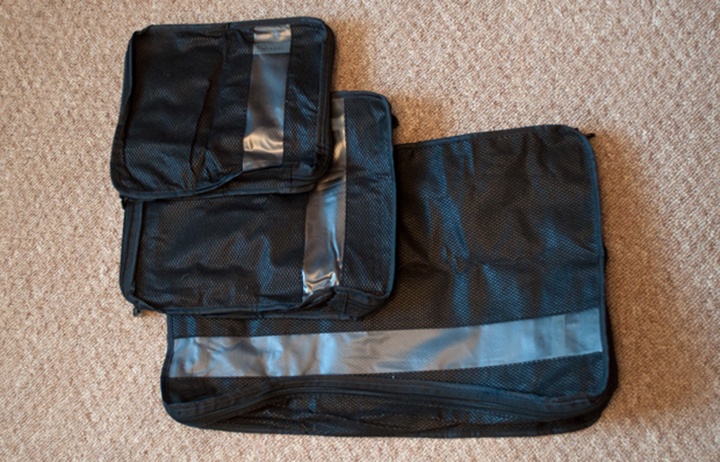 Packing cubes are one of those things that seem to feature in almost every packing tips article – with a whole line of converts preaching about how they have revolutionised the way they pack for their travels. And I certainly could've done with a way to organise the giant backpack I took on my round-the-world trip. I used to be a chronic overpacker and you could guarantee that whatever I was looking for would always be buried right at the bottom in an inaccessible corner. But these days I'm a much better packer and more likely to be found wheeling a suitcase than lugging a backpack, so would [easyazon_link identifier="B00IFPZY6C" locale="UK" nw="y" nf="y" tag="onthlu-21″ localize="y"]packing cubes[/easyazon_link] be any use to me now?
The test
To try out the cubes I set myself a little packing challenge, using my normal carry-on-sized suitcase and the amount of clothes I'd pack for a week-long trip somewhere reasonably warm (which is pretty much the same as I would pack for a longer trip as I normally just do laundry while I'm away). So that included seven tops (two long-sleeved, two short-sleeved and three vests), two cardigans, a jumper, two pairs of jeans/trousers, a pair of shorts, a skirt and a dress, plus swimsuit, pyjamas, underwear and socks.
First I packed my case as I would do normally, folding most things flat and rolling the rest to fill the gaps. Then I repacked using the packing cubes. The cubes come in a set of three, with the smallest 20 x 23cm, the middle one 23 x 28cm and the largest 28 x 45cm. They're made from a sturdy black plastic material with a clear strip so you can see what's inside. When I first opened them they didn't look very deep and I couldn't imagine that I'd fit much in, but they were a lot bigger than they looked. The smallest cube fit my underwear in, the medium cube fit all the tops, and the biggest cube – which was a lot larger than the others – fit in all the bottoms, as well as the dress, cardigans, jumper and pyjamas, and still had room to spare. The only things I didn't have a place for were the socks which I just stuffed into any gaps.
The verdict
I was surprised to find that despite folding up everything as neatly as I could, there was still more space left in my case when I used the packing cubes. They helped squeeze out any extra space between clothes and kept them compressed so they take up less room. They make it easier to pack too as you just put the stacks of clothes straight inside rather than packing each item into the case individually. My only criticism would be the sizing – the smallest cube was the perfect size for underwear, but the middle one could do with being a bit larger or deeper, and the largest cube was almost too big. It was almost as long as my suitcase and even when I filled it up with all the clothes I had left over there was still space remaining. And having one big bag kind of defeats the purpose of organising your clothes into sections.
So would I use packing cubes again? Well yes and no. If I bring my backpack back out of its temporary retirement then I would definitely use them, and would recommend them to everyone else. And for £14 they're well worth the cost. But if you're travelling with a suitcase then it depends. For short trips or if you're just heading to one destination then they're a bit unnecessary as you can just unpack. But for trips or where you're moving about a lot – like a road trip – I can see them being very useful. The extra space they make is a bonus, but it's the organisation benefits that sold me. They make it very easy to find whatever you're looking for and keep your bag tidy so you can repack quickly and easily.
Pin it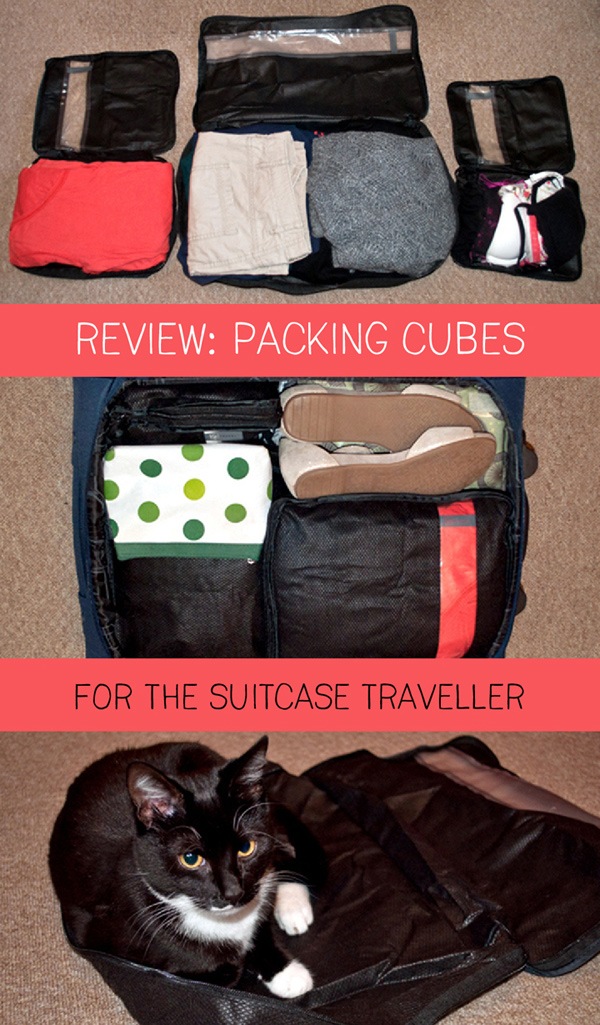 This article contains affiliate links, where I get a small commission at no extra cost to you – thanks.