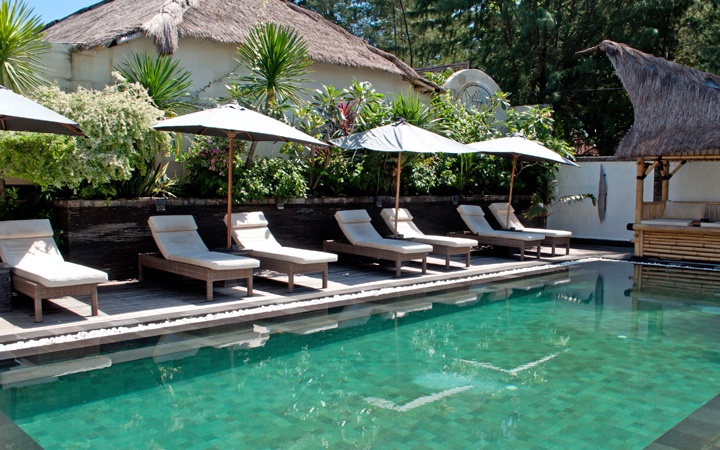 If you're done with hostels but want something more interesting and less pricey than a big chain hotel, there are some places that you can struggle to find somewhere good to stay, but Bali wasn't one of them. After two hotels from this trip had already made in onto my favourites list the island of Gili Trawangan made it a hat trick with Scallywags. Gili Trawangan has a bit of a reputation as a party island so we wanted to be within easy walking distance of the beach and a few bars and restaurants, but a far enough away from the clubs that it wasn't too noisy. The in-house restaurant (and it's cocktail list), pool area and lots of little extra touches all added up to make Scallywags a winner.
The location
Scallywags is located at the south of Gili Trawangan's main beach, about a 10-minute walk from the pier where the boats from Bali and Lombok arrive (or you can take a horse and cart if you've got heavy bags). It's on the main strip of bars and restaurants that runs along the beach, but at the quieter end so you don't get much noise at night. A short walk south you get to a great sunset spot, and to the north there are shops, dive schools and everything else you need. The beach down here is narrow with quite a lot of coral, so you can't quite walk straight out onto white sand, but it gets wider as you go north.
The rooms
Set back behind the bar and restaurant of the same name, Scallywags has ten rooms, all in a row leading off a shady passageway. We were in room one, which was nearest the pool. As you come through the front door you have your own small private, flower-filled front garden, with French doors to the room and wicker chairs on the verandah. The rooms themselves aren't huge but have everything you need – a king-sized bed, plenty of storage space, air con, a safe, kettle, big fridge and flatscreen TV with DVD player. They're decorated with colourful prints from local artists. Then out the back of the room is the outdoor bathroom, where you can have a shower under the sky, surrounded by plants and ferns. There's also a double sink and toilet which are under cover in case it rains.
The food
A buffet breakfast is included in the room rate, with cereals, fruit and yogurts, along with omelettes, pancakes and toast cooked to order, though the selection is better if you get there early. Out the front of the hotel is Scallywags restaurant. There are tables near the bar at the front of the hotel, with huge squashy circular chairs which are great to curl up in and watch the word go by along Gili T's main strip. Then there's another area of tables right on the edge of the beach, lit up by lanterns and candles at night. The food is a mixture of local and international dishes using organic vegetables, plus a BBQ with seafood and imported meat. There's a huge cocktail list too which we did our best to work through – their Mojitos and Illusions (made with a mix of vodka, gin, lime and pineapple) were favourites.
The facilities
There's a decent-sized freshwater pool (pretty rare on the islands) surrounded by sun loungers and day beds, which was never that busy while we were there (a lot of guests are away during the day doing dive courses). There's a little guest bar by the pool or you can order food and drinks from the main restaurant and get them brought out to the pool. They also have wifi throughout the hotel and a library of DVDs to borrow. Scallywags also have sister resorts on nearby Gili Air. They now have a hotel there but when we visited it was still being built, but you could do a day trip over to their Beach Club restaurant. The hotel runs boat transfers for $10 which you can use as credit towards buying food and drink there. It's well worth the trip as Gili Air's beaches are much wider and sandier with less coral so better for swimming.
My tips
Guests are… mainly couples and small groups of friends from all around the world.
Staff are… laid back (you sometimes have to ask twice) but friendly and keen to help.
Don't forget… drinks from the mini bar are the same price as in the bar, and similar to the price in the nearby shops.
Useful to know… make sure to keep the bathroom door closed to keep mozzies out, and to hang your towels inside if the weather isn't so good as water splashes everywhere if it rains.
The details
Rooms at Scallywags Resort range from US$80 to $230 a night (during August, September and Christmas/New Year) for two people. The hotel accepts credit card payments and you can put drinks and food from the restaurant on your room bill.
Pin it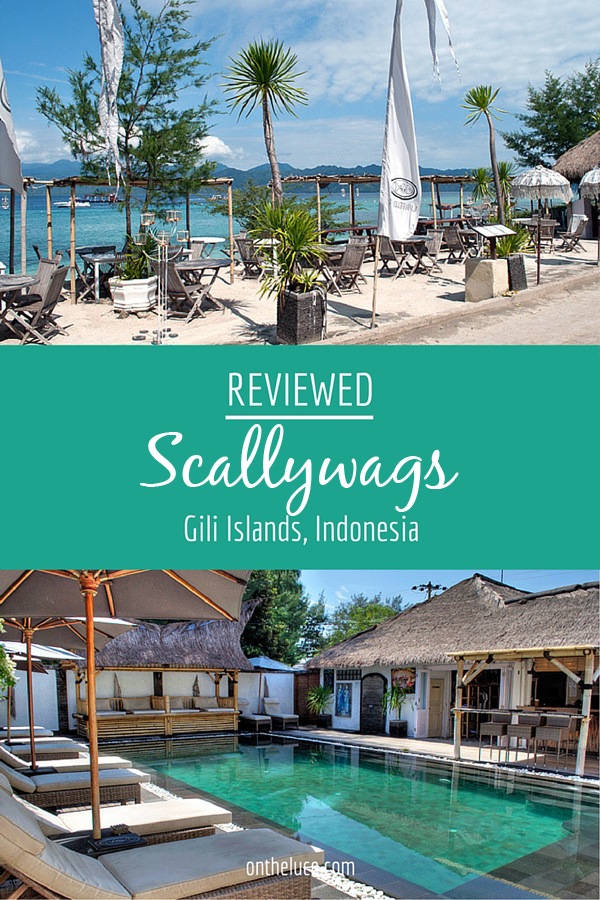 This article contains affiliate links, where I get a small commission at no extra cost to you – thanks.