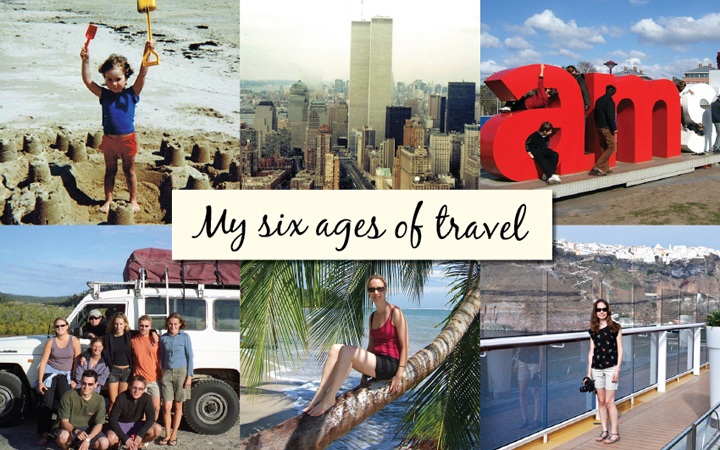 As a blogger you're always on the lookout for something new, but a new experience doesn't necessarily have to involve a new destination. A change in travel style can make a visit to the same place feel completely different. Look at one of my favourite places – New York. On my first visit I stayed with relatives on the Upper East Side on my first trip outside Europe, next time I stayed in a hostel dorm in Times Square on the way to a working holiday, and most recently I rented an apartment in Harlem. So that's three trips to the same destination but each with a totally different experience. It got me thinking about my travel style and how it's changed over the years. It's not been so much a gradual change but more a series of different phases. Or my six ages of travel, taking me all the way from childhood holidays to blogging trips.
Read more: My top round the world experiences and misadventures
1. The family holiday years
My first travels were with the family, with years of holidays on the beach in Northern France, South Wales and Devon – all places close enough that three children wouldn't have time to kill each other in the back of the camper van on the way. We'd load up with deckchairs, beach games and picnics and spend our days building epic sandcastles and rockpooling (and occasionally repurposing the groundsheet and some driftwood as a shelter to keep out the drizzle). We usually rented a cottage or caravan and self-catered, so we had the adventure of visiting French supermarkets and trying out weird food like langoustines, snails and smelly cheeses – I was probably a more adventurous eater at age eight than I am now.
2. The discovery years
Just before going to university I did my first trip out of Europe to New York. I was blown away by the city – it was so different to anything I'd ever experienced and I soaked up the sights and the energy around me like a sponge. It made me realise how much you could learn and grow from experiencing different places and people and I couldn't wait to see more. Next was a university field trip to Thailand where I fell in love with Southeast Asia, from the craziness of Bangkok to peaceful ancient ruins. And after that it was a summer working holiday in Cape Cod in the US, where I sold dodgy crafts to tourists and biked to the beach every afternoon. The travel bug had well and truly taken hold by now and there was no going back.
3. The Ryanair years
Post-university, moving to London meant I was even more broke than as a student, plus I now had a limited holiday allowance to contend with. Luckily this was the time budget airlines started up, when you really could bag a Ryanair flight for £1 and they hadn't cottoned on to the possibility of squeezing more money out of you for every extra. So whenever I spotted a sale I'd email a load of friends and see who fancied a trip. We did long weekends in Venice, Amsterdam, Budapest and Nice, each time with a different group of people but usually in the depths of winter when it was cheapest. Everyone was broke and single so we'd stay in hostels or pile four people into a hotel room and live off cheap beer and sandwiches.
4. The RTW years
After a while weekend breaks weren't enough so I scraped money together to visit Thailand and then Malaysia, but soon that wasn't enough either. So in 2003 I packed in my job, bought a one-way RTW ticket, filled an enormous rucksack and headed off for a year in India, Southeast Asia and Australia with my best friend. We had no money but plenty of time, so this was slow, cheap travel – overnight buses, cockroach-ridden dorms, Thai buckets and banana pancakes. We fell in love with a different place (and often man) every week and overstayed almost everywhere, ending up four months late getting to Australia. The working holiday there was a lot more holiday than work, but the memories of travelling around the country from Cairns to Darwin were more than worth the year it took to pay it off afterwards.
5. The holiday years
Back in London and back to the nine to five, the holiday allowance was limited again but I finally had money to spend. Friends started getting married and having kids, so it was time for proper couples' holidays – flying with a decent airline, staying in hotels, drinking cocktails and eating in restaurants. I even got over my dislike of exercise and the cold and tried skiing for the first time. Having a bit more of a budget meant I could cross a few trips off my wish list – spotting sloths in Costa Rica, lounging on a white sand beach in the Cayman Islands, road-tripping down Highway 1 in California. I became an expert in stretching out the holiday allowance and even managed to talk my boss into a six-week sabbatical to New Zealand.
6. The blogging years
Eventually I'd had enough of both London and my job, so left both and started up as a freelancer in Cheltenham. I took a big pay cut but working for myself meant I could do it anywhere, so I could stay places for longer, travelling slower by staying in apartments and self-catering. So now I mix up a bit of everything – travel and home, local and long haul, train trips and cruise ships. I also started blogging almost five years ago, which means my travel obsession has gone into overdrive, and anyone I travel with knows better than to go into a hotel room or eat food before I've photographed it. But it's led to some fantastic travel opportunities and new friends all over the world – I think it might be my best age of travel yet!
So how about you, what are your different ages of travel?
Pin it