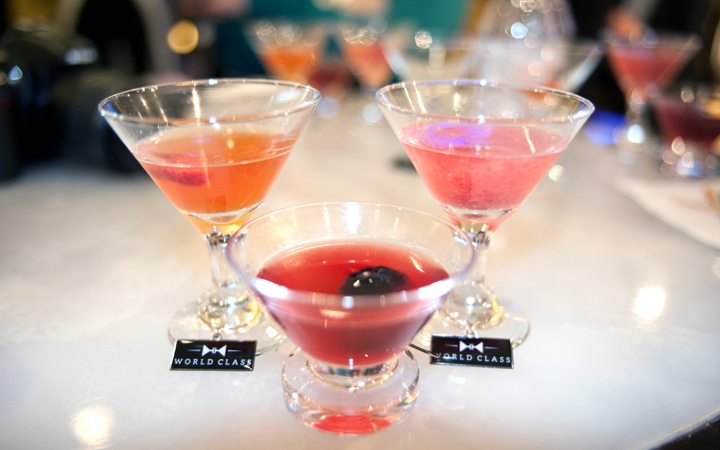 Cruising has shaken off the old stereotypes and is attracting a whole new audience – and I'm one of them. I loved my Eastern Mediterranean cruise last summer, but if you're curious about cruising it can feel like a bit of a risk to sign up for a week-long trip if you've never been on a cruise before. So Celebrity Cruises have come up with the great idea of a mini taster cruise, so you can test the waters (excuse the pun) before a full-length trip. Along with the other Destination Bloggers, I joined their two-night Taste of Modern Luxury cruise across the Channel from Southampton to Le Havre in France. For those new to cruising it was a chance to get a taste of life on board. Or for the rest of us it was a chance to get a taste of lots of delicious things, as one of the main focuses of the trip was on the fantastic food and drink available.
On most cruises, the focus is on the destinations you visit along the way. But this time, the destination was the ship – I didn't even set foot on French soil. After spending a week on board its sister ship Equinox last summer, it didn't take long to find my way around the Celebrity Eclipse. After checking into my stateroom I headed up to the top deck to soak up some unexpected sunshine on the lawn and by the pool as we sailed out of Southampton and past the Isle of Wight. It felt a bit like coming back to a second home. But there are a few differences, as Eclipse has recently had a revamp after spending nine days in dry dock in Florida. She's been updated with new bars and restaurants, and it was those we were there to try out.
World-class cocktails
The eating and drinking started with a cocktail session at the World-Class Bar. This redesigned bar is a partnership with drinks brand Diageo. It gets its name from the World-Class Bartender competition, that  puts expert mixologists though their paces to crown a new champion each year. Those skills were put to use in creating cocktails for us to try, using some of the premium spirits they stock. Spike Marchart, who creates the challenges for the World-Class competition, also showed off some clever tricks, like making applewood smoke float over a glass of rum. Now my idea of a cocktail is something pretty standard like a mojito, but these were a different class (and potency, which probably explains my slow start next morning).
Luminae food tasting
One of the big features of the ship's refurbishment is the new suite class rooms – with luxury perks like your own personal butler, priority embarkation and a special lounge. Sadly I didn't get to try one out myself, but the next best thing was a food tasting at Luminae, a new restaurant exclusive to suite class guests. It's a stylish place with lots of light, pale colours and gold detailing. And the food is pretty special too – the chefs source seasonal ingredients from the ports along the route, so each day's menu is different and you get a bit of local flavour. We got a taster of the food you'll find on the menu, all beautifully presented. But the star was the Candy Cart, a trolley piled up with macaroons, hand-made marshmallows and chocolates.
Oz Clarke wine masterclass
Wine is a big passion of mine and Oz Clarke is a bit of a wine hero, so a masterclass tasting session with him was always going to be one of my highlights of the trip. He has such a chatty, unfussy approach to wine tasting, with none of that 'notes of dried rose petals' pretentiousness you can get with wine. As he said, wine tasting is such a personal thing – what one person might smell, taste or like is totally different to the next person. We tried two contrasting white and red wines, starting with a Wairau River Sauvignon Blanc from New Zealand and a St Francis Chardonnay from the USA, then a Montrgras Camenere Reserva from Chile and Ross Estate Lights Out Shiraz from Australia. Each of the wines was so different and Oz explained how they get their flavours, along with lots of funny anecdotes from the history of wine.
Dinner with the Great British Chefs
The last night of the trip we were treated to a special dinner in the ship's Tuscan Grill restaurant. The menu was created by two of the Great British Chefs – Robert Thompson (one of youngest UK chefs to receive a Michelin star) and Adam Simmonds (winner of the Great British Menu 2014). The chefs had been doing cookery demonstrations in the ship's theatre earlier that day so had been kept busy. But they still had time to whip us up a four-course meal though, which was matched with wines by the ship's sommelier. We started with pan-fried quail with truffles and pea shoots, followed by grilled mackerel with English wasabi, roasted loin of lamb and finished off with a dark chocolate and peppermint delice. By which point I was pretty sure I wouldn't need to eat for the rest of the week.
It wasn't just food and drink going on on board though, you could also catch music performances, shows in the theatre and there was a talk by destination expert Ben Fogle. He took us through his unexpected career – how he went from a sport-phobic child to an adventurer who's completed the Marathon des Sables across the Sahara Desert and rowed across the Atlantic (and might be swimming it next). There was also chance to try out the two new bars, the Slush pool bar and the Gastrobar with its 40 beers. But the trip all went by so fast and before we knew it we were back in Southampton and it was time to disembark – significantly fuller after what was more like a feast than a taste of cruising on board Celebrity Eclipse.
Pin it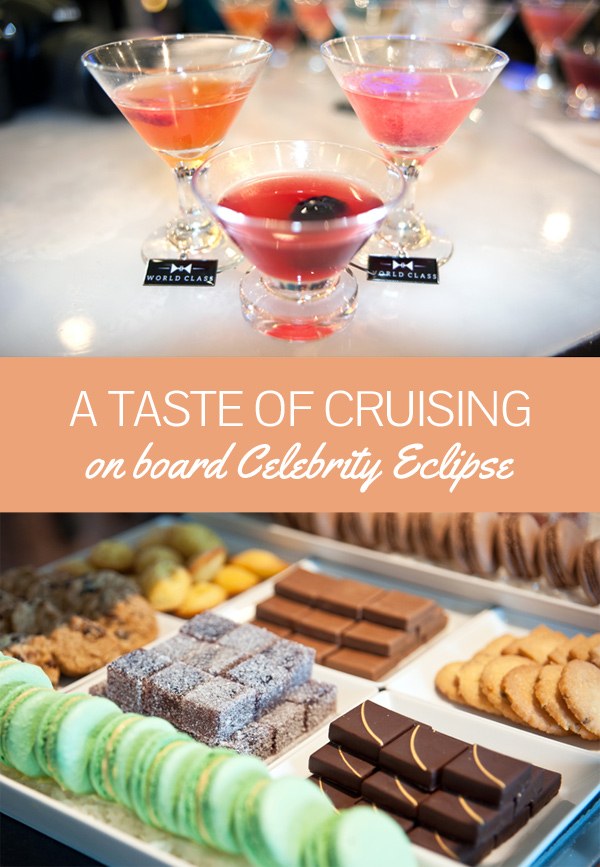 Many thanks to Celebrity Cruises for hosting me on their Taste of Modern Luxury cruise. All views and opinions are, as always, my own.