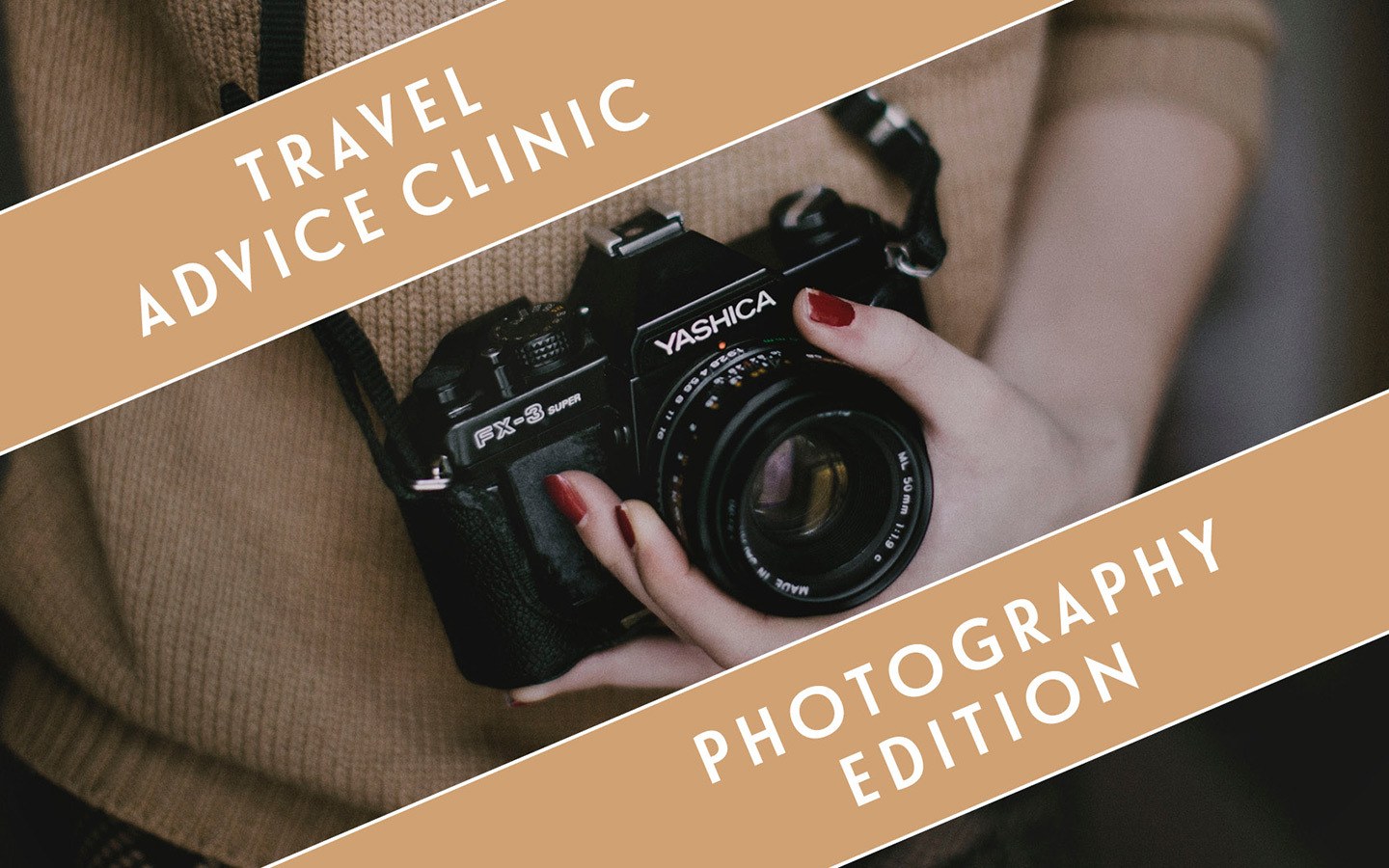 Welcome to the third edition of my travel clinic, where I share the top tips and tricks I've picked up over the years to help make my travel life easier. In previous editions I've shared travel planning and money-saving tips for accommodation and flights, but this time we're talking photography. Taking photos is a big passion of mine, and I'm finally at the stage where I can produce some shots I'm proud of. But it wasn't always like that – and I have the albums of wonky, out of focus images to prove it (hidden away!). So how do you make your travel photos good enough for a brochure cover? Let's start the questions…
Do I need a big DSLR to take good photos?
When they see a great photo, the first thing a lot of people ask is 'what camera did you use?'. But most of the time it's not the camera that makes a photograph good or bad. Technique has a much bigger influence than equipment – just look what a National Geographic photographer can do with an iPhone. It's a bit of a cliché but the best camera is one you have with you, so you're better off with a compact camera or smartphone that's always in your pocket than a big DSLR that you leave at home as it's too heavy to carry around. Learn to use the camera you have as best you can – many compact cameras let you play around with settings like ISO, shutter speed and aperture size so you can get a feel for how they affect an image.
The time to think about upgrading is when you've gone as far as you can with your current camera (whether that's a phone or a DSLR). When you're choosing a new DSLR, don't just think about megapixels and functions, make sure to practise holding and using it too. Think about weight and size – I chose my Nikon D5000 (now the D5600)
because it had a lighter plastic rather than aluminium body so didn't weigh me down. A good DSLR isn't cheap, but it's when you get to lenses things start to get really pricey. Most entry-level DSLRs come with a kit lens (mine is a 18-55mm) that's a good starting point for most situations. If you need a special lens for a trip – like a zoom lens for a safari – without spending a fortune, then renting is a good option. It's also a good way to try out different lenses if you're thinking of buying one yourself.
How do I go beyond just taking basic snapshots?
It's easy to just snap away, but there are a few tricks that can help make your photos more interesting. The first tip is to be conscious of what you're looking at – take time to see how the image is framed in your viewfinder, make sure you're not chopping anything off and that the subject is properly in focus. You don't always have to shoot from the obvious front-on perspective either – clamber up high or get down low on the ground for a different viewpoint. Also look out for unusual angles like using reflections or shadows, especially if you're photographing an iconic building like the Eiffel Tower.
If you're getting serious about photography, you can check out Pinterest or Trover before your trip to scout out the best photo locations in advance. Make sure to pay attention to the light too. Unless you're doing a silhouette, you're better off with the sun behind you. There's a great app called the Photographer's Ephemeris which shows which direction the light will fall at any time of day. So if you want to shoot a particular place you can find the best time to be there. The bright sunlight in the middle of the day can bleach out the colours so the best light is usually the hour before the sun sets or the hour after it rises.
The joy of digital photography is that you can take as many photos as you like, so just keep trying things – it's worth reading up on composition techniques like the rule of thirds, but don't be afraid to break them. Don't forget to have a deleting session too – seeing 2000 photos from a trip is totally overwhelming and likely to make you never want to go through them again, so pick the best few and ditch the rest. But make sure you check them on a computer first as it can be hard to see what they're really like on a camera screen.
What software do you use for photo editing? (and isn't that cheating?)
Photo editing can be a controversial subject – I'm sure everyone's seen bizarre HDR shots that look nothing like the real place. But most photos will benefit from a bit of subtle editing. That might be as simple as rotating them slightly so the horizon is straight and cropping in to make sure the focus is on the right part of the image. A camera is nowhere near as good as our eyes at processing light so you might also need to lighten up shadows or boost the saturation to make the colours more vibrant so the picture looks more like the real thing. If you have a DSLR, you can also shoot in RAW format which records a lot more information from the image so you can adjust things like exposure or white balance afterwards.
I use Adobe Lightroom
for photo editing – it's easy to organise your images into folders and once you import them it creates a copy to edit so you don't have to worry about ruining the original. Other good editing programmes include PaintShop Pro
and Photoshop Elements, which each cost under £50, or there's free online software like PicMonkey. If you're using your phone then try photo editing apps Snapseed and VSCO, or you can edit photos and add filters in Instagram. And if you do want to give (proper) HDR a go, then try Photomatix Pro
or Color Efex Pro's 'Detail Extractor' filter.
How do you get good shots in bad weather?
However good your photography technique, one thing you can't control is the weather. It's so much easier to get great photos when the sun's out and the sky's blue, but what about when the weather is grey and overcast? My top trick on a gloomy day is to convert my photos to black and white. The key is not just to convert the image to greyscale though, as it can still look flat and dull. You also need to up the contrast so the black areas look darker and the white areas look brighter. You can do this in any photo editing software, but if you are keen on black and white photography it might be worth getting a copy of Silver Efex Pro which has a lot of inbuilt filters to create different effects, from subtle to dramatic.
I've got thousands of photos sitting on my computer, what can I do with them?
Digital photography makes it easy (and cheap) to take thousands of photos, but aside from posting a few up on Facebook, most people just let them sit on their computer. So what else can you do with them? Well you can display them online at sites like Flickr or SmugMug – there are lots of groups and communities so it's a good way of getting feedback on your photography too, as well as a useful extra back up. But you can't flick through photos on a computer very easily, so I like to have a hard copy too.
I used to print out photos and put them into albums, but now I'm a big fan of creating printed photo books. You can upload your pictures to sites like Photobox or Bob Books and use their software to design your own layouts which are then printed into a hardback book. I do a book every year with my best photos from all my trips from the last 12 months, or you can do a whole book from a particular trip. You can also create posters and canvas prints for your walls, or put your photos onto bags, mugs and phone cases. Or why not get crafty and use your Instagram photos to create a framed collage or even a lampshade.
Do you have any other photography questions or tips and tricks to share? The next travel clinic will be about train travel, so if you have any questions get in touch.
Pin it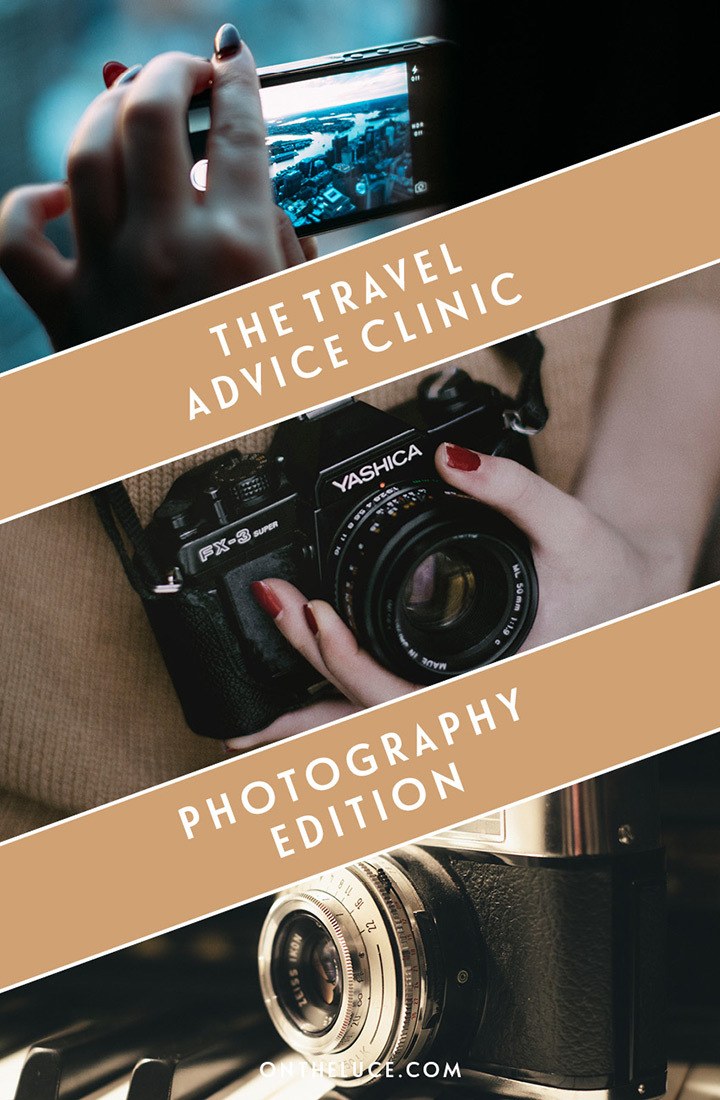 This article contains affiliate links, where I get a small commission at no extra cost to you – thanks.