Planning a cruise? Here's what's new in cruise travel due to the Covid-19 pandemic, with tips for planning your trip, travel procedures and what to expect on board ship.
After a year when travel was put on hold, cruise ships have set sail around the world again – but things aren't quite the same as they were. Changes have been made both on and off the ship, from travel restrictions to cruise line policies, and many travellers are understandably feeling a bit nervous about getting back out there again. So what is it like taking a cruise in 2021? After cruising with Celebrity Cruises in the Mediterranean this summer, here's my guide to what's new in cruising, with tips for for taking a cruise during the pandemic.
AD: My trip was hosted by Celebrity Cruises, but all views are my own.
Tips for taking a cruise during the pandemic
Please note: This post is based on my trip to Greece and Croatia with Celebrity Cruises in August 2021 – rules may vary with different cruise lines and in different countries, and restrictions are subject to frequent change so make sure to check the current situation.
Keep an eye on changing requirements
This goes not only for taking a cruise right now but for any type of international travel. The most important thing you need to do is to closely monitor the the current rules for travel – both those for the country you're visiting and for your home country when you come to head back – as they are liable to change at any time, and sometimes at short notice.
Our cruise departed from Greece which was on the UK's amber list at the time, so we needed proof of vaccination status (or proof of a negative Covid test within 72 hours) along with a passenger locator form to enter Greece. Then to get back to the UK we needed a negative test, passenger locator form and a pre-booked test for day two after our return.
Since then the UK's rules have changed (the amber list has been scrapped and countries are now only red or green) so we wouldn't need to take a test before leaving Greece. But as you can see there's a lot to remember, and the rules change frequently.
As information goes out of date so quickly, check the government website for your home country and the place you're visiting for the most accurate details – for the UK that's the gov.uk site and for the US it's the Department of State. Your airline and cruise line should also provide you with up-to-date information before you travel.
Choose companies with flexible booking
With things being so changeable, destinations can be added to the no-go list and flights cancelled at short notice, so it's more important than ever to choose companies which allow you to make changes to your booking if something unexpected happens.
Many airlines and hotels now allow free changes to bookings up to a few days before travel, and Celebrity Cruises have a Covid-19 guarantee. This gives you a full refund if you test positive within 14 days of the cruise and a pro-rata refund if your trip is cut short. And if you catch Covid-19 during your trip they'll cover medical treatment onboard, any land-based quarantine required and travel home for you and your travelling party.
And make sure you have travel insurance
Although using companies where you have flexibility in your booking helps, there can also be other costs that you might get hit with if your trip is cancelled or you fall ill and aren't able to travel – things like car parking, airport hotel stays or pet-sitting. So make sure you have good travel insurance that will cover any potential additional costs.
Prepare to carry more paperwork
Having all these extra requirements for travel means carrying proof of them all, so prepare to have your documentation ready to be checked at the airport and port. Celebrity let us upload documentation in advance via their app which made it easier, but depending on where you're visiting, you'll need to show proof of vaccination status (and/or a negative test), a passenger locator form, and possibly a pre-booked test when you arrive in the country.
You can download documents onto your phone – or in some cases get a QR code instead – but I found it easier to print out hard copies rather than switching between apps and trawling my inbox (and running the risk of the battery going flat).
Vaccination status is key
Many cruise lines have implemented vaccine requirements as they restart sailing. On Celebrity trips, all crew and at least 95% of passengers are fully vaccinated – all over 12s are vaccinated, with children aged 2–11 having to show a negative Covid-19 test prior to sailing. For vaccinations where you need two doses, the second must have been given at least 14 days before travel. You also need to fill in a health questionnaire before boarding.
Expect pre-departure checks
As all passengers were vaccinated, the process of getting on board ship was quick and easy. After arriving at Pireaus port in Athens, everyone was taken into a marquee for a pre-departure antigen test – which you pre-book through Eurofins. A swab is taken by Eurofins staff and you're given a number, then you wait in the marquee for around 10–15 minutes until your number flashes up on screen, at which point you can board as normal.
Extra cleaning protocols on board
I've always found cleaning on board Celebrity ships to be really thorough, but they've stepped it up their game for restarting travel post-Covid. There's enhanced cleaning procedures, hand sanitiser around the ship, air on board is filtered using a HVAC system and the ship's medical facilities have been upgraded to be able to treat Covid-19 cases if necessary.
Masks are also compulsory for passengers and crew onboard, other than in your cabins and when eating and drinking. And instead of helping yourself at the buffet you're now served by staff to minimise cross-contamination (which can make things a bit slower).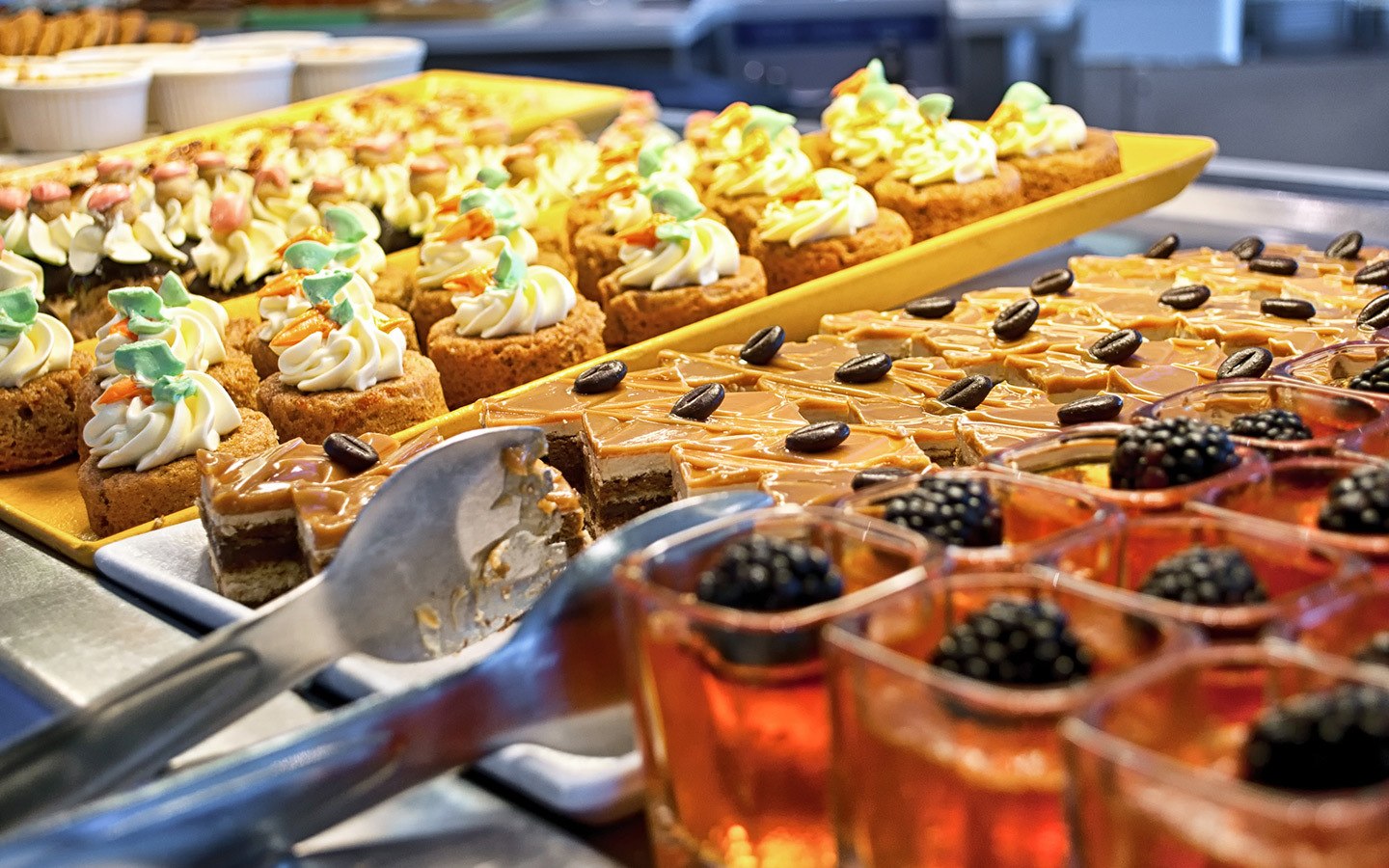 Safety drills have gone virtual
In the past, the big group muster drill was an essential part of the first day of a cruise – where passengers would gather for a safety briefing in the location which they were assigned to go to in an emergency. But now to avoid lots of people gathering together in one place, the muster drill has gone virtual, and it's a real improvement.
Instead you can watch the safety videos in your own time – on Celebrity ships you can view them on your phone using their app. So no rushing off mid-lunch or halfway through unpacking. Instead you just have to check in at your designated muster location within a few hours of boarding where crew will tick you off as having completed the briefing.
Passenger numbers are reduced
Many cruise lines are sailing at reduced capacity to help with social distancing on board – our sailing on Celebrity Apex in August 2021 only had around 800 passengers when the ship can hold up to 2900. Numbers are likely to start increasing as more sailings take place, but lower numbers currently means ships feel really spacious, with even more personal attention from staff onboard, no queues and plenty of room poolside.
With fewer cruise ships currently sailing, you might also find some ports are quieter than usual too – though it depends how many cruise passengers they usually get. Santorini was noticeably quieter than on previous visits and Apex was the only ship docked that day, but Dubrovnik felt busier than ever as it gets lots of non-cruise visitors.
Group excursions are compulsory in some ports
Travel rules will vary depending on which destinations you're visiting on your cruise. In some ports cruise passengers need proof of vaccination to head ashore or can only disembark if they're taking part in an organised group tour – we had to take a cruise line excursion to visit Mykonos, but could explore independently in all the other ports of call.
The rules are subject to frequent changes too, so prepare to be flexible if you plans have to change at the last minute – which could be anything from having to do a Covid test before disembarking to the itinerary being changed and one port substituted for another. Make sure to check the latest situation, particularly if you booked far in advance.
Get ready for homeward travel
In many countries, passengers coming from overseas need to show proof of a negative Covid test before they are allowed back into the country. Tests were provided to all passengers on board Celebrity Apex the day before we disembarked, with different versions available depending on what the requirements were for your country.
Greece was on the UK's amber list at the time so we needed proof of a negative test and had to fill in a UK passenger locator form, which requires you to enter a code to prove you've pre-booked a PCR test which you take on day two after returning home. Airlines were refusing boarding to people who hadn't filled in the passenger locator form properly so again do make sure to double check up-to-date requirements before you head home.
Allow more time at the airport
With so much extra paperwork – and rules changing frequently – many airlines won't let you check in for your flight online at the moment. So with more people checking in at the desks and more paperwork to go through, it's taking a lot longer than usual. So allow plenty of time at the airport, make sure you have all your documentation ready to go – and if it's hot it's a good idea to bring a bottle of water as there aren't always shops open.
Have a fantastic trip
There's nothing like not being able to do something to make you so appreciative it so much more when you can, and that was definitely the case with cruising. Seeing new places, meeting new people and exploring a new ship felt extra-special after so much uncertainly, and everyone was so happy to be back. I did have some anxiety about travelling again and the new rules can seem daunting, but although cruising during the pandemic requires a bit more planning and keeping up-to-date, it really does feel fantastic to be sailing again.
Pin it