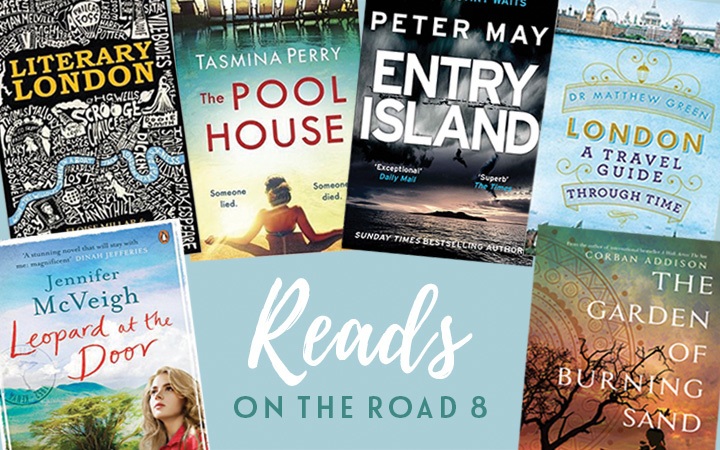 The bonus side effect of a busy year of travel is a lot of books read, and although I'll happily tackle most genres, a travel link or an exotic location is always a bonus. So I'm back with the latest edition of my Reads on the Road series and my favourite recent travel-inspired reads. This latest batch takes you from a remote Canadian island to summer with the rich and famous in the Hamptons, and from medieval London to 1950s Kenya. Hopefully you'll find some reading inspiration among them – let me know your favourites too so I can top up my reading list.
Read more: 30 wanderlust-inspiring books for travellers
London: A Travel Guide Through Time (Matthew Green)
One of my favourite books of the year, London: A Travel Guide Through Time by Matthew Green takes you on a journey back through the history of London. It's based on snapshots of six of the most important eras in the city's history – medieval, the plague, Shakespearean, 18th century, Victorian and post-Second World War. Through the chapters you travel through time to the same streets in each different period to see how the city and its characters have changed.
London's story is told through the stories of "pornographers and traitors, actors and apothecaries, the mad, bad and dangerous to know". It really brings the different eras to life, with tons of information but an easy-to-read style that keeps you interested (and annoying anyone nearby by quoting random facts) – whether you're a long-term Londoner or first-time visitor.
Literary London (Eloise Millar)
On a similar vein, Literary London by Eloise Millar is another tour of London's history, but this time with a literary theme. It's one of those books you dip into rather than reading from cover-to-cover in one go as it's quite heavy on the details. But if you love to read then it's a fascinating tour through how London has inspired authors through the ages – from Chaucer and Shakespeare to Byron and Shelley and right up to Agatha Christie and Dylan Thomas.
Along the way there are little snippets about their lives as we discover the places they used to work, eat, drink and occasionally fight around the city. There are maps at the end of each chapter too so you can track down the locations to create your own literary London tour.
The Garden of Burning Sand and A Walk Across the Sun (Corban Addison)
I randomly stumbled across Corban Addison before a long flight, and couldn't resist the locations of The Garden of Burning Sand and A Walk Across the Sun. The first is set in Zambia and the second in India, but both books have similar styles and basic storylines, with an American lawyer investigating a case that touches on some of the big issues facing each country.
For The Garden of Burning Sand it's poverty and AIDS as a young girl with Down's Syndrome is raped by a powerful man. And for A Walk Across the Sun it's people-smuggling as two young girls lose their family in the tsunami and end up being sold into the sex trade. They're both really serious subjects and you feel like you've learnt something along the way, but there's enough action throughout the books to drive the story and keep you interested.
Leopard at the Door (Jennifer McVeigh)
Another African novel, Jennifer McVeigh's Leopard at the Door takes you back to 1950s Kenya. It's the story of 18-year-old Rachel who returns home to Kenya after six years at school in England to find the country she loves has changed and her widowed father has a cold new girlfriend. It's set in the last days of empire in Kenya, when colonialism is dying and white landowners start to see resistance from the local people – most extremely the Mau Mau rebels.
It mixes up a love story, a family saga, secrets and lies with well-researched historical background detail. It's not a part of history which I knew much about before, but the book gave me a real introduction as well as bringing the landscape and beauty of Africa to life. Though be warned that the book can get a bit gruesome in parts as it shows just how violent things got.
Entry Island (Peter May)
I really enjoyed Peter May's Lewis trilogy, so I was interested to see how he tackled a new location in Entry Island. I'd never heard of the Magdalen Islands, but it turns out they're just north of Prince Edward Island in Canada where I visited last summer. The story takes place on tiny Entry Island – the only English-speaking island on the edge of this French archipelago.
Depressed, insomniac police officer Sime Mackenzie investigates the murder of a rich local businessman, with the island's 100 residents as the only possible suspects. But it also weaves in the story of Sime's ancestors who moved to Canada from the Outer Hebrides after being thrown out of their homes in land clearance. Their tough journey ended up with being quarantined on neighbouring Grosse Île – bringing the modern and historic stories together.
The Pool House (Tasmina Perry)
An unashamed beach read, The Pool House by Tasmina Perry is one to pack with the suncream if you're off on a winter sun holiday. Set in the Hamptons, luxurious summer enclave of New York's elite, it's a window into this world of beautiful, successful people – with a side of murder. British couple Jem and Dan move to New York and are invited to join a Hamptons house share.
But when it turns out that Alice, whose room they've taken over, died in the pool there last summer, Jem can't stop herself digging into what happened. She ends up teaming up with a local mystery author to investigate Alice's death, even though it unearths plenty of secrets about her housemates, and even her husband. It's an easy read that will keep you guessing – and dreaming of an alternative life of Manhattan weekdays and beach weekends.
So those are my favourite recent travel reads, but what are yours?
Pin it
This article contains affiliate links, where I get a small commission at no extra cost to you – thanks.