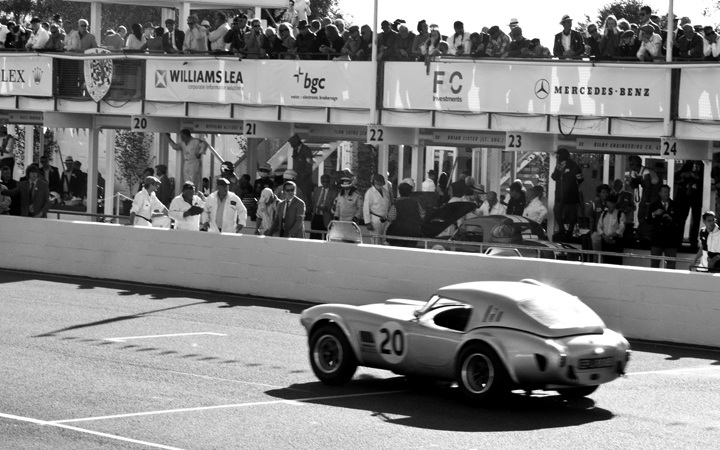 With classic sports cars screeching around the race circuit, land girls in a 1950s jeep, Dad's Army marching past, and women in Grace Kelly dresses, Goodwood Revival is more than just a weekend away to a different place, its a trip to a whole different time period. For one weekend each September, the Goodwood motor racing circuit near Chichester in the south of England steps back in time with classic cars, vintage fashion and period planes from the 1940s, 50s and 60s. Where else can you see scooters lined up outside a retro Tesco, dance to a swing band, drink tea from a tin mug or get stopped by a 1950s policeman?
Read more: A weekend in Rye, East Sussex
The motor racing circuit at Goodwood opened in 1948 and it was home of some of the greatest British racing during the 1950s. It closed down in 1966, but years later the original circuit and buildings were restored and refurbished back to their former glory. The first Goodwood Revival was held in 1998, with everything on the site – from cars and aircraft to music and fashion – dating back to the circuit's 1948–1966 heyday. Now 150,000 racing and vintage fans visit every year, and I'm one of the regulars! So here's my guide to the Goodwood Revival, with everything you need to know for the perfect weekend back in time.
When is the Goodwood Revival?
This year's Goodwood Revival takes place from Friday 7th–Sunday 9th September 2018. The gates open at 7.30am each day, and the main site closes at 7pm but the Over the Road area is open until 10pm.
What happens at the Goodwood Revival?
Motor racing takes place on the circuit over the whole weekend, with the kind of cars and motorbikes that you would've seen in action here between 1948–1966. There are races for different categories of car each day, based on their ages and engine sizes. You might recognise a few of the drivers, with famous faces from all eras in the world of motorsport taking part – from Formula 1, touring cars and Le Mans, as well as famous car fans from film and TV. Many of the cars are worth a fortune, but the drivers still give it everything they've got, and the circuit is wide and flat so you see plenty of overtaking. Goodwood also shows off its heritage as a Battle of Britain airport with a display and flyovers from pre-1966 aircraft.
What if I'm not a big motor racing fan?
Although the Revival is a motor racing event, there's a lot to do away from the track too – there are definitely some visitors who are just there for the vintage style and don't watch any of the racing. It's a great place to wander around and soak up the atmosphere and check out all the clever little details. There's lots of live music and you can try out a jive or jitterbug with dance classes and demonstrations. There's a retro high street where you can visit a vintage Shell garage or stop for a cup of tea at the Kenwood Corner House. And across the road from the main circuit, there's a section appropriately known as Over the Road, which has fairground rides, a roller disco, vintage outdoor film screenings and the Revival Market.
What's the Goodwood Revival dress code?
There's no official dress code for the Revival – other than if you have a pass to the central paddock – but most visitors get into the spirit by dressing up in vintage style outfits from the 1940s, 50s and 60s. There's a huge range of fantastic outfits on show – think WWII military uniforms, Grease-style twin sets and capri pants, Grace Kelly belted dresses and flared trousers and tie dye. The Revival fashion team pick the visitors with the best outfits for a daily 'Best Dressed' fashion show to win a bottle of Champagne.
If you want to join in, you can usually pick up vintage or vintage style pieces in charity shops or on eBay. Or there are a few companies which make 50s-style dresses like Vivien of Holloway (which is where I got my red and black spotty dress from), Lindy Bop and Starlet Vintage. There are also plenty of stalls in the Revival Market at the event, where you can stock up on seamed stockings or long gloves. There's also a vintage hair and make up salon where you can get some help with your beehive or winged eyeliner.
How much do Goodwood Revival tickets cost?
You can book tickets for the Revival weekend through the Goodwood website. The cheapest option is an Admission only ticket, which lets you access the circuit and the grounds – you don't get a seat in the grandstands but you can move about and there are plenty of places on the banks to watch the races. Admission only tickets costs £55 for Friday and £78 for Saturday or Sunday – or you can get a weekend ticket for £184 (13–21 year olds are half price and under 12s go free). You can also buy grandstand tickets separately starting from £36-£65 a day, or there are various hospitality packages available.
How to get to Goodwood
Travelling by car can be snail-paced with the Revival traffic and narrow winding country roads, so allow plenty of time. It's usually quickest if you arrive early in the morning or leave late. Parking is included, and if you have a vintage car of your own, you can park in special car parks for pre-1966 and tax exempt vehicle which are much closer to the entrance. Places are free but you need to reserve them in advance.
Chichester is the nearest train station to Goodwood, with trains to London, Bristol (both taking 90 minutes) and the rest of the UK. It's three miles from the station to the circuit, with taxis and vintage shuttle bus connecting them. If you're flying in the nearest airports are in London or Southampton – or if you're feeling really flash then you can arrive in style by private plane or helicopter to Goodwood's own airfield.
Where to stay around Goodwood
If you want to be right in the middle of the action, you can stay at the estate's own Goodwood Hotel, though be prepared to splash out and book super early. Slightly less glam but even closer to the circuit is the on-site campsite. If you're bringing your own camping equipment, a four-night weekend camping pass for one tent and up to four people costs £180 (£255 with an electrical hookup). You can also rent a pre-pitched tent with inflatable airbeds for £460 for four. Event entry isn't included in the camping prices.
A bit further afield, try Chichester and Arudel. The Harbour Hotel in Chichester is a four-star hotel and spa elegant townhouse within the town's Roman city walls. The White Swan Inn is just outside Arundel or the Royal Oak and the Fox Goes Free are both traditional pubs on the South Downs, within easy reach of Goodwood. Or if you're on a budget, there's a YHA hostel 13 miles away in Littlehampton.
Where to eat and drink at Goodwood
There are lots of food stalls and venues throughout the site, from vintage cafés to the 'Oily Rag' pub. You can also pre-book a table at the Richmond Lawn restaurant at the circuit, or one of the restaurants at the Goodwood Hotel. You can also order a picnic for collection or bring in your own, with some impressive vintage picnic baskets on show. Away from the event, The George in the village of Burpham serves gastropub food and Arundel Breweries' real ales, and is set along a pretty riverside path from Arundel. Also in Arundel, the Bay Tree Restaurant is a good for a special meal, with award-winning seasonal dishes.
Pin it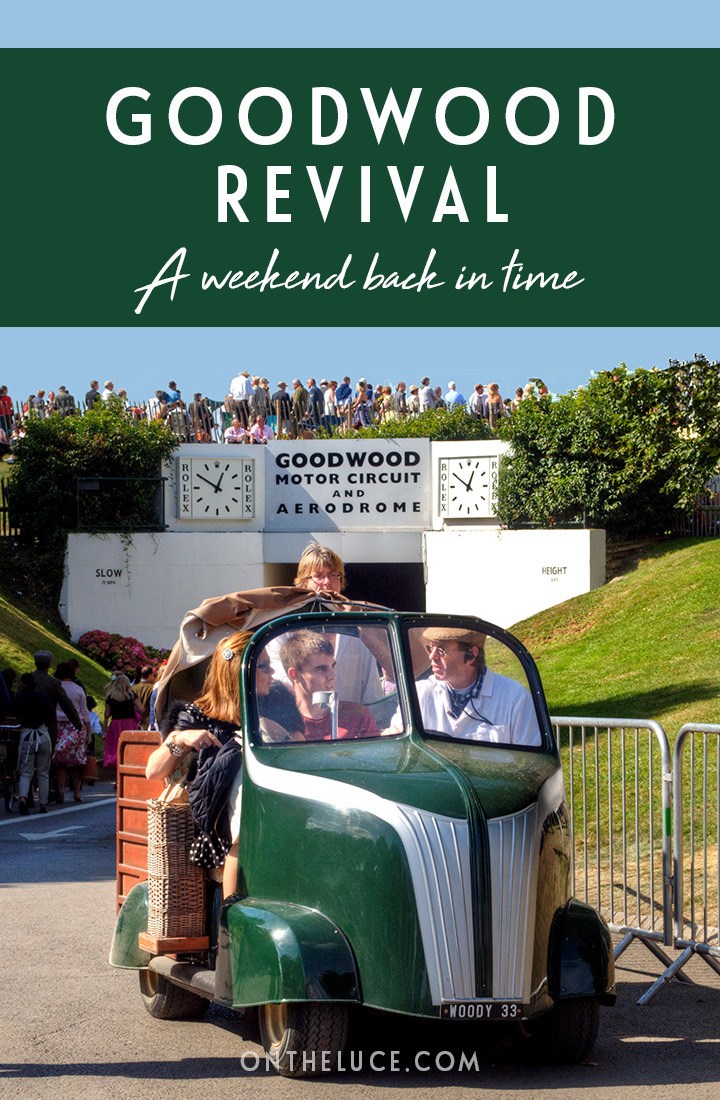 This article contains affiliate links, where I get a small commission at no extra cost to you – thanks.