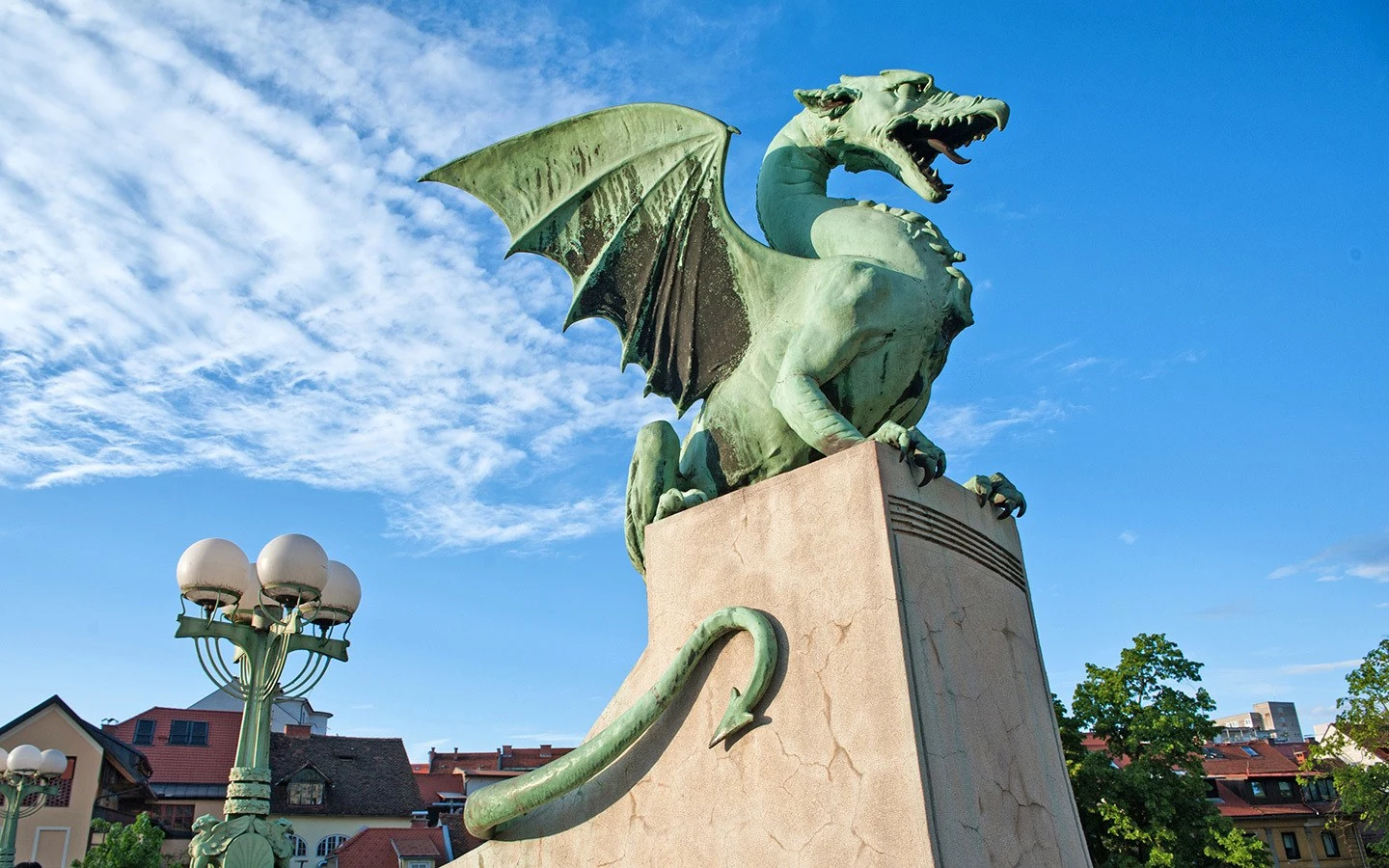 By capital city standards, Ljubljana is tiny. Slovenia's biggest city only has 287,000 residents (about the same size as Newcastle in the UK) and you can walk from one side of its historic centre to the other in around 15 minutes. But in this case, small really is beautiful – or as they say in Ljubljana, 'small by surface area, large by quality of life'. Yes you could probably whizz around the city's sights in a day if you really wanted to, but it's more of a place to slow down, relax and let yourself fall in love – so here are five reasons you should visit Ljubljana in Slovenia.
Read more: The green waters of Slovenia's Vintgar Gorge
Why visit Ljubljana?
1. The beautiful old town
There's no denying that Ljubljana is one of Europe's prettiest capitals. The old town is an atmospheric web of cobbled streets with pastel-coloured buildings topped with terracotta tiled roofs. Church spires and a castle perched on a hilltop look down on you. And flowing through the middle is the emerald green River Ljubljanica, with its tree-lined banks and pavement cafés.
Some of the city's buildings are Baroque and others Viennese Secession style. But the credit for a lot of its beauty has to go to architect Jože Plečnik. After working in Prague and Paris he came back to his home town in the 1920s and set about transforming it. As well as designing the city's major buildings he added the features that make Ljubljana so special – the parks and plazas, the open air market, the riverside walkways and the ornate bridges.
The River Ljubljanica is criss-crossed by 17 bridges, including the Triple Bridge. It was built in 1842 but Plečnik added two other side bridges for pedestrians in the 1930s to create something completely unique. There's also the Art Nouveau-style Dragon Bridge, dedicated to the symbol of the city – the dragon and one of the most famous of Ljubjana's landmarks. Keep your eye out for more dragons too, there are metal dragon sculptures dotted around the city.
2. The relaxed feel
On a sunny Sunday lunchtime, it felt like the whole of the city was out on Ljubljana's streets. There were boats of sightseers drifting along the Ljubljanica. People lazily browsing stalls piled high with crafts and antiques at the riverside weekend market. The hum of people chatting and glasses clinking as they toasted another sunny spring day in a waterside café. It was pretty much a perfect Sunday – and in Ljubljana every day feels a bit like a Sunday.
Ljubljana isn't one of those cities bursting with must-see sights where you end up scurrying around manically to try and tick them all off. Instead you can happily lose a day or two soaking up the atmosphere, admiring the views and hopping from café to bar to restaurant. There are museums, churches and castles to visit if you want to learn more, and plenty of interesting day trips from Ljubljana, like Lake Bled, the Vintgar Gorge or the the mountains of Kranjska Gora. But it's also one of those places where you don't feel bad for not doing a lot.
3. The history
Legend has it Ljubljana was founded by Jason and the Argonauts, who stopped here on their way back to Greece with the stolen Golden Fleece. Or maybe it started life as a Roman fort, became part of the Austro-Hungarian Empire, then a province of Yugoslavia, was occupied by the Italians in WWII and finally gained its independence in 1991. Whichever you want to believe, this is a city with a fascinating history. You can get a crash course in its past at the City Museum, or for an insight into more recent history try the National Museum of Contemporary History.
The city's top historic site – towering over everything else – is its castle. It was built in the 15th century on the site of an earlier medieval castle and has been a fortress, prison and house over the years. Today you can climb the hill (or take the funicular) for the city's best view from the castle tower with the city stretching out into the distance below you. The castle's been restored and is surprisingly modern inside, with exhibitions plus a great restaurant and café.
4. The greenness
In most capital cities space is at a premium and the buildings are packed in tightly. But looking down from the castle tower I was surprised at just how green Ljubljana is. Parks, gardens and trees seemed to fill every patch of spare space. It hasn't always been that way though. Ten years ago the streets along Ljubljana's riverside were polluted and clogged with traffic.
Since then the whole historic centre has been pedestrianised, and now the only wheels allowed in are buses and bikes. It was controversial at the time, but it's been such so successful that Ljubljana was named the European Green Capital in 2016. Five new parks have been built and 2000 trees planted, as well as setting up recycling and bike hire schemes. So you don't have to go far to find a patch of green in Ljubljana – follow the grassy riverside path out of the centre, head west to the huge Tivoli Park and have a picnic on the lawns or cycle out into the forests.
5. The culture
Ljubljana is a young city, both in terms of its age and its people – students make up 13% of the population. It's not a place that's stuck in the past but somewhere that's still developing and finding its identity. And it definitely knows how to have a good time. There are plenty of bars and restaurants in the city centre, so whether you fancy a cosy cellar or waterside terrace you won't have much trouble finding a perfect spot for a cold Union beer or glass of local wine.
The city has an edgier side too – away from the historic centre is the Metelkova district, a military barracks turned squat that's now the place to go for nightlife. Ljubljana's also a festival hotspot, with a mind-blowing 10,000 events held there every year. Biggest of all is the Ljubljana Festival in the summer, with music, opera, ballet and theatre performances. But there are also festivals dedicated to food, literature and film – this city has something to love for everyone.
Pin it
This article contains affiliate links, where I get a small commission at no extra cost to you – thanks.