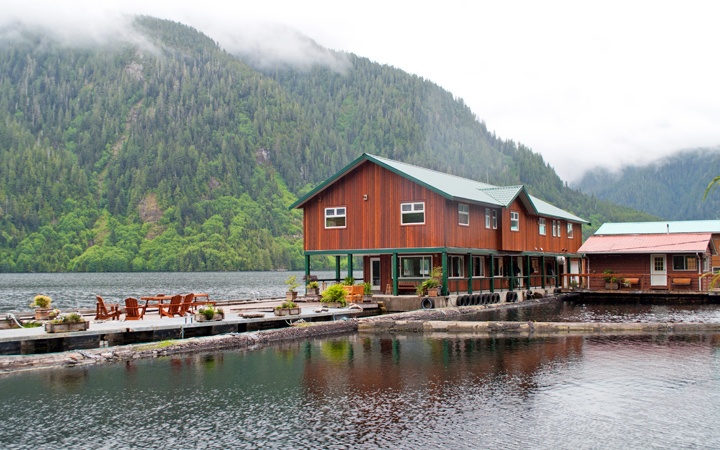 When I first heard my trip to Canada included a few days out in the remote Great Bear Rainforest, I did wonder if I was going to be roughing it. But it turns out that at the Great Bear Lodge you can do luxury in the wilderness. Out in the fjords to the north of Vancouver Island, the lodge is surrounded by miles of unspoilt temperate rainforest. The area is home to grizzly and black bears as well as plenty of other wildlife – cougars and wolves on land, whale and dolphins in the water, and hundreds of bird species in the air.
Set on a pontoon floating in an inlet, the lodge is a real step away from modern life – a true digital detox with no TV, internet or phone signal. You have no choice but to slow down and live life in tune with nature, with the day's rhythm governed by the movement of the tides, the rise and set of the sun and the daily routines of the wildlife. It's a magical place, unlike anything else I've ever experienced.
Read more: Land of the Grizzly Bear: Canada's Great Bear Rainforest
The location
Getting there is definitely part of the adventure at the Great Bear Lodge. With no roads reaching into this remote area and the twists and turns of the fjords making boat access slow going, the only other way in is by air on board a float plane. Our journey started in the town of Port Hardy at the top of Vancouver Island, where we boarded a tiny five-seater plane for the 50-mile journey. Now I'm not the biggest fan of flying and when I saw the size of the plane I'll admit the nerves kicked in. Our ride was a de Havilland Beaver DHC-2 – last built in the 1960s but still shuttling passengers around the British Columbia coastline.
All supplies for the lodge arrive on these float planes, so as well as passengers we were also carrying boxes of food and other necessities. Because of weight restrictions we left our heavy bags in the lodge's offices in Port Hardy and just took what we needed for a few days (the office has smaller bags you can borrow if you don't have your own). With everything tightly packed into the plane we were ready for the off – it was a strange sensation to be heading out onto the water but the inlet made a smooth runway and as the propeller fired up we suddenly found ourselves airborne. The good weather made for a gentle ride and the spectacular views down onto the Queen Charlotte Strait were enough to chase away the last of my nerves.
You could see dramatic hillsides densely packed with trees, tiny boats and the remains of old logging camps. If you're lucky you can sometimes spot orca, grey and humpback whales too. After 40 minutes we could see the lodge below us and the plane started to circle downwards, landing smoothly on the fjord's glassy waters.
The lodge
The main lodge building is a two-storey wooden structure, floating just offshore and attached to land with a gangway (though you're warned not to go onto land without a staff member as bears do come very close). But its origins were a bit more basic – when naturalist Tom Rivest set up in 1999 he lived in a tent in the rainforest and visitors came over by water taxi for day trips. From there the business grew and moved to its current location in 2004, starting with a smaller five-bedroom building. Then Tom and partner Marg Leehane recently bought an old hunting lodge which was renovated in Port Hardy before being towed out.
The building floats on a concrete base, with tanks for water and waste and flotation devices. It's almost completely self-sufficient, using hydroelectric and solar power. The water comes from a waterfall just behind the lodge, where it's UV treated, and the waste is treated on site. As well as flying in their supplies by float plane, the lodge flies all their rubbish out too to keep their environmental impact to a minimum.
The eco-friendly aspect doesn't mean you have to do without luxuries though. Upstairs there are eight bedrooms, each named after a different species of bear. Each comes with an en-suite shower room supplied with special unscented toiletries so the bears don't pick up your smell. The best bit was the view though – mine looked out over the inlet where I could watch seals swimming by. By night the combination of a comfy bed, the gentle lapping of the water and spending the day out in the fresh air meant I got some of my best nights' sleep ever. Downstairs there's a big open-plan common area with a dining table and armchairs, and outside there's a wooden deck with lots of seating areas where you can soak up the views.
The food
The lodge describe their food as 'wilderness gourmet' style, and they use as many local and organic ingredients as they can. The chefs whipped up some delicious dishes, like slow-cooed lamb shanks and their speciality – salmon cooked on a plank – and they are happy to cater for those of us with difficult diets, creating an amazing gluten-free chocolate cake for me. Some of the food was incredibly local, like the seafood paella we had for dinner one night which was made with crab freshly caught in the estuary.
Lunch was a homemade soup or salad, with the bear-watching boats radioing back to the lodge so it was ready and waiting for us. Turns out sitting around looking for bears all day makes you surprisingly hungry, but there was plenty to go around. There's also a steady stream of snacks available – freshly baked cookies and sweets, plus you can help yourself to tea, coffee, wine and beer from a fridge in the common room.
The activities
Activities at the lodge vary at different times of year. In the autumn when the salmon arrive the bear-watching takes place from hides along the riverbank. But when we visited in spring you go out in small boats instead as the bears are feeding on sedge at the water's edge. Days at the lodge are busy, starting with breakfast at 7am before the first bear-viewing session. Bears are most likely to be spotted in the mornings and evenings so there are two sessions a day, each lasting about four hours.
Being sat still for so long in the damp rainforest can get chilly so we were kitted up with lots of layers first – a padded all-in-one that was like wearing a duvet, waterproof trousers and jacket, and a life jacket as well as wellies, hat and gloves (just make sure you don't drink too much in the morning as it takes 10 minutes to get it on and off!). Each boat takes a maximum of five people plus a guide and there are only two boats out at a time to keep the impact on the bears to a minimum. You might not spot one on every viewing session, but there's a lot of other wildlife to see if you don't, as well as some stunning landscapes.
Around noon we headed back to the lodge for lunch and then there was an afternoon activity – a nature walk through the rainforest or a boat trip out to see a glacier-carver inset (though if that sounds too energetic you can just relax with a book on the lodge's deck). In the early evening everyone eats dinner together before kitting up and heading out for a second bear-watching session until dusk. Then the day usually ended by comparing notes over a glass of red wine and cheese and biscuits in the common room.
My tips
Guests are… couples or families with older children, both international (our fellow guests were from Holland and New Zealand) as well as local BC residents. Having a maximum of 10 people at any time gave the lodge a really friendly feel and you all soon get to know each other.
Staff are… very friendly and knowledgeable about the bears and the rainforest.
Don't forget… your camera, and preferably a good zoom lens (300mm or more). In autumn when the bear-watching is from hides a tripod is useful, but in spring a monopod or bean bag is better. And pack seasickness pills if you're prone to it as the float plane journey can be tough going in bad weather.
Useful to know… the lodge has plenty of wet weather gear so don't worry about packing your own – I just took a warm base layer (leggings and a fleece) and some jeans and a jumper for the evenings.
The details
Guests at the Great Bear Lodge normally stay for three nights. A sample price is CAD $2075–$3750 per person based on double occupancy, with the prices varying by season. The price includes seaplane transfers and all your food and drink, as well as activities and gear while at the lodge.
Inspired to find out more? Discover what Canada has to offer at www.keepexploring.ca
Pin it
I visited British Columbia as a guest of Destination Canada as part of a Travelator Media campaign.