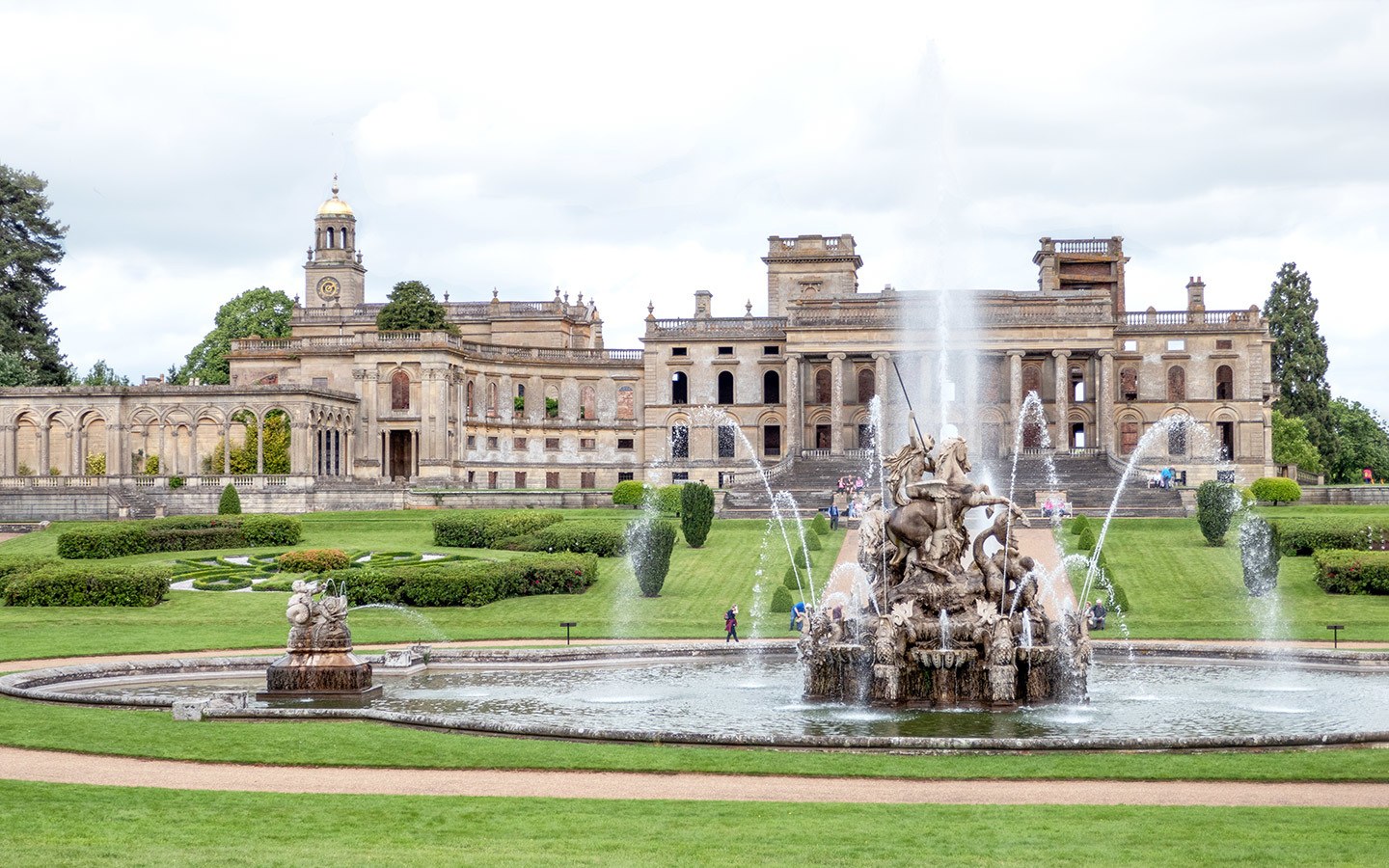 As you walk through the ruins of Witley Court in Worcestershire, you can feel the ghosts of its past life as one of England's great country houses. At the end of the 19th century, it was a real-life Downton Abbey, hosting royalty at shooting parties and glamorous society balls, with a fleet of staff below stairs keeping things running smoothly. But after a fire ravaged the house in 1937, it was left as an empty shell until being taken over by English Heritage, who opened Witley Court for visitors to explore the ruins – and get a glimpse back in time to its glamorous heyday.
Read more: 10 Great British weekend break ideas
The history of Witley Court
Witley Court started life less grandly as a Jacobean manor house. But in 1655 it was sold to the Foley family, who'd made their money in ironmongery, first producing nails and then cannons for the Civil War. Over the next 182 years, eight generations of Foleys (who were confusingly all named Thomas) reinvented themselves from industrialists to aristocrats and politicians, lavishing money on Witley Court along the way so it matched their new status.
Thomas #3 added an extra floor and two new wings. Thomas #4 built a new church with lavish Baroque interiors and created a lake at the front of the house. Thomas #7 commissioned Regency architect John Nash – designer of Buckingham Palace – to add grand porticoes. But the black sheep of the Foleys, Thomas #6 (aka 'Lord Balloon') had eaten, drunk and gambled their fortune away, so in 1833, Thomas #8 had to sell Witley Court to pay his debts.
Witley Court's new owners were the Wards – Earls of Dudley. They'd gained a huge fortune from oil and coal mines in the Black Country and plantations in Jamaica. But heir Lord Ward didn't come into his inheritance until he was 28. So Witley Court was let to Queen Adelaide, widow of King William IV, until 1846 when Lord Ward took over and set about transforming it again.
Ornate Italianate style was the peak of fashion, so the whole house was remodelled to match over the next six years. The exteriors were clad in Bath stone, a huge glass orangery was built, the gardens were landscaped, elaborate fountains were added and all hundred rooms were renovated with marble fireplaces and French-inspired white and gold mouldings.
The original simple manor house had become a palace. But it was Lord Ward's son, second Earl of Dudley, who ushered in Witley Court's heyday as the ultimate 19th-century party house. He inherited the house on his 21st birthday in 1888 – and celebrated with a three-day party including a ball for 214 guests, lunch for 900 local men and afternoon tea for 850 women and children, a fairground, bands, boating on the lake and a giant firework display.
After Dudley married Norfolk banking heiress Rachel Gurney, Witley Court hosted a string of shooting parties, with famous attendees including the Prince of Wales. It took a staff of over 100 butlers, footmen, housemaids, cooks, gardeners and stablehands to keep the place running. But Dudley was burning through his fortune at a rate, foreign competition was hitting his businesses and when his wife drowned in an accident in Ireland, he decided to sell up.
In 1920, Witley Court's final owner was another rich industrialist, Kidderminster carpet manufacturer Herbert Smith. But the house's glory days were over. Smith installed electricity and cut staff levels, and it lay almost empty much of the time. Then in 1937 a fire broke out in the house's bakery while Smith and his family were away. Witley Court's fire hydrants hadn't been maintained so the fire spread unchecked, destroying the central and eastern sections.
Herbert Smith's insurers wouldn't cover the cost of rebuilding, so Witley Court's grounds were sold for farming, the house's contents were auctioned off and the building stripped of anything of value over the next 20 years. Witley Court was derelict and overgrown by 1972 when it was issued with a compulsory guardianship order and English Heritage took over.
Visiting Witley Court
Once English Heritage took over Witley Court, they repaired the damage and stopped it getting any worse (if you want to see what it was like before, Procol Harum's shot the video for A Whiter Shade of Pale at Witley not long before it was taken over). But it hasn't been rebuilt – the house is still a shell, but a walk around the ruins and gardens makes a great day trip.
There are old photos around the house, showing what the rooms would have looked like in its prime. The fire has uncovered some of its origins too, with patches where the stone facade has come away and you can see the original brickwork below or the steel girders that would've held the floors up. Getting a glimpse below the surface seems a bit like seeing a grande dame without her make up on; like you're taking a peek at something you shouldn't.
Walking up the steps to the entrance hall, you can picture carriages arriving and guests being greeted by the butler, waiting among the marble sculptures and potted palms to be welcomed for a weekend party. Inside you can see spaces which were the drawing room, salons, sitting rooms and library. Alcoves, fireplaces and remnants of wall mouldings help you picture what it would've been like, decorated with paintings, sculptures and lavish fabrics.
The ballroom is the house's grandest room, stretching for 21 metres along the east wing. It's where the biggest parties were held, and would've been covered with gilded plasterwork and hung with crystal chandeliers. And apparently every year the second Lord Dudley would drape a Christmas tree with jewellery for female guests to take home with them.
Overlooking the gardens, the conservatory – or orangery – was one of the most impressive in England. It originally had a domed glass roof modelled on Crystal Palace, and was heated by a coal furnace to create an oasis of tropical plants. Although it survived the fire, the glass and lead were stripped out and not much is left. But it's still a good spot to look out over Witley Court gardens, which have been restored with some of the original planting.
The highlight of the gardens is the Versailles-style Perseus and Andromeda fountain. It was one of the grandest in Europe when it was built, depicting Perseus rescuing Andromeda from a sea monster on the back of a winged horse. The fountain originally shot water up 36 metres high, with 4000 gallons pumped from a lake half a mile away. It was restored and restarted in 2002, and you can see it in action from April to October (check times at the ticket office).
When you're visiting Witley Court, make sure not to miss Great Witley Church. Although it's attached to the house it's actually owned by the local parish and is still a working church. Small from the outside, it hides some very grand Baroque interiors. The church was was built by the second Lord Foley (aka Thomas #4) and in a clever bit of recycling, he reused the interiors from the Duke of Chando's chapel in Middlesex which was being demolished.
The church survived the 1937 fire but fell into disrepair until it was restored in the 1990s. Now the interiors sparkle with gold, with frescoes by Italian Rococo artist Antonio Bellucci and colourful painted glass windows. It's something you'd expect to see in a palace rather than a small parish church in Worcestershire – another echo of the glory days of Witley Court.
What else to see near Witley Court
If you want to make a weekend of it and are looking for somewhere to stay near Witley Court, Ockeridge Rural Retreats have three cute shepherd's huts and a two-bedroom cabin to rent just over a mile away in Little Witley. All have en-suite bathrooms, fully equipped kitchens and terrace seating, and the Shepherd's Retreat comes with an outdoor bathtub.
Five miles north of Witley Court, Astley Vineyard is one of the oldest vineyards in the UK and runs vineyard tours and wine tastings. A bit further north is the Wyre Forest, which has walking and cycling routes as well as a Go Ape outdoor activity course. Or you can head south to Worcester and visit its cathedral, Guildhall and the Royal Worcester porcelain museum.
The details
How to get to Witley Court
Witley Court is 10 miles north-west of Worcester – the postcode is WR6 6JT. If you don't have a car, you can catch a train to Worcester Foregate Street and then take the 758 Yarranton Bros bus (running between Worcester and Tenbury) to Witley, which takes around 20 minutes.
Witley Court opening hours and prices
Witley Court is open 10am–5pm, with pre-booking currently required. Entry costs £9.90 for adults, £9 for students/over 60s and £6 for children aged 5–15. Or it's free for English Heritage members – annual membership gets you entry to 400 sites across the country and costs £63 for adults, with discounts for students, seniors, families and joint memberships.
Pin it
This article contains affiliate links, where I get a small commission at no extra cost to you, thanks.