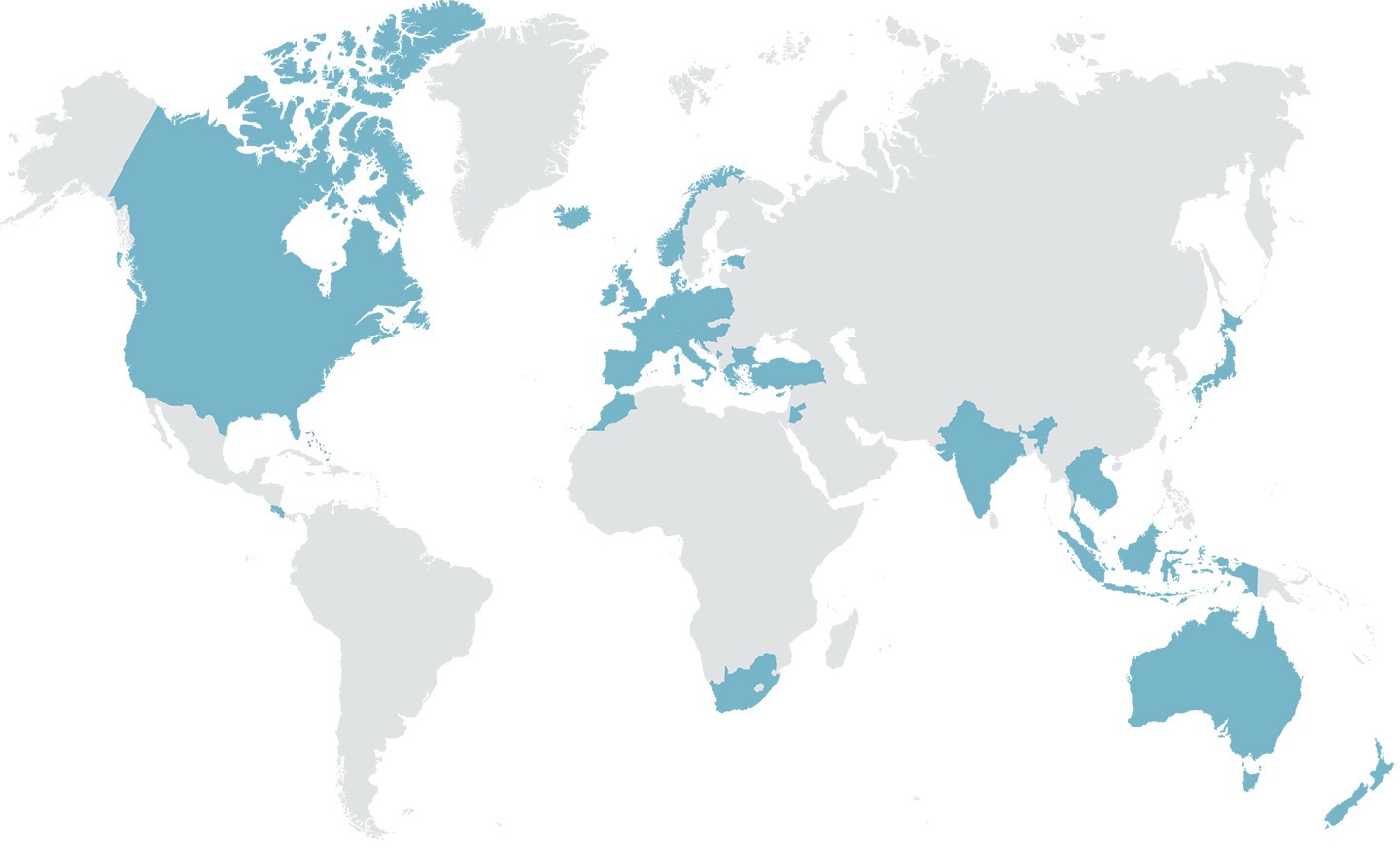 I was a late starter to travel – not going further than France until I was 18. But a university trip to Thailand opened up a new world to me and the travel obsession took hold. Eventually I gave up my job to spend 16 months travelling around Asia and Australia in 2003. And since then I've been combining my love of travel with life and work at my home base in Cheltenham.
I still fit in as much travel as I can, and always have to have the next trip (or three) to look forward to. Here are the places I've been so far – linked to articles where I have them. I've visited 51 different countries, but that's only about a fifth of the world, so there's a lot more still to see!
Europe
Belgium: Brussels, Bruges
Bulgaria: Bansko
Croatia: Dubrovnik
Cyprus: Paphos, Nicosia
Czech Republic: Prague
Denmark: Copenhagen
England: London, Oxford, Cheltenham, Cotswolds, Herefordshire, Forest of Dean, Bath, Bristol, Cornwall, Devon, Dorset, Chichester, Salisbury, Canterbury, Hastings, Rye, Dover, Cambridge, Manchester, Peak District, Liverpool, Chester, York, Newcastle and Northumberland
Estonia: Tallinn
France: Paris, Lille, Normandy, Brittany, Reims, Honfleur, Beaune, Avignon, Nice, Antibes, Carcassonne, Languedoc, Soulac-sur-Mer, Bordeaux, Morzine, Méribel, St Jean d'Aulps, Strasbourg, Colmar, Annecy
Hungary: Budapest
Iceland: Reykjavik
Italy: Rome, Bologna, Venice, Sorrento, Capri, Pompeii, Herculaneum, Amalfi Coast, Ventimiglia, Cinque Terre, Catania
Ireland: Dublin
Malta: Valletta, Gozo
Monaco
Montenegro: Kotor
Netherlands: Amsterdam
Northern Ireland: Belfast
Portugal: Porto, Lagos, Madeira
Scotland: Edinburgh, Glasgow, Outer Hebrides
Spain: Madrid, Seville, Ronda, Barcelona, Canary Islands
Switzerland: Geneva, Zermatt, Lucerne, Lugano, Locarno, Lausanne, Interlaken, Grindelwald
Vatican City
Wales: Cardiff, Abergavenny, Portmeirion, Harlech, Porthmadog
Middle East
Africa
Asia
Cambodia: Phnom Penh, Sihanoukville, Kampot, Siem Reap
China: Hong Kong
India: Mumbai, Goa, Delhi, Agra, Jaipur, Varanasi, Calcutta
Indonesia: Bali, Gili Islands
Japan: Tokyo
Laos: Vientiene, Vang Vieng, Luang Prabang
Malaysia: Kuala Lumpur, Cameron Highlands, Penang, Perhentian Islands, Tioman
Singapore
Thailand: Bangkok, Ko Samui, Ko Pha Ngan, Kanchanaburi, Ko Samet, Chiang Mai, Pai, Sukhothai
Vietnam: Ho Chi Minh City, Dalat, Nha Trang, Hoi An, Hue, Hanoi, Halong Bay
North America
Canada: Vancouver, Victoria, Vancouver Island, Great Bear Rainforest, Prairies, Ontario, Toronto, Prince Edward Island, Niagara
USA: New York, Massachusetts (Boston, Cape Cod), California (San Francisco, Sonoma, Monterey, Santa Barbara, LA), Nevada (Las Vegas), Arizona (Monument Valley, Sedona), Utah (Bryce Canyon, Zion, Kanab, Moab, Arches, Canyonlands), Colorado (Durango, Mesa Verde), New Mexico (Taos, Santa Fe)
Central America
Caribbean
Australasia
Australia: Cairns, Port Douglas, Townsville, Magnetic Island, Whitsundays, Fraser Island, Brisbane, Sydney, Blue Mountains, Canberra, Melbourne, Great Ocean Road, Adelaide, Kangaroo Island, Barossa Valley, Kalgoorlie, Esperance, Margaret River, Pemberton, Bunbury, Perth, Fremantle, Kalbarri, Karijini, Coral Bay, Exmouth, Broome, Kununurra, Darwin, Kakadu, Alice Springs, Uluru
New Zealand: Auckland, Waiheke Island, Waitomo, Rotorua, East Cape, Gisborne, Lake Waikaremoana, Napier, Taupo, Wellington, Abel Tasman, Franz Josef, Queenstown, Milford Sound, Lake Tekapo, Christchurch, Akaroa, Kaikoura, Marlborough, Dunedin, Catlins.