Get back to nature at these unspoilt Provincial Parks in Ontario, Canada. With lakes, rivers and forests, the 16 best Ontario Provincial Parks make the perfect escape for hiking and canoeing.
* This site contains affiliate links, where I get a small commission from purchases at no extra cost to you.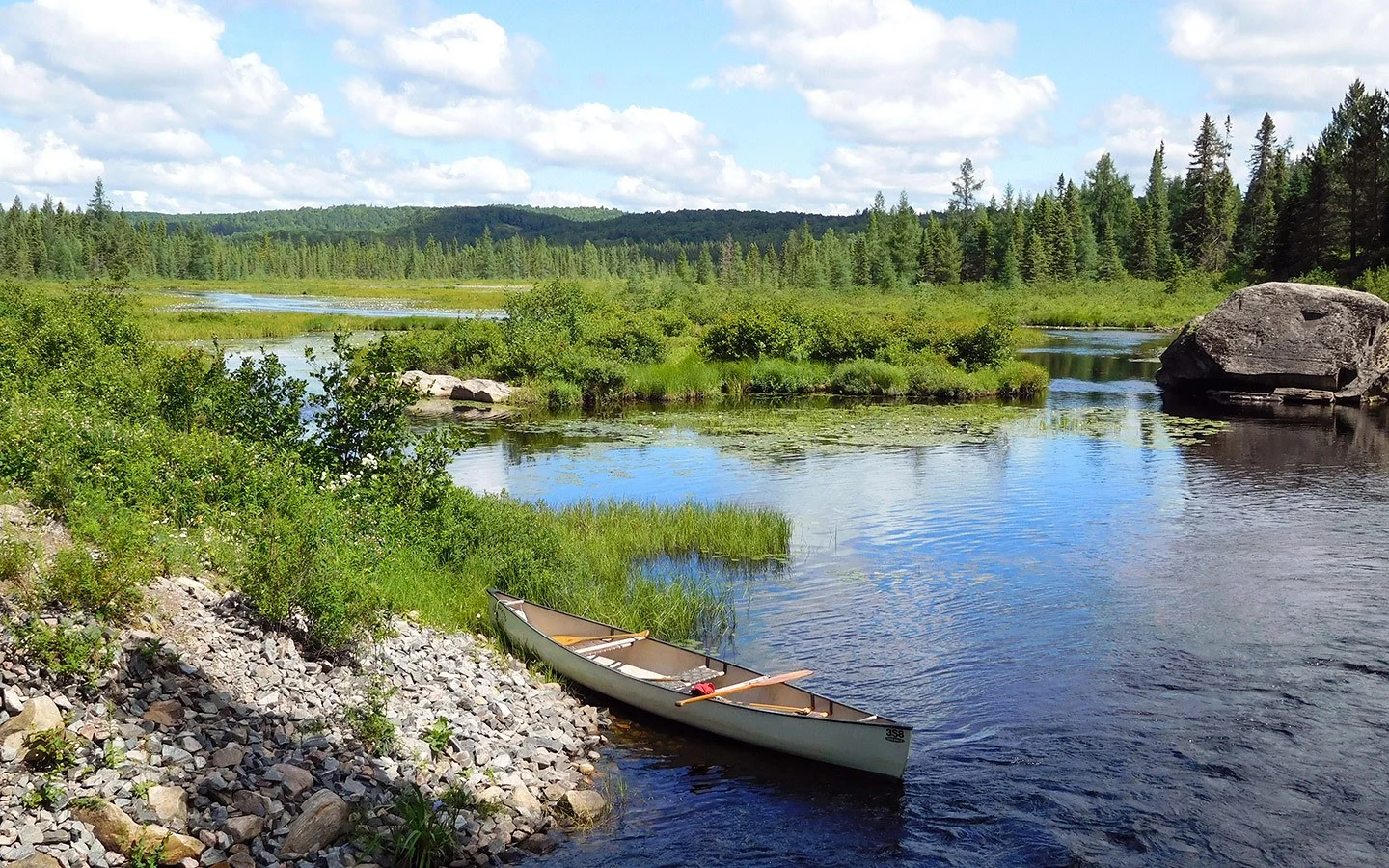 From lakes the size of seas and pine forests, to sandy beaches and thundering waterfalls, Ontario Provincial Parks highlight some of this Canadian province's most spectacular landscapes. There are 330 Provincial Parks in Ontario, and added together they'd cover 7% of the province. Each landscape is different and each was chosen for different reasons.
Some are special habitats for plants or animals, some have cultural significance and others were picked as recreation spots or wilderness escapes. But what they all have in common is that they make some of Ontario's most beautiful areas accessible to everyone.
There are parks which are easily accessible for a weekend getaway from cities like Toronto and Ottawa and those which are more remote, some with amenities like campsites and visitor centres and others which are a more off-the-grid backcountry experience.
So if you're looking to get out and explore some of the beautiful natural spaces of this Canadian province, here are 16 of the best Ontario Provincial Parks, including some of my favourite spots as well as those chosen by other outdoor-loving bloggers.
Best Ontario Provincial Parks map
1. Rushing River Provincial Park
Rushing River Provincial Park is located in the Lake of the Woods region in Northwest Ontario, just outside Kenora and 2.5 hours from Winnipeg, Manitoba. It has a campground, including group spaces accommodating up to 20 people. Or if camping isn't your cup of tea, there are cabins and hotels in Kenora, and day-use of the park is also possible.
As its name indicates, Rushing River is a water-orientated park. Canoe, kayak and water bike rentals are available, the park has two boat launches and there are lots of shallow spots to swim in, which makes it a great park for families with small children. Hiking is also a popular option with four marked trails running from 500 metres to 2.7km.
My favourite hike was the Lower Rapids Fall, which brings you on an old portage trail and allows you to see some waterfalls. It's a 1.8km loop with a few steps but on a well-marked trail. And to unwind you can relax on one of the four sandy beaches at the park.
Recommended by Kenza from Cups of English Tea.
2. Quetico Provincial Park
Canada has a lot to offer when it comes to unspoilt wilderness, but Quetico Provincial Park offers a real primitive connection with nature. There's no mobile phone signal, no motorised boats, no lodges and fewer crowds than many other Ontario Provincial Parks.
Located on the border of the USA and Canada, it shares its beautiful solitude, stretching for miles, with the Boundary Waters Canoe Area Wilderness of Minnesota. If you love canoeing or kayaking, this is the place to be. With more than 600 lakes, you'll never run out of destinations. There are many pretty hiking trails. You can catch fish to eat every day, listen to the howls of wolves every night, and maybe get a visit from a moose or black bear.
Amenities include an interpretive centre, store and car camping sites. Quetico Provincial Park has more than 2000 wilderness campsites scattered all around. However, drive-in, full-service camping is only available at Dawson Trail, located just off Highway 11 on French Lake. Or you can stay at the Log Cabin or Ojibway Cabin on French Lake.
Recommended by Deb from The Visa Project.
3. Kakabeka Falls Provincial Park
It might not be Ontario's most famous waterfall, but Kakabeka Falls, 29km west of Thunder Bay, is the 'Niagara of the North'. It's 40 metres tall versus Niagara's 50, but what you lose in height you also lose in crowds. The falls are the star at this Ontario Provincial Park, with a boardwalk along both sides and a bridge over the top, so you can see them from every angle. And when the sunlight catches the spray you're surrounded by rainbows.
The rust-tinted waters of the Kaministiquia River thunder over the edge of the Falls. Over the years, the force of the water cut its way through layers of rock in the Precambrian Shield and uncovered some of the world's oldest fossils, dating back 1.6 million years.
As well as the boardwalk there several fairly short hiking routes in the park, including the Mountain Portage Trail which follows the route used by early visitors to the Falls.
The park is open year-round, though if you visit in spring you'll see the largest volume of water. In summer there's a beach and swimming area upriver, and cross-country ski and snowmobile routes in winter. Kakabeka Falls has three campgrounds – Whispering Hills (with electrical hookups) and Riverside and Fern's Edge (non-electrical).
4. Missinaibi Provincial Park
Missinaibi Provincial Park protects a Canadian Heritage River and is a premier destination for whitewater canoeing. The Missinaibi River was first of vital importance to Indigenous groups, specifically the Cree and Anishinabe, and then to fur traders since the river offers the shortest route between Lake Superior in the south and James Bay in the north.
Today the Missinaibi River is one of the most iconic canoeing rivers in Canada and a great destination for canoe camping. At nearly 800km long, the entire river (including Missinaibi Lake at the start and Moose River at the end) takes four weeks to paddle.
The first section of the river weaves through the Canadian Shield and offers challenging Class II and III rapids. Portages take paddlers around roaring waterfalls, with intimidating names like Thunderhouse Falls and Hell's Gate.
The second section of the river is on the Hudson Bay Lowlands and suitable for less-experienced paddlers. Here the river is flat and straight until it flows into the Moose River.
At the end of the Moose River, paddlers will find themselves in the towns of Moosonee and Moose Factory, where they can tour original Hudson Bay Company buildings or participate in a cultural workshop hosted by the Cree Cultural Interpretive Center.
Recommended by Mikaela from Voyageur Tripper.
5. Lake Superior Provincial Park
Straddling the Canada/US border, Lake Superior is the world's largest freshwater lake. It is 306 metres deep and as big as Austria – so large it has its own tidal system. And on its east coast is Lake Superior Provincial Park, running along 97km of lakeshore.
The park has two RV campgrounds – Agawa Bay among waterfront pine trees and Rabbit Blanket Lake on a small inland lake – as well as over 200 backcountry campsites. Lake Superior Provincial Park is best known for its hiking and canoeing. There are 11 different hiking trails, ranging from 500-metre walks to the 65km, multi-day coastal trail.
Routes run though a mix of landscapes from rocky coastline and inland lakes to forests and wetlands. There are also eight designated canoe routes over 145km, and you can fish for trout and salmon. But Lake Superior isn't all about the natural landscapes, this section of the lake was also chosen as a park because of its cultural importance.
Canada's best-preserved rock paintings are found in the park – the Agawa Rock Pictographs. Real and mythological creatures were painted by the Ojibwe people to record their dreams and stories. The paintings are located on a rock face above the lake and you have climb on a ledge above the water to see them, so the site's closed on rough days.
6. Chutes Provincial Park
The waterfall at Chutes Provincial Park in Massey along Highway 17 between Sudbury and Sault Ste Marie is the site's main attraction. A railed viewing platform offers easy access and a photographer's vantage point of the Seven Sister Rapids leading to the waterfall. The rapids are the source of the constant roar muting any noise from nearby campers or swimmers. Moments spent blanketed by the water's spray are mesmerising.
The Aux Sables River running through the park is responsible for Chutes' history: the park is named after a log slide (or chute) taking timber safely over the falls in the early 1900s when lumber was a lucrative industry. Yes, you can swim in parts but without a lifeguard.
Today, Chutes has a campground with 130 sites (only two are pull throughs) for tents and RVs, five showers and two bathrooms. The Twin Bridges Trail is 6km of moderately challenging hiking paths with a designated dog swimming spot along the river.
Everyone loves the waterfall, but my favourite thing is near the swimming area: a wooded leash-free fenced dog run with picnic tables, so you can enjoy a picnic lunch and let Rover run when you're either camping here or day visiting. Located only one kilometre from the highway, Chutes Provincial Park makes an ideal Canadian road trip stop.
Recommended by Sherri from Dog Trotting.
7. Killarney Provincial Park
Set on the wild Georgian Bay Coast close to the village of Killarney, Killarney Provincial Park was made famous by a group of 1920s Canadian landscape painters who were known as the Group of Seven. They fell in love with its colours – the vivid green lakes, the pink granite rocks and the white peaks of the La Cloche Mountains.
When three of the artists heard the area was going to be logged, they petitioned the local government and got them to turn it into an Ontario Provincial Park. The park now covers 645km² of wilderness which you can explore by canoe or on foot.
There are over 50 lakes, with canoe routes ranging from a day to over a week. You can hire kit, guides and book shuttles from Killarney Outfitters. There are also a selection of hiking trails to choose from. Best known is the 80km La Cloche Silhouette Trail which takes 10 days and involves some tough climbs, with fantastic views over the park from 'The Crack'.
Or for something less strenuous, the Cranberry Bog Trail runs through 4km buzzing with dragonflies or the 3km Chikanishing Trail runs down to the shores of Georgian Bay. There's also good star-gazing and summer art programmes. Killarney Provincial Park has one (non-electrical) car camping site at George Lake plus backcountry pitches.
8. Algonquin Provincial Park
Just a few hours from Toronto, Algonquin Provincial Park is the oldest and largest of our best Ontario Provincial Parks, attracting a mix of day trippers and overnight campers. Highway 60 runs though the park and connects Algonquin's 11 campgrounds as well as the other facilities including a visitor centre, logging museum and art gallery.
But its popularity doesn't mean you can't get away from everything – Algonquin has plenty of space. The park covers 7630km², making it bigger than the province of Prince Edward Island. It is made up of a mix maple-covered hills, rocky ridges and over 1500 lakes.
The park is famous for its canoeing, with 2000km of tranquil waterway routes. You can head out on day trips or go further afield on a portage adventure to the backcountry campsites. There are also 20 interpretive hiking trails, or in winter you can head out in the snow on 110km of cross-country ski routes and try your hand at dog-sledding.
The park is home to black bears, beavers and deer as well as being one of the best places to see moose – keep your eyes out when you're on the road as they're attracted to the land along the highway by salt left after the winter. There's also good bird-watching and trout fishing. Or you can join in weekly wolf howls in August and September.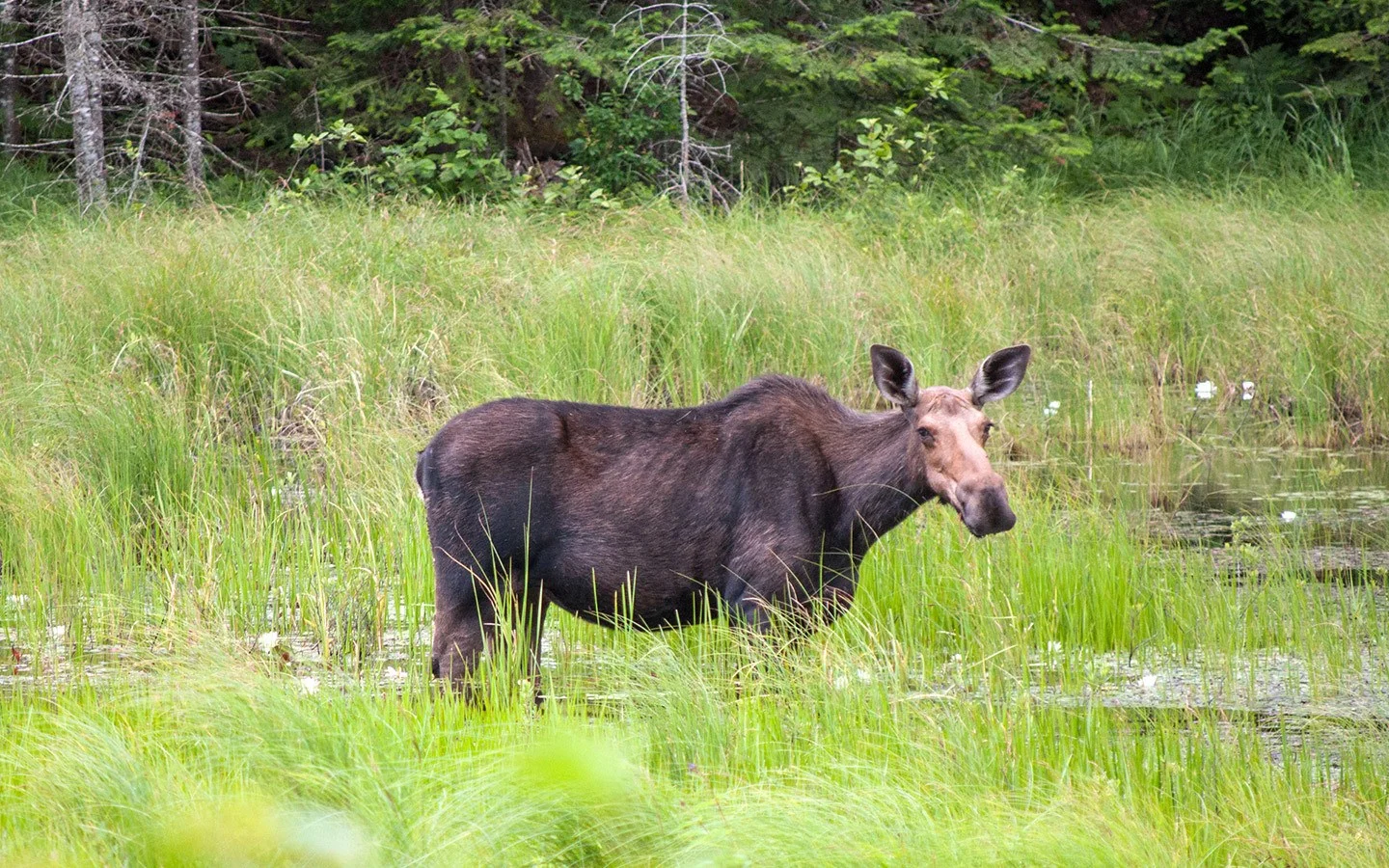 9. Bon Echo Provincial Park
Located in Eastern Ontario in traditional Algonquin territory, Bon Echo Provincial Park is a popular family park with two campgrounds, a sand beach and a stunning setting. This Ontario Provincial Park is known for towering Mazinaw Rock which rises 100 metres above Mazinaw Lake. The Rock has many examples of native pictographs or rock paintings.
To explore them you can go canoeing and kayaking along the base of the rock face or take a tour boat from the campground. Walk up a long set of stairs and a path to reach the top of Mazinaw Rock where you have extensive views over the entire park.
Bon Echo Provincial Park is very popular with families who are looking for some solitude on a weekend getaway. Aside from the pictographs, Bon Echo also has a huge variety of activities to enjoy, ranging from hiking and camping to fishing and boating.
If you plan on soaking up as much outdoor playtime as possible, Bon Echo has exactly what you're after. It makes family-friendly camping holidays incredibly enjoyable – and if you're looking for a quieter option, consider booking a spot at Hardwood Hill campground.
Recommended by Ivan from Mind the Travel.
10. Awenda Provincial Park
There are many beautiful Ontario Provincial Parks to explore, but if you're looking for one that's not too busy, head to Awenda Provincial Park. The park is an attractive forested area that spans more than 2900 hectares along the shores of Georgian Bay.
Awenda has great multi-use trails for biking and hiking, where you can often see local wildlife and birds. The park is a perfect place to go swimming in the summer, as you can access sandy beaches on the Georgian Bay shoreline. After a day of fun in the park, be sure to watch the gorgeous sunset from the beach. Awenda is also home to Kettle Lake which is a great place to go canoeing. You can rent canoes there in July and August.
My favourite place to stay at Awenda is right inside the park in one of Ontario Parks' campsites. There are also pretty cottages you can rent nearby. The park is open year-round, but camping is only available from mid-May to mid-October. Awenda is just a two-hour road trip from Toronto, making it a perfect place to escape the city for the weekend.
Recommended by Lora from Explore with Lora.
11. Forks of the Credit Provincial Park
Located on the famous Niagara Escarpment, a few minutes away from the historical red Cheltenham Badlands, is the Forks of the Credit Provincial Park. Originally opened in 1985, the park is about 70km or an hour by car north of Toronto.
Forks of the Credit is most commonly used for picnics and hiking during the summer, and some parts of the park turn into ski slopes during the winter months.
The park hosts a number of different trails, including the Bruce, Dominion, Kettle, Meadow and Trans Canada. Upon entering the park from the car park, you will come across a large map which explains the routes of the trails and ranks them in order of difficulty.
If it is your first time visiting, or you are looking to do a bit of fishing (which is permitted), head towards the Cataract Falls, which can be reached via the Kettle Trail which merges on to the Bruce Trail as you pass Kettle Lake. The waterfall is easily accessible as there are wooden platforms and bridges created for hikers to pass over the water.
Recommended by Manpreet from Hello Manpreet.
12. Pinery Provincial Park
Located close to Grand Bend on the shores of Lake Huron is Pinery Provincial Park. Named after the red and white pines planted there in the 1960s, Pinery is home to an area of oak savanna – this rare forest is the largest protected forest in Southwestern Ontario.
The park also has a freshwater coastal dune ecosystem and 10 km of sandy beach. And it's ranked as having one of the 10 best sunsets in the world! The park opened in 1959 and was originally designed to provide recreational activities. Today it is still used for recreational activities but is also intended to protect the natural and cultural features.
Pinery boasts 10km of nature trails, 14km of biking trails and 38km of groomed ski trails in winter. In summer, canoes, kayaks, paddleboards and paddleboats are available to rent. During the summer, the park hosts extensive programs, including walks guided by a park naturalist, night walks, children's programs and daily story time for kids.
Pinery Provincial Park is popular for day use but also has three campgrounds with 1000 campsites, including 12 yurts. Burley Campground is furthest from the main gate and a bit more private, although it is still within walking distance to the beach, but sites are non-electric. Dunes Campground is more popular choice, as it's easy walking distance to both the beach and visitors centre and has a mix of electrical, trailer and tent sites.
Recommended by Erin from Wanderlust with Kids.
13. Komoka Provincial Park
Komoka Provincial Park is located west of London in southwestern Ontario. It's a nice little park along the Thames River with a slightly hilly terrain. The park is mostly forested with several small meadows and former farm fields.
Komoka Park was named a Provincial Park in 1989 and locals love it for its close proximity to the city. The park is not exceptionally large as it covers only around 200 hectares, but it's the closest Provincial Park for Londoners. Many residents use it several times a week for jogging, dog walking and quick hikes with kids.
Komoka Provincial Park is used as a day-use park with no overnight camping and no picnic areas. There are no facilities except washrooms on the parking lot. But the hiking trails are great. They offer 11km of walking paths including loops and scenic river views from high bluffs. Wildlife-lovers prefer to come here during a week to observe birds, deer and coyotes.
If you want to visit this Ontario Provincial Park, park your car in the parking lots at 503 Gideon Dr. or 2290 Komoka Rd. There are no hotels close by. Your best bet is to stay at a hotel downtown and then drive west along Oxford Street right to the park.
Recommended by Slavka from On 2 Continents.
14. Bronte Creek Provincial Park
Bronte Creek Provincial Park is an hour outside of Toronto within the city of Oakville. It is named after Bronte Creek, which runs through the city of Hamilton and the Halton region. Originally known to the Mississauga First Nations as Eshkwessing or ishkwessin, this watershed is noted for bordering layers of Queenston Formation – a form of red shale rock which is one of the most unique natural phenomena in the region.
Bronte Creek offers plenty to do. From camping in its green fields to swimming in its outdoor pool, it has a variety of activities geared towards adventure-seekers. It offers five trails and has a children's farm for family outings. Events are offered throughout the year, like the Maple Syrup Festival in March and Ghost Walks in August.
If you have a Canadian spirit, I doubt you'd be able to resist the urge to toboggan down its snow-covered hills or take on a cross-country skiing adventure during the winter months. Although the park may not offer the skyline of Toronto or the diversity of things to do in Vancouver, it is perfect for those looking for a nature-orientated getaway.
There are two entrances to the Provincial Park. There is a day-use entrance from 1219 Burloak, Oakville (open year-round), and there is another camping-specific entrance at 3201 Upper Middle Rd W, Oakville (open from April to October).
Recommended by Daisy from Beyond my Border.
15. Presqu'ile Provincial Park
Visiting a Provincial Park is one of the best things to do in Ontario in summer and one of the must-visit parks is Presqu'ile Provincial Park, located 1 hour and 40 minutes east of Toronto. With eight campgrounds, group campsites, a cottage and three yurts/tents you have plenty of options should you want to stay in the park overnight.
While Presqu'ile Provincial Park is known for its stunning sunsets, there are plenty of things to do in the park. There's 2.5km of sandy beach in addition to rock beaches. You'll also find 16km of trails through the forests, along the shores and throughout the park. In addition to the many trails there's also a 1km boardwalk through a protected marsh area. There are two viewing towers on the marsh that make for excellent photographs.
The park has the second oldest operating lighthouse in Ontario and there are informational plaques around the lighthouse to show where at least eight ships sank in the late 1880s.
The park is also known for being a main point of bird migration and is a great site for bird watching, with 338 different bird species having been spotted in the park.
Recommended by Liliane from My Toronto, My World.
16. Lake on the Mountain Provincial Park
If you're searching for a smaller park still worth a visit, check out Lake on the Mountain. Located in Prince Edward County, as the name suggests this park features a lake on top of a mountain a short distance from Lake Ontario. The lake itself is very pretty and shrouded in a bit of wonder since its formation confuses limnologists to this day.
Visitors to the park can explore the wooden walking paths which overlook one side of the lake and take in the natural beauty of the area. There's also a parking lot right across the street from the wooden paths so the park is very easy to visit.
This best Ontario Provincial Park is day-use only as there are no camping facilities but it makes for a great spot to take a break when you're exploring Prince Edward County. There are picnic tables available for those wanting to have a bite to eat. You can take a (non-motorised) boat out on the water and even engage in a little fishing.
While the park itself isn't that large, there's more to see in the area. The town of Glenora has a number of small eateries with views of the park or Lake Ontario. You can stay right on the lake at Lake on the Mountain Resort with a great brewery nearby of the same name!
Recommended by Eric from Ontario Away.
Save for later
You might also like