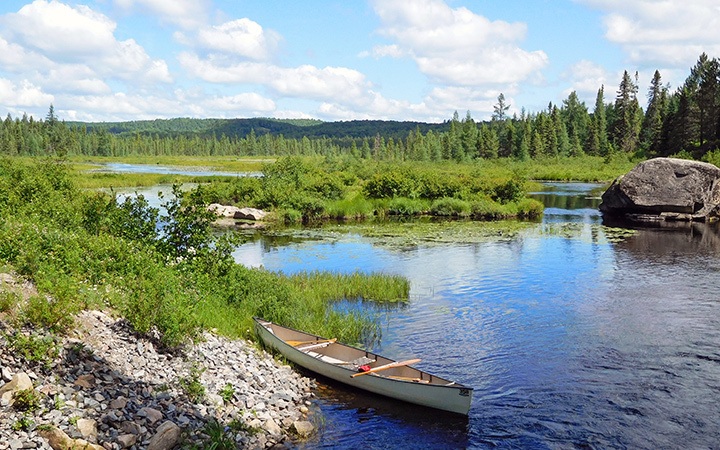 For four days our journey along the Trans-Canada Highway from Calgary to Toronto took us through the heart of the prairies. Our RV rolled along miles of long straight roads, passing fields of vivid yellow canola, nodding oil wells and mile-long trains. All accompanied by those huge, wide open prairie skies. But as we crossed the border into Ontario it all changed. We swapped straight roads for curves, flat land for hills, and wheat fields for forests. But most of all we'd entered the land of the lakes. When you look at a map of Ontario from above it's speckled with patches of blue. The province has an enormous 250,000 lakes – from tiny pools to sea-sized expanses. Along the next ten days we hopped from lake to lake on our journey towards Toronto, stopping off to explore a just a few of them in Ontario's Provincial Parks.
Read more: Clueless about RVing? The first-timers guide to Canada by motorhome
Ontario has 330 Provincial Parks – if you added them together they'd make up 7% of the whole province. Each of the landscapes are different and they've each been chosen for different reasons. Some are special habitats for plants or animals, some have cultural significance and others were picked as recreation spots or wilderness escapes. But what they all have in common is that they make some of Ontario's most beautiful areas accessible to everyone. I'm not exactly naturally outdoorsy, so spending 10 days out of 'civilisation' was a bit out of my comfort zone. But it turned out to be my favourite part of our trip. Living right in among nature was just magical. Yes everything I owned ended up smelling of smoke and I had a very impressive array of mosquito bites. But it was so worth it for lakeside sunrises, forest walks, canoe trips, wildlife spotting and nights around the campfire. Here's where our Provincial Park journey took us.
Kakabeka Falls
You might have only heard of one waterfall in Ontario, but west of Thunder Bay is Kakabeka Falls – the 'Niagara of the North'. It's 40 metres tall versus Niagara's 50. But what you lose in height you also lose in crowds and tacky tourist shops. After a 195 mile drive we were itching to stretch our legs, so as soon as we parked up the RV we headed straight to the falls. There's a boardwalk path on both sides of them and a bridge over the top, so you can see them from every angle. As the sunlight caught the spray it looked like the water was flowing through a rainbow. If you look deep into the canyon the Kaministiquia River has cut into the rocks and uncovered some of the world's oldest fossils dating back over 1.6 million years.
We temporarily swapped our journey across Canada for a journey back in time to find out a bit more about the area's history at Fort William Historical Park. The park recreates a fur trading post from 1815, when a whole town grew up around the site where traders would come to sell beaver pelts. There are 46 different buildings you can wander around, from the chemists and school to the governor's house. It's a 'living history' museum so there's no tours, instead each guide is a different character. So we learnt out about trading routes from a Cree elder, found out what the governor ate at his banquets from his butler and chatted to the doctor about their slightly gory medical procedures. It definitely brought history to life.
Lake Superior
Our next journey took us 350 miles, hugging the shore of Lake Superior almost all the way. Superior takes lakes to the extreme – even the name says so. It's the world's largest freshwater lake and the same size as Austria. The northern shore belongs to Ontario, but the south is part of the USA. It's up to 406 metres deep and so big it has its own tidal system. Our destination was Lake Superior Provincial Park which covers 60 miles of lakeshore. We were staying at the Agawa Bay campground right on the water, surrounded by towering pine trees that made our RV look tiny. The sandy beaches and endless expanse of water felt like we'd been transported to the ocean and we couldn't resist dashing in for a (quick and chilly) dip.
But Lake Superior isn't all about the lake, this section of lakeshore was also chosen as a park because of its cultural importance. It's home to Canada's best-preserved rock paintings – the Agawa Rock Pictographs. They were painted by the Ojibwe people to record their dreams and stories. But reaching the pictographs is a bit of an adventure in itself. A sign at the start of the trail pointed us in the direction of a strange creature. This is the Misshepezhieu, a mythological spiny animal with horns that's pictured along with red people, snakes and other creatures. The paintings are right on the rock face so you have to clamber along a ledge above the lake to get there and on rough days the site's closed so you don't get washed away!
Killarney
Apparently the Trans-Canada Highway along Lake Superior to Sault Ste Marie is its most scenic section. But despite blue skies, a cushion of fog sat over the lake so every time we dipped down to the shore we were swallowed up. We shook off the clouds over the next 350 miles though as we swapped Lake Superior for its smaller neighbour Lake Huron on our way to Killarney Provincial Park. This area was made famous by a group of 1920s Canadian landscape painters known as the Group of Seven. They fell in love with its colours – green lakes, pink granite rocks, white mountains. When one of the artists, AY Jackson, heard the area was going to be logged, he petitioned the Ontario government and got them to make it a park.
The is one of the 'wilderness' category parks so there's just one campsite and you can only get to the rest of the park by canoe or on foot. The park's best-known walk is the La Cloche Silhouette Trail into the mountains, but at 48 miles long we couldn't fit that into an afternoon. So instead we took the 2.5-mile Cranberry Bog Trail and didn't see another person as we walked through marshland buzzing with dragonflies. We also took to the water on George Lake on a guided canoe trip with Killarney Outfitters. Killarney is one of the few parks with a town nearby, so after a week of cooking for ourselves a meal out was calling. The town started as a 1820s trading post and is a pretty place with pastel wooden buildings along the harbour. We made a beeline for Herbert Fisheries and tucked into crispy fish and chips among the boats.
Algonquin
For our final park stop we left the Great Lakes behind and headed 210 miles inland to Algonquin – Ontario's oldest and largest Provincial Park. We were only a few hours away from Toronto at this point so the park was the busiest yet, with lots of visitors up for the weekend. There's road through the middle which connects the park's 12 campsites as well as a Visitor's Centre, Logging Museum and Art Centre. But that doesn't mean you can't get away from everything. The park covers 2950 square miles with a mix of maple-covered hills, rocky ridges and 1500 lakes. Our canoe guide from Algonquin Outfitters told us how he'd spent seven weeks canoeing and camping in the park and sometimes went weeks without seeing a single person.
Algonquin has 1200 miles of canoe routes so we had to try them out for ourselves at Costello Creek. The creek was incredibly peaceful with just the splash of paddles hitting the water as we navigated through mats of lily pads. Every rustle in the banks had us holding our breath in case we spotted a bear, beaver or moose. But wildlife never turns up when you want it to, and instead I spotted my first Canadian moose from the RV window on the drive back to our campsite at Rock Lake. Algonquin has so much to do you could easily spent a week there – we walked the Lookout Trail with amazing views out over the treetops, but there are lots more hiking routes as well as mountain biking and trout fishing. But the road was calling and it was time to swap Provincial Parks for Toronto city streets and pass on our RV for the next leg to Montreal.
Read more: Calgary to Toronto: 10 Unforgettable Road Trip Moments
Which Provincial Park would you most like to visit?
Pin it
I visited Ontario as a guest of Destination Canada as part of a Travelator Media campaign.