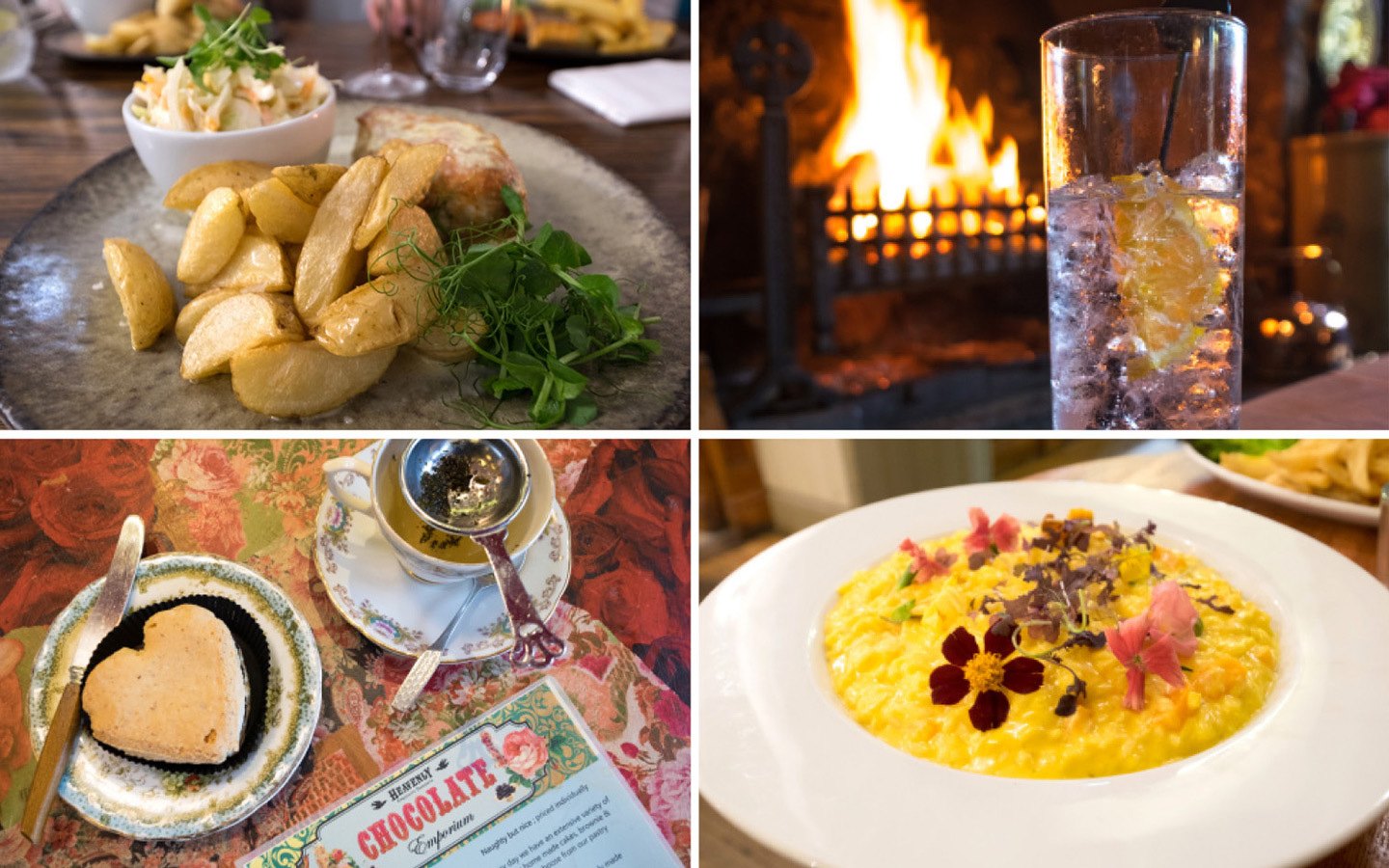 South West Wales was where I spent my first-ever holidays, all beach days and rockpooling. But I can't say I really appreciated the area's foodie side, unless you're talking about choosing my favourite ice cream flavour. But this part of the world is full of great food producers taking advantage of the delicious seasonal produce on their doorstep. Not big chains or celebrity chefs, but individual, locally owned gems. So as part of the South West Wales Year of Legends, I set out on a road trip to discover some of its legendary cuisine, as well as a few historical, cultural and literary sights along the way. So strap on your seatbelt for a long weekend of castles, beaches, gardens, shopping, a whole lot of eating and drinking (and a bit of rain too!).
Read more: Snowdonia road trip – is this Wales' most scenic drive?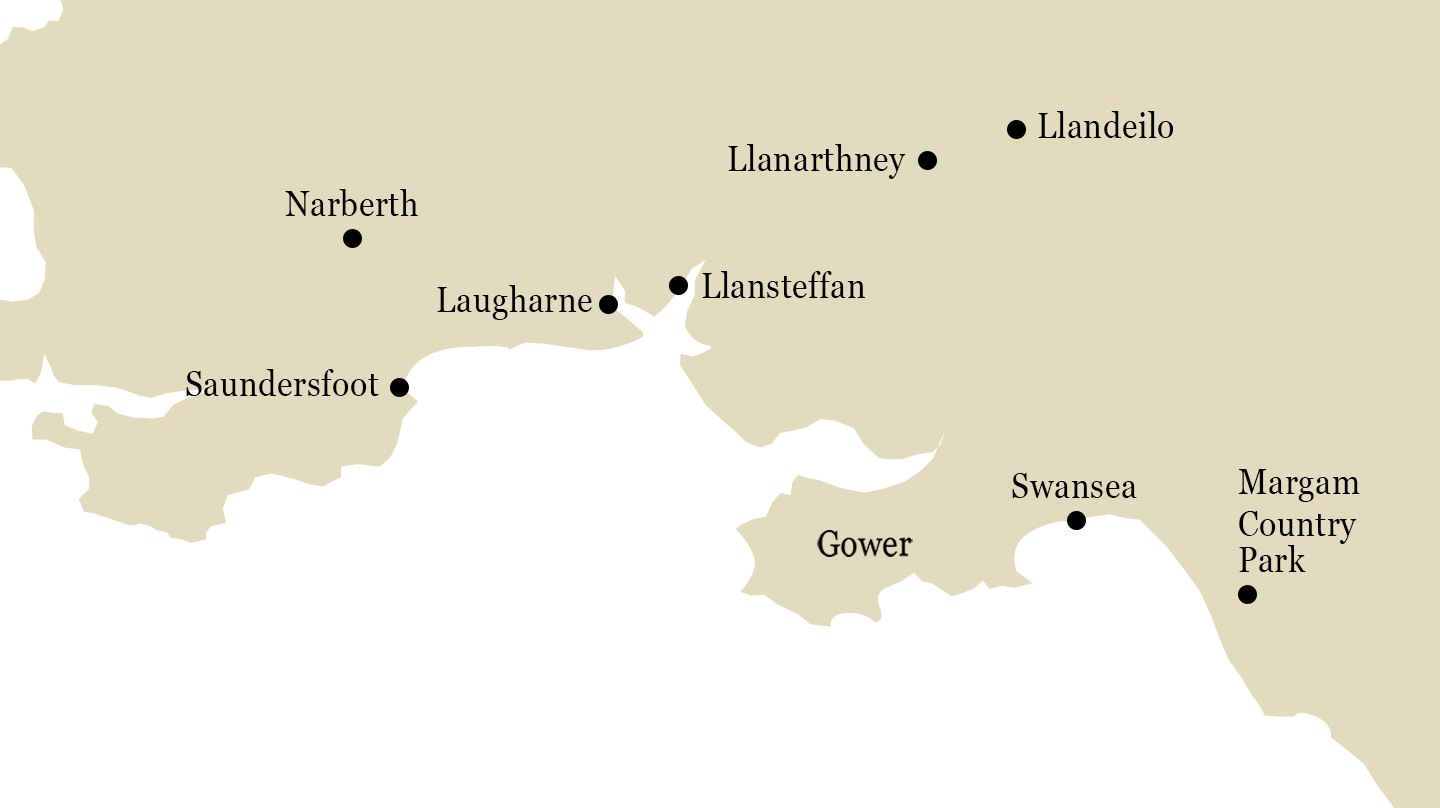 The Gower
Our first destination was the Gower. This peninsula just west of Swansea was designated as the UK's first Area of Outstanding Natural Beauty 60 years ago, and it's not hard to see why. It's got stunning coastal walks, great surfing and miles of beaches, including Rhossili which has been voted one of the UK's best beaches. Or so they say… unfortunately Wales was being battered by a huge storm when we visited, so we left the beach for another day. Instead we headed to Margam Country Park near Port Talbot, a historic estate stretching over 850 acres. It's a lovely open green space with lots of walking and cycling routes, but there are also some of the estate's historic buildings still standing, like the orangery and 12th-century abbey.
We took a tour around Margam Castle to find out more about the building's history. This 19th-century Tudor Gothic mansion was built for the Talbot family. Outside it looks pretty well preserved – I could almost picture the Victorians parading around the gardens in their finery – but inside most of the interiors were gutted in a fire in the 1970s. So it has an eerie deserted feel with big echoing rooms, crumbling towers and a stunning staircase at the centre. Its emptiness has made it the perfect blank canvas for film shoots, though as it's a listed building everything that's added has to be taken away at the end of each shoot. But fans of Doctor Who, Da Vinci's Demons (or, ahem, Most Haunted) might recognise it from onscreen.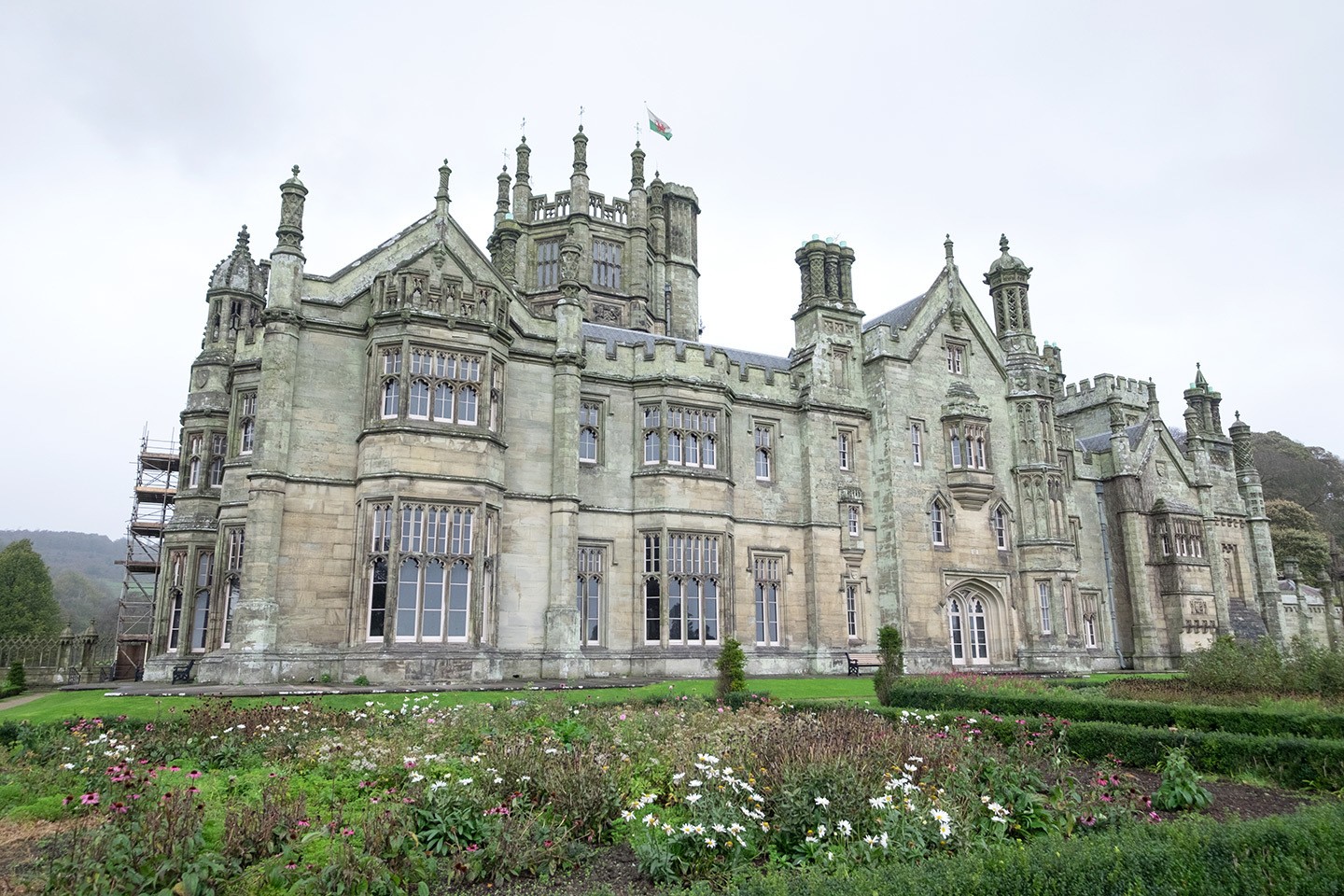 Foodie stop: Cefn Bryn is the highest point in the Gower, and on a clear day you can see the coast and beyond to the Bristol Channel and Brecon Beacons. But on a not-so-clear day you can hole up next to a roaring log fire in the King Arthur in nearby Reynoldston instead. The cosy dining room at this historic pub was just what we needed to warm up, with a glass of local Gower gin and the prettiest pumpkin risotto I've ever seen, decorated with edible flowers. And we weren't the only ones, the place was packed with windswept walkers, tucking into classic pub dishes and eyeing up my coveted spot by the fire.
Laugharne
Our next stop took us over the border into Carmarthenshire and the coastal town of Laugharne. It's set on the Taf Estuary with a ruined medieval castle and a big, wide open bay stretching as far as you can see. But it's a former resident that gives Laugharne its biggest claim to fame. It's where legendary Welsh poet and writer Dylan Thomas found inspiration for some of his most famous works. He described Laugharne as a 'timeless, mild, beguiling island of a town' (or 'the strangest town in Wales' if you'd rather) and it was the real-life setting for Under Milk Wood. He fell in love with the town when he was just 19, and it's where he spent his last days – he's buried under a simple cross in the churchyard of St Martin's Church.
The boathouse where he and his family lived is now a museum about his life and work. Some rooms have been left as they would've been in the 1950s and others display manuscripts and letters. But his real sanctuary was a writing shed on the cliff above, a tiny place with an imposing position looking over the bay. Through the window you can see cigarette butts and piles of paper, and it's almost like he's just popped out for a minute. You can visit the Laugharne locations which inspired him on the Dylan Thomas Birthday Walk, which traces his Poem in October line by line along a two-mile stretch of the coast. Or take a pilgrimage of another kind and raise a glass in his favourite pub, the 1950s-inspired Brown's Hotel.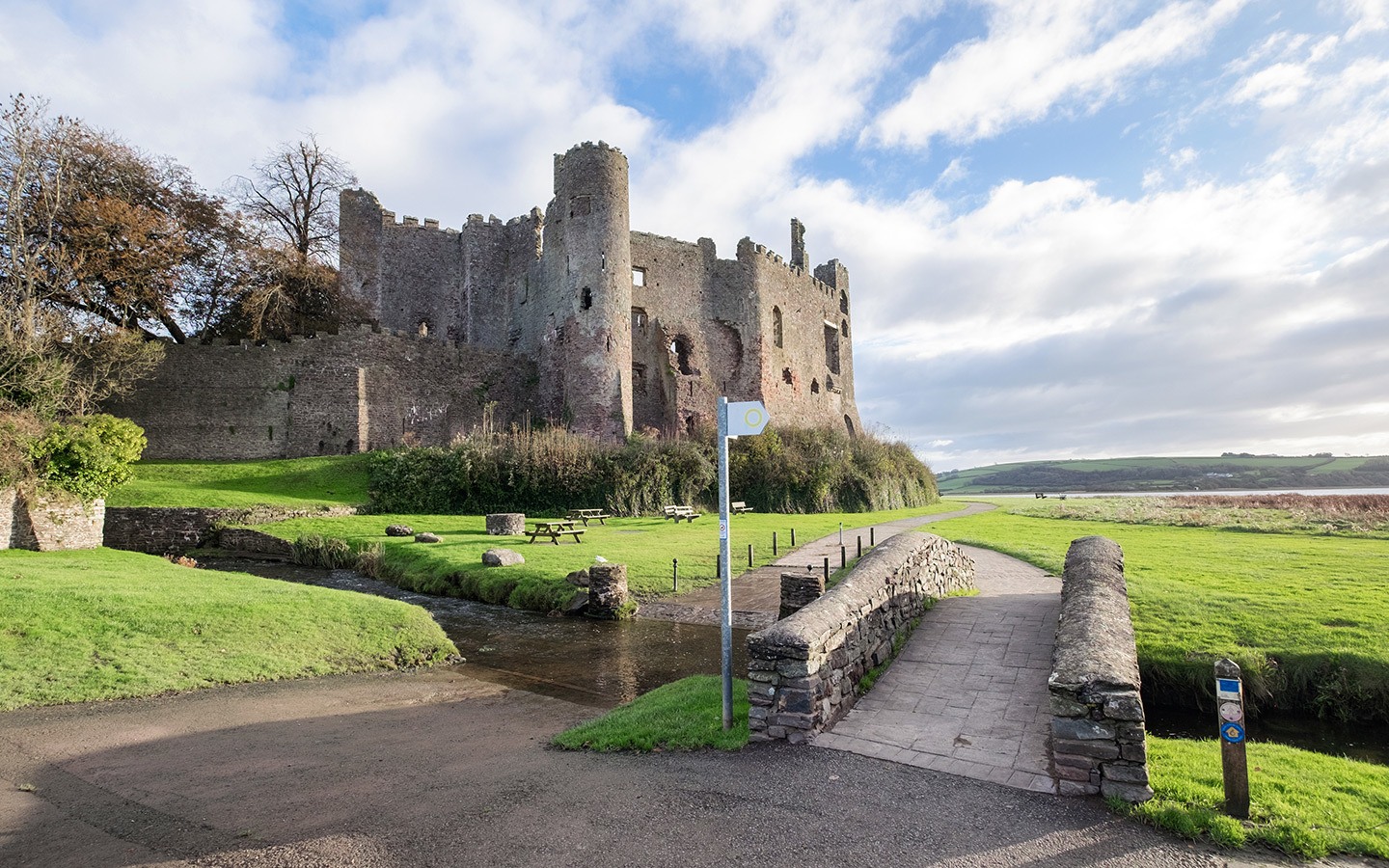 Foodie stop: The quirky Cors is one of those places you need to be tipped off about, set in a country house down a long driveway. It feels more dinner party than restaurant, with lots of local regulars and owner, chef and former artist Nick chatting as we gathered in the lounge for drinks. The handwritten menu is small but packed with local produce, from saltmarsh lamb to the intriguing smoked haddock crème brulée and my tasty monkfish with local samphire and Bloody Mary sauce. Tables are spread through the ground floor dining room, lit by candles with abstract artworks on the walls. It's a relaxed place where you can easily go in for dinner and come out several hours (and glasses of wine) later, wondering where the time went.
Llanarthney
From Laugharne we headed north-east to Llanarthney and one of South Wales' most impressive gardens – the National Botanic Garden of Wales. It covers 570 acres with a mix of meadows, lakes and gardens. The centrepiece of the site though is its giant glasshouse, which brings a piece of the Mediterranean to South Wales. You walk over bridges past lakes and waterfalls, through plants from South Africa and Australia, all without going outside (a good one to remember for a wet day). But my favourite spot had to be the butterfly house, a sub-tropical rainforest oasis with colourful butterflies drifting through the air and a hatchery where you can see them emerge from their chrysalis and spread their wings for the first time.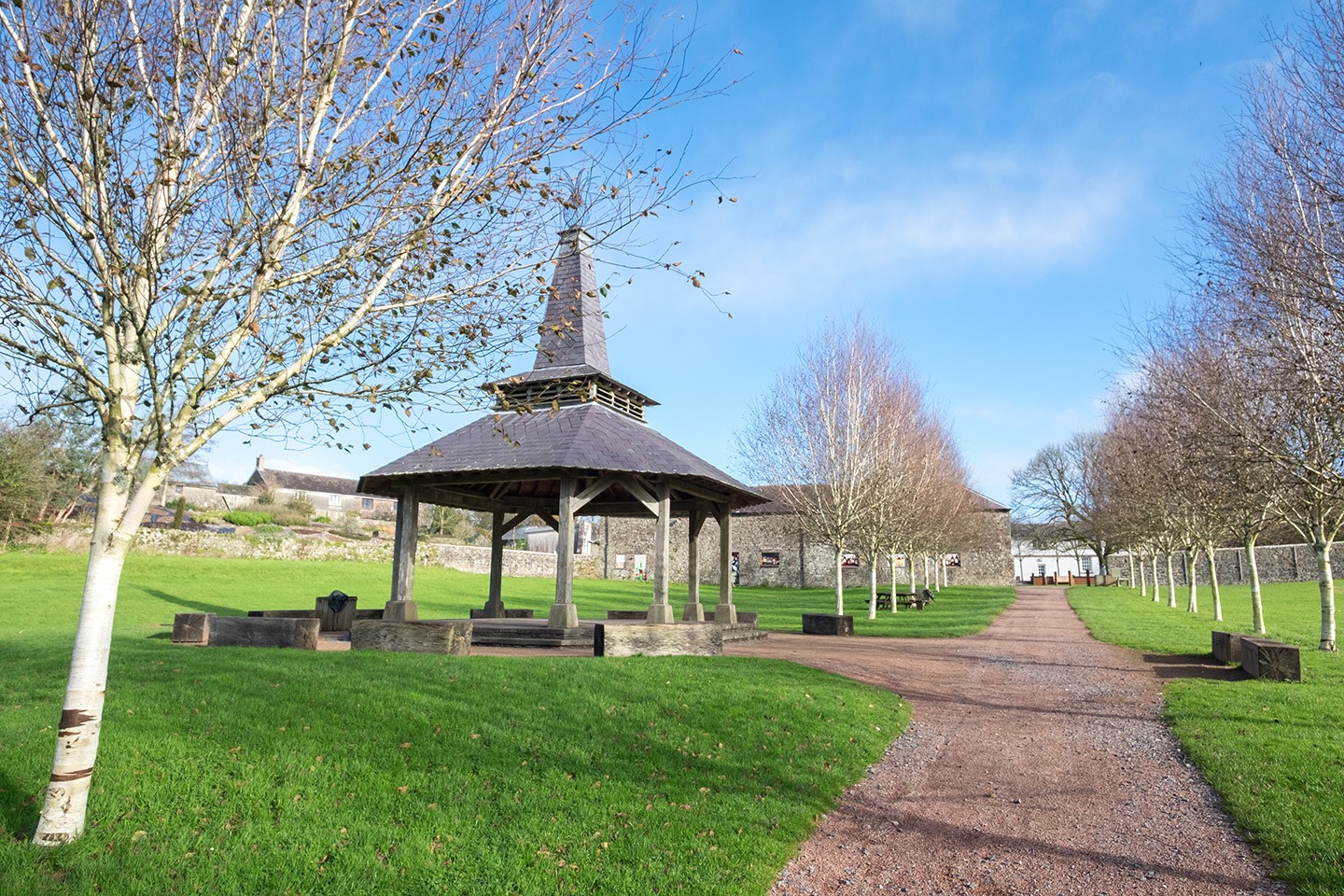 Foodie stop: Wright's Food Emporium is just a few miles from the Botanic Gardens. From the outside it looks like a traditional roadside inn, and that's what it was for two centuries. But it's had a modern makeover and is now more bistro than pub, with light airy rooms and bright modern décor. One one side there's a deli where you can pick up local produce or refill your bottles of wine. And on the other there's a café serving breakfasts and lunch dishes like sandwiches, salads and quiches. We tucked into tasty Welsh rarebit and a warming pumpkin soup – and made sure to leave room for a giant slice of homemade cake.
Narberth
Just over the border into Pembrokeshire, Narberth is a pretty market town with pastel-coloured Edwardian and Georgian buildings lining its streets. It's got old-fashioned charm in buckletloads, and is also an unexpected shopping hotspot, with one of the best sets of independent shops I've seen. Think antique emporiums, art galleries, boutique interior design, delis, clothes, jewellery and gift shops. It's a good place to wander around, browse and see what catches your eye. Narberth's also home to one of the cutest town halls imaginable and, being Wales, of course there's a ruined medieval castle to explore in there too.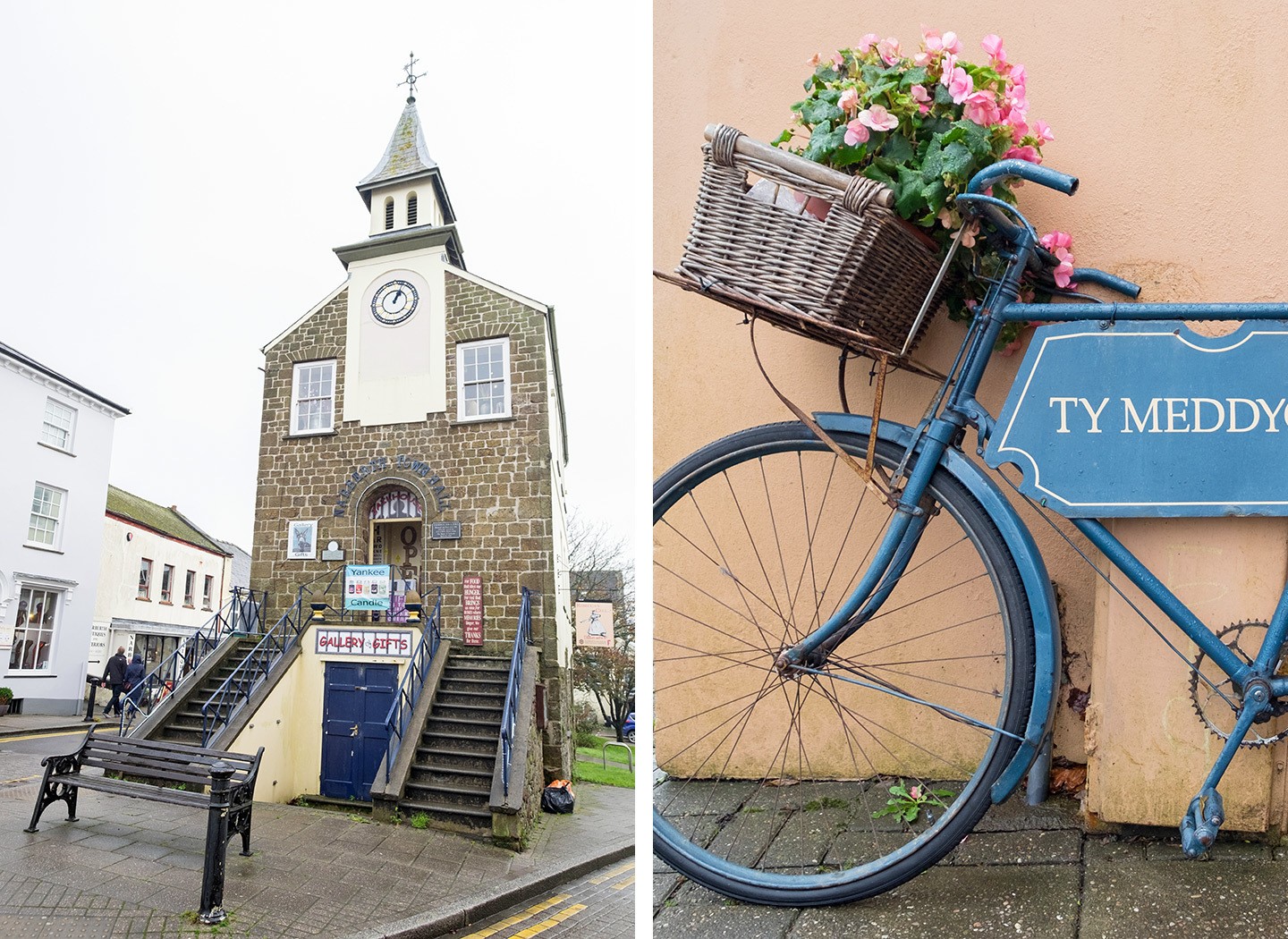 Foodie stop: Right in the centre of town, PlumVanilla Café is a tiny, bustling place that was packed full when we visited. It's run by brilliantly named sisters Plum and Vanilla Harrison, who've created a bright and colourful, boho-style café with some surprisingly exotic dishes like Thai curries and Moroccan tagines on the menu. There's a good selection of veggie and vegan options available too, with colourful salads, healthy juices and not-so-healthy but delicious cakes. I went for a bacon, roast potato and blue cheese salad combo which tempted me to abandon my usual soups despite the chilly autumn weather.
Saundersfoot
Saundersfoot was the base for years worth of family holidays when I was young, so arriving back in the town brought back all kinds of memories. There was the street where my favourite fudge shop was, the tunnels through the cliffs to get to the quietest patch of beach with the best rockpools, and the massive hill we had to climb to get back to our holiday cottage. Saundersfoot's vast stretch of sand is just perfect for a good old-fashioned seaside day trip of sandcastle building, ice cream eating and endless walks along the beach – whatever the weather. Or if you're looking for a bit more luxury with your bucket and spade, the St Brides Hotel has an infinity pool overlooking the beach which has my name on it for my next visit.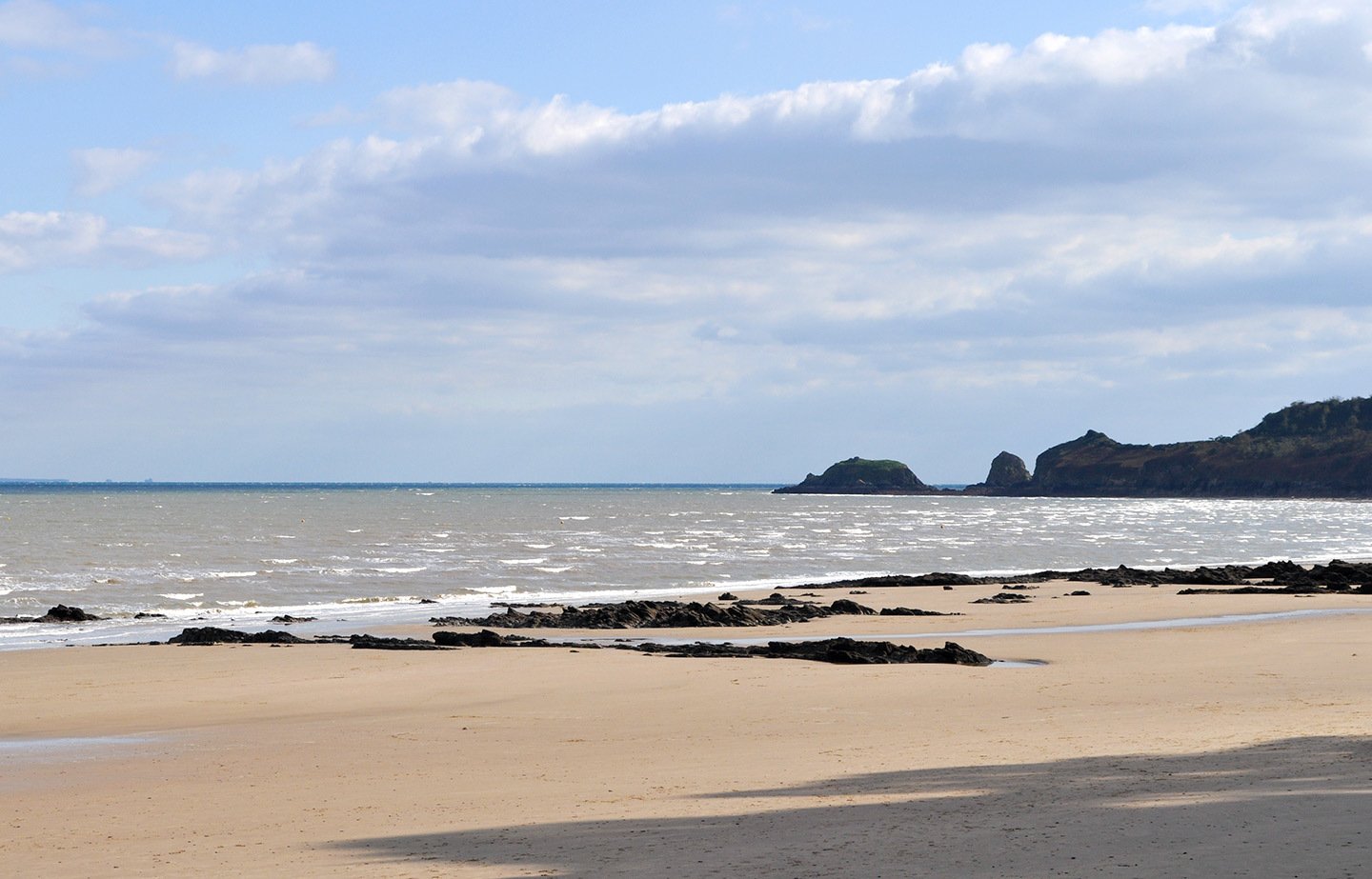 Foodie stop: Coast Restaurant is a new addition since my childhood holiday days, but has a fantastic location right on the edge of Coppett Hall Beach. It's ultra-modern with a big outdoor terrace where you can soak up the sea air and those sandy views. As you'd expect the menu is heavily focused on seafood, with fish straight from Saundersfoot Harbour plus a few more unusual options like cuttlefish too. It's open for lunch (from Wednesday–Sunday during autumn and winter) and dinner, and if you don't manage to time it right then there's a café downstairs in the same building where you can get drinks and snacks.
Llandeilo
Our final stop took us back into Carmarthenshire to Llandeilo, another of Wales' picturesque market towns, this time on the edge of the beautiful Brecon Beacons. It's known for its stunning setting with brightly coloured houses lined up next to Wales' biggest single arch bridge. But as we arrived the rain pelted down so there was more dashing between shops than exploring the outdoors. But it's another place with lots of independent shops and restaurants to look around, including Ginhaus Deli – a café-come-deli that's a must-visit for gin lovers with a whopping 240 different varieties available. You know where to find me…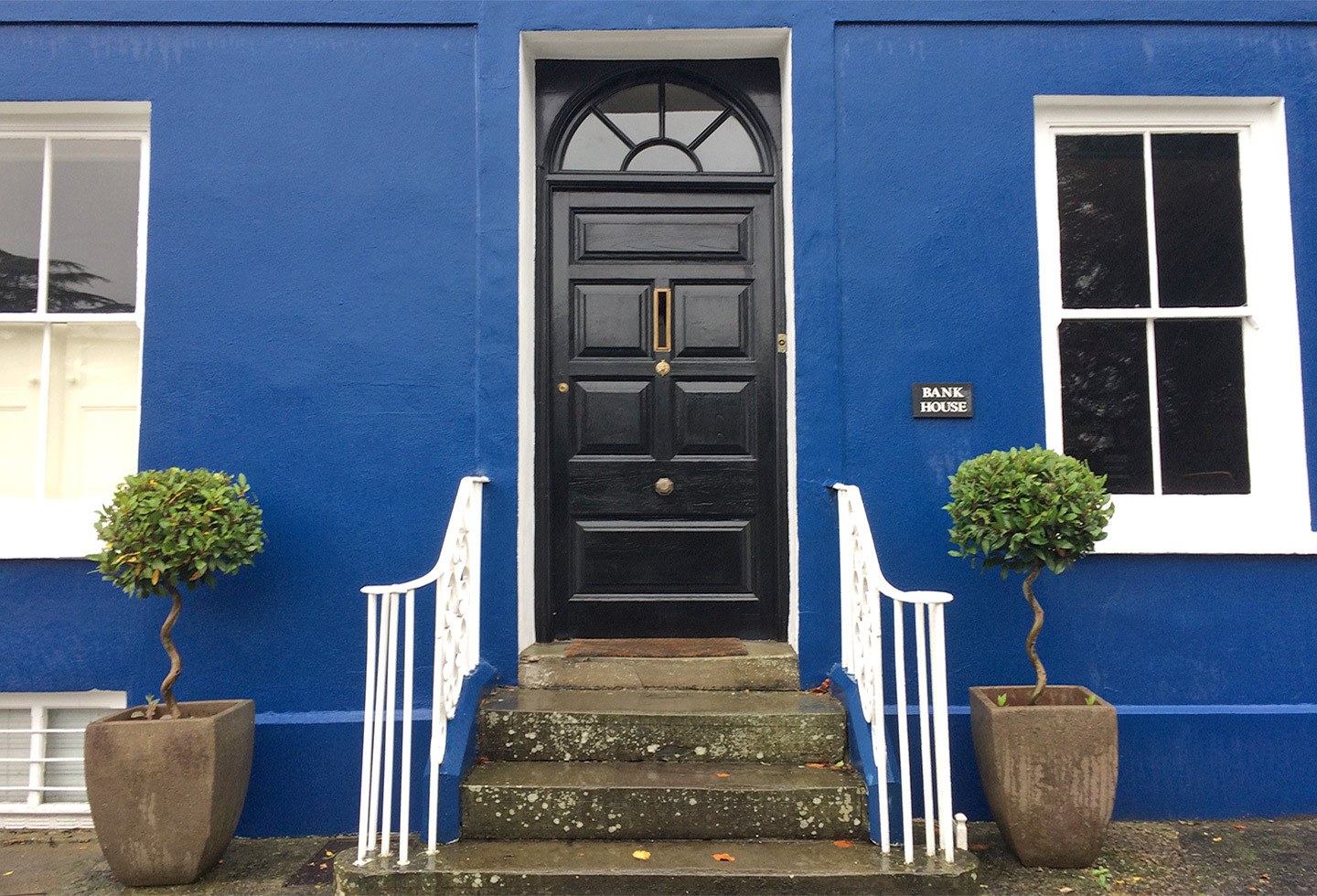 Foodie stop: When it's grey and rainy, what do you need? A big dose of hot chocolate and cake clearly, and we found the perfect spot for it at Heavenly Chocolates. It's a treasure trove of chocolatey goodness, packed with their own delicious handmade creations. Inside it's cosy and colourful, with bright fabrics and vintage lampshades – the sort of place to cheer you up however bad the weather is outside (though I did leave their famous ice cream for another trip). I went for a gluten-free chocolate macron-style heart with chocolate filling but there were lots of tasty options, and some seriously impressive wedding cakes on display.
The details
We split our time between a self-catering cottage in Laugharne and the Mansion House Hotel in Llansteffan, just the other side of the estuary. Mansion House is tucked away among five acres of gardens on the top of a hillside overlooking Carmathen Bay. The original Georgian mansion has been lovingly restored by owners Wendy and David, who've retained lots of its period charm. The main house holds most of the bedrooms as well as the bar and Moryd Restaurant, with a couple of extra rooms in a more modern annexe. We tried their Market Menu for dinner, with upscale versions of classics like burgers and my tasty creamy chicken. Special mention must go to the breakfast too – halloumi on a veggie breakfast is a genius idea! It would be a great spot for a romantic break, hidden away from everything. Rooms from £115 per night B&B.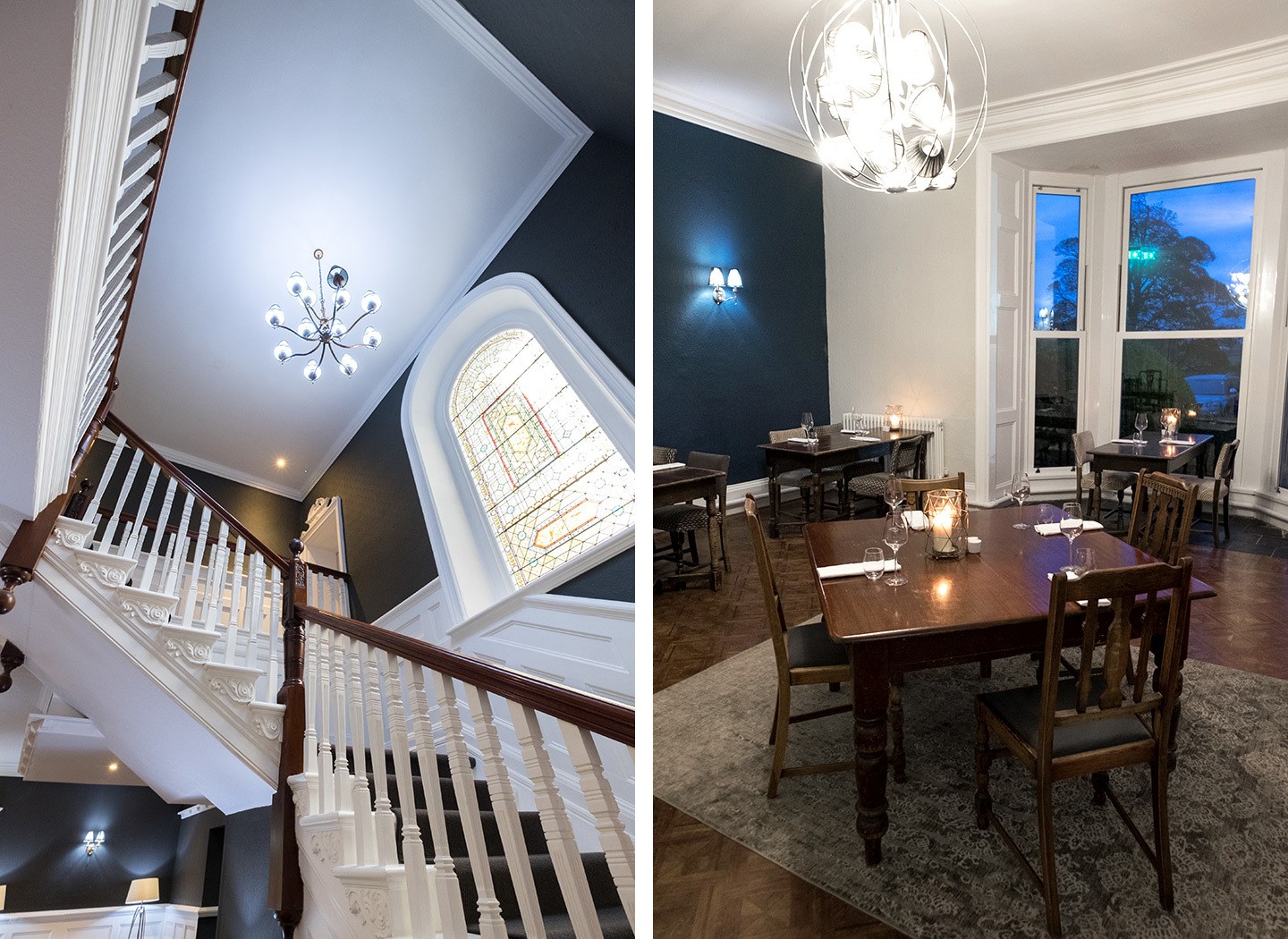 Pin it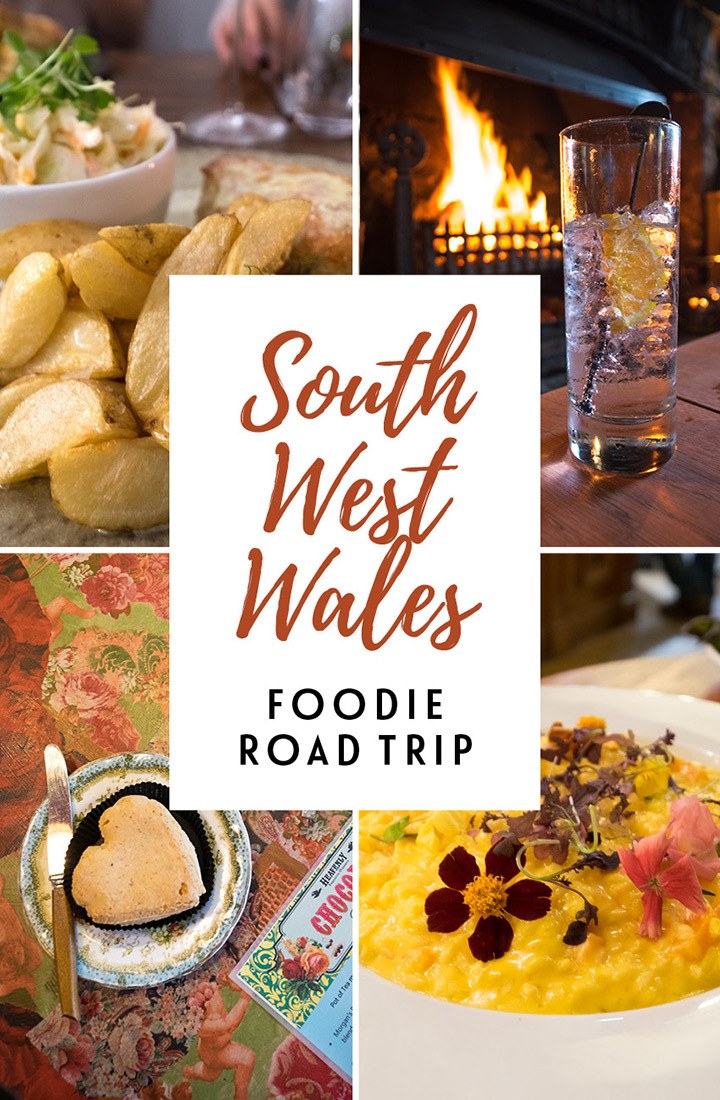 Many thanks to Carmarthenshire, Neath Port Talbot, Swansea and Pembrokeshire for hosting me. All views and opinions are, as always, my own. This article contains affiliate links, where I get a small commission at no extra cost to you – thanks.