A scenic Snowdonia road trip through this North Wales National Park's clear lakes, mountain peaks and forests, which you can do in one day – could this be Wales' most beautiful driving route?
* This site contains affiliate links, where I get a small commission from purchases at no extra cost to you.
Wales' first National Park and one of the country's most popular destinations, Snowdonia is something special. It stretches over 827 square miles of unspoilt scenery with rocky mountains, clear lakes and thick forests. It has plants and insects you won't find anywhere else in the world. And at the heart of it is Snowdon, the highest mountain in Wales.
Or so I'd been told at least – the first time I'd visited you could barely see a metre in front of you through thick fog and drizzle. So when the last day of our weekend in North Wales dawned blue and bright, it was perfect excuse for a scenic Snowdonia road trip.
A scenic Snowdonia road trip
When the sun shines in Snowdonia, you have to get out there – however you can. Ideally we'd have had a couple of days to climb Snowdon and hike the mountains, or even a day for a shorter walk. But all we had was a car and a few hours. And after some research I came up with a Snowdonia road trip taking in some of the National Park's most scenic drives.
So if you're limited on time – or aren't able to walk far – you can still get a taste of Snowdonia's beautiful scenery. The route covers 39 miles and takes around 1.5 hours to drive (depending on how many photo/tea and cake stops you make along the way).
Snowdonia driving route
Our route started in the town of Porthmadog on the North Wales coast. This harbour town was our base for the weekend, and it's also the hub for the West Highland and Ffestiniog steam railways as well as being close to the quirky Italian-style village of Portmeirion.
From Porthmadog we followed the A498 past the village of Tremadog and on through the narrow Aberglaslyn Pass to the town of Beddgelert. Dog lovers might want to stop off at Gelert's Grave, the resting place of the faithful hound of 13th century Welsh Prince Llewelyn the Great, which is a short walk along the riverside south of the village.
The road carries on through the forest and along the banks of Llyn Dinas lake. This 60-acre lake is home to salmon and trout – and possibly the throne of Britain. Legend has it that ancient British king Vortigern hid the throne under a great stone by Llyn Dinas for safekeeping and it's still there. If you fancy taking a look a mile-long path circles the lake.
We drove on around the edge of Llyn Dinas and it wasn't long until we came to an even more beautiful lake – Llyn Gwynant. On a calm, still morning the lake was perfectly flat with the mountains, blue sky and fluffy clouds reflected like a mirror (until a dog jumped in for a swim – if it wasn't 10 degrees in the water I might've been tempted too).
The start of autumn is a gorgeous time to visit Snowdonia with a mix of green, gold and red shades everywhere you look. The road follows the Nant Gwynant river from the lake and climbs 600 feet upwards in just two miles. At the top there's a viewpoint where you can stop off and take a look back down to the lake (where the image at the top of this post was taken) and over towards the Cwm Dyli hydro-electric power station.
At the top of Nant Gwynant we took a diversion to the left, following the A4086 to the Pen-y-Pass. This is the start of three of the main routes for climbing Snowdon – the Miners Track, Pyg Track and Crib Goch. The car park was packed with hikers getting ready to start the climb up, and there's a café full of others who were celebrating getting back down.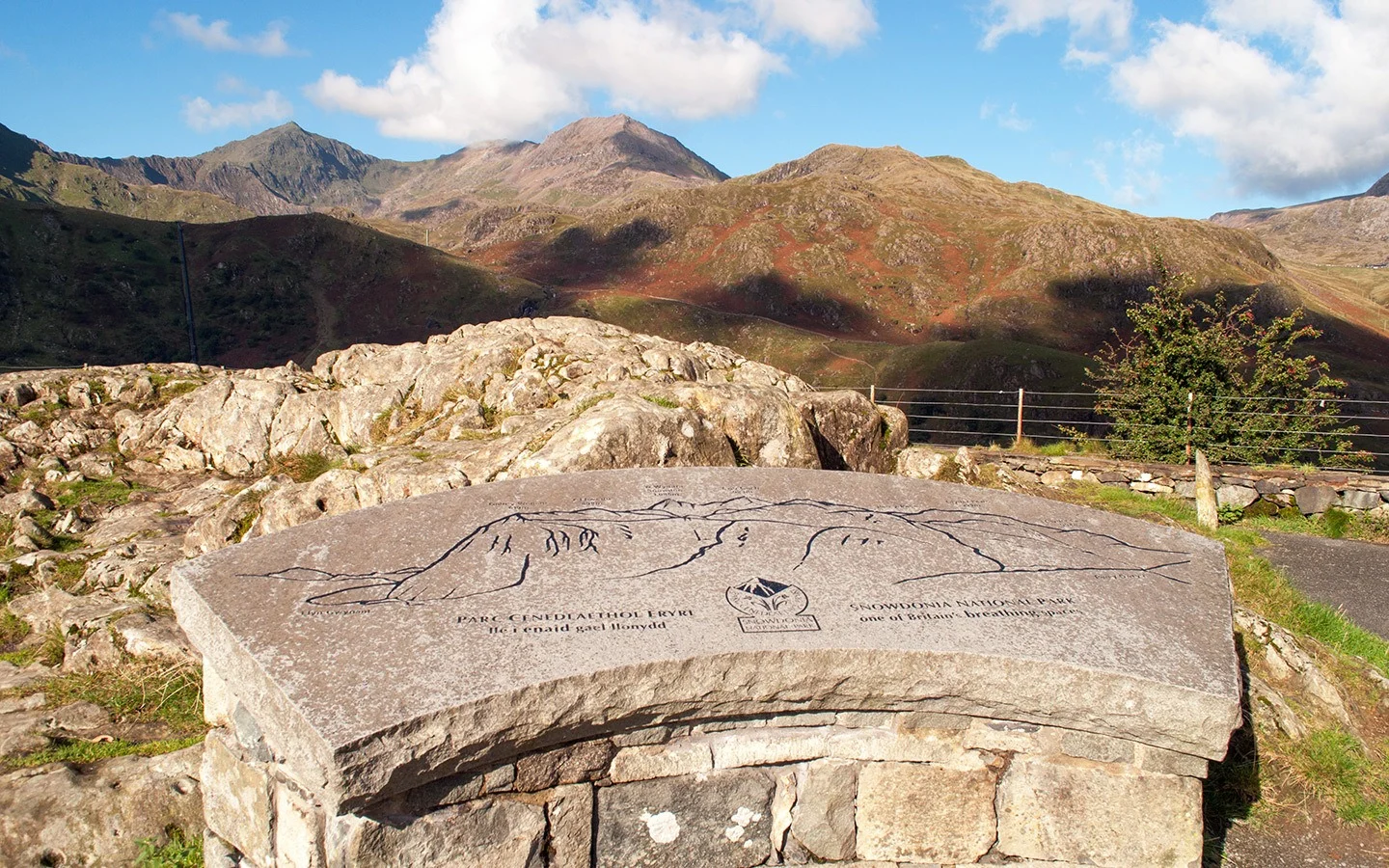 The road up here started life as a miners' path in the 1830s which was used to transport copper ore from Snowdonia down to Llanberis. It still winds the same way downhill to Llanberis, base for lots of outdoor activities like mountaineering, climbing and mountain biking, as well as diving in Llyn Padarn lake if you're feeling brave.
Llanberis is where catch the Snowdon Mountain Railway to the top of the mountain if you don't fancy walking. Or where you start the Llanberis Path if you do – it's the longest but least strenuous walk up to the summit which runs next to the railway line.
From Llanberis we backtracked to the Pen-y-Pass and then followed the A4086 over the hills past the grey slate cottages in the village of Capel Curig. Then from Capel Curig we took a right onto the A5, heading towards Betws-y-Coed on the edge of Snowdonia. The road gets flatter here and there are more trees and less mountains.
Betws-y-Coed is another hub town, a former coach stop on the Irish mail route from London to Holyhead. It has a pretty village green surrounded by shops, hotels and an old church. You can visit the Miners' Bridge and walk along the riverside or to the Pont-y-Pair and Swallow Falls waterfalls before refuelling with cake at the Alpine Coffee Shop.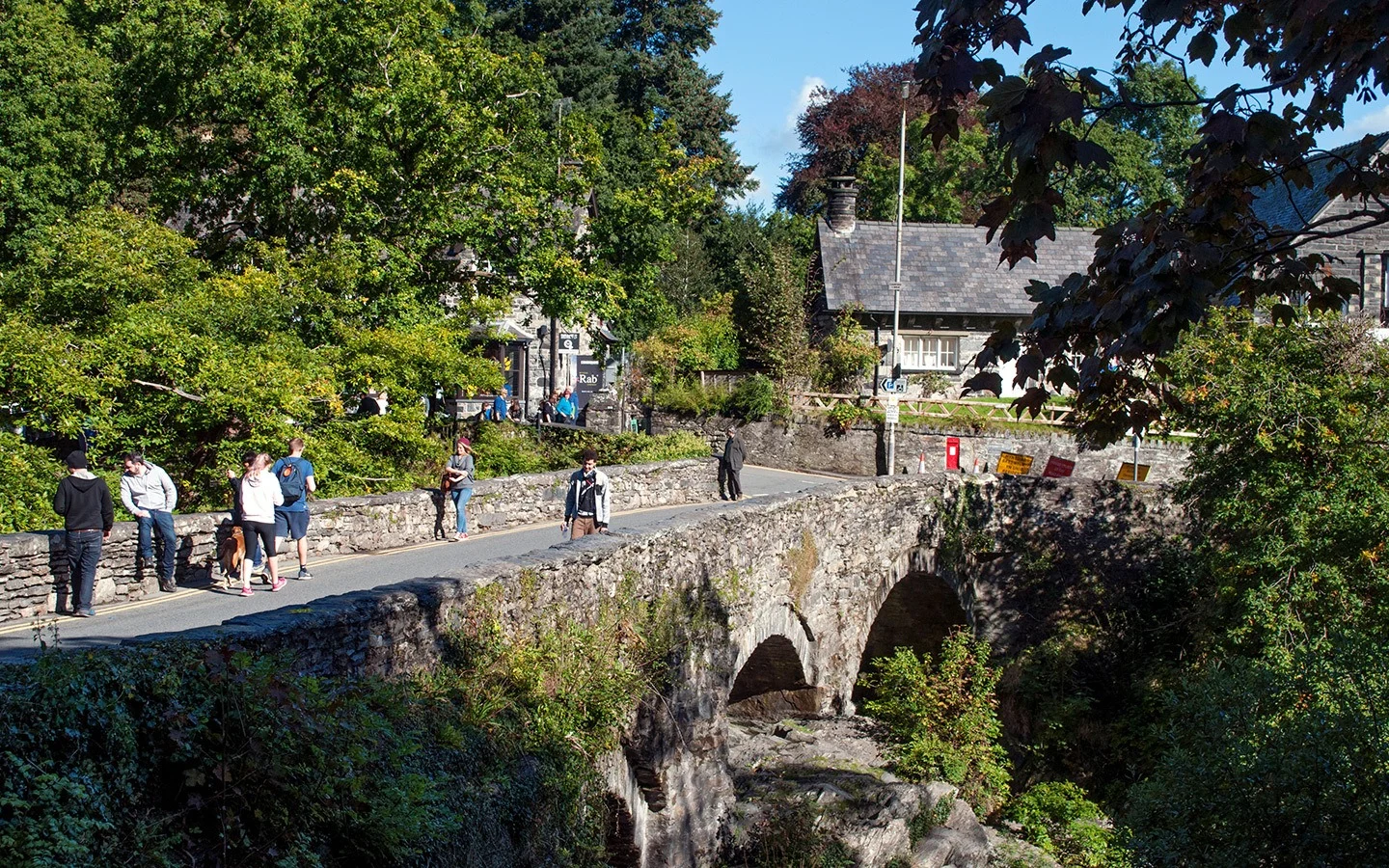 The road out of Betws-y-Coed leaves Snowdonia behind, but if you've not had enough beautiful scenery there are a couple of different directions you can take to continue your North Wales road trip. Go north on the A470 to the medieval seaside town of Conwy, with a 13th-century castle, historic city walls and the UK's smallest house to squeeze into.
Or head south on the A5 towards Llangollen and the Pontcysyllte Aqueduct. The aqueduct is a seriously impressive piece of engineering, At 38 metres high up it's Britain's longest and highest aqueduct, which is just wide enough for one canal boat.
It was built in 1805 to carry the Llangollen Canal over the River Dee. You can take a boat trip across or walk along the towpath across the aqueduct for even more spectacular views.
Snowdonia road trip map
The details
Snowdonia driving route GPS/sat nav directions
If you're navigating using a GPS/sat nav, then you can input the following postcodes to follow the scenic Snowdonia road trip route. From Porthmadog (LL49 9AU), navigate to:
LL55 4YD (Beddgelert)
LL55 4NT (top of Nant Gwynant)
LL55 4TU (Llanberis)
LL24 0EN (Capel Curig)
LL24 0AE (Betws-y-Coed station car park).
Then you can carry on to Conwy (LL32 8HT) or Pontcysyllte Aqueduct (LL20 7TG).
When to visit Snowdonia
Snowdonia is one of the wettest parts of the UK, so prepare for rain whatever time of year you're visiting. Peak season is in July and August when the days are longest and Snowdonia is at its warmest, with average high temperatures of 18°C/64°F. But it can get very crowded and accommodation is often booked up well in advance.
Spring and autumn are quieter, with wildflowers in spring and golden leaves in autumn making it good for photography (images in this post were taken in September). Expect more changeable showery weather though. And winter sees average highs of 6°C/43°F with snow most likely in January and February, but main roads are gritted and cleared.
Where to stay in Snowdonia
We stayed in The Larder at Wern Manor, one of five apartments and cottages in the 15-acre grounds of a 16th-century manor house between Criccieth and Porthmadog. They sleep between two and six people and mix up original features from their past lives as the Butler's House or Wood Store with contemporary Scandi-style furniture.
Right in the heart of Snowdonia National Park, the Bryn Tyrch Inn* is a 10-minute drive from the Pen-y-Pass. It has 12 comfortable en-suite bedrooms and a cosy communal lounge. The inn also hosts Y Seren Bar Restaurant which serves sustainable, seasonal North Wales produce and has a riverside beer garden with mountain views.
Or for something a bit different, you can stay in the Italianate coastal village of Portmeirion, where some of its historic buildings have been turned into hotels or self-catering rooms and cottages. Overnight visitors get after-hours access to explore the village as well as access to the swimming pool, spa and restaurants at the four-star Hotel Portmeirion*.
Save for later
You might also like