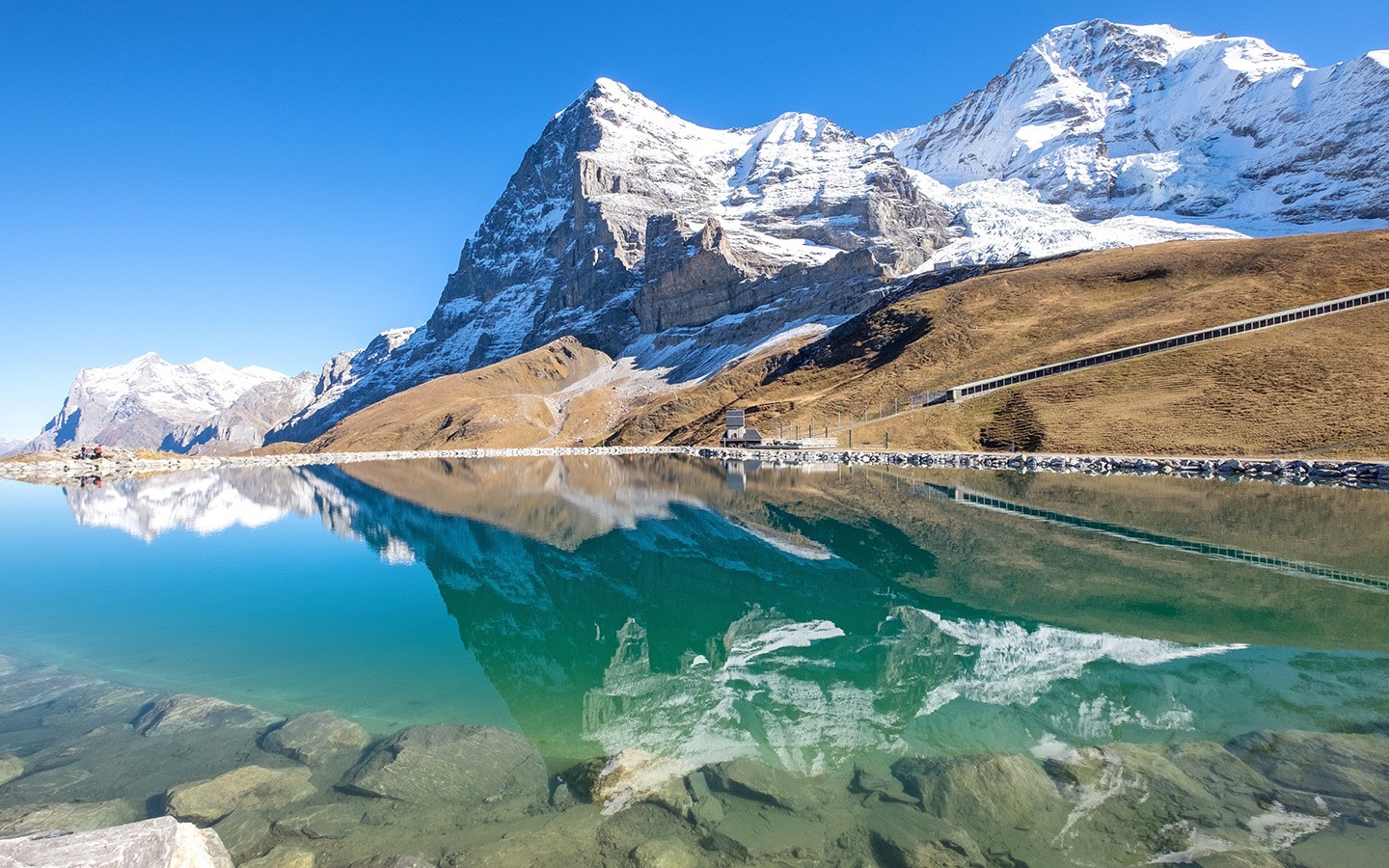 A lot of places boast breathtaking scenery, but this was the first time a view really had taken my breath away. As I looked around I could feel my head spin and my knees going weak. It might have been the bright blue skies and dazzling white snow, or the crisp, freezing mountain air, but then again it might have been the altitude. At 3454 metres above sea level, a trip to the top of the Jungfraujoch is enough to leave you breathless in more ways than one. Europe's highest railway station has views across Switzerland and beyond into France, Germany and Italy. Up here you're surrounded by the Eiger, Mönch and Jungfrau – peaks the world's best mountaineers have tried – and sometimes lost their lives – trying to conquer.
But you don't have to invest in an ice axe, climb for days and risk avalanches or frostbite to reach these heights today. The Jungfrau Railway makes the mountains accessible, and opens up this stunning high-altitude world to us less adventurous (or should that be crazy?) types. And it's not the only mountain railway in the area either – there are a whole series that take you into the mountains of Switzerland's Bernese Oberland. This small area packs a major scenic punch with glaciers, alpine meadows, lakes and waterfalls. And I was in the pretty mountain village of Grindelwald to try out four of Jungfrau Railways' different mountain experiences. Trains, scenic views, Swiss cheese – pretty much my perfect combination.
Jungfraujoch: The high-altitude one
My first journey was on board the original Jungfrau Railway. Destination: the Top of Europe. The railway is an incredible piece of engineering, especially so when you think that construction started in 1896. It took 16 years to complete the 5.6-mile line, with most of it having to be tunneled through the rock of the Eiger and Mönch mountains. A huge undertaking back when so much work had to be done by hand. Our trip to the Jungfraujoch started in Grindelwald, where a local train makes the 30-minute journey through green meadows, wooden chalets and pine forests to reach the tiny village of Kleine Scheidegg at the base of the Eiger. Another local train comes up from Lauterbrunnen too so there's a choice of routes.
From Kleine Scheidegg we boarded the Jungfrau Railway, a narrow-gauge rack railway which winds its way up 1500 metres. The first part of the line is open, with an avalanche shelter to protect the track, then at Eigergletscher you go into the tunnel. We made a quick stop at Eismeer, where windows have been cut into the rock so you can look out onto the glacier below and over to the Schreckhorn. This is also where rescue efforts for climbers who get into trouble on the Eiger's North Face start from. I've been fascinated by this place since I read The White Spider, Heinrich Harrer's book about his first ascent of the North Face in 1938. 64 people have died trying to reach the top, and looking at this 1800-metre sheer rock face from up close it seems impossible that anyone could possibly make it up there, but they did – and still do.
Back on the train, we carried on up the last stretch of tunnel to reach the Jungfraujoch. When you look at a cross section, it looks like a villain's lair from a Bond film. There's futuristic-looking metal dome on the top of the mountain with a whole network of tunnels and buildings cut into the rock below. Except these are home to restaurants, a post office, chocolate shop and an ice palace rather than a nuclear bunker and a swimming pool full of sharks. But our first stop was the Sphinx viewpoint, because it's the views that make this place so special. Jagged mountain peaks and an undulating carpet of pristine, unmarked snow as far as you can see. Though you need your sunglasses as the sun reflecting off 360° of snow is dazzling.
It doesn't matter what time of year you visit, it's always winter at the Jungfraujoch. On a sunny autumn day, I was warm in jeans and a jumper down in Grindelwald but needed the coat and gloves at the top. The average temperature is -8 degrees, so even in the middle of summer you can go from swimming in the lake in Interlaken to throwing snowballs on the Jungfraujoch within a few hours. After a few minutes out in the open air I started to get used to the altitude – until I started to walk anywhere. Even climbing up a tiny incline feels like you're scaling a mountain when you're up at 3454 metres. So there were less walks across the glacier and sledge rides and more time spent sitting on a deckchair in the sunshine.
There's something about the mountains that just makes me want to get out and explore though. So on the way down we hopped off the train at Eigergletscher to walk part of the Eiger Trail back to Kleine Scheidegg. The 1000-metre drop in elevation makes a huge difference and I felt a burst of extra energy. The path's fairly gentle and takes you through Alpine meadows – extra pretty in spring when they're full of wildflowers. You can see down to the Kleine Scheidegg and watch the trains make their way up and downhill. But as ever its the Eiger which dominates the landscape, from the Mittellegi mountain hut where climbers stopped to shelter on their way up to the perfectly flat lake at the bottom which reflected it like a mirror.
Harder Kulm: The sunset one
If your idea of a good mountain view is one you can enjoy with dinner and a glass of wine, then Harder Kulm is the one for you. This funicular railway is just a few minutes walk from Interlaken Ost station, on the edge of the city. It's another historic train route that's been running since 1908 and was the quickest journey of the trip, taking just 10 minutes to climb up to 1332 metres from sea level. The slope's so steep you almost feel like you're going up vertically, with Interlaken stretching out below you. We reached the top to find a network of walking paths that lead to the Harder Kulm restaurant, which looks like a mountaintop castle from a fairy story. And out in front is the Two Lakes Bridge, a steel platform suspended in mid air.
The platform gets its name from lakes Thun and Brienz which you can see below you, as well as the miniature houses and roads of Interlaken and the peaks of the Eiger, Mönch and Jungfrau beyond them. I could even see the dome of the Jungfraujoch observatory way in the distance. You can go up to the top of Harder Kulm during the daytime, but being up there for sunset made it extra special. Everything started to glow with the autumn leaves lit up in golden shades, before the sun dipped behind the mountains and the peaks turned pink. The last journey back down to Interlaken isn't until 9.40pm so in autumn we had time to watch the sunset before drinks and dinner in the restaurant – and still get back to Grindelwald.
Schynige Platte: The historic one
Our third journey was a step back in time on the area's oldest railway, running from Wilderswil just outside Interlaken to Schynige Platte. It zig-zags up through meadows and forests to 1967 metres above sea level, and has been running on the same route since 1893. The original rolling stock and railway line have been lovingly preserved – even the youngest train is over 100 years old, but you'd never tell from looking at her. It takes 52 minutes to get to the top so you've got plenty of time to relax and soak up the views. Or chat to your neighbours – we sat next to a local man who'd grown up in the Jungfrau region and travelled the world. But he'd never been to Schynige Platte until someone he met in India said it was the most beautiful place they'd been in the world (glad it's not just me who's bad at exploring their own backyard).
Schynige Platte is known for its hiking and there are yellow signposts everywhere pointing out all the different routes. The path across the mountains to Grindelwald First is apparently one of the most beautiful hiking routes in Switzerland, but at six hours long we didn't have time to try it out (though it's good to have a reason to come back). Instead we followed the path through the Alpine Botanic Gardens – home to Swiss plants like gentian and edelweiss – and back along the ridge overlooking Interlaken. On a gorgeous sunny day there can't be many better places to be. If you really want to get away from everything, there's a mountain hotel up there too. It's been there since before the railway was built and has no phones or TVs, all there is to do is relax and gaze out at those amazing views. Sounds pretty blissful to me.
Grindelwald First: The adrenalin-fuelled one
My final mountain journey was a bit different – the views were just as good, but this time I swapped the train for a cable car (or even a wire?). On the slopes above Grindelwald, First is a ski area in the winter, but during the summer months it's transformed into an adrenalin-fuelled playground. There's a whole series of different adventures you can take part in, from high-speed to high-altitude, and from exciting to vaguely terrifying. First up was the First Cliff Walk. In theory this sounded like the most sedate option – a walkway along the cliff edge. But with single-rope hanging bridges, metal platforms bolted into the side of the cliff face and a glass-floored platform hanging over a precipice I found myself tightly gripping the handrail.
After warming up my head for heights, next we took to the skies on the First Flyer, a zip line shooting 800 metres downhill at 84 kilometres per hour. After being strapped in, four of us sped down together, and once I got over the initial "oh god I'm 50 metres up" moment the views and speed totally distracted me. Ever resourceful, the Swiss guy manning the zip line even strapped our guide in with the bags of packed lunch so he didn't have to miss out. With the adrenaline flowing, next was the hang-glider style First Glider, where we were kitted up with body suits before being attached to a metal eagle-headed frame. This was pulled 800 metres backwards uphill in a kind of a reverse zip line before we swooped back down. Back down to earth, we finished off by speeding downhill on the First Mountain Cart, a kind of go kart/sledge combo that bumped over rocky paths and squealed around corners as I just about managed to stay upright.
From the Top of Europe to the bottom of the hill on a mountain kart, what I really liked about the Jungfrau Railways was how accessible it made the mountains. This area has some of the most gorgeous scenery in the world and to be able to get out among it and hike, bike, fly or just sit on a bench and look at the those views, means that everyone can enjoy the Jungfrau's mountains, whatever their age or fitness level.
The details
Jungfrau Railways offer a Jungfrau Travel Pass valid with unlimited train travel through the area over three to six days. The five and six day passes also include a boat trip on Lake Thun and Lake Brienz. A three-day pass costs 135 CHF/€115 – plus an extra 61 CHF/€52 for the train to the Jungfraujoch (half the usual price). The Jungfrau Railway is open all year but the others close for the winter (Harder Kulm from Dec–mid April and Schynige Platte from Nov–June). The activities at Gridelwald First run from May–November, and you can get a combined Adventure Card for 120 CHF/€103 if you want to try them all out.
We flew to Zurich with Swiss Airlines and took the train to Gridelwald using a Swiss Transfer Ticket. These return tickets takes you from the airport to any Swiss destination and back within one month and costs 146 CHF/€125. We stayed at the Romantik Hotel Schweizerhof in Grindelwald, a traditional Swiss style five-star hotel with wood-panelled rooms, spa and pool area and a restaurant (with some truly brilliant menu translations – who could resist a 'Threesome of Noble Game?'). Single rooms from £206 half-board.
Pin it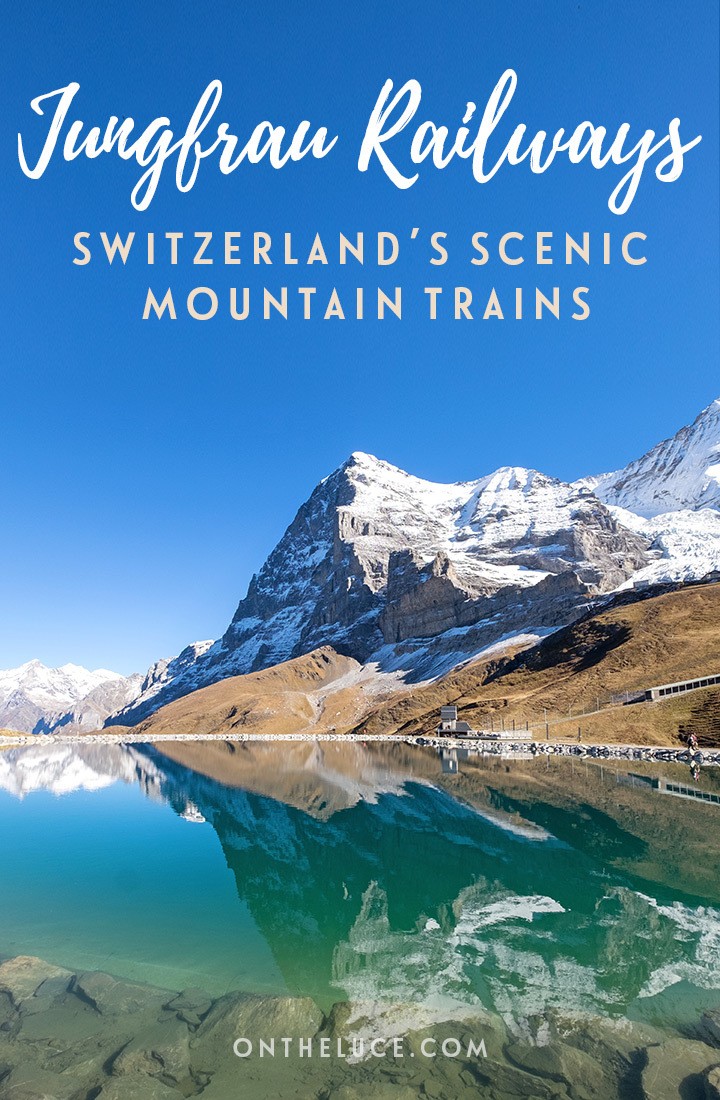 Many thanks to Jungfrau Railways for hosting me. All views and opinions are, as always, my own.