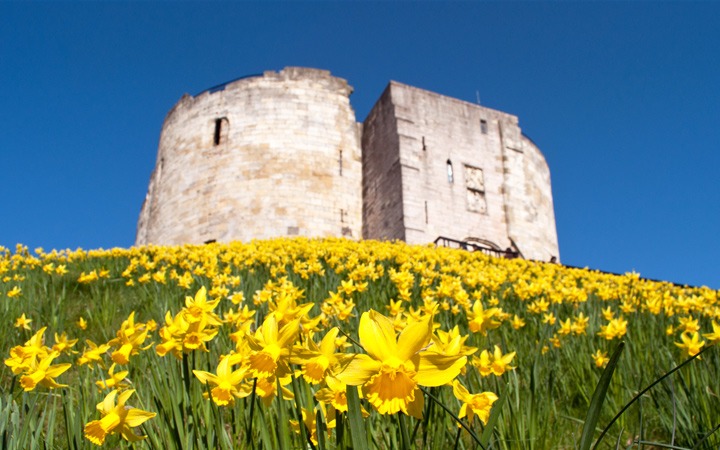 I suppose you could say York was my first 'solo' trip – it was the first I went away without my parents on a school trip aged 10. Since then I've been back a couple of times and have found different things to love with each visit. With influences from the Romans, Vikings, Normans, Tudors and Victorians, you've got a whole snapshot of British history in one city. But there's a lot more to York besides its history – cobbled lanes, over 30 museums and attractions, interesting little shops, tea rooms and cosy pubs. All of which help make it one of my favourite UK city break destinations. So here's my guide to how to spend 48 hours in York.
Friday evening
Check in to Marmadukes Town House Hotel, a Victorian townhouse in the leafy area of Bootham, about 10 minutes' walk from the city centre. The former gentleman's residence is full of character with antique furniture and some of the 21 bedrooms come with four-poster beds and roll-top baths. It's all very dimly lit and romantic, with a bar and couple of cosy lounges downstairs. Double rooms start from £79 a night.
You don't need to go far for dinner as the hotel's Park Restaurant has been rated the best in York. I'm not normally a fan of hotel restaurants but their seven-course tasting menu (£60 per person) had me converted. It's served over a few hours and portions aren't huge so you don't end up stuffed. You're left in the capable hands of chef Adam Jackson – though they're happy to work around dietary restrictions – and the staff talk you through each course, which includes seasonal local produce like scallops and venison.
Saturday morning
Towering over the city, you can't miss the Cathedral and Metropolitical Church of Saint Peter in York – better known as York Minster (open from 9am, £10 adults, £9 seniors/students, free for children or with a York Pass). It's one of the largest Gothic cathedrals in Europe (Minster was the title given to churches that were also monasteries). Explore the building's history in the undercroft and the stunning stained-glass windows above ground. And if you're travelling with a partner stop for a kiss by the Heart of Yorkshire stained-glass window, as legend says if you do you'll stay together forever. You can also climb up the 275 steps to the top of the bell tower for panoramic views across the city and over Yorkshire (£5 extra).
Head to one of my favourite museums next – York Castle Museum (£10 adults, free for children or with a York Pass). The castle itself is long gone but instead the former prison buildings on the site have been converted into a museum. There's a real mixture of exhibits, with a recreated Victorian Street, stories of past prisoners in the old cells and galleries dedicated to toys, the 1960s and the First World War.
If you have time call in at Clifford's Tower next door (£5 adults, £4.50 concessions, £3 children 5–15 or free with a York Pass), all that remains of the original castle built by William the Conqueror. It's especially pretty in spring when the hill around it is covered hoards of daffodils. Then stop for lunch at the Shambles Kitchen, a café famous for its pulled-pork sandwiches in the Shambles, York's most photographed street with overhanging timber-framed buildings that date back as far as the 14th century.
Saturday afternoon
York is surrounded by the remains of its Roman city walls, with just over two miles still standing along with some of the original gateways, which are known as bars. Walking around them is a great way to get your bearings and discover tucked-away buildings and gardens. Head to the north for great views of the Minster and Treasurer's House. Or you're a beer fan, head south past the train station to York Brewery, the only brewery within the city walls. You can take a tour to learn about how their beer is made and try out four of their brews (tours at 2pm, 3.30pm or 5pm, £8 adults, £6 concessions or free with a York Pass).
Pop in for a pre-dinner drink at the Roman Bath, the only pub with a genuine Roman bathhouse in its basement. The ruins were uncovered during renovations in the 1930s and you can go down to see the caldarium (hot room) and learn more about the days when York was known as Eboracum (£3.50 adults, £2 children or free with a York Pass). Then have an early dinner at Rustique, a French bistro with two locations in York which serves traditional dishes like confit de canard, moules marinières and crème brûlée.
York is reputed to be Europe's most haunted city, and you can learn about the city's spooky side on a guided walk. There are a lot of companies running ghost tours, but slightly different is the Bloody Tour of York. Clad in Victorian dress, guide Mad Alice leads you through the twists and turns of the city's medieval streets and snickleways (aka hidden passageways), with 90 minutes of gruesome stories of torture, blood and gore from the city's history (departs 8pm from St William's College by the Minster, £5 adults, £3 under-15s).
Sunday morning
Don't fill up too much at breakfast as you'll need some room for the tasting samples at the Chocolate Story (£11.50 adults, £10.50 seniors/students, £9.50 children or free with a York Pass). A 90-minute tour takes you through the history of chocolate as well as the story of York's famous sweet-making families – Terry's, Craven's and Rowntree's. There's lots of excellent chocolate trivia (did you know Terry's originally made a chocolate lemon and a chocolate apple as well as a chocolate orange?) and the chance to try your hand at creating a chocolate lolly. Don't miss the hot chocolate at the museum café afterwards, whether you're more the dark chocolate and chilli or white chocolate with whipped cream and marshmallows type.
Work off your sugar coma with a walk down to the River Ouse for a boat trip from King's Staith Landing or Lendal Bridge (daily at 12pm and 1.30pm with extra sailings in summer, £9.50 adults, £4.50 for children or free with a York Pass). The 45-minute trip takes you up and down the river with lots of facts about the city's history. Or if you want to explore the river on your own, the same company hires out mini red motorboats in summer which seat up to eight (available April–October, costing £25–£40 per hour).
Sunday afternoon
Finally head to York's National Railway Museum, the world's largest railway museum which shows off the city's long railway history in a huge train shed near the station (free entry). It has around 100 trains on display, from Queen Victoria's Royal Train and the world speed record-holding Mallard to an original Eurostar train and the only Japanese Shinkansen bullet train on display outside of Japan.
Then finish your weekend with an afternoon tea. Betty's Café might be York's most famous tea spot (with the queues to match), but for a truly classy afternoon tea experience visit the Countess of York. In its previous lives this train carriage transported cider in Hereford and was part of the luxurious Orient Express Northern Belle. Now it takes you back to 19th century teatime with a selection of sandwiches, tarts and cakes served on bone china with white linen and silver cutlery (tea served at 2pm and 4pm, £22.50 per person).
Have you visited York? Do you have any tips to add on what to see, do and eat?
Pin it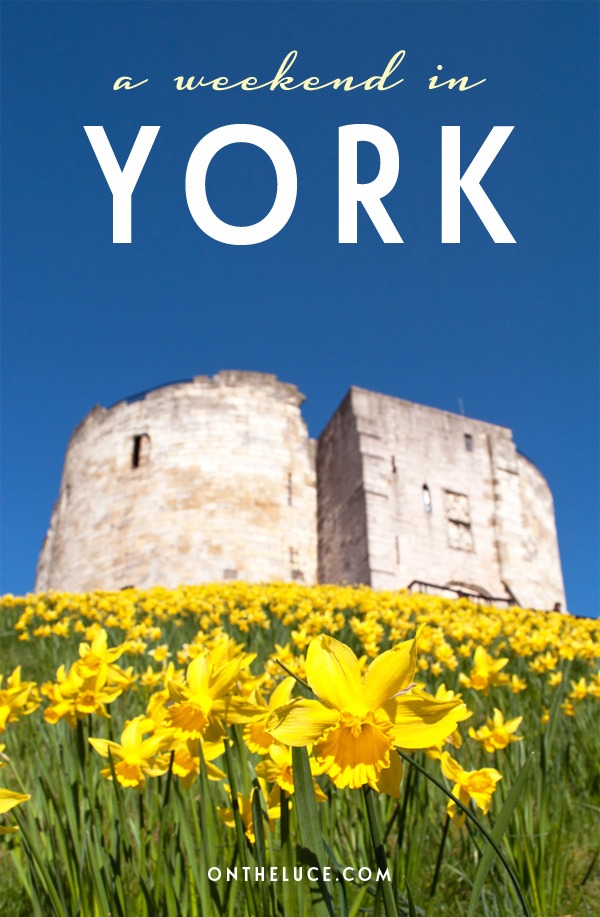 Thanks to Visit York, Marmadukes Town House Hotel and Cross Country Trains. This article contains affiliate links, where I'll get a small commission at no extra cost to you – thanks.