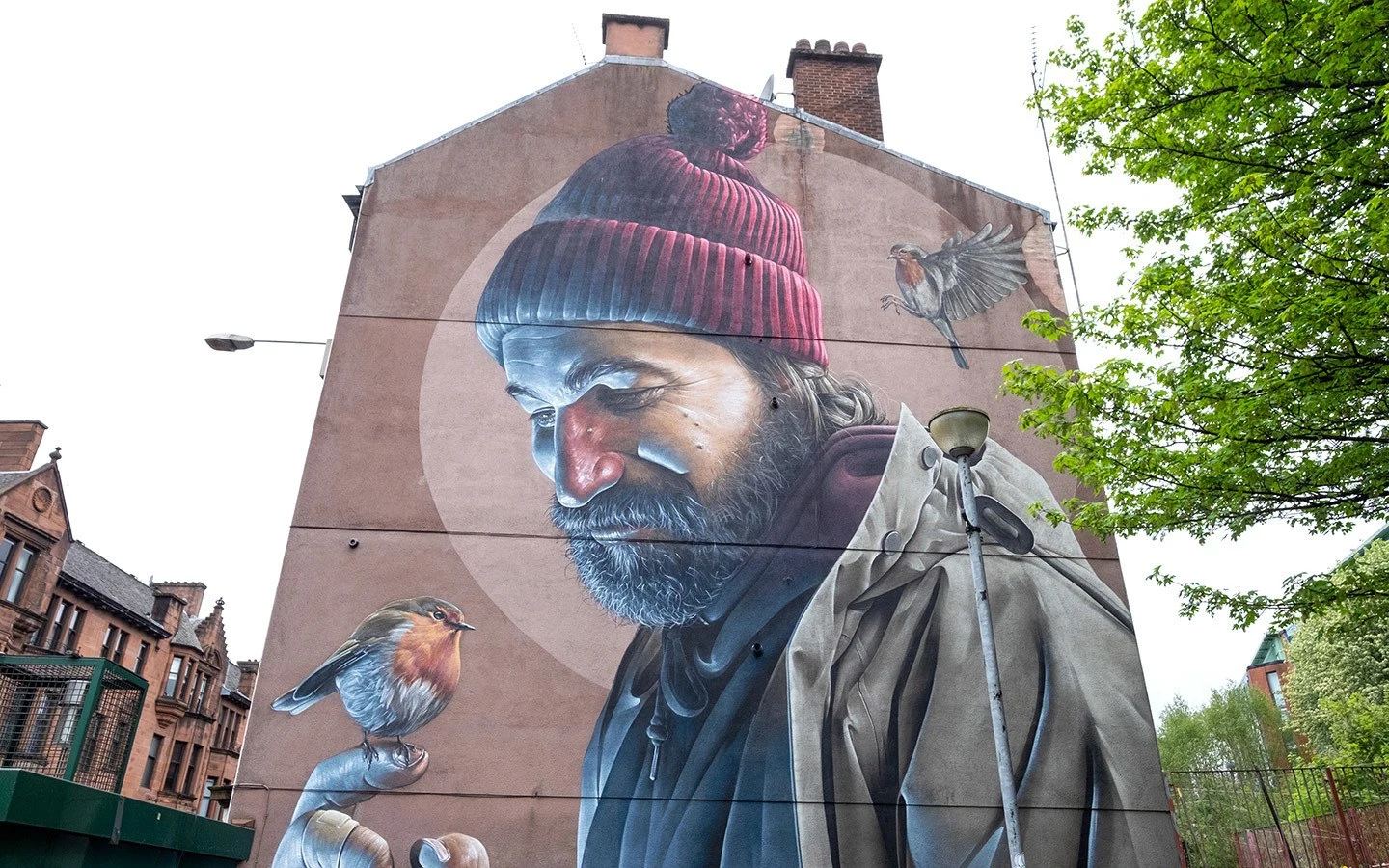 There's a real buzz about Glasgow – from its culture and nightlife to the new buildings springing up. And although it has its share of impressive museums, galleries and architectural gems, it's also one of those places that embraces the quirky, the alternative and the unusual. So whether you're a repeat visitor who's already walked along the Clyde, been to the Riverside Museum and had tea at the Willow Tea Rooms, or a first-time visitor looking for something different to do, here's my pick of the best unusual and alternative things to do in Glasgow.
AD: This post is brought to you in association with Glasgow City Flats
Seen the artworks at Kelvingrove? Check out the Glasgow mural trail
Surrounded by parkland, the ornate red sandstone Kelvingrove art gallery and museum is a real treasure trove. In its collections are artworks and historical artifacts from around the world, including paintings by Van Gogh and Salvador Dali as well as the Art Nouveau designs of local boy Charles Rennie Mackintosh. But for a more modern take on Glaswegian art, check out the City Centre Mural Trail with its giant spacemen, dancing statues and floating taxis.
This self-guided walk takes you through the city centre's side streets and alleyways to discover 25 works by different artists. Some are large, some are small, some are obvious and some are more tucked away, but they've all been created by local artists to brighten up corners of the city. A couple of my favourites were 'Fellow Glasgow Residents', which features the wildlife living in the city, and one depicting a modern St Mungo with a robin perched on his finger.
Visited Glasgow Cathedral? Don't miss the atmospheric Necropolis
Glasgow's 12th-century cathedral is one of Scotland's most impressive medieval buildings – and the only one on the mainland to make it through the Reformation in tact. It's also know as St Mungo's after its founder, and is built on the site where he was buried in 612 AD. Inside you can see his tomb in the vaulted crypt as well as the carved Blackadder Aisle and some beautiful stained-glass windows. But cross the bridge behind the cathedral and you'll find the Necropolis.
Over 50,000 people are buried in this hillside Victorian cemetery, which was modelled on the elegant Père-Lachaise cemetery in Paris. A cemetery doesn't seem the most obvious place to want to spend your time, but the Necropolis' 37 acres are full of decorative tombs, carvings and spring flowers. It's a peaceful escape from the city and is extra atmospheric around sunset. Or if you want to find out more about its history, you can sign up for a guided tour.
Eaten in the West End's restaurants? Taste your way around the city on a food tour
Scottish food might be associated with haggis, whisky and deep-fried Mars bars, but a trip around the restaurants of Glasgow's West End will soon put that idea out of your head. As well as food from all over the world, you can try delicious modern Scottish dishes at places like The Gannet, Cail Bruich and the Ubiquitous Chip – which you'll find in the mini foodie hub of Ashton Lane, a cute cobbled street located just off Byres Road near the University of Glasgow.
Or if you want to get a real insight into Glasgow's food and drink scene, you can take a city food tour. There are a few different companies running tours, including Eat Walk Glasgow and the Wee Food Tour. Tours normally last around four hours and visit five or six different locations, with a mix of restaurants and local food producers, and a bit of city history thrown in too.
Walked along the waterfront? Take a boat trip along the Clyde
The River Clyde runs right through the centre of Glasgow and has been at the heart of the city's growth. Glasgow was a port for tobacco and cotton shipping and a centre for shipbuilding that saw everything from warships to the QEII and Royal Yacht Britannia being built along its banks. After damage in the Second World War, the shipyards went into decline, but the area's been regenerated with some striking new architecture like the Armadillo and SSE Hydro.
A walk along the waterfront is a good way to see how it's developing, but for a better view you can take a boat trip along the Clyde. Head back in time on board the Waverley, the world's last ocean-going paddle steamer which was built on the Clyde in 1947. She's out of service for 2019 while her engines are fixed but plans to be back on the river in 2020. Or for something a bit more high-octane, Seaforce and Powerboats Glasgow both run powerboating trips.
Been whisky tasting? Try relaxing at the gin spa
Whisky is Scotland's national drink, and there are a few distilleries in Glasgow where the 'water of life' is still being made. Whisky-lovers can take a tour around the Clydeside Distillery's Pumphouse at Glasgow's Queens Dock to learn about their industrial heritage and taste some of their whiskies (with or without chocolate pairing to go with them). Or choose from hundreds of whiskies from across Scotland at bars like the Pot Still or the Bon Accord.
If gin's more your tipple of choice, there's plenty to choose from at Gin 71, as well as a gin-inspired tasting menu. It was Glasgow's first dedicated gin bar and now has three branches around the city. They've also teamed up with the Gin Spa – the world's first gin-inspired spa where you can soak in it as well as drink it. Their treatments use the botanicals used in gin-making for juniper foot soaks and aromatherapy facials, and finish up with a G&T.
Stayed in a hotel? Live like a local in a city apartment
Glasgow has tons of places to stay, but I always prefer an apartment over a hotel for a city break. City trips always seem to involve long days and miles of walking to squeeze everything in, so it's great to have a space of your own to relax in – especially if you're in a group and don't want to all have to sit in someone's bedroom. Glasgow City Flats have over 50 luxury one, two and three bedroom apartments in central locations in Glasgow. I stayed in a two-bed serviced apartment in the smart new Matrix development on Cowcaddens Road in the north of the city.
It's only a few minutes' to the Metro and Queen Street Station so it was really easy to get around, and there are a couple of shops nearby as well as the Buchanan Galleries so you can stock up on supplies. The apartment has a bedroom and bathroom downstairs and a master bedroom with en-suite and a big, open plan diner/lounge with a full kitchen upstairs on the top floor. There's also fast wifi, parking and fab views across the city from the balcony. It was a really light and airy and being so close to everything meant I could easily pop back if I needed a rest!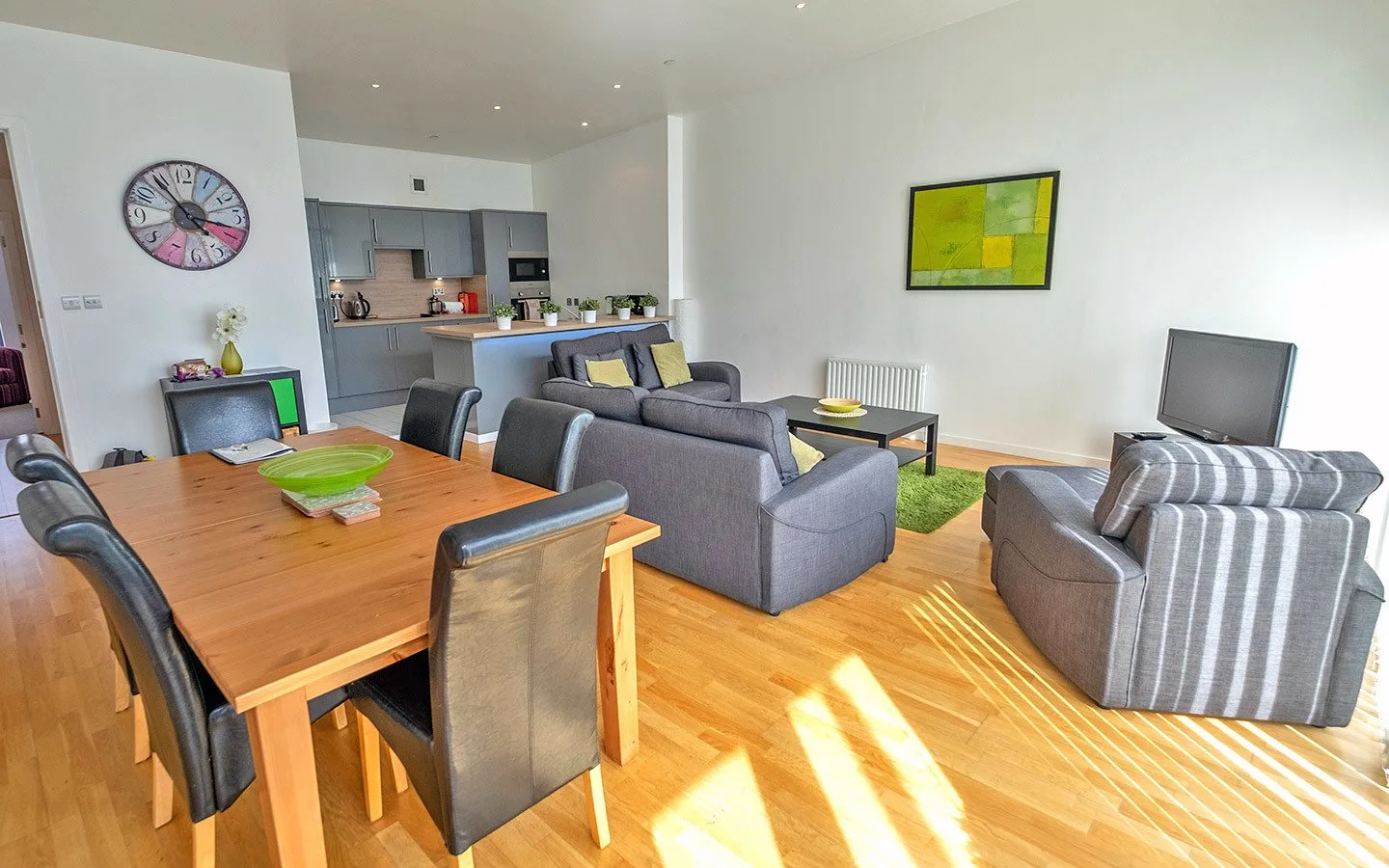 What are your favourite hidden gems and unusual attractions in Glasgow?
Read more: A weekend in Glasgow: A 48-hour itinerary
Pin it