Discover Robert Burns' Dumfries by following the footsteps of Scotland's national poet in the town he lived and died in, on this self-guided walking tour of Dumfries' Robbie Burns sights.
* This site contains affiliate links, where I get a small commission from purchases at no extra cost to you.
From Auld Lang Syne on New Years' Eve to 'my love is like a red, red rose' and 'the best laid schemes o' mice and men', even if you don't think you know the works of Scottish poet Robbie Burns, you probably do. He's been named Scotland's National Poet and voted one of the greatest ever Scots. And on 25th January each year, Scots, Scotland-lovers and anyone with a fondness for whisky, haggis, neeps and tatties celebrate his birthday.
Robert Burns was born in Ayrshire in 1759 but spent the end of his life living in the town of Dumfries. So while I studying there I set out to discover the story of Robert Burns in Dumfries, with a self-guided walk of the town's Burns history for you to follow.
Robert Burns in Dumfries
Burns was born in Alloway, Ayrshire, in 1759 and started life as a farm labourer – a 'ploughman poet' writing in his spare time. After a stint in Edinburgh he moved to Ellisland Farm (now a museum) in Dumfries and Galloway in 1788 before working as an excise officer in Dumfries. And the town is where he spent the last eight years of his life.
He was only 37 when he died but produced a huge range of poems and songs, many written in the Scots dialect, which is a bit of a challenge to get your head (and tongue) around. Robbie Burns left his mark on both Scottish culture and on Dumfries. And the first Burns Supper was held by a group of his friends to mark the fifth anniversary of his death.
Since then Burns Night has expanded into a global celebration of his life and work, as well as everything Scottish. Dumfries puts on an annual festival for the occasion – the Big Burns Supper is a celebration of Scottish music, culture and heritage spread over 10 days. But you can also explore Robert Burns' Dumfries at any time of year.
A Robert Burns walking tour of Dumfries
This Dumfries walking tour of the town's Robert Burns history is fairly short at only around 1.5 miles, but I would allow at least a couple of hours to complete it to give you time to look around the museums on the way (and to call into the pub for a drink!).
Robert Burns Statue
Start your tour of Robert Burns Dumfries at Burns' Statue, found opposite the Burgh Church of Dumfries (aka Greyfriars Kirk). The statue was commissioned in 1877 by the town to celebrate its most illustrious resident. It was carved by Italian craftsmen to a design by sculptor Amelia Robertson Hill and uses marble from Carrara in Northen Italy.
The statue was unveiled in 1882, though it wasn't in this exact spot originally – changes to the road layout over the years mean that it has been shifted several times since.
Dumfries Robert Burns Centre
Walk down Friars Vennel towards the River Nith and cross the river on the Devorgilla Bridge (take this one rather than the newer Buccleuch Street Bridge shown on the map, which wouldn't accept the Devorgilla Bridge). The bridge was built in the 15th century and is one of the oldest in Scotland, so Burns would've used it while he lived in Dumfries.
Turn left at the end of the bridge past the Old Bridge House Museum, formerly an inn where Burns liked to drink. Along the banks of the river you'll find the Robert Burns Centre in a converted 18th century watermill. The Centre tells the story of Burns' time in Dumfries – though not a lot about his life before so you might want to swot up a bit first.
Entry is free with objects and artifacts on display. There's also a scale model of the town in the 1790s to show you what life was like in Dumfries in Burns' day. And the building is home to Scotland's smallest film theatre, which holds regular screenings.
The Globe Inn
Carry on along the waterfront then cross the river on the iron suspension bridge. Turn left at the end of the bridge and right into Shakespeare Street, where a narrow passageway (known as a wynd) lined with murals depicting Burns' poems leads you to the Globe Inn (not to be confused with another Globe Inn located across the river).
The Globe was established in 1610, making it one of the oldest pubs in Scotland, and it feels like it with its dark timber-panelled walls. It was also one of Burns' favourite watering holes – "the Globe Tavern here which for many years has been my Howff" (howff being an old Scots word which means favourite meeting spot or haunt).
The inn has Burns memorabilia like handwritten letters and plaster busts on show, and lines of his poems are etched into the window panes of the bedroom he used to stay in upstairs. They offer prebooked tours of the rooms he used in the inn (available Wednesday to Saturday at 4pm and Friday and Saturday at 11am, £5 per person).
The tour includes Burns' bedchamber and the 'snug' dining room where he'd entertain his friends. You can even sit in Burns' favourite chair by the fire – though anyone who does has to recite one of his verses or pay a forfeit of buying a round for the whole pub.
Robert Burns House
Backtrack along Shakespeare Street and turn left down Burns Street where you'll find the Robert Burns House and a memorial garden outside. Burns and his family moved into this 18th-century sandstone house in May 1793, when the street was known as Mill Street.
With its two bedrooms, parlour and study, this house was a step up from the two-room flat the family had been living in in Dumfries before then. And it's here that Robert Burns spent the last three years of his life living and working.
You can see the study he wrote in and the bedroom where he died at the age of 37 on 21 July 1796. There's some debate over what killed him, but it was though to be endocarditis – inflammation of the heart – caused by rheumatism when he was young.
The house is furnished with beds, chairs and tables from the period – though not the bed Burns died in because that was made into slightly macabre keepsakes for his fans. There's a snuffbox carved out of wood from the bed on display as well as paintings, family belongings like his wife's Bible, Burns' personal seal and original letters and manuscripts.
Jean Armour statue
Carry on along Burns Street and you'll see a statue on your left of Jean Armour, Robert Burns' wife. If you saw the rather stern paintings of her in the Burns' House you might spot that she looks a lot more glam here – it was designed so she looked like she would've done when Burns was alive whereas all the paintings of her are from much later.
She met Burns when she was 19 and they ended up having nine children together, the last one born on the day of his funeral. It was a turbulent relationship though – her parents disapproved, six of their children died, Burns fathered at least four more illegitimate children (including one with the barmaid at the Globe!) and had a habit of disappearing.
But she stayed with him until he died, and spent the rest of her life in their house in Dumfries until she died in 1834 at the age of 69, 38 years after Burns' death.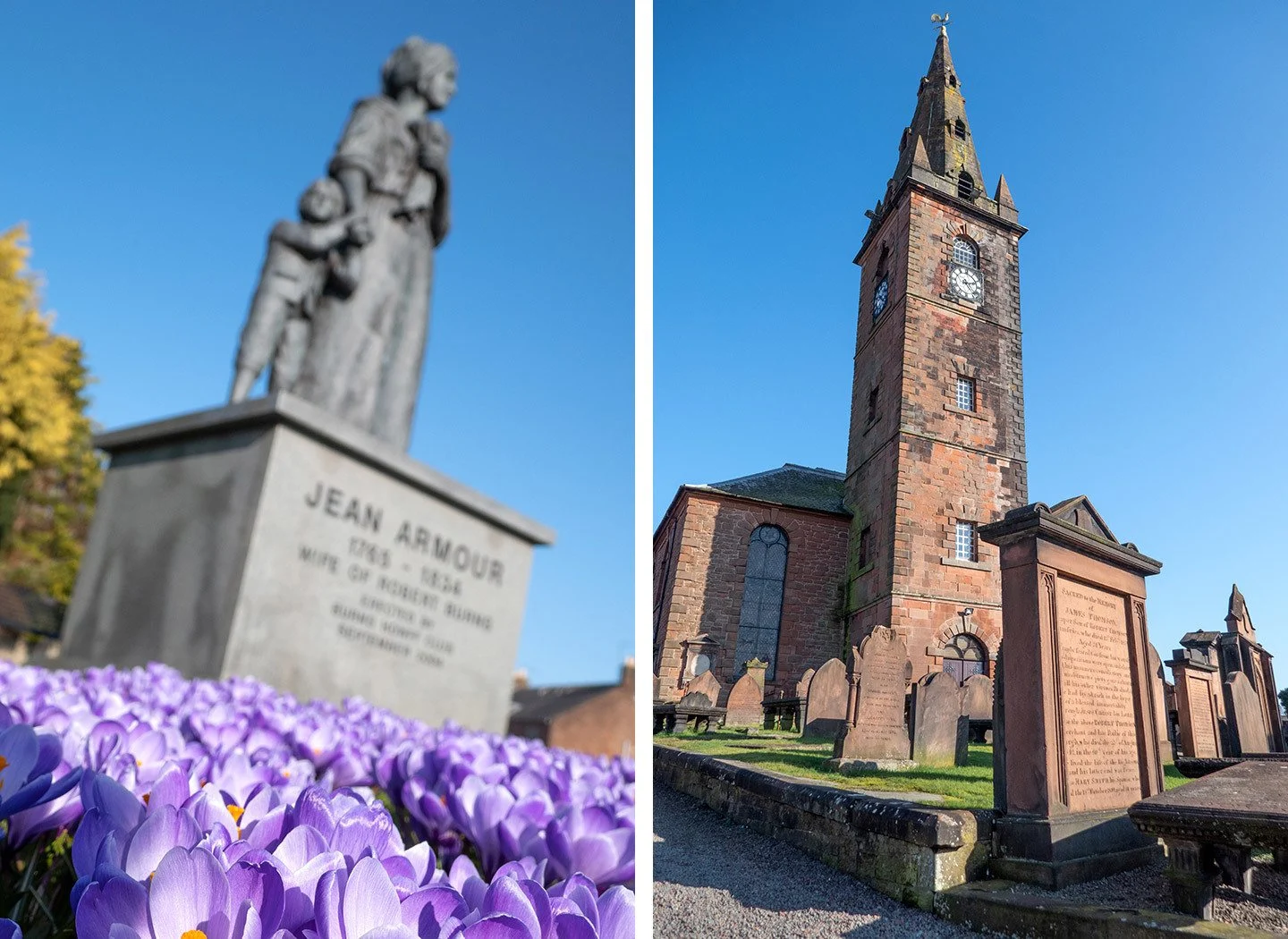 Burns Mausoleum
Cross the road to St Michael's and South Parish Church – Robert Burns' final resting place. If you walk around the right side of the church, you'll find his mausoleum at the back of the graveyard. You can't miss its bright white dome in among the more sombre red sandstone graves. But this lavish neoclassical structure wasn't Burns' original resting place.
When Burns died in 1796 he was buried in a simple grave with a stone slab on the other side of the churchyard. But his growing number of fans decided it didn't befit a Scottish icon. And after poet William Wordsworth and his wife came to pay their respects and couldn't find Burns' grave, a fundraiser was held to raise money for a better memorial.
Donors from around the world, including famous fans like the Prince Regent, pledged money for a local stonemason to built the memorial. And in 1817 Burns' remains were moved there along with those of two of his sons, and his wife's body was added later.
The mausoleum was originally made of red sandstone but was later painted white with a turquoise dome to protect it from pollution. Inside there's a sculpture of Burns with a plough and his muse Coila hovering over him. There's a sign to show where the original grave was as well as plaques on the graves of Burns' friends and contemporaries.
And if you go inside the church you can see the Burns family pew and stained-glass windows which feature Robert Burns and Jean Armour.
Visiting Dumfries
Where to stay in Dumfries
The Holiday Inn Dumfries* is a bit out of town, but its beautiful setting in 85 acres of parkland makes up for the 30-minute walk (or 15-minute bus ride). It's part of the Crichton estate, with former Victorian hospital buildings now home to universities and businesses surrounded by gardens. The hotel has a bar and restaurant, and is a couple of minutes' walk to Neuros leisure centre, which has a swimming pool, steam room and café.
Where to eat and drink in Dumfries
Drink a toast to Burns with a dram or two in The Globe – the pub's owners also run the nearby Annadale Distillery so it would be rude not to. Dumfries is good for traditional pub grub. Try the Cavens Arms for real ales – it's won multiple CAMRA awards – and big portions. Or if you're staying at the Crichton, the Swan in Kingholm Quay is just a short walk away, and from there it's a lovely 30-minute walk along the river to Dock Park.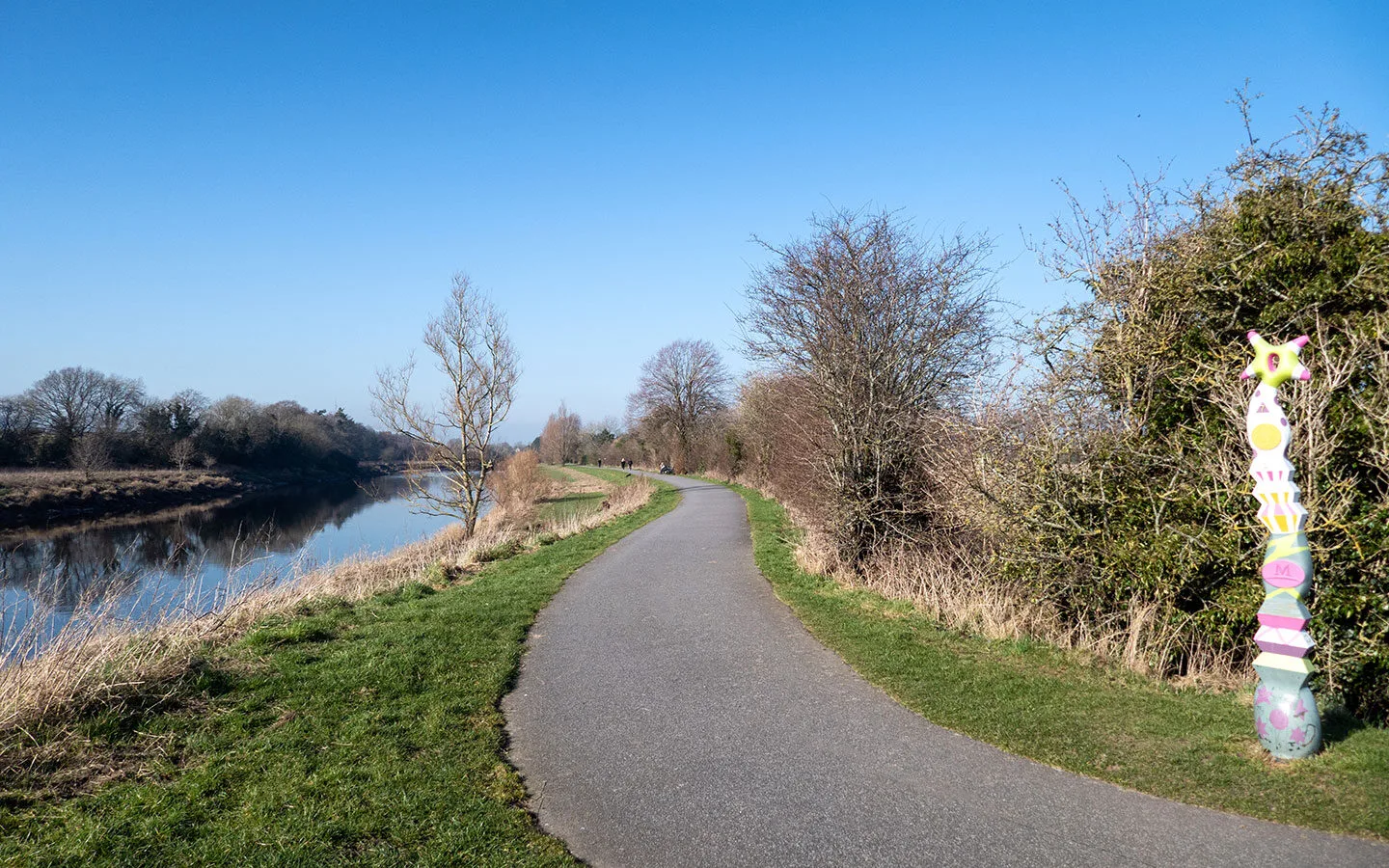 Save for later
You might also like