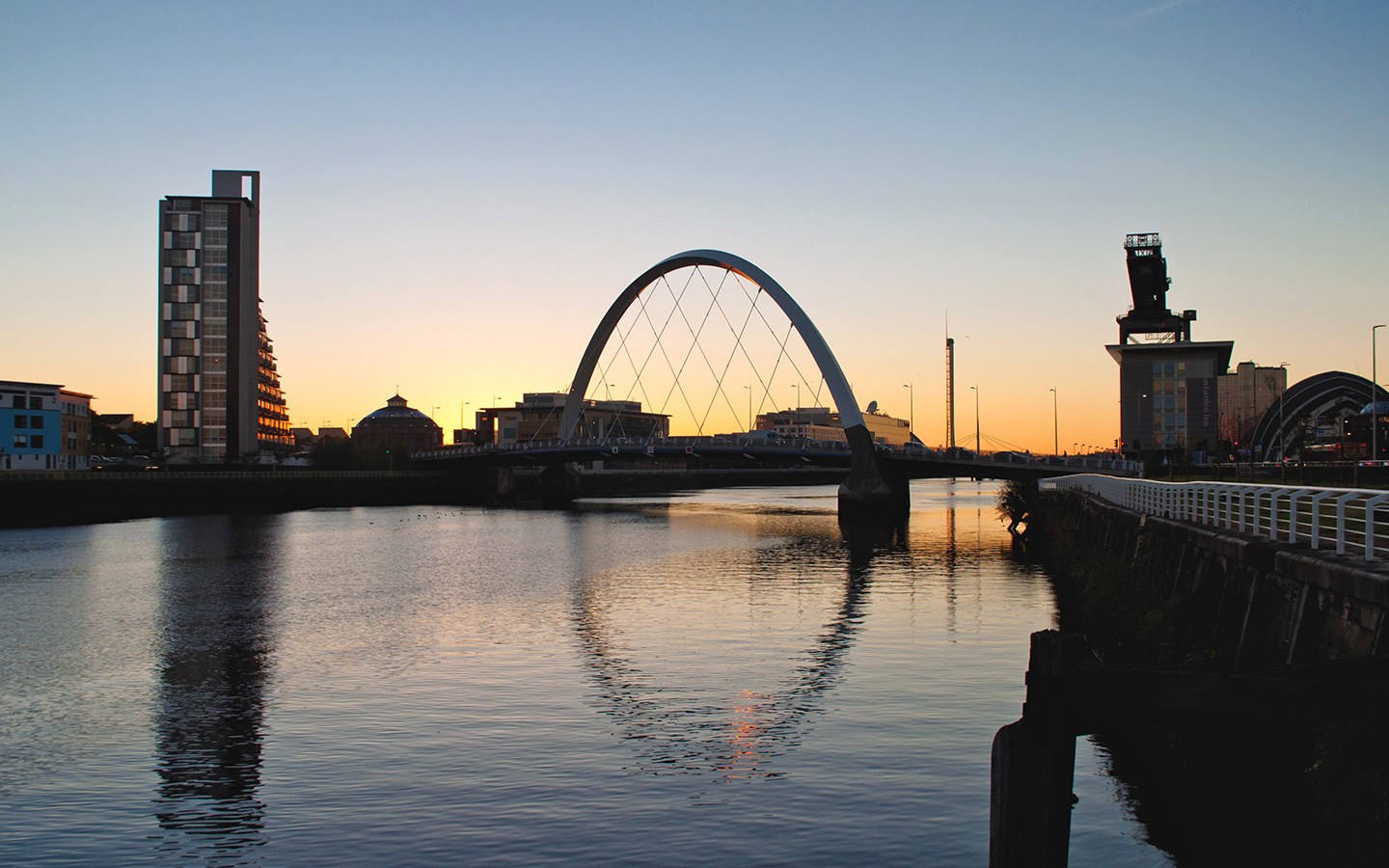 Where famous neighbour Edinburgh is tourist central, Scotland's second city Glasgow has a grittier, more creative edge. This former industrial powerhouse has transformed itself into a city of culture. UNESCO City of Music, European City of Culture – the awards keep on coming. Glasgow mixes historic sandstone buildings and modern architecture, award-winning museums and live music venues, quirky shops and innovative restaurants. One thing you definitely won't be is bored. So here's my 48-hour itinerary for the perfect weekend in Glasgow.
Read more: Alternative Things to do in Glasgow
How to spend a weekend in Glasgow
Friday evening
Check in to the Grasshopper Hotel in the centre of the city. It's extra convenient if you're travelling by train as it's on the top floor of a building next to Glasgow Central Station. It's surprisingly quiet up that high and the rooms have stylish Scandinavian design, with lots of pale greys, handmade wallpaper and pod bathrooms. There's also a communal lounge with views over the station's glass roof and nice touches like free cupcakes. Double rooms from £80 a night.
You don't have far to travel for dinner at Alston Bar and Beef, as the restaurant is set under the arches of a cellar which is buried deep beneath the station. As you can guess from the name, they specialise in beef, with fantastic dry-aged steaks which come from the Scottish Borders. They also have a huge selection of over 120 gins, and if you're a fan you can sign up for a gin tasting-come-dinner evening and taste your way through a few of their best.
Saturday morning
Start the day with a walk in the park to the grand red sandstone building housing Kelvingrove Art Gallery and Museum (free entry). Part art gallery, part history museum, there are 33 different galleries and a eclectic mix of collections with a giant elephant next to a World War II Spitfire as well as dinosaur eggs, Egyptian artifacts and a Salvador Dali painting. With more than 8000 exhibits you can dip in and out, and stop off in the café if you need a break.
From Kelvingrove, walk across the park to the University of Glasgow. The Gothic-style buildings were designed by Sir George Gilbert Scott, famous for creating St Pancras in London. With its turrets, vaulted ceilings and bell towers it looks like something straight out of Harry Potter.
Wander the cloisters with the students or visit Scotland's oldest museum – the Hunterian (free entry). It was set up when 18th-century anatomist William Hunter donated his collection of scientific specimens coins, minerals, books and Roman artefacts to the university.
Carry on past the university to Byres Road, the heart of Glasgow's West End and home to some great boutique and vintage shops. Stop for lunch at the Ubiquitous Chip, where they put a modern twist on traditional Scottish dishes, served in a lovely flower-filled courtyard. They do a good-value lunchtime set menu with two courses for £19.95 or three for £23.95.
Saturday afternoon
Head down to the river to the striking, Zaha Hadid-designed Riverside Museum (free entry). Opened in 2011, the 'Glasgow Guggenheim' has 3000 transport and travel related exhibits, from steam trains to skateboards. If you're a car or train fan you'll be in heaven, but even not there are other things to see like a recreated street taking you back to 1890s Glasgow.
Just outside the museum you can take a tour of the Glenlee, a restored tall ship that's one of only five sailing ships built on the Clyde still afloat. Glasgow's River Clyde was the centre of a hugely powerful shipbuilding industry until WWII when the area went into decline. Since then it's been redeveloped and as you walk along the riverside you'll see modern buildings like the Clyde Auditorium (aka the Armadillo) and the titanium-clad Glasgow Science Centre.
There's still a glimpse of the river's old life at the Finnieston Crane, a 175-foot crane used to load heavy locomotives onto ships. If you time your walk to coincide with sunset, then the crane and curving Clyde Arc (aka the Squinty Bridge) make a great silhouette. Finish the day with dinner at The Finnieston, a seafood restaurant with yet more gin – 60 different varieties this time.
Sunday morning
First thing in the morning, head downstairs from the hotel to Glasgow Central Station to join the 10am building tour (£13 per person, minimum age 12 and you need to book tours in advance online). The tour reveals some of the station building's hidden secrets, taking you right from the top of its glass roof to a forgotten Victorian village buried underground.
Among the way you'll see rooms used as a WWI mortuary, an old boiler house that was the site of a 1930s murder and an original Victorian platform. From the station it's only a couple of minutes' walk to the Lighthouse. This building was one of Art Nouveau designer Charles Rennie Mackintosh's first commissions and was originally the Glasgow Herald newspaper offices.
Now it's a centre for design and architecture, with a free exhibition on Mackintosh's work. Don't forget to head up the spiral stairs of the old water tower for a great view across Glasgow city centre. Next stop for lunch at Tabac, a bar and restaurant opposite the Lighthouse with tapas-style sharing plates like smoked haddock croquettes and seared scallops on the menu.
Sunday afternoon
To find out a bit more about Charles Rennie Mackintosh, head to the Glasgow School of Art to join their 45-minute Mackintosh at the GSA tour (£7 for adults, £5.75 for students/over 60s or £3.50 for under 18s – please note these are currently suspended after a second fire in 2018). Mackintosh had strong ties to the school – he started off as a student there back in the 1880s and ended up winning a architecture competition to design a new building for them.
The tours are led by current or former students and take you around the exterior of the Mackintosh building, though you can't go inside at the moment as the interiors are currently being restored after a major fire in 2014. You do get to see some of Mackintosh's furniture though as well as getting lots of insight into his life and his relationship with Glasgow.
Finish your weekend in Glasgow at another famous Mackintosh building, the Willow Tea Rooms on Sauchiehall Street, which has been restored to its original Art Nouveau glory. Choose from afternoon tea with sandwiches and scones, or something a bit more Scottish like Cullen Skink (smoked haddock and potato soup) or Scottish Rarebit. Not a deep-fried Mars bars in sight!
Have you visited Glasgow? Do you have any tips to add on what to see, do and eat?

Pin it
Many thanks to Glasgow City Marketing Bureau for hosting me in Glasgow. This article contains affiliate links, where I get a small commission at no extra cost to you, thanks.