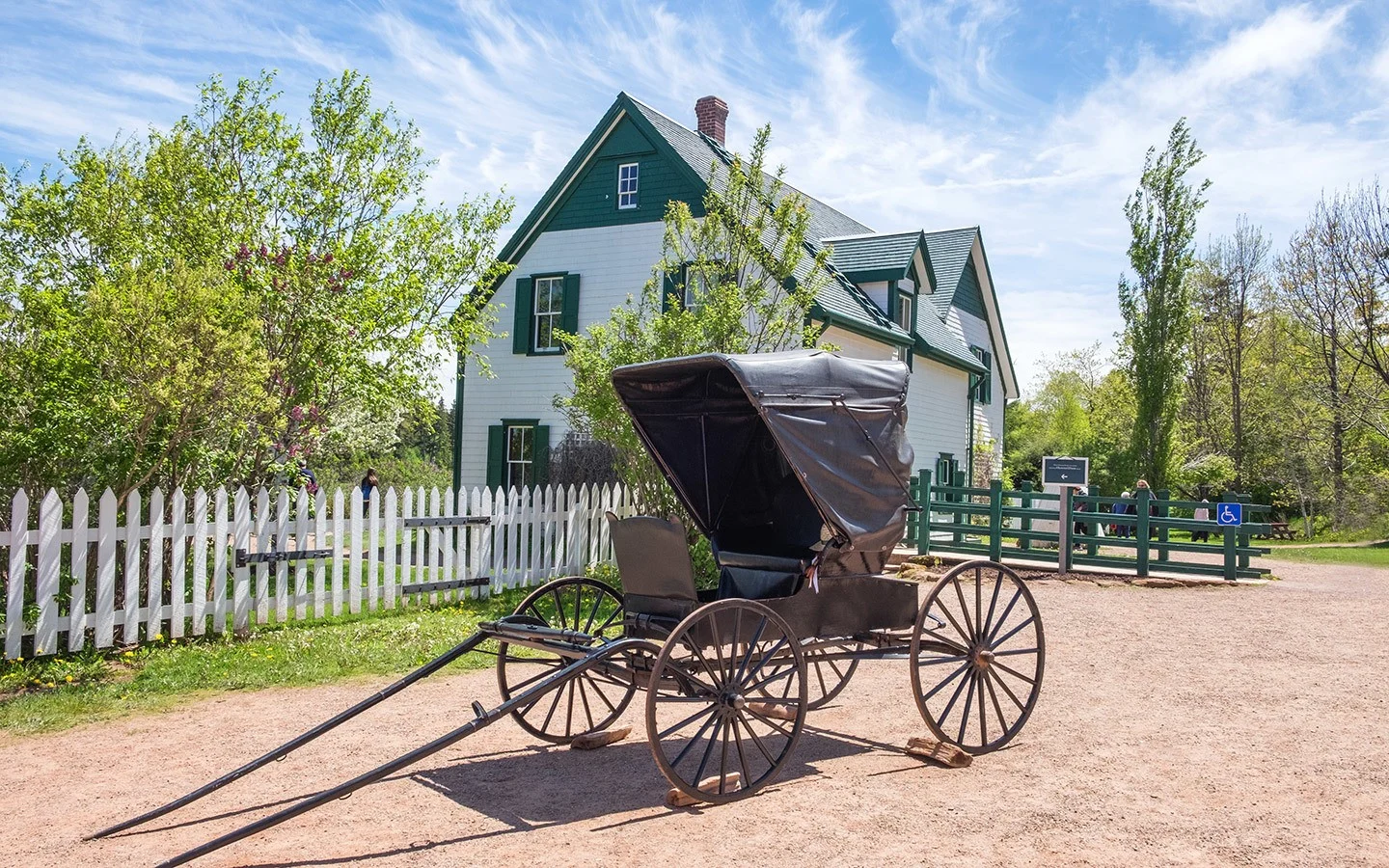 If you're visiting Prince Edward Island in Canada, then there's one name you'll keep seeing – Anne Shirley. Better known as Anne of Green Gables, she might be fictional but has she has a serious fan club which stretches all around the world. There are the purists who've read each of the eight original books and there are others who've just discovered Anne's world through new Netflix series Anne with an E. But what they've all got in common is a love for this spunky red-haired, 11-year-old orphan girl, who's accidentally sent to live with a middle-aged brother and sister instead of the boy they'd asked for to help on their farm.
Read more: 3 ways to fall in love with Prince Edward Island, Canada
Anne of Green Gables was first published in 1908 and it captured people's imaginations from the start – 19,000 copies were sold in the first five months. Since then sales have topped 50 million copies and it's been translated into 36 languages. Anne's been featured in multiple films and TV series, and there's even an animé version in Japan. The story – known as 'Akage no An' (Red-Haired Anne) – is surprisingly huge in Japan. In 1939, Japanese translator Hanako Muraoka was given a copy of the book by a Canadian missionary friend from New Brunswick. She translated it into Japanese and it became part of the school curriculum after the Second World War. So a generation of Japanese children grew up with Anne – there's an Anne Academy, national fan clubs, a Green Gables School of Nursing and even a life-sized replica of Green Gables.
Prince Edward Island is as much a character in the book as Anne, Gilbert, Diana or Marilla. Though when I first read it (far too many years ago), I thought this gorgeous-sounding land of red cliffs, sand dunes and shining lakes was some mythical place, not a real island off the east coast of Canada. The book's descriptions make it sound like a bucolic paradise, and although you won't be driving on red dirt roads in a horse and carriage any more, PEI still has a lot of the same charm it had a hundred years ago. So when I visited the island, I had to go and search out the 'real' Green Gables, as well as finding out a bit more about Anne's creator. Author Lucy Maud Montgomery was born in New London in 1874. Her mother died when she was a baby and her father moved to the mainland and remarried, so she was almost an orphan herself. She was brought up by her grandparents in Cavendish – the inspiration for Avonlea in the books.
Cavendish today isn't quite the remote farming community it was in the 1900s, but you can still find Green Gables Heritage Place there, part of Prince Edward Island National Park. Over 125,000 visitors a year come to see the house that inspired Green Gables. It's not Lucy Maud's home or where the TV or film versions of the series were filmed, instead it was actually the home of her cousins, a brother and sister – with a bit of a resemblance to the book's Matthew and Marilla. Lucy Maud used to visit the house a lot, exploring the woods around Balsam Hollow (aka the Haunted Wood). She was a lonely child so she developed this whole world of imaginary friends and secret places that inspired her books. Anne of Green Gables is the best known but she also wrote seven sequels, 12 other books and a whopping 530 short stories over her lifetime.
Green Gables might not be the 'real' house from the books. But coming around the corner to see this green-roofed, white clapboard building, with an old carriage parked out front, felt just like stepping into the pages of the book. I almost expected to see Anne and Diana coming along Lovers' Lane or Marilla out sweeping the doorstep. Inside the house has been restored to just how you'd picture it from the book (a bit more lavish than the real residents would have kept it). There's the cosy kitchen, the formal Victorian dining room, Marilla's sewing room and Anne's bedroom in the east gable, with its flowery wallpaper, muslin curtains and a brown dress with puffed-sleeves hung on the back of the wardrobe. It's like the book's come to life.
Outside you can take a walk through the Haunted Wood, and at the other end there's the end of the story. Lucy Maud left the island after she got married and only came back to visit, but she wanted to be buried back in Cavendish. And appropriately enough her grave is at the end of the trail through the Haunted Wood. Although the book was a huge success and her writing career flourished, her life wasn't easy. Her husband had mental problems, her publisher stole money from her, she lost a son and suffered from depression – but her writing helped get her through the hard times and let her share some of the beauty of PEI with the world. In the words of Anne: "Dear old world… you are very lovely, and I am glad to be alive in you."
Where else to find Anne on Prince Edward Island
Charlottetown
The island's capital is home to not one but two musicals based on Anne's story. First there's Anne of Green Gables – The Musical at the Confederation Centre of the Arts. It started in 1965 and is now the longest-running annual musical in the world, playing from June–September each year. I was a bit too early in the season so instead I went to see Anne and Gilbert at the tiny Guild theatre. With some catchy tunes (I've still got Island Through and Through stuck in my head months later…), this is the story of Anne when she gets a bit older (based on some of the later books), through going to university and finally falling in love with childhood friend Gilbert Blythe. You can also feast on Cavendish Creams at Charlottetown's Anne of Green Gables Chocolates or stock up on everything Anne-related at the Anne Of Green Gables Store.
Silver Bush
A house that belonged to Lucy Maud's aunt and uncle in Silver Bush is now home to the Anne of Green Gables Museum. She lived there with them for a while too and it's where she got married to Presbyterian minister Ewan Macdonald in 1911. You can look around the house and see her old bedroom, with a quilt she made and Anne's Enchanted Bookcase, or take a carriage ride around the real-life Lake of Shining Waters.
New London
New London is where Lucy Maud was born, and was also the inspiration for Bolingbroke, Nova Scotia, the fictional town where Anne's orphanage was. Lucy Maud didn't stay here long – she left at 21 months old – but the house she was born in is now the Lucy Maud Montgomery Birthplace. You can see the room where she was born as well as a replica of her wedding dress and a scrapbook of her stories and poems.
Avonlea
Well it might not be the real thing, but this recreated village in Cavendish brings Anne's Avonlea to life. It's an unabashed tourist fest with a 19th-century school house and church along with recreated buildings. There are singing actors in 1900s costumes, lots of places to eat (featuring raspberry cordial naturally), and activities from oyster-shucking and wagon rides to spoon-playing lessons and even a bit of pig racing.
The details
Visit Canada Keep Exploring to find out more about Anne and Prince Edward Island. I travelled to Charlottetown via Toronto with Air Transat (prices start from £346 return). Canadian Affair also offers a 14-day Maritime Magic Treasures fly-drive package visiting Prince Edward Island and Nova Scotia.
Pin it
Big thanks to Destination Canada, Canadian Affair, Air Transat and Tourism PEI for hosting me in Prince Edward Island and reintroducing me to Anne. All opinions are, as ever, my own.