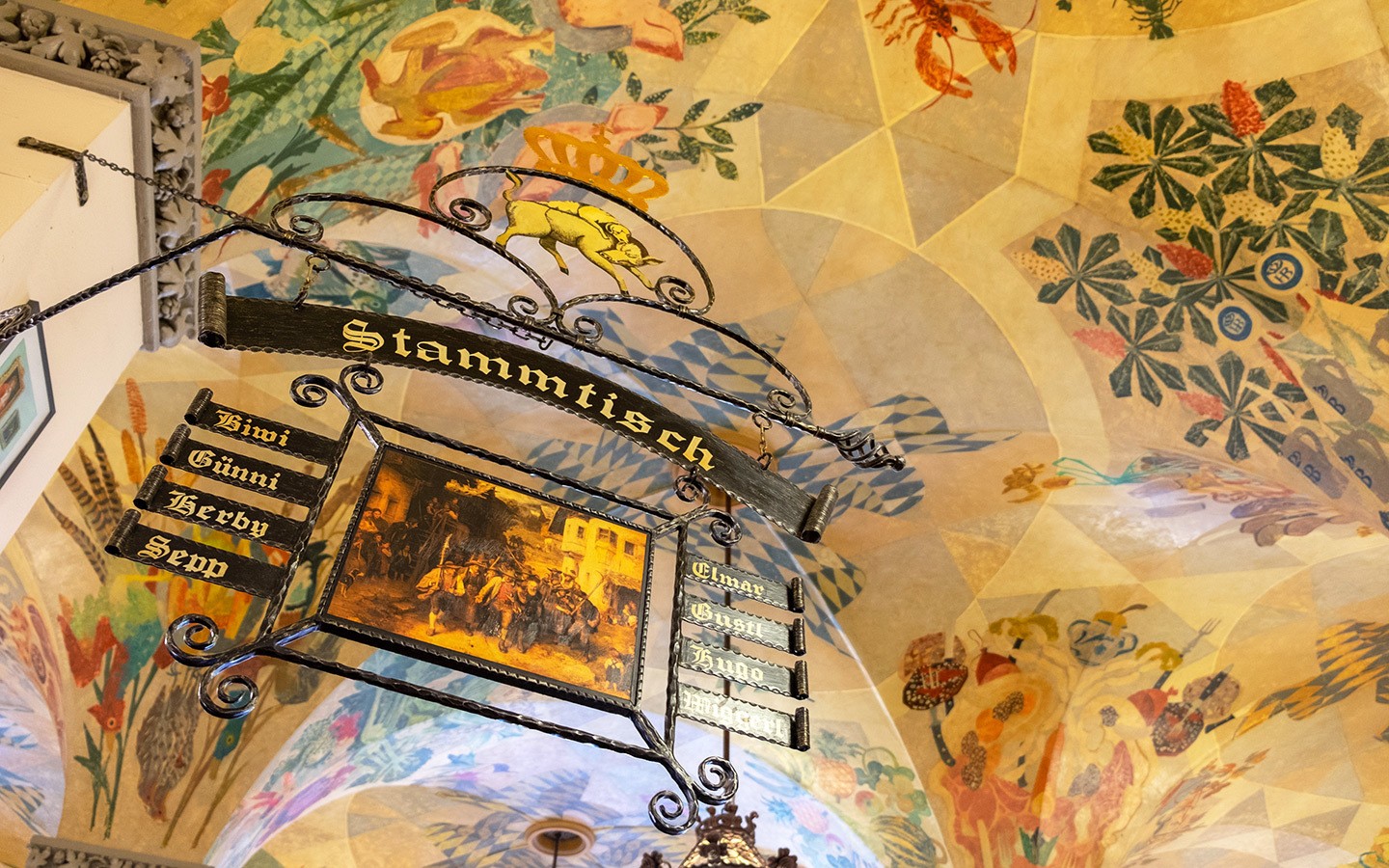 From lavish palaces and world-class art museums to lederhosen and oompah bands, Munich's mix of history, culture and plenty of beer makes it unique. Germany's southern capital is the heartland of Bavarian culture. And there's never a bad time for a trip to Munich. Come in the summer for the beer gardens, autumn for Oktoberfest, winter for the Christmas markets or spring for flower-filled parks. It doesn't have to cost a fortune to visit either. So here are my top tips for making the most of Munich on a budget.
Read more: How to spend a weekend in Munich – in the sun or rain
Things to do in Munich on a budget
A walking tour is a great way to get your bearings in a new city – especially one as big as Munich. Sandemans New Europe run a free 3-hour guided tour through the city's history and highlights where you just tip your guide. Tours start from Mary's Column in Marienplatz and run at 10am, 10.45am, 2pm and 4pm each day. InMunich Tours also offer a similar daily tour from Marienplatz at 10.40am. Or if you want to do it yourself, guidebook author Rick Steves has a self-guided Munich tour you can download.
Head to Marienplatz at 11am or midday (plus 5pm in summer) and you can see the Glockenspiel at the Rathaus in action. Munich's most famous clock puts on a 15-minute show with scenes from Bavarian history, using 43 bells and 32 life-sized figures. Also free to visit are the courtyards at the Residenz, the twin-towered Frauenkirche, the lavishly decorated Asamkirch and the Italian-style Theaterinerkirche.
If you're a classical music lover, you can see free concerts at the Gasteig cultural centre. It's home to the University of Music and Performing Arts, and young musicians perform there in midday and early evening concerts. There's a mix of instruments, voices and musical styles, from jazz to church music.
For something a bit more classically German, you can see traditional oompah bands playing at beer halls and beer gardens around the city, including the Hofbräuhaus and the Chinesischer Turm in the English Garden. There's also plenty of traditional music on during Oktoberfest (and here's how to dress for the occasion). The beer might not be free but entry to the festival itself is, with a huge parade in traditional Bavarian dress on the first Sunday.
Munich is a surprisingly green city with plenty of parks to unwind in. Biggest and best-known is the Englischer Garten – or English Garden. It was built in 1789 and is one of the world's largest city parks. It's inspired by classic English gardens with lawns, lakes, streams and pavilions. Admire the view from the Greek-style Monopteros, drink a stein at the Chinese pagoda beer garden, and watch the surfers on the Eisbach river. A concrete break means constant waves and some impressive moves on show.
There's also the Olympiapark just outside the city centre. It was built for the Olympic Games in 1972 and is now a big green space that's perfect for a summer picnic. In August there are free concerts by the lake – or you can often eavesdrop on big names playing at the Olympic Stadium. And although you need to pay to look around the Nymphenburg Palace, entry to the palace's impressive formal gardens is free.
Money-saving museums and galleries
If you want to visit Munich's museums, then Sunday's the best day for it. Many of the major museums offer €1 entry on Sundays. They include the three Pinakothek art galleries – which cover Old Masters, 18th- and 19th-century European art, and contemporary art and design – as well as the Glyptothek sculpture museum, the State Museum of Egyptian Art, the Five Continents ethnographic museum, the Bavarian National Museum, the Brandhorst Museum and the Museum of Humankind and Nature. Plus the Geologisches Museum and Kartoffelmuseum (aka the potato museum) are free to visit all the time.
Munich is the base for motor company BMW, who have their headquarters out by the Olympiapark. If you're a car fan, they have a museum about automobile history which you have to pay to go into. But there's also the free BMW Welt in an eye-catching modern building opposite. It's a giant car showroom dedicated to everything BMW, Rolls Royce and Mini, with classic, current and concept cars on display.
If you're planning to visit a lot of Munich's sites, then you might want to get a CityTourCard. These cards give you discounted entry to 80 different attractions around the city plus unlimited public transport. There are different versions for individuals and groups, and they're valid for either the inner district or the whole network, covering 24 hours, 48 hours, 72 hours, 4, 5 and 6 days. An individual card for the city centre costs from €12.90 for 24 hours up to €38.90 for six days. You can buy them online or in stations.
Top city views
For one of the best views in Munich, climb up to the top of the St Peter's Church in Marienplatz, Munich's oldest church. From the viewing platform at 56 metres high you can see right down to the square and the ornate New Town Hall, and out across the city. On a clear day you might even be able to see as far as the Alps. Entry costs €2 per person and there are around 300 steep, narrow steps to the top.
If that's not high enough, you can get a bird's eye view of Munich from 291 metres at the top of the Olympia Tower in the Olympiapark. It's the city's highest point, with a viewing platform (entry €7 or €5 concessions) as well as a museum of rock memorabilia. There's also the swanky rotating Restaurant 181, which does a circuit every hour so you see the city from all angles. For more budget-friendly dining with a view, try TUM café in Vorhoelzer Forum, a café with rooftop terrace in the city's university district.
Or for a viewpoint with a difference, climb up inside The Bavaria. This bronze statue of a stately Bavarian lady overlooks the Oktoberfest festival grounds. She stands just over 18 metres high and hides a secret spiral staircase inside which you can climb up and peek out of holes in her helmet. Entry costs €3 per person.
Budget food and drink
If you're self-catering, look out for city supermarket chains Rewe, Edeka and Lidl. If it's late at night or on a Sunday, head to the Hauptbahnhof (main station) as the supermarket there is open longer.
Munich also has some good food markets. The Viktualienmarkt is the biggest with 140 stalls selling local produce, like bread, honey, fruit and vegetables. It's not far from Marienplatz so makes a good lunch spot – and there's a beer garden too. It's open daily other than on Sundays. There's also the Elisabethmarkt in Schwabing which is open 10am–6pm on Mondays to Fridays and 10am–3pm on Saturdays.
If you're eating out, it's a lot better value to have lunch out instead of dinner. Look out for special lunchtime set menus where you can get a starter, main course, dessert and a drink for a fixed low price. Head to the university district for inexpensive restaurants. Or pick up a classic Munich beer garden or street food snack for a few euros – like pretzels, currywurst, weisswurst (white sausages) and döner kebabs.
Munich has beer-drinking opportunities for every season – beer gardens in summer and beer halls in winter. The Hofbräuhaus is the most touristy and expensive, but you can find cheaper beer if you go to somewhere more local. Try the Hirschgarten beer garden or the Paulaner and Augustiner Bräustuben beer halls. And if you've got time before you fly home, call in at the Airbrau at Munich Airport. It's the only airport in the world with an on-site brewery and beer garden, and beers cost a bargain €2.75.
Read more: What and where to eat in Munich
Low-cost Munich transport
Munich's pretty spread out, but it's easy to get around using the S-Bahn (city) and U-Bahn (underground) trains. They cost €2.70 for a single journey, or better value is a day ticket at €6.70 for the inner zone. You can also get a group ticket for €12.80 – it's valid for up to five people, but saves you money even for two. As well as buying tickets in stations you can also get them using the MVG app (available in English). For a free city tour, take tram 19 at Hauptbahnhof Süd to St Veit-Straße past some of Munich's top sights.
Munich's airport is 36km outside the city. You can get to and from the airport using the S8 and (slightly slower) S1 trains. A single ticket costs €11.60 but it's only €13 for a day pass or €24.30 for a group pass.
If you're staying in the city a while, you can get a weekly IsarCard – the cost is based on how many 'rings' on the map you use. For the central zone (two rings) it costs €15.40 per person. There's also the CityTourCard mentioned above with unlimited public transport and attraction discounts for 1–6 days.
So those are my tips for seeing Munich on a budget – do you know of any more Munich bargains or have any money-saving tips?
Pin it
This article contains affiliate links, where I get a small commission at no extra cost to you – thanks.