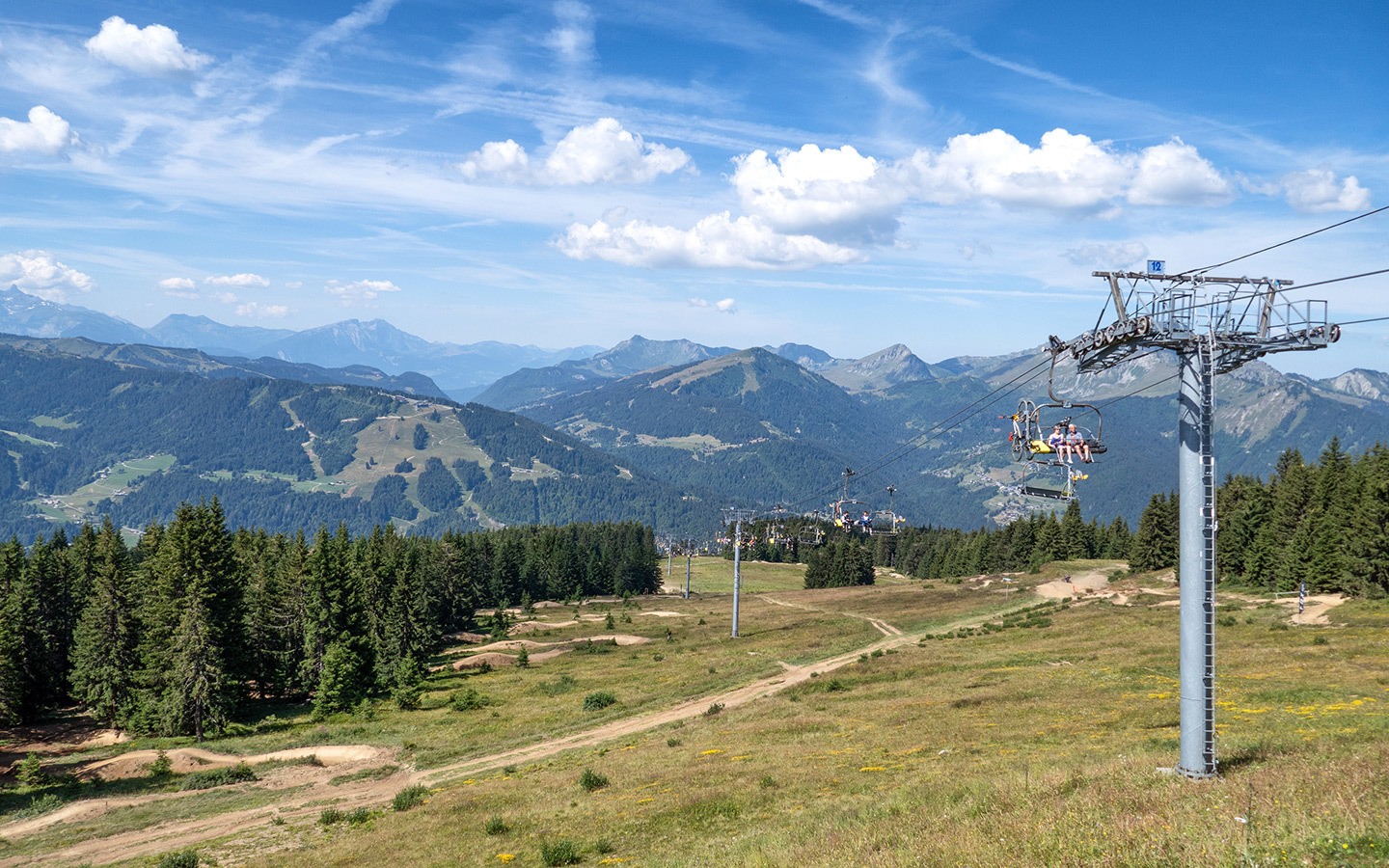 It's summer in the ski resort of Morzine in the French Alps. The wooden Alpine chalets and mountain peaks are the same. But the ski jackets and gloves have been swapped for shorts and sunglasses. The snow-covered pistes for lush meadows full of wildflowers. The skis for hiking boots and mountain bikes. And the vin chaud and fondues for picnics and chilled glasses of rosé.
After getting a taste for summer in the mountains last year on a trip to the Swiss Alps, I couldn't resist coming back for more. And this time I brought a whole group of friends and family to Morzine with me. So here's why it's a great base for visiting the Alps in summer – and why a trip to the mountains is one of the best summer holidays bargains around.
Read more: A ski guide to Méribel-Mottaret in the French Alps
Morzine is part of the huge Portes du Soleil ski area on the border between France and Switzerland, which covers 12 resorts and 400 miles of ski runs. In the winter it's packed with skiers and boarders, squeezing as much time on the piste as possible by day and then partying all night. And a few years back I was one of them. But Morzine in summer is a lot more relaxed.
The French, Germans and Austrians seem to have cottoned on to the joys of the Alps in summer years ago, but the rest of us are a bit slower on the uptake. Instead we head to the Mediterranean to pack ourselves onto overcrowded beaches at premium prices. But I think we're missing out. Head to the mountains and you've got temperatures averaging 21 degrees in Morzine in July and August. So it's warm but not sweltering with lots of fresh mountain air.
It's also one of the few places that are cheaper in summer than winter. The ski season is peak season in the Alps. So you can grab a bargain in summer – even if you're travelling with kids and are limited to the school holidays. Have a low-budget break by renting an apartment and self-catering. Or do what we did and take advantage of the lower prices to splash out on a catered chalet. Either way there are plenty of summer activities in Morzine to keep you occupied.
Things to do in Morzine in summer
Walking and hiking in Morzine
Morzine is surrounded by gorgeous mountain scenery, and the easiest way to explore it is to take a walk. You don't have to be a hardcore hiker though – there are tons of different options, from extreme climbs up mountain peaks to gentle riverside walks. And if you've been to Morzine in winter you can have the slightly weird experience of walking along the slopes you skied on – it's amazing how a change of season changes the landscape so much.
There are over 200km of signposted walking routes in the Portes du Soleil. The paths are fairly well maintained and easy to follow, though you might have to share some with mountain bikers. Yellow signposts are dotted around to point you in the right direction and tell you how far you've got to go. Though they use times rather than distances and some seem a bit random – we had 45 minutes to go on one walk, walked on for 15 minutes and then had 50 minutes left!
There are cafés and shops in all the towns but not a lot along the paths. So it's a good idea to pack a rucksack with a refillable water bottle and snacks. The weather can change pretty fast in the mountains with lots of summer storms, so carry a waterproof and sunscreen. A lot of the paths are stony so you'll need decent walking shoes or sandals and might want a walking pole.
The Portes du Soleil has a summer scheme called the Multi Pass, which gives you access to lifts, local buses and activities for €2 a day if you're staying at participating local accommodation. It means you don't have to climb a mountain to start your walk, or can walk to another town and get the bus back rather than having to retrace your steps.
You can pick up a booklet of suggested walks at the Tourist Information Office in Morzine. But these were some of our favourites – none too strenuous and all accessible without a car.
Four fantastic Morzine walks
Morzine to Les Gets: Take the Pleny cable car to the top, where there's a hotel with a terrace overlooking Morzine. Follow the path towards the hamlet of Nabor and on down to Les Gets, where there are lots of places for lunch. The walk takes around 1.5 hours. You can either catch the Balad'Aulps bus back to Morzine or take the Chavannes lift back up into the mountains, walk along the high path to your original start point and then catch the Pleny cable car back down.
Morzine to Avoriaz: Take the Super Morzine cable car then the Zore chairlift. At the top you're up on a ridge with some amazing views towards Morzine. It's about an hour's walk through the forest to the neighbouring ski resort town of Avoriaz. Though there's no easy way to get back to Morzine from Avoriaz so you'll have to retrace your steps – check timings if you want to catch the Zore chairlift back down as it's only available for pedestrians to descend at certain times.
Morzine to St Jean d'Aulps: I spent six weeks in St Jean d'Aulps one winter so this was a real trip back in time. It's an easy flat walk which starts from Morzine's leisure centre and follows a path along the river. It takes around 1 hour 40 minutes to reach St Jean and then it's another 15 minutes' walk up through the town to the Abbey. The ruins are well worth a visit and there's a café where you can get lunch before catching the bus back to Morzine, which stops just outside.
Lake Montriond: Take the bus from Morzine to Lake Montriond, where you can swim, kayak or paddleboard on the lake. There's also a good crêperie for lunch. It's an easy 30-minute walk to do a circuit around the lake, but you can extend it by following the path at the far end up to the Ardent waterfall (around 40 minutes each way). Or you can follow the path from the lake car park through the woods to Montriond village (40 minutes) and catch the bus back from there.
Mountain biking in Morzine
Before this trip I didn't realise what a big deal mountain biking is in Morzine in summer. It's a real hub for the sport – the Portes du Soleil area is one of the world's biggest mountain biking areas and Morzine was hosting the French Downhill MTB Championships while we were there.
It's one to try if you miss the adrenaline rush of hurtling down the pistes in winter – though the ground's a lot harder in summer so you'll need some decent protective kit. You can hire a bike in Morzine or bring your own. There are over 100 trails ranging from beginners to advanced, downhill to cross country. With a Multi Pass you can use the lifts to take your bike up the mountain then pick a trail and cycle back down.
The area's also popular with road cyclists, though it's non-stop hills so you need to be seriously fit if you want to follow in the tracks of the Tour de France (or there are electric bikes for hire!).
Swimming and spa-ing in Morzine
Morzine has a big leisure complex in the Parc des Dérêches. It has a heated Olympic-sized outdoor pool that's open from July to September plus smaller children's pools and a water slide. There's also an indoor pool if it rains with saunas and Turkish baths. Entry to the pools are free with a Multi Pass – though there's a French rule that men aren't allowed in public pools wearing board shorts, so make sure you pack your Speedos (or something equally small and tight!).
You can also swim in a couple of lakes around Morzine. At the Lac de Montriond there's a smaller pool with a lifeguard on duty as well as the main lake. There's also a swimming lake with a water slide in Les Gets. These mountain lakes are fed by meltwater streams so they're pretty chilly – I didn't go in any deeper in than my feet but on a hot sunny day it would definitely be refreshing.
Morzine for kids
The Parc des Dérêches leisure complex has tons of facilities and activities for children. It's where you find the swimming pool, paddling pool, waterslide and bouncy castle. But there's also a long park running along the river. This has riding school which does lessons and treks, with tiny ponies for young kids. It also has a playground and treetop adventure park with bridges and zip lines, which has three different sections for children from two to teens. Plus there's a skate park and basketball, tennis and street hockey courts.
Adventure sports in Morzine
If you fancy something more adrenalin-fuelled, there are tons of adventurous activities around Morzine. There are several companies around town or the tourist office can book them for you. You can go rafting on the Dranse river, which is fed by glacial meltwater from mid-May to September. There's also canyoning, caving, rock climbing and a zip line through the mountains.
Or for a bird's eye view of Morzine you can try paragliding (known as parapenting in France). You take the Pleny cable car up to the top and jump off the mountain attached to an instructor with a GoPro and a selfie stick to record it all for you. I was a bit too much of a wimp to try it myself but my sister had a go while we were there and the views on her video looked amazing.
Sightseeing in and around Morzine
The mountains are the real star in this area, but there are a few places to visit for something different. Nearby there's the ruined abbey at St Jean d'Aulps, the mechanical music museum in Les Gets and the goat village of Les Lindarets. A bit further afield are day trips to Lake Geneva, the spa town of Evian les Bains and other ski resorts like Chamonix. The gorgeous lakeside town of Annecy – one of my favourite spots in France – is only 1 hour 15 minutes away too.
Morzine summer accommodation
The accommodation options in Morzine are split between hotels, chalets and apartments. A lot of chalets in Morzine close for summer, or are rented out on a self-catering basis. But there are some which still operate as catered chalets in summer. So they come with chalet hosts who cook and clean for you. It's a brilliant holiday idea if there's a group of you as you can take over the whole place and don't have to eat out every night or fight over who has to do the washing up.
We stayed in Chalet Robin, which is run by a company called More Mountain who specialise in chalets in Morzine. It's a traditional wooden chalet five minutes' walk into town which sleeps 12 in six bedrooms, most with en-suite bathrooms. There's a big lounge on the top floor, lots of balconies, a dining room on the floor below and a hot tub on the ground floor. You get breakfast and daily cake included, plus dinner on five nights a week and wine and beer in the evenings.
Our chalet hosts were fab and the food was amazing – they had no problem in catering for me being gluten-free either. In July it cost us £400 per person for the week, which is about half the price you'd pay for a normal week in winter, plus a bit extra over Christmas, New Year and school holidays. We ate out for lunch some days or bought food for picnics to keep costs down – there's a market in Morzine on Wednesday mornings plus a big Carrefour supermarket near the chalet.
You can also get a bargain on self-catering apartments in Morzine in summer. I found a two-bed apartment for around £500 a week in August (the same place is £1300 at the start of January). As there's a lot of apartments around and not enough demand in summer you can sometimes negotiate a better price, or might see places offering a discount if you book for a week or more.
How to get to Morzine
We flew to Geneva and booked a shared transfer from the airport to Morzine with Skiidy Gonzales. It took 1 hour 25 minutes and cost around £40/€44 per person for a return trip. You can also get to Morzine by train from Paris – it takes four–six hours (depending on which train you choose) to reach the nearest stations at either Cluses and Thonon-les-Bains. Then you can catch the bus from either Cluses or Thonon to Morzine, which take just under an hour each.
Pin it