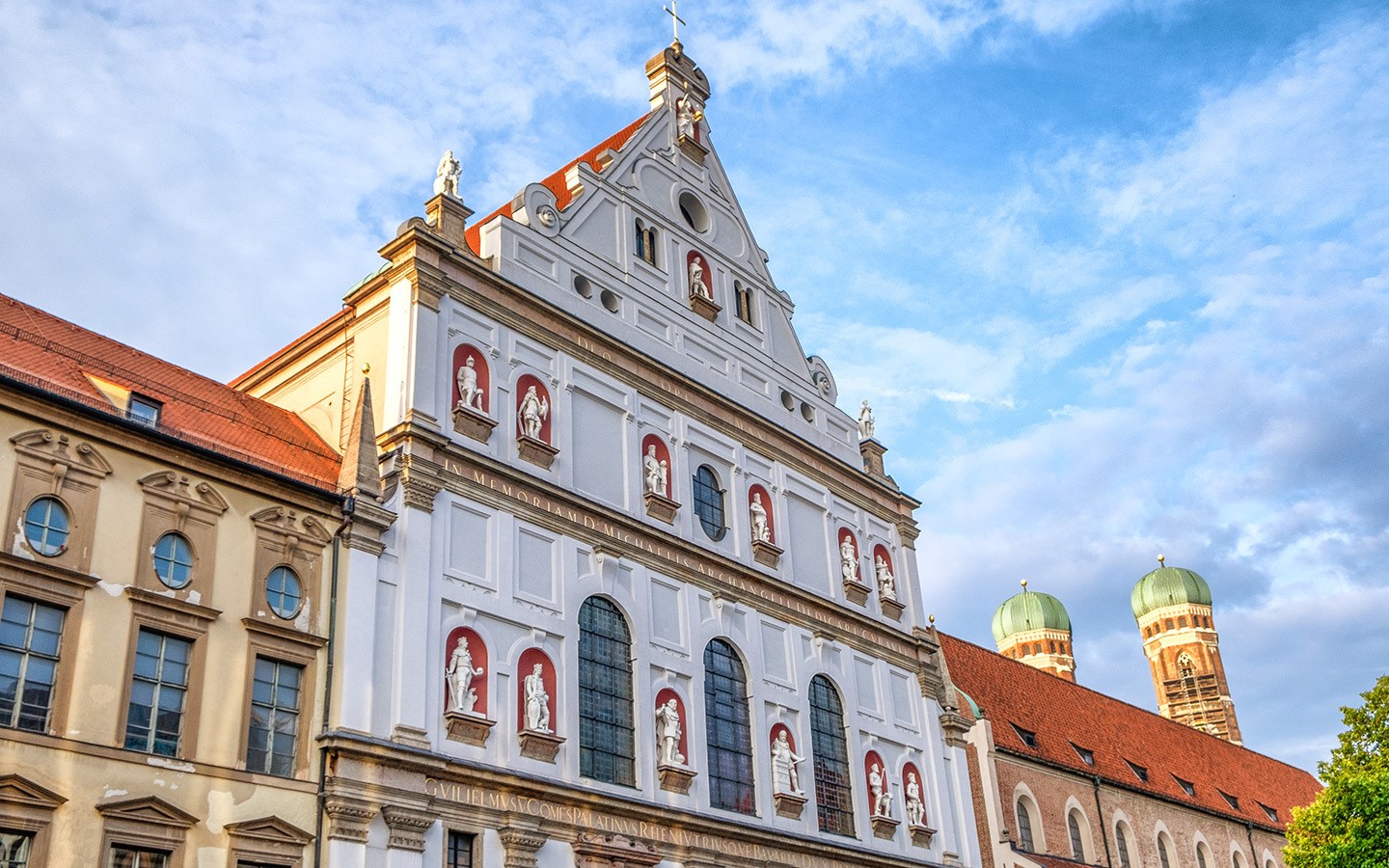 The capital of Germany's Bavaria region, Munich's best known for it's beer-fuelled Oktoberfest, but there's more than just lederhosen and steins on offer in this city. I was invited to discover its highlights and hidden treasures with flybmi, who fly to Munich from my local airport Bristol. Munich is one of their main hubs with connections across Europe, but my focus was on the city itself. And it was a trip of two halves, with one gloriously sunny day and one wet and windy. But that gave me chance to try out two different sides to the city, and discover some of the best things to do on a weekend in Munich – whatever the weather.
Read more: Visiting Munich on a budget
Things to do in Munich in the sun
Take a walking tour: If you're short on time in a new city – especially one as big as Munich – then a walking tour is a really good way to get your bearings. Sandemans do a free three-hour tour leaving from Marienplatz a few times a day which takes you through some of the city highlights. The historic heart is full of beautiful architecture, from the Medieval city gates and Gothic Neue Rathaus (New Town Hall) to the ornate churches, fountains and market squares. And while you're at Marienplatz, don't miss the glockenspiel – a mechanical clock with 43 bells and 32 life-sized figures which puts on a 15-minute show with scenes from Munich's history at 11am and 12pm (plus 5pm between March and October).
Climb the tower in St Peter's Church: For a different view of Marienplatz, head up to the top of St Peter's Church for a panoramic view down onto the square and out across the city. St Peter's Church is the oldest church in Munich and it's on a hill so you can't miss it. It was rebuilt after being badly damaged in the Second World War. There are 299 steps to climb to get to the top and there's not a huge amount of room along the way, but the views are worth the effort – if it's clear you can sometimes see as far as the Alps.
Visit the Englischer Garten: Munich's English Garden is one of the largest city parks in the world and was built in 1789 to look like an English country park, with lawns, lakes and pavilions. It's a huge green oasis with lots of shady spots for a sunny day and a great place to hire a bike and explore. There are a few uniquely Munich touches thrown in too – like the beer gardens, the Greek temple-style Monopteros and especially the surfers. Yes local surfers don't let being miles from the sea stop them, instead they catch a few waves on the Eisbach river in the middle of the park. A concrete break means there are constant waves, and the bridge over the top is the perfect vantage point to watch their tricks (and some impressive wipeouts).
Relax in a beer garden: Munich's a city that really loves its beer, and the beer gardens all across the city are packed on a sunny day. The most famous is the Chinese pagoda (Chinesischer Turm) in the English Garden – probably the only place where you can grab a litre of beer and listen to a Bavarian band playing inside a Chinese temple. It opens at 10am so you can call in for a Bavarian breakfast – beer, Weißwurst (white sausages) and a brezen (pretzel). There's another beer garden in the park alongside the Kleinhesseloher lake or try the giant Hirschgarten – with 8000 seats it's the largest beer garden in the world.
Eat your way around the Viktualienmarkt: The Viktualienmarkt is Munich's biggest outdoor food market. It started life as a farmers' market where people would come to do their weekly food shopping. But now it's a real foodie hub too, where you can buy gourmet local produce, from cheese and meat to bread and honey. There are tables in the middle, where you can grab a seat underneath the chestnut trees and eat what you've bought if you buy a drink (being Munich of course there's a beer garden in there too).
Take a walk around the Olympiapark: Just outside the city centre, the Olympiapark was built for the 1972 summer Olympic Games. Unlike some of the old Olympic sites around the world, this one's still going strong and is another great green space to explore if you fancy escaping the city. There are lots of different things to do around the park – you can climb up onto the stadium roof, check out the views from the top of the Olympic Tower, boat on the lake or and there are lots of summer concerts, film screenings and events.
Things to do in Munich in the rain
Discover the Deutsches Museum: The giant Deutsches Museum is so big that you could probably fill a whole rainy week in there if you needed to. But even if you've only got a short time it's worth calling in and seeing some of the wide range of exhibits from the world of science and technology. There's everything from historic planes to astronomy, computers to recreations of salt and coal mines. Some exhibits are in English and there's tons to look at, as well as lots of interactive bits for kids – of all ages. Queues can be big, but you can buy tickets online (we did it while we were in the queue) and skip to the front straight away.
Explore the grand Residenz: Munich's Residenz building was home to Bavarian royalty and seat of the government from 1508 to 1918. From the outside it's an imposing but fairly plain building, but inside it's all-out opulence with gold, frescoes, statues and marble almost everywhere you look. You can take an audio tour to see some of the highlights of its 130 rooms. There's the arched Antiquarium (hall of antiquities), a banqueting hall covered in paintings, the elaborately decorated Reiche Zimmer (ornate rooms) and the Schatzkammer (treasure chamber) with its piles of jewelled swords, crowns and royal artefacts.
Soak up the atmosphere in a beer hall: There's a beer-drinking opportunity for all weathers in Munich – beer gardens on a sunny day and beer halls when it rains. These cosy halls are social spots, serving their own brews on shared tables, with local dishes available to soak up the beer. The Hofbräuhaus is the most famous, where tourists mix with Lederhosen-wearing gents to drink beer in litre steins and snack on pretzels from waitresses in dirndls while a Bavarian band plays. Come in the daytime if you want it quieter or join the party at night. Or for a more low-key, local feel try the Paulaner, Augustiner or Schneider halls instead.
Go fantasy car shopping at the BMW Welt and Museum: Munich is the headquarters of car giant BMW, and they've built a couple of attractions for car fans out at their site near the Olympic Park. First there's the BMW Welt, a kind of giant car showroom with the latest models, concept cars and some historic favourites on display. It's free to look around, but if you want to find out more you can pay to go into the BMW Museum in a separate building across the road. Even if you're not hugely into cars, the buildings' striking modern architecture is worth checking out – and there's even a Michelin-starred restaurant on site.
Visit the city's art museums: Munich is a great city for art lovers – it has it's own art museum district known as the Kunstareal. This is home to museums covering Greek, Roman and Egyptian art. But best-known are the three Pinakothek art museums. There's the Alte Pinakothek for Old Masters, the Neue Pinakothek for 18th- and 19th-century European art, and the Pinakothek der Moderne for contemporary art and design. So you can choose your favourite period and dip in for a taste of their wide-ranging collections.
The details
Getting to Munich
I flew to Munich with flybmi's regional service from Bristol airport. It was a quick and easy flight, and bmi is one of the few low-cost airlines where you still get free drinks and snacks on board and don't have to pay to check in a bag. Munich Airport has been rated as five-star and voted the best in Europe, so it's well worth getting there early and taking a look around. There's a rooftop viewing platform where you can watch the planes on the runway and grab a coffee from the Cloud 7 coffee shop. There are also interactive screens to give you info on what to do in Munich and sleep pods if you want to grab a quick snooze in transit.
They're justifiably proud of their restaurant selection – most are unique to the airport rather than the usual chains, and the locals even come to the airport just to have dinner. We tried out one of the newest, the SportAlm Alpine-style restaurant with a ski gondola big enough for two to eat in and deckchairs on the terrace. And being Munich there had to be beer in there somewhere – Munich's the only airport in the world with its own brewery on site, creating a range of different beers. So you can grab a beer at the Airbrau (at €2.75 they're cheaper than beers in the city) and soak up the sunshine for a perfect end to a trip.
Getting around Munich
Munich Airport is 36km north of the city, and the easiest way to get between the two is by train. The S8 and (slightly slower) S1 routes link the airport with city centre stops like the Hauptbahnhof (main station) and Marienplatz. A single ticket costs €11.60, or if you're planning on using the trains again it's better value to get a day pass for €13. There's also a group airport day ticket for €24.30 which covers up to five people. Munich's fairly spread out but there are good connections via the S- and U-Bahn trains – a day ticket for the inner district costs €6.70 (or €12.80 for a group ticket). You can buy tickets in any station but there's also an MVG app which you can use to buy tickets – it's available in English and for international visitors too.
Where to stay in Munich
We stayed at the Aloft Munich, right opposite the Hauptbahnhof main train station which made it really easy to get around the city. Aloft is the cool, boutique-style brand owned by the Starwood Hotels chain, with a focus on city centre locations and quirky decor. And the lobby definitely fit the theme, with bubble chairs, colourful lighting, a pool table and the W XYZ bar where they have Live@Aloft music sessions featuring local singers and bands. Our fifth-floor double room had plenty of space, with an en-suite shower room and Nespresso machine. Breakfast came included – a continental selection served just off the lobby. Special mention for their environmental efforts too, from serving drinks in glass rather than plastic bottles, to jams in mini ice cream cones rather than jars and large bowls of yogurt rather than plastic tubs.
Read more: 3 days in Munich – our itinerary of cool things to see and do from Heather on Her Travels
Pin it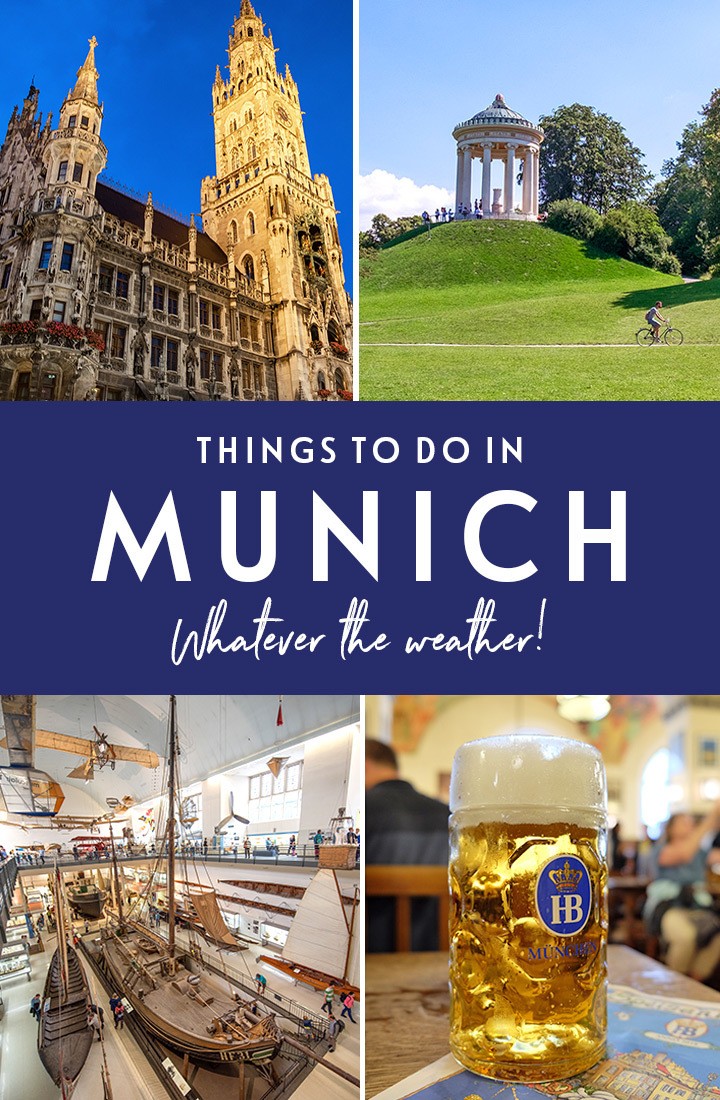 Big thanks to flybmi, Munich Airport and Aloft Munich for hosting me in Munich. All views and opinions are, as always, my own.