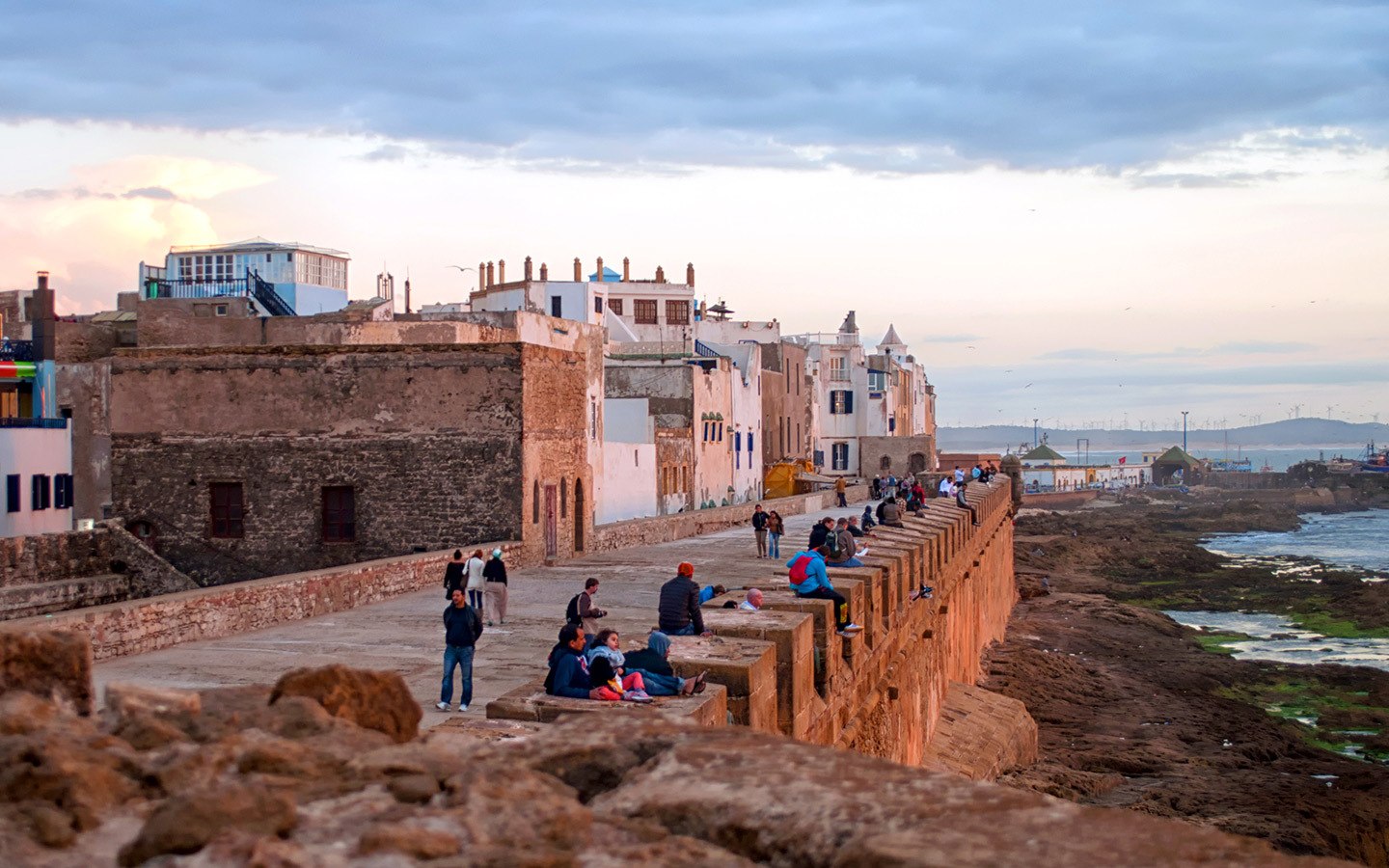 Perched on the edge of Morocco's Atlantic coast, Essaouira is a cross between North Africa and the Mediterranean. Surrounded by golden-stone city walls, it mixes bright blues and dazzling whitewash with flowing djellabas and the smell of spices. Influences from the Arabs, Africans, Romans and French have all blended together to create this mellow, relaxed coastal town. Add in 300 days of sunshine a year and constant warm but not baking hot temperatures, and you've got the perfect short break destination. Although Essaouira hasn't got much in the way of big 'must-see' sights, it's an easy place to spend a few relaxed days. So here are some of my favourite things to see and do in Essaouira, Morocco.
Read more: A Moroccan cookery class in Essaouira at L'Atelier Madada
Climb Essaouira's ramparts
The Essaouira ramparts are where the medina meets the Atlantic Ocean. These city walls were built in the 1760s by a French military architect, Theodore Cornut, to protect the port from raiders. If you're a vintage film fan then you might recognise them from the start of the 1952 Orson Welles film Othello. The movie opens opens with a shot of Iago suspended in a cage over the rocks which was shot here.
The seafront ramparts are bookended by the impressive skala, a type of defensive bastion. At one end is the Skala du Port, which is the gateway to the fishing port. And at the other end is the Skala du Ville, with 19 bronze cannons lined up along the sea wall. There are great views across the medina and out into the ocean from the ramparts, and you'll usually find a few artists and craft stalls set up along the waterfront.
Watch the boats come in
Back in 19th century, Essaouira was Morocco's biggest port. It was known as the 'Port of Timbuktu' as goods like gold and spices came by caravan from sub-Saharan Africa to be shipped from here out to Europe and the Americas. Today the port's cargo is a bit smaller scale as the water isn't deep enough for big modern ships. But there's still plenty going around the harbour. You can often see fishermen mending their nets and shipbuilders at work on the traditional blue wooden fishing boats which are still used today.
Between 3pm and 5pm, the fishing boats come in for the day and the fishermen auction off their catch. You can watch the bargaining going back and forth. Or pick up some fish or seafood which you can have grilled at stalls along the edge of the port – the hordes of seagulls and stray cats will fight it out for any leftovers.
Blow the cobwebs away on the beach
Essaouira's been nicknamed the 'windy city', and it's partly justified. The trade winds blowing into the bay keep temperatures down to the mid-20s while the rest of Morocco swelters in the summer. But if you don't mind a light sandblasting you can still get a dose of beach time. Most beach-goers go for something a bit more active than sunbathing though. The mild, calm waters in the bay make it great for windsurfing or kitesurfing, and even if you don't have a go yourself it's impressive to watch. You can also go horse-riding along the beach, ride a camel through the dunes, or hire a bike and cycle along the beachfront promenade.
Don't get lost in the medina
Essaouira's medina has been listed as a UNESCO World Heritage site, with its unusual mix of Moroccan and European styles. But unlike a lot of Moroccan towns, walking into the medina in Essaouira isn't like going into a maze, so you've got a pretty good chance of not getting completely lost.
As you wander through alleyways lined by tall whitewashed buildings there are still plenty of twists and turns, but the French-inspired grid design makes it a lot easier to find your way around (apparently the name Es-Saouira even means beautifully designed). The centre of the media is Place Moulay Hassan, a big pedestrianised square where you can grab a table in one of the cafés for the perfect people-watching spot.
Shop the Essaouira souks
Essaouira's small and fairly laid-back souks are a good place to practice your bargaining skills before tackling more manic versions in big Moroccan cities like Marrakech. As well as produce stalls selling fresh meat, fish and piles of aromatic spices (the custom Ras el Hanout blends are a good one to take home), there are also souks for hand-made jewellery or made-to-measure tailoring. You can also search for treasures at the flea market in La Joutia square. Elsewhere in the medina you can pick up gifts like local artworks, argan oil from cooperatives around town, and ornate marquetry boxes and furniture carved from thuya wood.
Listen to live music
Gnawa music is massively popular throughout Morocco, but Essaouira is its heartland. This type of music originated in Senegal, Sudan and Ghana, and was brought to Morocco by slaves. It mixes spirituality, rhythm and wild dancing, building up into a hypnotic trance. There are only three instruments – krakets (iron castanets), ghimbri (a three-stringed bass) and voice. You can hear it at the Gnawa Blues restaurant, or at the Gnaoua World Music Festival each June. As well as Gnawa, there's also the Festival des Alizés in April for classical music or the Festival des Andalousies Atlantiques in November for Arab and Andalucian music.
Learn to cook
A good way to take a taste of your holiday home with you it to learn to cook some local dishes. L'Atelier Madada cookery school do half-day classes with a local chef which are run in both French and English. The day starts with a lesson in how to make a proper Moroccan mint tea, then you cook a two-course menu and take a tour around the market's spice souks. Whoever books in for that day first gets to choose what you cook, and you can pick from a range of traditional tagines, as well as other dishes like pastilla (a pie made with layers of puff pastry), zaalouk (an aubergine salad) or briouates (triangular stuffed pastries).
Or just eat your way around town
If that sounds like too much hard work, you can just go on an eating spree around town. In the port and the fish souq you can pick up freshly caught fish and seafood and have it cooked for you, washed down with a fresh orange juice. Other food spots worth a visit are Ginger Café for great smoothies and salads, Elizir for hippy-chic decor and Italian-influenced food, La Table Madada for classy Moroccan food and tapas in a romantic candlelit atmosphere, or Triksala Café for good organic vegetarian and vegan options.
Catch a stunning Essaouira sunset
Essaouira's west coast location makes it a great place to watch the sun slowly dipping down into the water. Looking out across the Atlantic from the city on a clear day you get a spectacular dusk light show, with the fading sun making the stone glow gold and fishing boats and seagulls silhouetted against the light. Grab a prime spot along the ramparts or head up onto the rooftop at Taros Bar for a prime sunset viewing spot.
Pin it
This article contains some affiliate links, where I'll get a small commission at no extra cost to you – thanks.