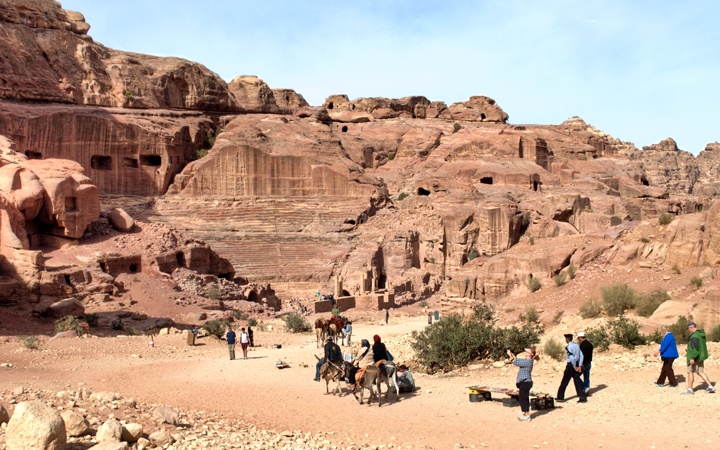 Petra is always appearing on those top travel lists – the top ten places to see in your lifetime, the new seven wonders of the world. But unlike some places that top those lists, Jordan is actually fairly easy and not too expensive to visit. There's accommodation ranging from tented camps to five-star resorts, there's good public transport or it's simple to drive yourself, it's safe and the people are incredibly friendly (the first English phrase everyone seems to learn is 'Welcome to Jordan'). So if you want to visit Petra, which is the best way? While there are plenty of companies which offer organised tours, it's also an easy place to visit independently. Here are some tips I picked up on my first trip to Petra – from the closest hotels to stay at, the best times to visit, and even the best places to stop for a drink after a long day exploring.
Read more: What does it cost? A week in Jordan
Where to stay in Petra
A whole town – Wadi Musa – has grown up around Petra to serve visitors to the site. There are hotels of all types and budgets here, starting right next to visitor's centre and stretching up into the hills. Closest to the entrance is the Petra Guest House, which is right next door to the visitor's centre, and the Mövenpick across the street. Though if you have a car then the hotels a bit further away up on the hillside, like the Rocky Mountain Hotel where we stayed, are good value and come with stunning valley views.
How to get to Petra
If you're staying in the centre of Wadi Musa, then Petra's just a short walk away. Or the hotels further out often run a free shuttle down to the visitor's centre a couple of times a day, though it does mean you're limited to fixed times. Otherwise there are plenty of taxis waiting outside the visitor's centre, especially in the afternoons, and you'll pay about JD5 for destinations within Wadi Musa.
If you are driving to Petra, it's 236km (around 3 hours) from Amman to Petra via the faster Desert Highway or 255km (4.5 hours) via the more scenic King's Highway. From Aqaba to Petra it's 126km (2 hours). There's a free car park in Petra opposite the bus stop just in front of the Petra Moon hotel. This bus stop is also where you can catch the JETT buses to Amman and Aqaba if you're travelling around Jordan by public transport.
What do tickets cost?
Petra is one of those places where the longer you stay the better value it is. A one-day ticket costs JD50 (about £50/$70) per person, but a two-day ticket is only JD55 and a three-day ticket JD60. These are the prices that apply if you are staying in Jordan; if you're on a day trip and not staying overnight then the price is JD90 (though you aren't usually asked to prove you're staying if you're not travelling on a group tour). Children under 15 get free entry. You can buy tickets at the visitor's centre by cash or credit card. You can also pick up maps, guide books and hire a tour guide (which costs from JD50–100).
When is the best time to visit Petra?
The best time to visit Petra is in spring and autumn as temperatures aren't so high and the crowds are smaller. The ticket office is normally open from 6am to 6pm in the summer and 6am to 4pm in the winter, and Petra closes around sunset. The quietest times are usually early morning and late afternoons. The site is also open at night on Mondays, Wednesdays and Thursdays for the Petra by night tour. Tickets cost JD17 (£17/$24) and the tour starts at 8.30pm and finishes about 10.30pm. It's really popular so I'd recommend hanging back so you can walk down slowly and experience the Siq away from the scrum of visitors.
What should I wear?
You'll be walking over sandy and rocky ground so walking shoes are probably the best bet, or sturdy sandals if you don't mind picking the occasional stone out. There's hardly any shade around the site, so a hat or scarf is a good idea too, and don't forget to bring plenty of sunscreen. You see people wandering around Petra in all sorts of clothes – from full-on hiking gear to vest tops and shorts, and I even saw one women in an evening dress and heels – but I felt happier covered up with a long-sleeved cotton top and trousers (though it helped that it wasn't too hot when I visited in November).
How much walking will I have to do?
Petra stretches over a massive 60 square kilometres so you'll end up doing a lot of walking. But if it gets too much there's are camels, donkeys and horses to do the hard work. A carriage ride from the visitor's centre to the Treasury costs JD20 (£20/$28). It's an easy 15-minute walk downhill though so you might want to save the ride til the way back up as that final slog up a sandy path after a day's walking is a bit of a killer. There are donkey and camel handlers all around the site if you want a lift at any other time. The donkeys up to the Monastery and for the hour's walk from the old city to the Siq at the end of the day are busiest, but there are plenty of them around so you should be able to negotiate on the price. There've been reports of some handlers mistreating their animals so do be aware of this and check they look healthy and cared for.
Can I get food and drink inside Petra?
Most of the hotels in Petra will make you a packed lunch if you ask the night before, and there is a line of stalls outside the entrance where you can pick up drinks and snacks like chocolate and crisps on your way in. Prices inside the site tend to be a bit higher so it's worth stocking up on water. There's a mixture of places to eat and drink inside Petra, ranging from Bedouin tea stalls and simple kiosks to cafés, and there's even a full restaurant near the museum called The Basin where you can have a buffet lunch and a bottle of wine (though you might need a camel to carry you back after that!).
What else should I know?
Petra's surprisingly well-equipped with toilets, with proper toilet blocks at the visitor's centre, near the Theatre and by the museum. There are also portaloos by the start of the Siq and at a couple of cafes.
There are souvenirs stalls all over Petra (with some pushy sellers) but one worth a stop is a jewellery stall by the museum run by New Zealander Marguerite van Geldermalsen. She came to Jordan as a backpacker back in the 1970s and ended up staying and marrying a Bedouin who lived in a cave in Petra. She's written a book about her experiences called Married To A Bedouin, which you can buy there.
And finally, if you're in need of a drink after a long day of walking, some of the nicest places to stop at on the way out are the Movenpick Hotel's Arabian-style bar or the Cave Bar by the Petra Guest House – a 2000-year-old Nabataean tomb which has been turned into a bar.
Petra map
Pin it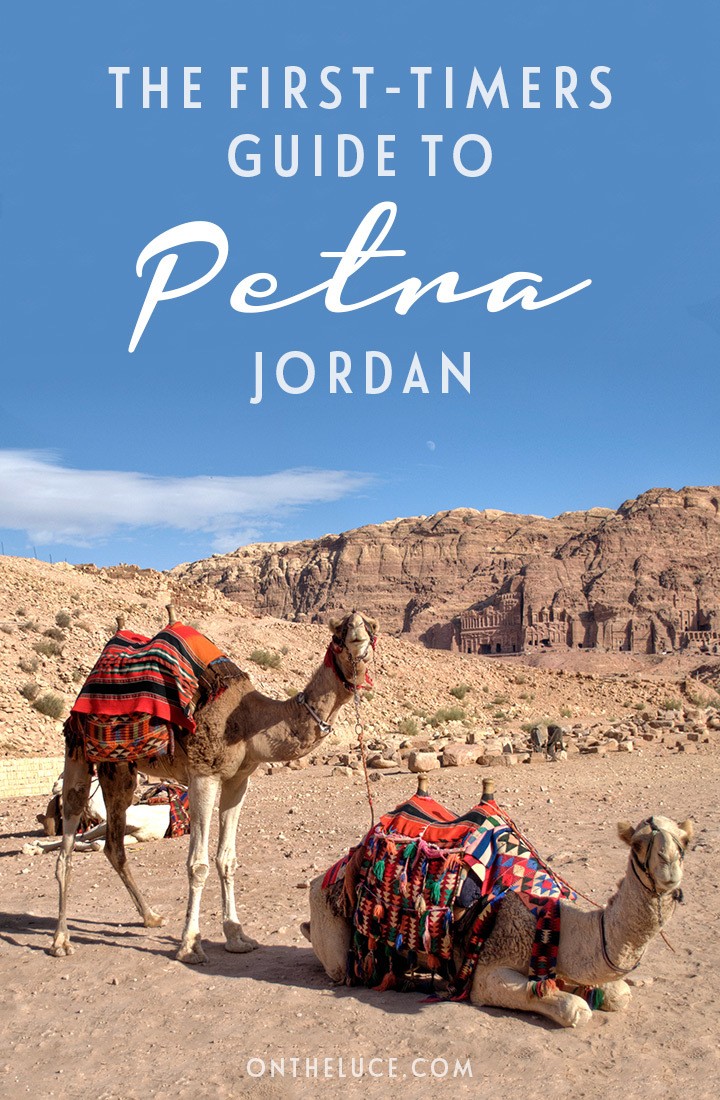 This article contains some affiliate links, where I'll get a small commission at no extra cost to you – thanks.