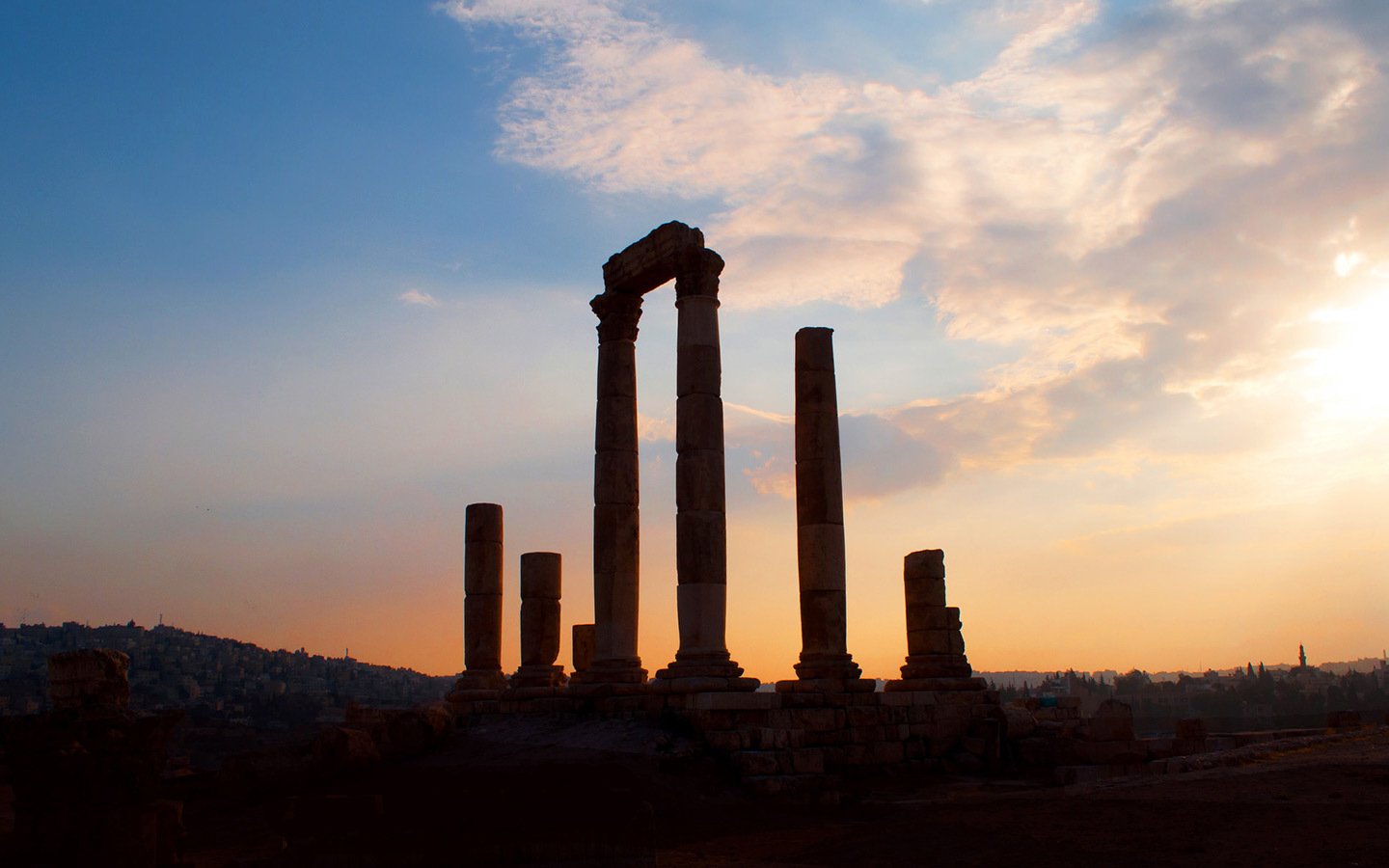 Visiting the ancient city of Petra is something that features on a lot of people's bucket lists, and it's easy to combine a visit with a trip to the Dead Sea and maybe the deserts of Wadi Rum or the beaches on the Red Sea coast all within a week's holiday. But how much does it cost to visit Jordan? It has a reputation as being one of the more expensive countries in the region, but I found it was still doable on a budget. Here I share my trip budget for a week in Jordan.
Note: these costs are based on my travel style – mid-range with a touch of affordable luxury – so I keep costs down where I can to can splash out on special experiences. There's usually a mixture of hotels and apartment rentals, cooking and eating out, free activities and paid excursions.
Read more: The first-timer's guide to visiting Petra, Jordan

A week in Jordan budget breakdown
Accommodation
There's a huge range of accommodation options in Jordan, from simple locally run guesthouses up to five-star international chains. And we stayed in both, starting off with two nights in Amman at the Le Grand Amman. Rooms normally cost about JD103/£110/$145 a night but I cashed in some Starwood points I'd won in a competition and got two nights for just £25.
In Petra we stayed in the Rocky Mountain Hotel, a basic guesthouse on the hillside with million-dollar views. Our double room had a teeny en-suite shower room and only cost JD75/£80/$106 for three nights (JD12/£13/$18 per person per night). If you want to stay at the Dead Sea there's nothing but huge five-star hotels so we splashed out for two nights at the Movenpick, which cost JD168/£180/$237 after a bit of shopping around (JD42/£45/$59 per person per night).
Total accommodation cost: £480/$633 or £240/$317 per person (not including the points discount) – £34/$45 a day each on average.
Transport
There are direct flights to Amman's Queen Alia airport from the UK (from £350 return) as well as major cities around Europe and the Middle East. One of the cheapest ways to get there is to fly to Paphos in Cyprus where you can get a £27/$36 return Ryanair flight to Amman. We took taxis costing JD12/£13/$17 to and from the airport to Amman before picking up a hire car.
We hired a small car for the week with Avis for JD147/£157/$207 (which was booked in advance from the UK). Petrol is fairly cheap in Jordan and the car was very efficient so we only spent JD28/£30/$40 on fuel, despite driving most of the way across the country.
Total transport cost (excluding flights): £100/$132 per person – £14/$19 a day each on average.
Activities
The biggest activity costs are in Petra, where a two-day entry ticket to the ruins costs JD55/£58/$78 per person. It's worth staying for a couple of days as there's so much to see at the sight and a one-day ticket is only slightly cheaper at JD50. We also did the Petra by Night tour where the Siq is lit up by candlelight, which cost JD17/£18/$24 per person.
Away from Petra, the only activity which we paid for was the entry to Amman Citadel, which cost JD2/£2/$3 per person. At the Dead Sea we did think about using the hotel's spa (JD60/£64/$85), but as we only had a day there was enough to do with the beach and hotel pools.
Total activities cost: £78/$105 per person – £11/$15 a day each on average.

Food and drink
Breakfast was included at the Rocky Mountain hotel and the rest of the time we bought our own food. Lunch was normally a snack while we were out and about, and we bought various bottles of water and cold drinks, coming in at a total of JD64, or JD32/£34/$45 per person.
Dinner prices varied hugely. At the Dead Sea you're limited to five-star resorts so we paid JD18/£19/$25 per person for a main course and drink. Many of the big hotels do buffets, the Petra Movenpick's version is decent value (and has an amazing dessert selection) at JD21/£22/$30. But check prices as the Dead Sea Movenpick's similar buffet was JD10 more.
Away from the big hotels we paid JD8/£9/$11 for a mezze meal in Petra and JD10/£11/$14 for a three-course set meal at the Rocky Mountain Hotel. In total we ate out for six evening meals, one lunch and a meal at the airport, coming in JD196 in total, or JD98/£105/$138 per person.
A beer after a hot day exploring will eat into your Jordan budget – alcohol is only available in Western-owned hotels and is heavily taxed. At the Dead Sea Movenpick it's £11 for a half-litre of imported beer! We didn't drink much and when we did we mainly stuck to local beers. We have a few drinks in the Cave Bar in Petra, and found the sunset happy hour at the Dead Sea with two-for-one on glasses of wine, coming in at a total of JD60, or JD30/£32/$42 per person.
Total food and drink cost: £342/$450 or £171/$225 per person – £24/$32 a day each on average.
The grand total
The overall cost for our week in Jordan came in at £589/$779 per person. This works out at about £84/$111 a night each, not including flights. One thing we didn't have chance to do was the overnight camping trip in Wadi Rum, but you could add that in for around £50/$66.
Lower budget? You could save money by visiting the Dead Sea on a day trip from Madaba or Amman rather than staying overnight as there isn't much budget accommodation around. You could also save by using the public buses instead of hiring a car and by steering clear of alcohol!
Higher budget? If you want to splash out, then you can stay right next to the entrance in Petra at one of the luxury hotels like the Movenpick or the Crowne Plaza. You can also hire a driver to get around rather than driving yourself, or spend some time in the Dead Sea spas.
Pin it
This article contains affiliate links, where I get a small commission at no extra cost to you, thanks.