Explore the peaceful Scottish Isle of Raasay with its walks, wildlife, whisky and historic ruins. Just 25 minutes by ferry from the Isle of Skye, a day trip to Raasay is a great way to escape the crowds.
* This site contains affiliate links, where I get a small commission from purchases at no extra cost to you.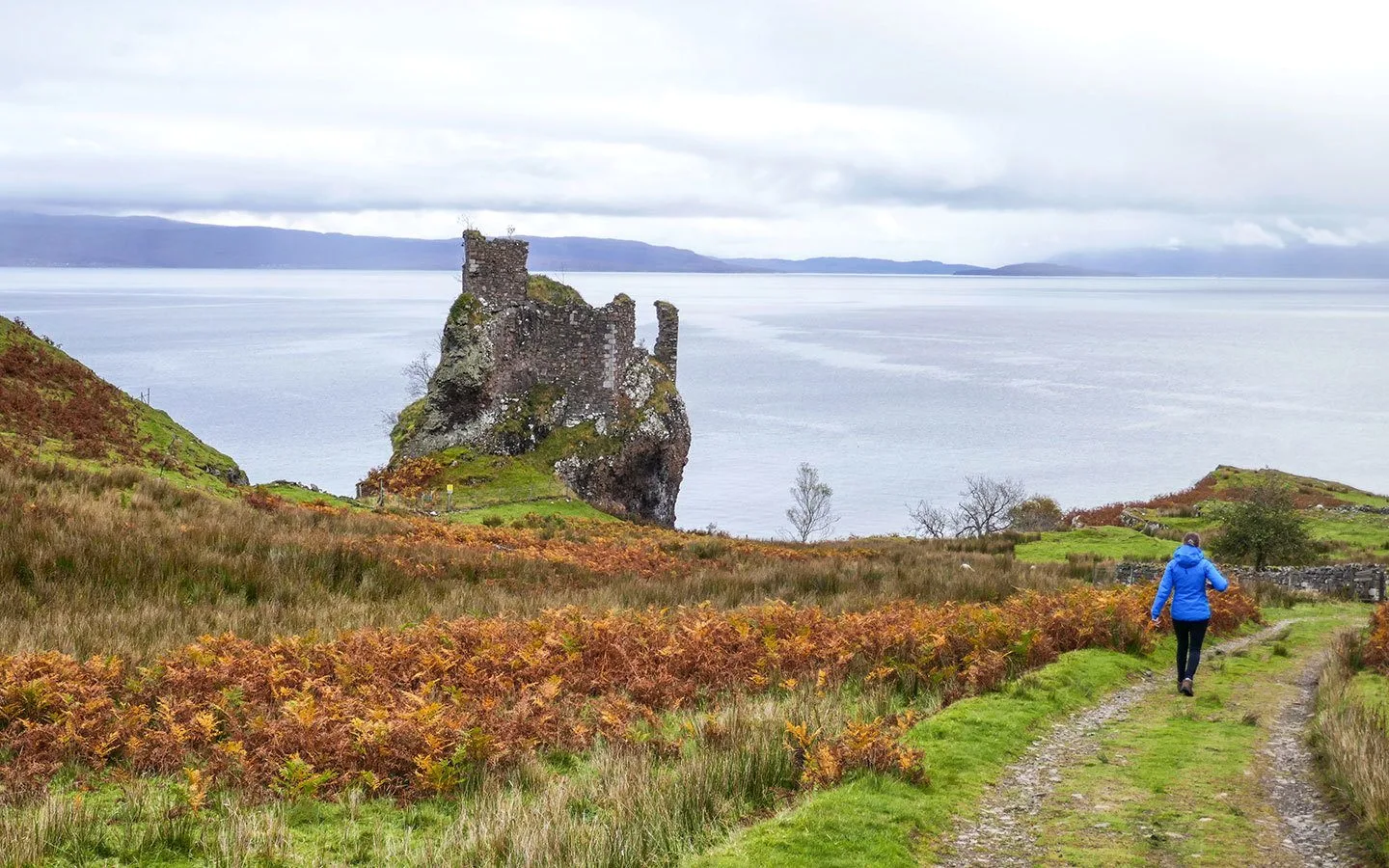 An island off an island off an island, Raasay (Ratharsair in Gaelic) takes its name from the Norse for 'Isle of the Roe Deer'. This Scottish island is only 14 miles long and three miles wide, but is known for its wildlife, walks, diverse landscapes and historic ruins, from clan castles to Iron Age roundhouses – and being Scotland there's a whisky distillery too.
Raasay is only a 25-minute ferry ride from the Isle of Skye, which makes it a perfect day out away from the crowds. So here are all the details you need to plan a day trip to the Isle of Raasay, including how to get there and what to see and do on the island.
Getting to the Isle of Raasay
The only way to reach Raasay is by boat from the Isle of Skye. Calmac ferries run from Sconser on the east coast of Skye to Churchton Bay on Raasay. In summer there are around 10 sailings a day each way, so it's easy to take a day trip to Raasay. In winter and on Sundays there's a reduced timetable, so make sure to check times in advance.
The ferry takes 25 minutes and carries cars, cyclists and foot passengers. Though you can't book tickets in advance so get there at least 10 minutes before departure – or earlier in peak season if you're taking a car or motorhome as space is limited. A return fare costs £13.50 per car (excluding driver) and £4.10 per person, and you buy tickets onboard.
There's usually plenty of room for foot passengers, with parking at the ferry terminal if you want to leave your car behind and get around the Isle of Raasay on foot or by bike instead. If you don't have a car then you can catch the Stagecoach no 52 bus to Sconser from either Portree or Broadford, both of which take around 20 minutes.
Or if you want to splash out, you can also charter a boat for a day trip to Raasay. There are various charter boat companies on Skye who can organise a custom trip for you combining a visit to Raasay with stops at neighbouring islands or wildlife watching.
Getting around the Isle of Raasay
Raasay is fairly small so if you're taking your car over you can easily see the island's sights in a day. Beware the roads are single track (with passing places where you can overtake) with some rough stretches. Although we had no trouble exploring in a regular hire car, prepare yourself for a bumpy ride and allow plenty of time to get around.
There's no public transport on Raasay, but you can head out on various hikes from the ferry terminal and walk to the main (but very small) town of Inverarish in about 25 minutes. You can also get around the island by bike, though there are a few hills to tackle. If you're not bringing your own bike then you can hire one from Raasay House.
Map of Raasay
Things to do on Raasay
Raasay isn't a place with a lot of big attractions, instead it's somewhere to get away from things, to head out on a walk, with stunning views and historic sites.
The island has a wide mix of landscapes packed into a small space, including rocky cliffs, beaches, moorland and forests. And its unspoilt nature means it's a haven for wildlife, on and off shore, from red deer and sea eagles to dolphins, seals and basking sharks.
Take a hike
Hiking is one of the most popular things to do on Raasay, with the island criss-crossed by walking paths through its peaceful landscapes. If you're only on Raasay for the day, you'll want to choose one of the shorter routes – this leaflet from Forestry and Land Scotland has a list of different walk ideas, mainly concentrated around the south of the island.
Not far from the ferry terminal, the walk up Temptation Hill (2 miles/1.5 hours) gives great views out across the Sound of Raasay to Skye, passing a loch and what remains of the Dun Borodale broch, a type of Iron Age roundhouse.
There's also the Burma Road and Miners' Trail route (2.5 miles/1.5 hours) which follows the route of a dismantled railway line and visits the island's two abandoned iron mines, which were worked on by German prisoners of war during the Second World War.
If you have plenty of time, the hike to Dun Caan (9.75 miles/5.5 hours) is the island's best-known walk. This circular walk starts from the ferry terminal and climbs up through forest, moorland and past lochs to the reach the summit of of Dun Caan at 443 metres high, where you have panoramic views over to Skye and mainland Scotland.
In the north of Raasay you can also walk along Calum's Road (see below) or follow the Screapadal Trail (3 miles/2 hours) to the ruins of a village abandoned in the Highland clearances and memorialised by Gaelic poet Sorley Maclean.
Or on a sunny day head to pebbly Inver Bay (1.75 miles/1.5 hours return from the road) – where the Royal Family would stop for a picnic while sailing on the Royal Yacht Britannia.
Visit the ruins of Brochel Castle
In the north of Raasay (25 minutes' drive or 3 hours' walk from the ferry terminal) you'll find the ruins of Brochel Castle. It's though to have been built in the 16th century for the island's first Macleod chief, Calum Garbh. The castle was built precariously perched on top of a 15-metre-high volcanic plug so the clan could watch over their territory.
Brochel Castle was deserted by 1671, and centuries of battering by the elements have left it a crumbling ruin. Today only one tower of four is left of what was an impressive sight in its time, with brick and stone rising out of the rocks. A footpath runs from the parking area down to the castle, though the ruins are unstable so you can't get too close.
Drive along Calum's Road
Beyond Brochel a scenic stretch of road runs for 1.75 miles to the remote village of Arnish at the far north of the island. It's known as Calum's Road – named after local crofter, lighthouse keeper and postman Calum Macleod, the man who built it.
After years of unsuccessfully lobbying for a road to be built to Arnish, he gave up and decided to do it himself. He didn't even have a driving license, but wanted to make it easier for his daughter to visit home from Skye. He started work in the mid 1960s and spend the next 10 years transforming a footpath into a road in his spare time.
He did it all just using a shovel, pickaxe and wheelbarrow, and by the time he finished he was in his late 60s. A few years later the local council took over the road, resurfaced it and opened it to the public, officially naming it after him when he died in 1988.
Raise a glass at the Raasay Distillery
It's hard to find an area of Scotland that isn't home to a whisky distillery, and Raasay is no exception. The Isle of Raasay Distillery started production in 2017 – though that doesn't mean whisky wasn't made on Raasay before then, it was just first time it was legal! As well as whisky, made using water flowing from Dun Caan, they also produce a Raasay gin.
They claim to have the best distillery view in Scotland, and it's hard to argue as you look out at Skye and the Cuillin mountains. You can take a one-hour tour of the distillery's modern visitor centre (just a 2-minute drive or 10-minute walk from the ferry terminal) along with a tasting of their whisky or gin, or pick up a souvenir pack to take home.
Try something adventurous
Raasay House is the hub for tourism on the island – it's where you'll find the island's only restaurant as well as being the biggest place to stay, so most visitors to Raasay end up there at some point. It's also the centre for a whole host of adventurous activities – if you want to get the adrenaline flowing there are a selection of options on both land and water.
You can take a RIB boat trip out into the Sound of Raasay to spot dolphins, seals and seabirds, or set sail on a traditional fishing boat to try and catch lobster or mackerel. There are also kayaking trips either at sea or in Loch a' Mhuilinn, coasteering and rock climbing, or archery sessions. Advance booking is recommended especially in spring/summer.
Staying longer on the Isle of Raasay
If you have the time to spare – or want to tackle more of the island's walks – you might want to extend your day trip to Raasay and stay overnight. There are a few places to stay on the island, but accommodation is limited so book in advance in peak season.
Raasay House* is the biggest place to stay on the island (though it gets booked up by schools in the spring), a five-minute walk to the ferry terminal. The current building was built in the 18th century, but the site has has been home to Macleod clan chiefs since the 1500s, with past guests including Samuel Johnson and James Bowell who stayed in 1773. Rooms vary from deluxe sea view en-suites to family, budget and dorm rooms.
There are also six smart en-suite double bedrooms available at the Isle of Raasay Distillery*, in Victorian-era Borodale House which forms part of the distillery buildings. Rooms come with breakfast and there's a comfortable guest lounge with honesty bar.
Where to eat on Raasay
Raasay House has the island's only restaurant, using local, seasonal produce like Skye scallops and Raasay venison, and vegetables and herbs from their garden. They're open for breakfast, lunch and dinner, and have a bar selling Scottish whiskies, gins and beers.
Other than that, the island only has a couple of other options for eating and drinking. The Larch Box is a takeaway in a shipping container, 10 minutes' walk from the ferry terminal, serving soups, sandwiches and cakes. And there is a small Community Store in Inverarish which sells fresh produce, bread and basic groceries.
Save for later
You might also like