Explore a new side to Wales with a trip which combines its beautiful churches with stunning natural landscapes and a wealth of local charm and culture.
There's no denying that Wales is a beauty. Rugged mountains, breathtaking coastline, castles and Celtic folklore – the combination has made it a favourite with visitors, me included. I grew up on the border and have been visiting Wales since I was a baby. I've road-tripped around Snowdonia, paddled on sandy beaches, visited the home of literary icons, canoed the Wye Valley and travelled by steam train – and there's plenty more still to see.
AD: This post is brought to you in association with Explore Churches
One thing the last year's restrictions have given many of us is an appreciation of what we have close to home – and a desire to get away from it all. And that's something Wales is perfect for. As well as its cities, castles, National Parks and beaches, the country is packed with lesser-known spots and unusual experiences. And if you want to try something different, Wales' churches and sacred spots could be what you're looking for.
Exploring Wales' churches
Wales might be famous for its landscapes, but one thing most of us know less about is the special churches and chapels spread across them. Packed with millennia of history, boasting stunning architecture, fascinating mythology and located in some of the most scenic spots, you don't have to be religious to appreciate the heritage and beauty of Wales' churches.
From chapels carved into cliffs, to sheltered spots deep in woodlands, tiny island churches and churches renowned for being 'thin places' – where the gap between the real world and spiritual world is thinner – exploring Wales' churches and chapels allows you to see the world through different eyes, and to witness history and legend come together.
To showcase Wales' sacred history and natural blessings, a new set of experiences combining the country's hallowed places and beauty spots has been launched by the National Churches Trust, the charity dedicated to supporting and maintaining the UK's church buildings.
From kayaking the Pembrokeshire coast and cycling through Anglesey's country lanes, to learning the ancient craft of willow weaving or dark-sky stargazing, these new experiences are designed to reveal Wales' rich culture, history, heritage and environment.
Whether you fancy something active, educational, relaxing or just want to soak up the atmosphere, there's a trip for you. You can find out more about them on the Explore Churches website, where you can filter by location and keyword.
Another bonus is that you'll also be helping the communities you visit. Supporting churches and chapels through tours and donations not only helps preserve the buildings and their heritage, but also contributes to community services like food banks and support groups, making it an ethical and sustainable travel choice.
12 travel experiences in Wales' sacred spots
1. Coasteer, kayak and surf in Pembrokeshire
Pembrokeshire has some of Wales' most beautiful beaches – and the Pilgrims from the Sea trip is a great way for outdoor lovers to discover the different sides to the county. It combines adventurous activities with a visit to some of West Wales' historic churches, following in the footsteps of 6th-century saints and medieval pilgrims.
The experience starts with a morning of coasteering, kayaking and surfing along the coast, followed by lunch at an ecolodge. Then the afternoon is spent exploring the 'Saints and Stones' trail which takes in quaint churches and scenic landscapes of beaches and mountains, before ending at the iconic cathedral in St Davids – the smallest city in the UK.
2. Climb a Medieval tower in Wrexham
The 300-year-old St Giles' Church in Wrexham is one of the Seven Wonders of Wales, and said to be one of the most impressive Welsh medieval buildings still standing. And the Medieval Tower Climb experience takes you right to the top of its 135-foot-high tower.
You climb up 149 spiralling stairs to reach the top, where you can see the church bells and learn about the art of bellringing. You also get up close to the medieval carvings decorating the tower, and have stunning panoramic views of Wrexham and out as far as the Berwyn Hills, Mersey Estuary and Cheshire Plains on a clear day.
3. Discover Anglesey's sacred spaces
If you're a cycling fan, there are various experiences available to explore Wales by bike. Off the Beaten Track: Five Sacred Spaces on Ynys Môn is a leisurely guided bike tour of the isle of Anglesey (known as Ynys Môn in Welsh) in partnership with Green Lane Bike Tours.
As you cycle through Anglesey's quiet rural lanes you get the chance to enjoy spectacular views stretching to Snowdonia and will stop off at some of the island's smallest country churches and learn about their history. Your local expert will also explain the region's fascinating geology and archaeology, and its spiritual links with the druids.
4. Take a ride out to sea
Another option for bike enthusiasts on Anglesey is the Ride out to Sea: A Tidal Church and a Proper Welsh Tea. This spectacular tour takes you across land which was once water to visit churches surrounded by sea that were once on the mainland.
Trip highlights include a ride out to 12th-century St Cwyfan's – a tiny island church also known as the 'Church in the Sea', which is only accessible at low tide – and Aberffraw, once the capital of the Kingdom of Gwynedd. Then you finish your journey along a picturesque rural inland route, complete with a stop at a popular cyclist's café for a tasty Welsh tea.
5. Dark sky stargazing at Capel y Ffin
Take a tour of the night sky with an evening of stargazing under the dark skies of rural mid-Wales, where a lack of light pollution makes it one of the best places to look to the stars. From the atmospheric surrounding of Capel y Ffin churchyard you'll view the constellations of the northern hemisphere and find various deep sky objects like the Orion Nebula.
The Dark Sky Stargazing at Capel y Ffin Churchyard experience doesn't require any prior knowledge or equipment. You will learn how to use binoculars and set up a telescope correctly as well as navigation via star maps and the mythology of the constellations, before viewing and photographing planets, galaxies and star clusters.
6. Reflection through the poetry of RS Thomas
Experience Wales' literary heritage brought to life among the calm atmosphere of a sacred place with a poetry reflection and meditation by candlelight. RS Thomas was one of Wales' greatest Welsh poets writing in English, and Reflection through the Poetry of RS Thomas gives you the chance to hear his poems in his last parish church.
The pilgrim sanctuary of St Hywyn's stands at the end of the Llyn Peninsula in North Wales. As you move around the building, you'll read Thomas' spiritual poetry, which connects with features in the church. The light of candles and a backdrop of the crashing waves of the Irish Sea make it an even more relaxing and peaceful experience.
7. Willow weaving in a country churchyard
Another way to melt stress away is to get crafty and learn a new skill in the tranquil setting of an ancient church. At Llanrhian church in Pembrokeshire you get the chance to try out the heritage craft of willow weaving, as the Willow Weaving in a Country Churchyard experience gives you all the skills and materials you need to create your own willow basket.
The workshop uses willow grown organically on a local farm and you will learn how to create a frame, add ribs and weave the body of the basket. You don't need any experience and get to take your completed trug home with you at the end of the day as a great local souvenir.
8. The secret history of Brecon's Plough Chapel
Plough Chapel in the Brecon Beacons National Park is a Grade II* historic building, and one of the earliest independent chapel congregations in Wales. And the Secret Histories: The Insider's Guide to the Plough Chapel, Brecon experience gives art lovers and history buffs the chance to learn about the history of this spectacular 17th-century building.
You'll explore the chapel's striking interior and marvel at the extraordinary craftsmanship on display; perfectly conserved for over 100 years, from its rich carved woodwork and water-powered organ to the ornate panelled ceiling, which conceals a Victorian ventilation system. Then finish the day by joining chapel members for tea and Welsh cakes.
9. Dr John Davies and the Red Bandits of Mawddwy
Discover how the Welsh language was introduced to the people of Wales thanks to the help of Dr John Davies, a prolific translator, minister and architect who is believed to have been responsible for first translating the Bible into Welsh in the 17th century.
The Welsh Language Survival: Dr John Davies and the Red Bandits of Mawddwy tour tells the story of Davies' life and how he kept faith with his work at a time when religious tensions were high. It visits the church where he was minister and uses extracts from Gwynn ap Gwilym's book Sgythia to bring the atmosphere of the period to life.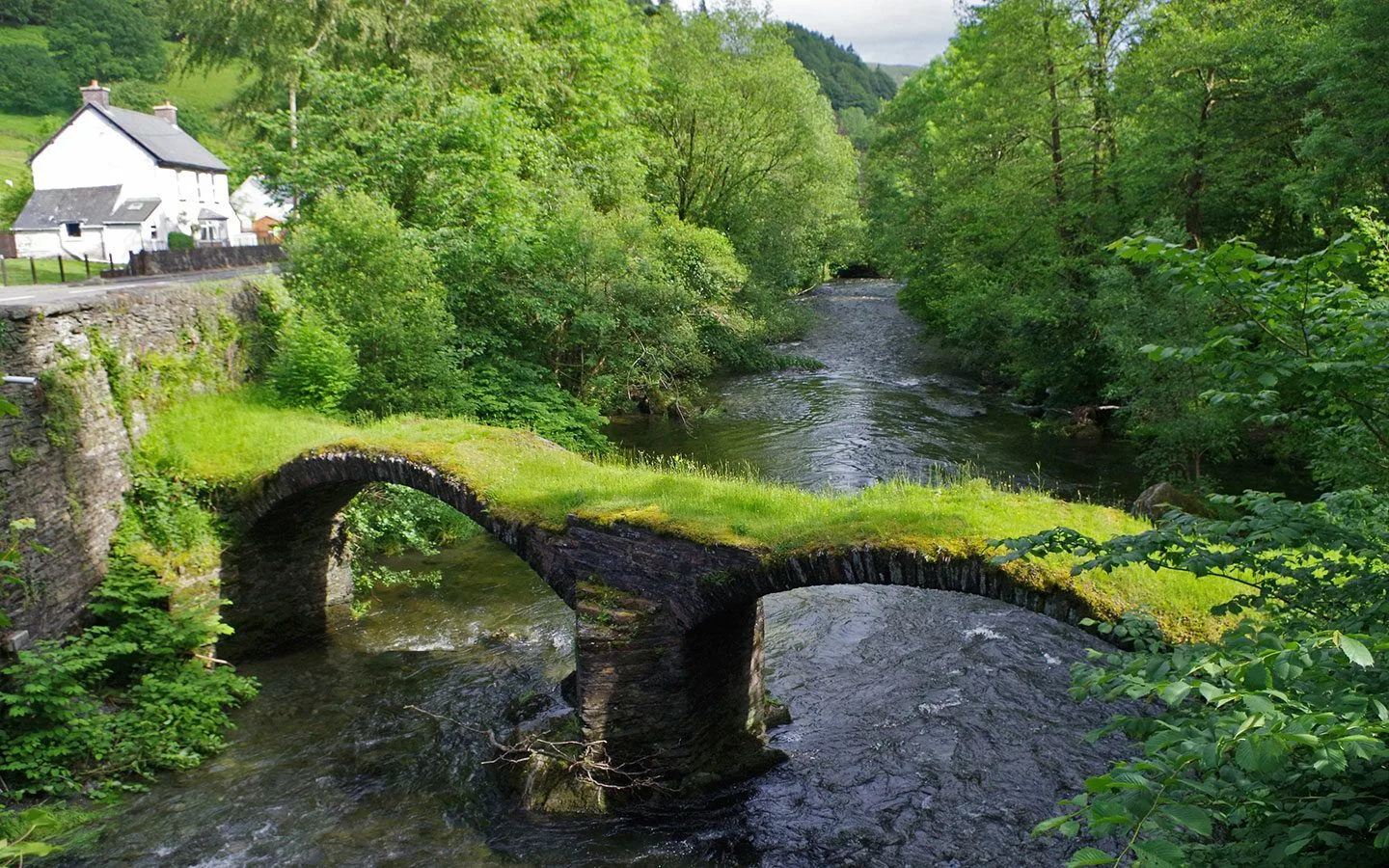 10. Tea and tour of St Asaph Cathedral
Pay a visit to St Asaph Cathedral in North Wales – the smallest cathedral in Britain – to learn about its history and admire its magnificent architecture. The current cathedral dates back to the 13th century, though there has been a cathedral on the site for 1400 years.
The cathedral may be small but it's packed with interesting historical details, including stained glass windows, medieval carvings and ornate choir stalls. Then finish your Tea and Tour of St Asaph Cathedral with a selection of homemade cakes and fresh locally roasted coffee from the church's Translators' Tearoom.
11. Discover the Usk Valley's ancient churches
Explore the tranquil countryside setting of Usk and visit four outstanding historic Welsh churches along the way. The churches selected for the Discover Ancient Churches in the Beautiful Usk Valley experience cover a wide range of styles and periods.
Your knowledgeable guide brings history to life with stories of the churches and the people who built and used them. And the tour gives you the chance to see the craftsmanship of different centuries, all set against the backdrop of an unspoilt rural landscape.
12. Take a pilgrimage walk in West Wales
Finally, if you enjoy walking, the Pilgrimage Walks in West Wales tour is the one for you, taking in Welsh countryside, woodland, clifftop views, coves and smugglers caves. Guided Pilgrimage, a not-for-profit travel company, will guide you through three walks following the ancient Celtic pilgrimage routes which run across west Wales.
Walk from Solva to St Davids along the Pembrokeshire Coast Path, past holy wells, a Bronze Age coastal fort and Celtic chapel. Go back in time on a guided walk to the 12th-century Cistercian Abbey of Strata Florida. Or walk to the the Norman church and pilgrims cross at Nevern via a Neolithic burial chamber thought to have Arthurian connections.
Find out more
To start planning your trip, visit the Explore Churches website, where you can view all the available experiences and search for the perfect option using keywords and by location. The website showcases the fascinating history and stunning art and architecture of over 500 churches across the country with suggested itineraries linking them together.
For more inspiration, follow Explore Churches on Facebook, Twitter and Instagram.
Pin it