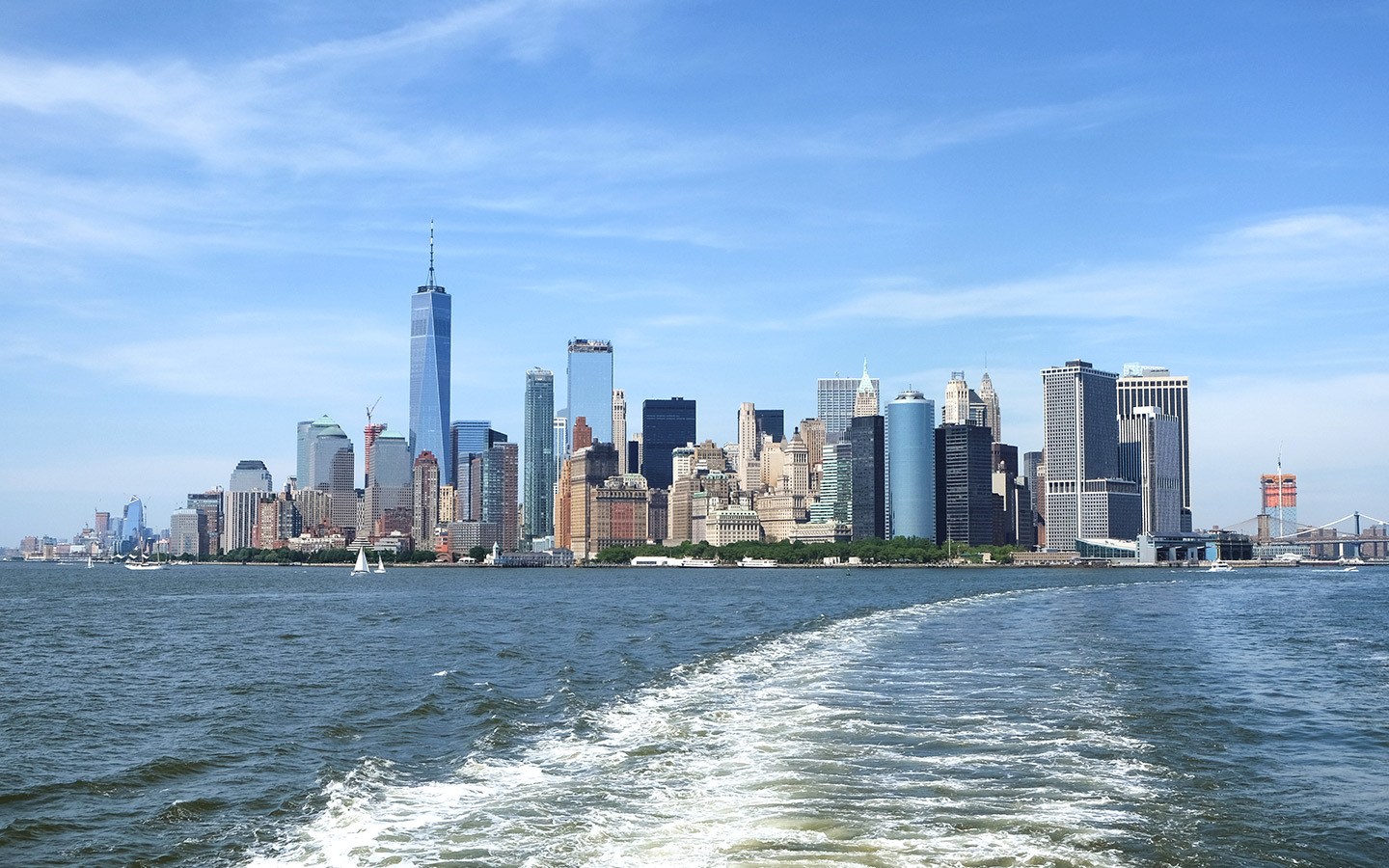 It was my first trip to New York – and my first time out of Europe – and everything should've felt new and different. But I couldn't shake off the feeling that I'd been here before. Walking along Fifth Avenue, craning my neck to look up at the skyscrapers as yellow cabs rushed by and the smell of frying onions drifted past, it hit me. I might not have actually been to New York before, but I'd walked these streets and seen these views in so many films and TV series over the years it almost felt like I had. Times Square's lights, the view from the top of the Empire State Building, steam rising from subway vents – they were all part of the films I grew up with.
Read more: Visiting New York on a budget
Although I've been back to New York a few times since, I still haven't shaken off that feeling of excitement I get from seeing these places translated from the screen into real life. Whether you're a rom-com or thriller fan, love old black and white films or modern blockbusters, chances are New York will have featured in your film history too. I added one of my favourites to Travel Republic's famous film locations guide, featuring some of the most iconic filming spots around the world, but there are so many in Manhattan that they make for a great New York film locations walk. So grab your camera and comfy shoes and in just over six miles (with a subway short cut if that's too far) you can go all the way from King Kong to Sex and the City.
A New York film locations walking tour
The Met
Start your New York film locations walking tour at the Metropolitan Museum of Art (aka The Met), at 1000 Fifth Avenue at the edge of Central Park (nearest subway: 86th Street). It's one of the world's largest art galleries, with a collection of over two million items and a main building which stretches for a quarter of a mile along Fifth Avenue.
On screen, the Met is where Pierce Brosnan steals a Monet painting in the 1990s remake of The Thomas Crown Affair. Well the exterior scenes are at least, as the Met didn't want to be associated with a robbery – even if it was a fictional one. Billy Crystal and Meg Ryan also take a wander through the Met's Egyptian Room in When Harry Met Sally.
The Plaza Hotel
From the Met, follow Fifth Avenue south to the bottom of Central Park (1.2 miles), where you'll find the Plaza Hotel. The hotel opened in 1907 and gets its name from the Grand Army Plaza which it's located on. It's always been one of the city's most luxurious – and expensive hotels. A night in one of its 282 rooms will set you back anywhere from $1000 for a standard guest room to an eye-watering $30,000 to spend the night in the lavish Royal Plaza Suite.
Over the years the Plaza has been featured in plenty of films, including as Macaulay Culkin's base in Home Alone 2: Lost in New York. He uses his dad's credit card to stay there when he gets on the wrong plane and ends up in New York instead of Florida – can you imagine the bill! It's also been a location for North By Northwest, Crocodile Dundee, The Great Gatsby and Bride Wars.
Tiffany's
Leave the Plaza and carry on walking down Fifth Avenue for a few minutes until you reach Tiffany & Co's flagship store on the corner of Fifth Avenue and 57th Street. With its polished marble exterior and sparkling window displays, it's one of the world's best-known jewellery stores (who hasn't coveted one of their signature turquoise boxes?). Tiffany's became part of movie history in 1961 when Audrey Hepburn stepped out of a cab and stood looking through the the shop windows in the opening scenes of Breakfast at Tiffany's.
Tiffany's is also where Patrick Dempsey asks Reese Witherspoon to marry him in Sweet Home Alabama, prompting a flurry of proposals in the store since. And if you want a turquoise box for yourself and don't quite have a diamond-sized budget, you can get a silver Tiffany chain for $50.
Grand Central Station
Keep walking south down Fifth Avenue until 42nd Street and then take a left and walk the two blocks to Grand Central Station (0.8 miles). The station was built in 1913 and is a US National Historic Landmark, as well as still being one of the city's busiest transport hubs. The main concourse was the site of the flash mob scene at the end of the Justin Timberlake film Friends With Benefits. Don't forget to look up at the beautifully detailed astronomical ceiling – though keen astronomers might notice the star map's not totally accurate.
Beneath the station is a dining concourse with the Oyster Bar where George Clooney has lunch with its daughter in One Fine Day. And Will Smith's been back to Grand Central twice, filming exterior shots for I Am Legend and discovering aliens in the locker room for Men in Black.
New York Public Library
Outside the station, head back west along 42nd Street for two blocks to the New York Public Library's Schwarzman Building (0.3 miles). It's one of my favourite New York buildings, with its marble walls, grand staircases, chandeliers and ceiling fescoes. The beautiful Rose Reading Room is almost two blocks longs long and 15 metres high, with a gilded ceiling painted with clouds.
On screen the library has been passed off as all sorts of different buildings – including the foyer of The Met for The Thomas Crown Affair. But it's probably best known as the place where the Ghostbusters hunted down the ghost of librarian Eleanor Twitty. It was also another location for Breakfast at Tiffany's as well as featuring in The Day After Tomorrow, and was the location for Carrie's failed wedding to Mr Big in Sex and the City: The Movie.
Empire State Building
Exit the Library onto Fifth Avenue and walk south for seven blocks until you reach the Empire State Building (0.4 miles). This 103-storey Art Deco skyscaper has to be one of New York's most iconic buildings. And the first time many of us ever saw it was with a giant gorilla swinging around the top of it in the original 1930s monster film King Kong.
Since then it's been used in over 250 films and TV shows, including romantic favourite An Affair to Remember. Cary Grant asks Deborah Kay to meet him on the Empire State Building's 88th floor, but she's hit by a car on the way there so never makes it. An Affair to Remember is Meg Ryan's character Annie's favourite film in Sleepless in Seattle, so the Empire State's observation deck is where she finally meets Tom Hanks at the end of the film.
Katz's Deli
The next hop is a bit of a bigger one, so you can also catch the subway if you don't want to walk (take lines B/D/F/M from 34th Street to 2nd Avenue). Otherwise head down Fifth Avenue then take Broadway south through Union Square before going left on East Houston Street to Katz's Deli, on the southwest corner of Houston and Ludlow Streets (2.2 miles). The deli was founded in 1888 and is famous for its enormous pastrami on rye sandwiches.
It got its big screen break in When Harry Met Sally, as where Meg Ryan faked an orgasm over lunch with Billy Crystal. You can sit at the same spot under a sign saying "Where Harry met Sally… hope you have what she had!" The deli also appears in Enchanted and Donnie Brasco.
FDNY Ladder 8
Head back along Houston Street as far as West Broadway and then follow that south to North Moore Street (1.4 miles) until you reach a familiar-looking fire station. FDNY's Hook and Ladder 8 has been a working firehouse for more than a century, but it was also the base for the Ghostbusters. Well the outside of the building was at least – a lot of the interiors were shot in the studio in LA. But the Ghostbusters logo from the film still hangs on the wall inside the station, and there was even a Lego version of the firehouse to tie in with the film.
From the fire station it's a few minutes from Varick Street to Franklin Street subway – or you're surrounded by Tribeca's bars and restaurants to end your New York film locations tour in style!
New York film locations walking tour map
Pin it
This post is brought to you in association with Travel Republic and contains affiliate links, where I get a small commission at no extra cost to you, thanks.