Explore Manhattan through the locations of iconic movies and TV shows, from Ghostbusters to King Kong, on this self-guided New York film locations walking tour – map and directions included.
* This site contains affiliate links, where I get a small commission from purchases at no extra cost to you.
It was my first trip to New York and everything should've felt new. But I couldn't shake off the feeling that I'd been here before. Walking past Fifth Avenue's skyscrapers as yellow cabs rushed by, it hit me. I might not have actually been to the Big Apple before, but I'd walked these streets and seen these views in so many movies it almost felt like I had.
Times Square's neon lights, the view from the top of the Empire State Building, steam rising from subway vents – they were all part of the films I grew up with. Although I've been back to New York several times since, I still haven't shaken off that feeling of excitement I get from seeing these places translated from the screen into real life.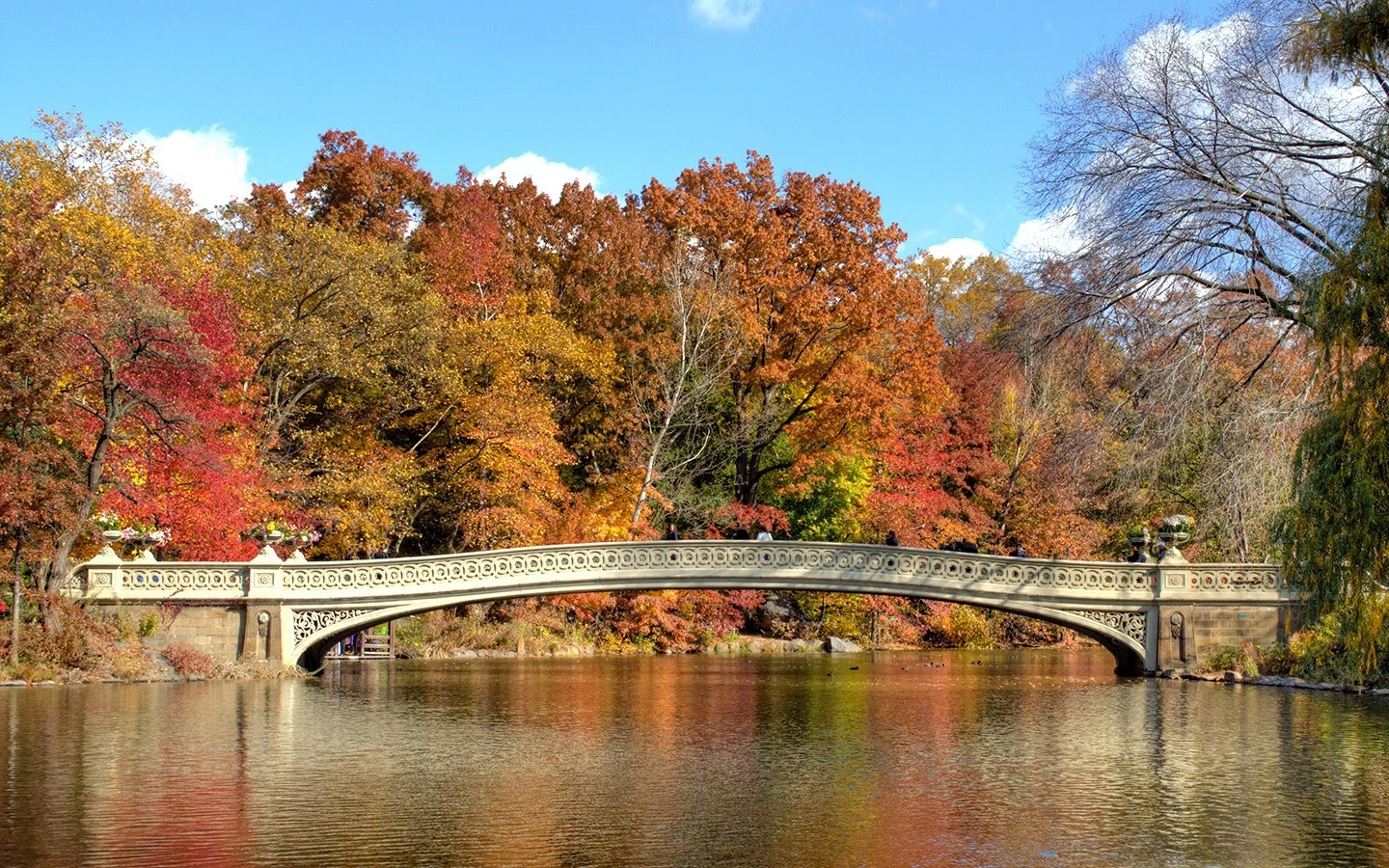 Whether you're a rom-com or thriller fan, love black and white films or modern blockbusters, chances are New York will feature in your film history too. And Manhattan has such a high concentration of film locations that it makes for a great walking tour.
So grab your camera and some comfy shoes, and in just under seven miles (or five miles if you use the handy subway short cut) this self-guided New York film locations walking tour will take you in the footsteps of King Kong, Ghostbusters and many more.
A self-guided New York film locations walking tour
Start your New York film locations walking tour at the Metropolitan Museum of Art at 1000 Fifth Avenue. The nearest subway station is 86th Street, which is on the route of the 4, 5 and 6 trains. From the station it's around a 10-minute walk to the museum.
The Met
The Metropolitan Museum of Art (aka The Met) is one of the world's largest art museums, and its main building stretches for a quarter of a mile along Fifth Avenue. There are over two million items in the Met's collection across 5000 years of history, with everything from ancient Greek sculptures to artworks by Monet, Van Gogh and Picasso.
On screen, the Met is where Pierce Brosnan steals a Monet painting in the 1999 remake of The Thomas Crown Affair. Well the exterior scenes are at least – the Met didn't want to be associated with a robbery, even a fictional one, so didn't allow filming inside.
Billy Crystal and Meg Ryan take a wander around the Temple of Dendur in the Met's Egyptian Room in When Harry Met Sally (1989). The temple also featured in Ocean's 8 (2018), the third Ocean's Eleven spin-off. The production team recreated the museum's Met Gala – an annual celebrity-filled fundraiser – as the scene for a diamond heist.
From the Met, follow Fifth Avenue south along the edge of Central Park (1.2 miles) until you reach the end of the park where you'll see the Plaza Hotel on your right.
The Plaza Hotel
The Plaza Hotel* opened in 1907 and gets its name from the Grand Army Plaza which it's located on. It stretches over 21 floors and was built to look like a French Renaissance château. It's one of the city's most luxurious – and expensive – hotels, and a stay in its lavish Royal Plaza Suite will set you back an eye-watering $40,000 a night.
Over the years the Plaza has featured in plenty of films, including Home Alone 2: Lost in New York (1992). Macaulay Culkin's uses his dad's credit card to stay there when he gets on the wrong plane and ends up in New York instead of Florida. It's also been a location for North By Northwest, Crocodile Dundee, The Great Gatsby and Bride Wars.
Leave the Plaza and carry on walking down Fifth Avenue for a few minutes and you'll see Tiffany & Co's flagship store on the corner of Fifth Avenue and 57th Street.
Tiffany's
With its polished marble exterior and sparkling window displays, Tiffany's is one of the world's best-known jewellery stores (who hasn't coveted one of their turquoise boxes?). It became part of movie history in 1961 when Audrey Hepburn stepped out of a cab and stood looking through the shop's window in the opening scenes of Breakfast at Tiffany's.
You can have breakfast at Tiffany's yourself at the Blue Box Café (reopening in 2023 after refurbishment). It's decorated in their signature turquoise colour and serves smoked salmon bagels and buttermilk waffles – though book well in advance.
Tiffany's is also where Patrick Dempsey asks Reese Witherspoon to marry him in Sweet Home Alabama (2002), which prompted a flurry of proposals in the store ever since. And if you want a turquoise box for yourself and don't quite have a diamond-sized budget, you can get a more budget-friendly silver Tiffany chain for around $95.
Keep walking south down Fifth Avenue until you get to 51st Street, then take a right turn and walk one block to 6th Avenue (0.5 miles) and the Radio City Music Hall.
Radio City Music Hall
The Art Deco Radio City Music Hall* is part of the Rockefeller Center. It was the largest indoor theater in the world when it was built in the 1930s and has had over 300 million visitors since then. The main stage is the length of a city block and the theatre's Rockettes dance troupe have been high-kicking their way across it for the last 90 years.
As well as being a filming location for several game shows, Radio City appears in The Godfather (1972) – Michael Corleone and his wife are watching a show when they hear Don Corleone has been shot. It was also shown in 1982's Annie and Home Alone 2.
Next continue south down 6th Avenue, then turn right along 45th Street and walk for one block to 7th Avenue and Times Square (0.5 miles).
Times Square
Over 330,000 people normally pass through bustling Times Square each day, making it one of the world's most visited tourist destinations. But in the Tom Cruise film Vanilla Sky (2001), Times Square is completely deserted after the production team got special permission to empty it of people and cars for three hours early one Sunday.
Will Smith also goes hunting in an abandoned Times Square in the post-apocalyptic I Am Legend (2007). It was destroyed by a giant wave in Deep Impact (1998). And is the site of a fight between Spiderman and Electra in The Amazing Spider-Man 2 (2014). Times Square also appeared in classic films Midnight Cowboy (1969) and Taxi Driver (1976).
Then head south down 7th Avenue. Turn left when you reach 43rd Street and follow it for three blocks to Park Avenue where you'll find Grand Central Terminal (0.5 miles).
Grand Central Terminal
Grand Central Terminal was built in 1913 and is a US National Historic Landmark, as well as still being one of the city's busiest transport hubs. The station exterior and Park Avenue Viaduct were the site of the Battle of New York in 2012's The Avengers.
The main concourse was used for a flash mob scene at the end of the Justin Timberlake film Friends With Benefits (2011). Look up to see its beautifully detailed astronomical ceiling – though keen astronomers might notice the star map isn't totally accurate.
Below the concourse is the Oyster Bar where George Clooney has lunch with his daughter in One Fine Day (1996). And Will Smith's been to Grand Central twice – to film exterior shots for I Am Legend and discover aliens in the locker room in Men in Black (1997).
Outside the station, head west along 42nd Street for two blocks to the New York Public Library's Schwarzman Building (0.3 miles).
New York Public Library
With its marble walls, grand staircases, chandeliers and ceiling fescoes, the New York Public Library is one of my favourite New York buildings. On screen it stood in for the foyer of The Met in The Thomas Crown Affair (1999). But it's probably best known as the place where the Ghostbusters hunted down the ghost of librarian Eleanor Twitty (1984).
The library's beautiful Rose Reading Room is two blocks longs long and 15 metres high, with a gilded ceiling painted with clouds. It appears in The Day After Tomorrow (2004), where survivors of the new Ice Age burn the library's books to keep warm.
And Carrie Bradshaw chose the library as the venue for her wedding to Mr Big in Sex and the City: The Movie (2008) because it was "the classic New York landmark that housed all the great love stories" (though it didn't quite work out for her).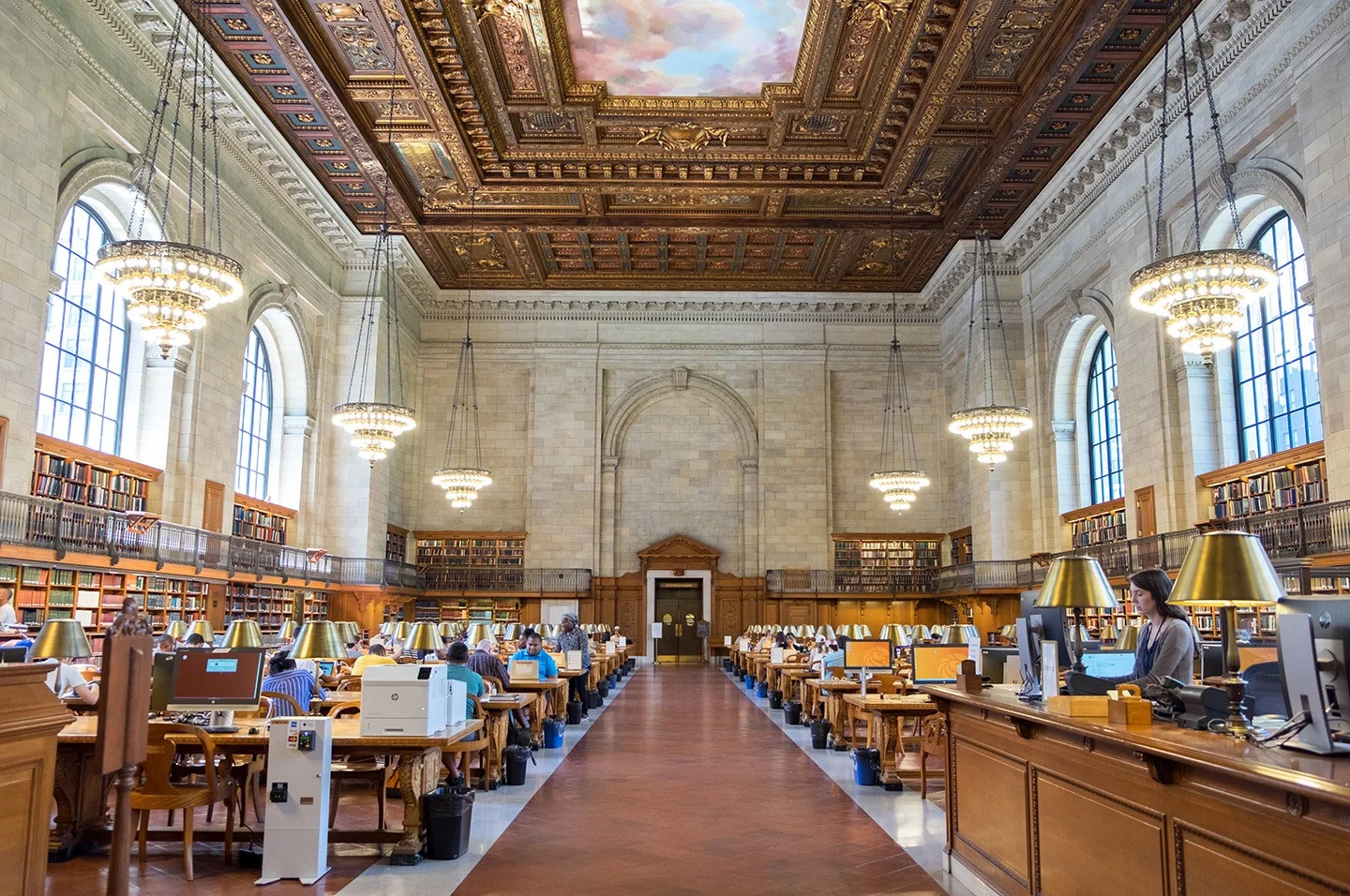 Exit the library onto Fifth Avenue and walk south for seven blocks until you reach the Empire State Building (0.4 miles) at 20 West 34th Street.
Empire State Building
The 103-storey Art Deco Empire State Building* has to be one of New York's most iconic buildings. And the first time many of us ever saw it was on screen with a giant gorilla swinging around the top of it in the original 1933 monster film King Kong.
Since then it's been used in over 250 films and TV shows, including Superman II (1980), where Christopher Reeve's Superman catches the tower's antenna before it falls. And its interiors were used as Buddy's father's offices in the 2003 festive film Elf.
The Empire State Building was also used in romantic favourite An Affair to Remember (1957). Cary Grant asks Deborah Kay to meet him at the top of the Empire State Building, but she's hit by a car on the way there and doesn't make it.
An Affair to Remember is Meg Ryan's character Annie's favourite film in Sleepless in Seattle (1993). So the Empire State Building's observation deck is where she finally meets up with Tom Hanks' character Sam and his son at the end of the film.
The next hop is a bit bigger, so you can also catch the subway if you don't want to walk (take lines B/D/F/M from 34th Street to 2nd Avenue). Otherwise head down Fifth Avenue then take Broadway south through Union Square before going left on East Houston Street to Katz's Deli, on the southwest corner of Houston and Ludlow Streets (2.2 miles).
Katz's Deli
Katz's Deli on the Lower East Side was founded in 1888 and is known for its giant pastrami on rye sandwiches. It got its big screen break in When Harry Met Sally (1989), as the place where Meg Ryan faked an orgasm over lunch with Billy Crystal. You can sit in her spot under a sign saying "Where Harry met Sally… hope you have what she had!"
The deli also appears in fantasy film Enchanted (2007) and is where Johnny Depp's character meets with an FBI contact in Donnie Brasco (1997).
Next head back along Houston Street as far as West Broadway and then follow that south until you reach 14 North Moore Street (1.4 miles).
FDNY Ladder 8
Finish your New York film locations walking tour at the New York City Fire Department's Hook and Ladder 8 firehouse. It was built in 1903 and has been a working fire station for more than a century. But you might know it better as the base for the Ghostbusters as it featured in both the 1984 original film and the 2016 remake.
Well the outside of the building did at least – a lot of the interiors were actually shot in the studio in LA. But the Ghostbusters logo from the film hangs outside the station after a crowdfunding campaign raised money to build one. The station also appeared in the 2005 film Hitch and episodes of TV show Seinfeld and How I Met Your Mother.
From the station it's a few minutes' walk to Franklin Street or Canal Street subway stations. Or you're surrounded by Tribeca's bars and cafés if you fancy a post-tour drink.
New York film locations walking tour map
If you'd like to do this New York movie walk yourself, click on the map below to access directions through Google maps. The full route is 6.9 miles/11.1km and takes 2.5 hours to walk straight through, but allow four hours to include stops along the way.
Or the shorter route with the subway short cut between the Empire State Building and Katz's Deli is 5 miles/8km in total with 1 hour 40 minutes of walking.
Save for later
You might also like