The hilltop neighbourhood of Montmartre, Paris, is one of the city's most popular tourist spots. But not too long ago it was synonymous with drinking, dancing and debauchery. In the mid-19th century it was just outside Paris' city limits so was free of the city's taxes and controls and evolved into a bohemian, artistic enclave. The artists you'll see now are more likely to be caricaturists and painters capturing tourists in the Place du Thetre than Impressionists drinking absinthe in their atelier. But the area still trades on its arty, edgy reputation, and this self-guided Montmartre walking tour takes you through its historic and artistic highlights.
Read more: Paris walks: A self-guided St Germain walking tour
Self-guided Montmartre walking tour route
Start your Montmartre walking tour at Blanche Metro station (line 2) then walk up Rue Lepic. If you've seen the film Amélie, then you'll recognise a few of the shops as you walk along this street, including the Café des Deux Moulins where Amélie worked as a waitress. The tobacco counter that featured in the film might not be there any more, but the café still has that classic Parisian bistro feel with its dark woodwork and zinc counters, as well as a poster of Amélie on the wall. They also do a very tasty crème brûlée if you're in need of a sugar hit.
At the end of Rue Lepic, turn right down the Rue des Abbesses then left along Rue Ravignan to Place Émile Goudeau. This square was at the heart of Montmartre's art scene in 1889 as the home of the Bateau-Lavoir artists' commune. The building was dark and dirty, and so unstable it creaked and swayed on stormy days like the laundry boats on the Seine that gave it its name.
But the Bateau-Lavoir was also was a hotbed of talent. Artists like Picasso, Matisse and Modigliani passed through its doors as well as composers, writers, actors and art dealers. They started moving out after the First World War and most of the original Bateau-Lavoir building was destroyed in a fire in 1970, but you can see its frontage at 13 Rue Ravignan.
Next take a left up Rue d'Orchampt to the Moulin de la Galette. Montmartre's 17th-century windmills originally ground grains to make bread. But later they were turned into cafés and dance halls where people could socialise with a glass of wine and bread from the mill. The parties at the Moulin de la Galette were a favourite with local artists, including Renoir whose painting Dance at the Moulin de la Gallette is on show in the Musee d'Orsay. Another version of it sold for $78 million – making it one of the world's most expensive paintings.
The original Moulin de la Galette is a private property now so you can't take a look inside, but you can get a view of it from Rue Lepic. And Montmartre's other surviving windmill – the Moulin Radet – has been turned into a restaurant, slightly confusingly known as the Moulin de la Galette. Next walk up Rue Girardon until you reach Place Dalida – a square that's named after an Egyptian-born singer who became a huge star in France during the 1960s.
Dalida sold millions of records but her life was full of tragedy. She eventually killed herself with an overdose in 1987 at her house in Montmartre and is buried in the cemetery nearby. Dalida is still a cultural icon in France with films, documentaries and over 50 biographies written about her. Next head right down Rue de l'Aubreuvoir and you'll see Paris' only remaining vineyard.
Vines have been grown in Montmartre since the Romans, who built a temple here dedicated to Bacchus, the god of wine. Most of the vineyards have been sold off for development, but 1500m² of vines were saved by a group of artists in the 1920s. The Clos de Montmartre vineyard now produces 1500 half-litre bottles of wine each year which are auctioned for charity. They're not exactly France's finest vintage, but get snapped up for the novelty value.
You can visit the vineyard during the annual Fête des Vendanges (harvest festival), a five-day street party each October. It celebrates French food and wine with stalls, parades and fireworks. Head south down Rue des Saules and left along Rue Norvins past the pretty Le Consultat café to the Place du Tetre. Montmartre's best-known square is one of the most visited places in Paris.
The Place du Tetre is hub for artists, and you can wander around and watch them in action painting Parisian street scenes, portraits, caricatures and silhouettes. Competition for a spot in square is so fierce that there's a 10-year waiting list for a pitch. Each artist only gets a tiny space of three square feet to work in and you don't even get it to yourself – each spot has to be shared between two different artists who get to use it on alternate days.
Leaving the Place du Tetre behind you, follow Rue Azais along the edge of the park to Sacré-Cœur Basilica. From up here you can see Paris stretching way out in front of you – and you can climb up the 300 spiralling stairs to the top of the basilica's tower for an even higher view. Sacré-Cœur was built between 1876 and 1912 to honour the victims of the Franco-Prussian war, using travertine limestone that's designed to get whiter as it ages.
It's a real mix of architectural styles which was a bit controversial at the time – some people described it like a gaudy giant wedding cake – but it's grown on Parisians as time's gone by. Inside is a huge golden mosaic of 'Christ in Majesty' behind the alter and a crypt which allegedly contains Christ's heart. Walk down the steep lawned area in front of Sacré-Cœur, which is packed full of sunbathers, picnickers and street performers on sunny days.
Then turn right at the bottom of the hill into Rue Tardieu and follow the road as far as Abbesses metro station. Just behind the station entrance you'll find Square Jehan Rictus and Le mur des je t'aime (Wall of Love). The wall's made up of 612 tiles with 'I love you' written in 250 languages and is a favourite selfie spot for loved-up couples and honeymooners. From there you can catch the Metro on around Paris or find a café to finish off your walk with a coffee or glass of wine.
Montmartre Paris walking tour map
If you'd like to do this Montmartre walk yourself, click on the map below to download a route map and directions. It's just under 2.5km and will take you a couple of hours, including stops.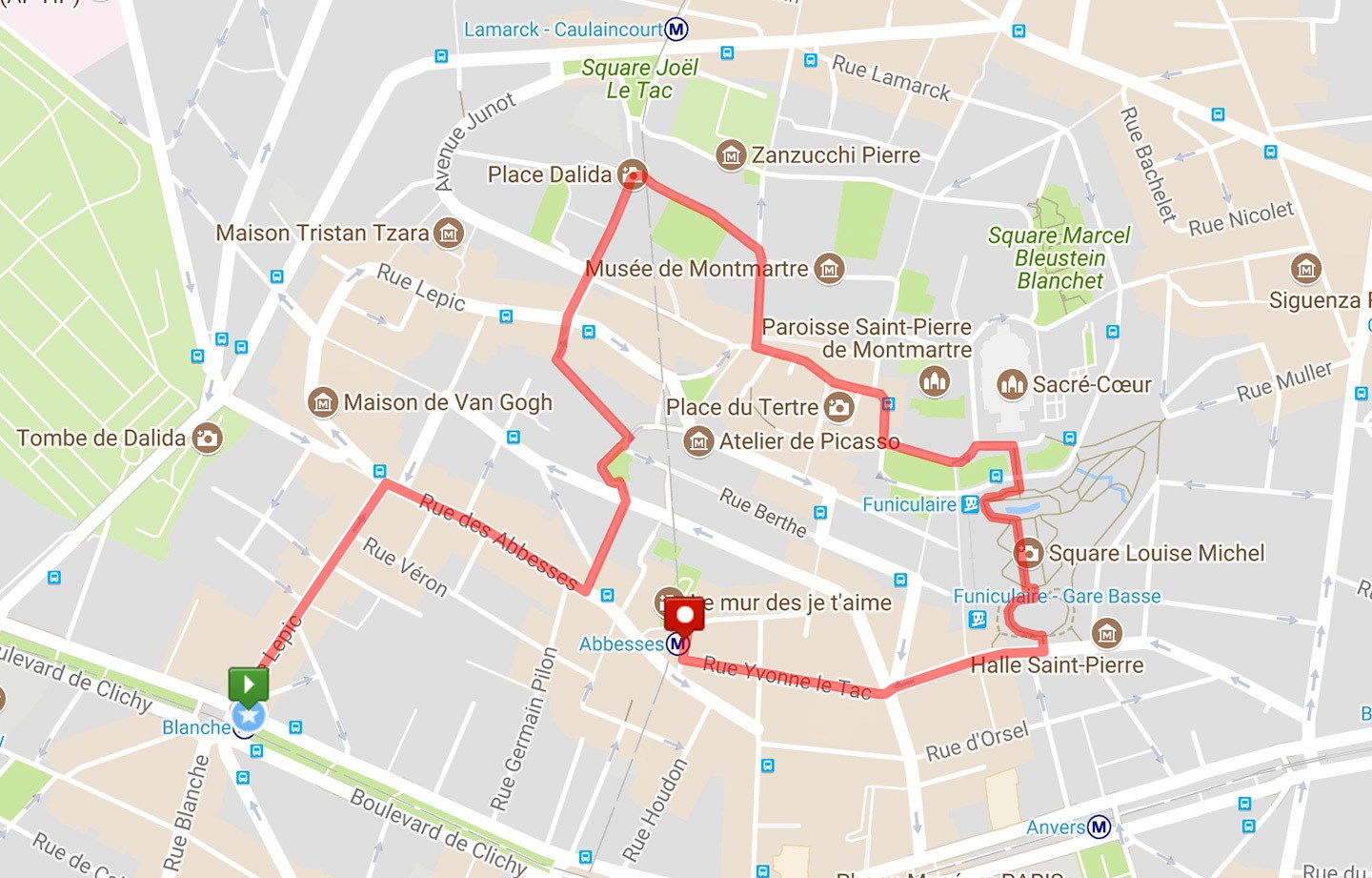 Pin it
This article contains affiliate links, where I get a small commission at no extra cost to you, thanks.