Explore Paris' bohemian, artistic neighbourhood with this self-guided walking tour of Montmartre's artistic history, beautiful architecture, pavement cafés and scenic views – map and directions included.
* This site contains affiliate links, where I get a small commission from purchases at no extra cost to you.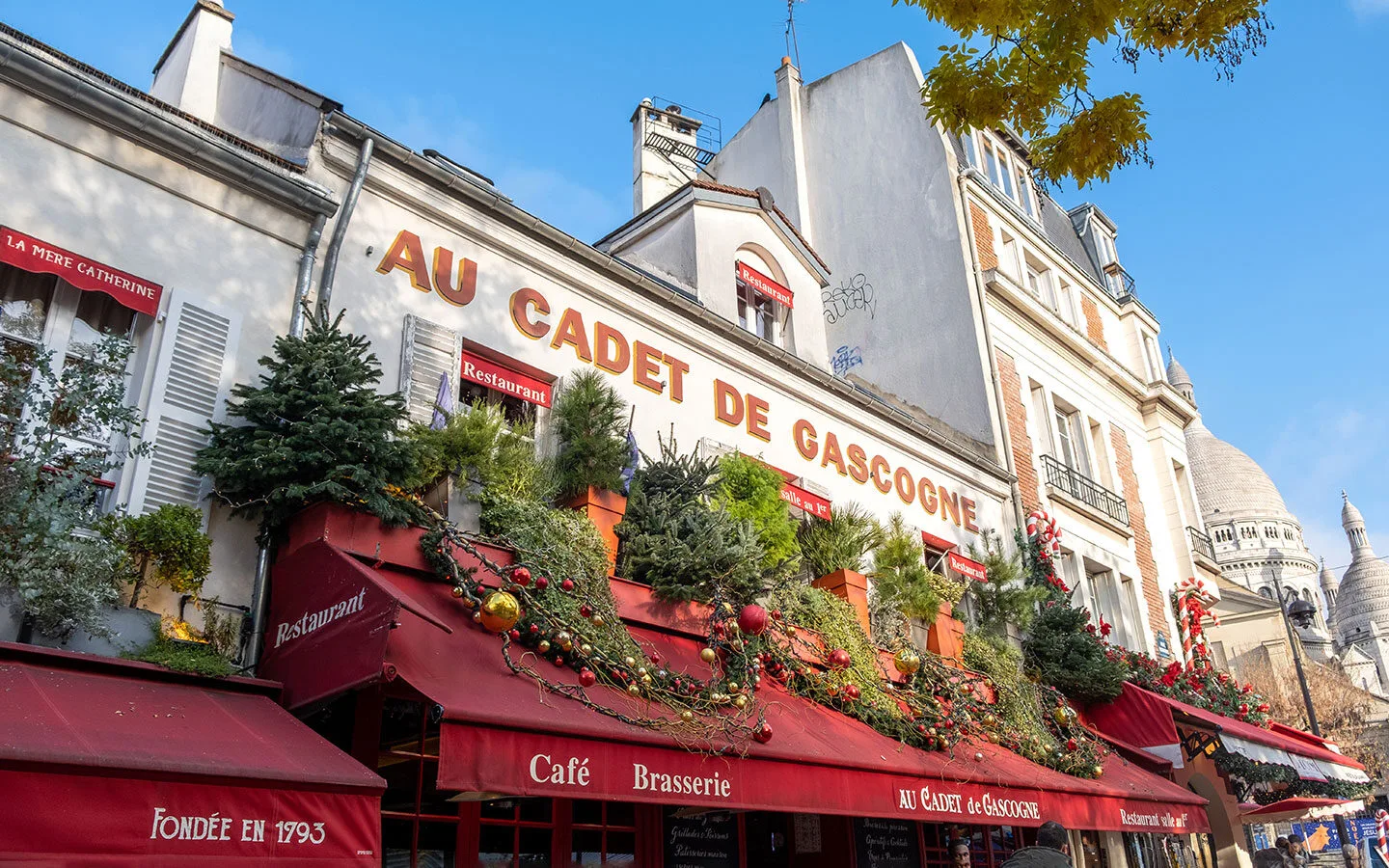 The hilltop neighbourhood of Montmartre, Paris, is one of the city's most popular tourist spots. But not too long ago it was synonymous with drinking, dancing and debauchery. In the mid-19th century, Montmartre was just outside Paris' city limits so it was free of the city's taxes and controls and evolved into a bohemian, artistic enclave.
The artists you'll see now are more likely to be caricaturists and painters capturing tourists in the Place du Tertre than Impressionists drinking absinthe in their atelier. But the area still has the feel of a charming small village within a big city, and this self-guided walking tour of Montmartre takes you through its historic and artistic highlights.
A self-guided walking tour of Montmartre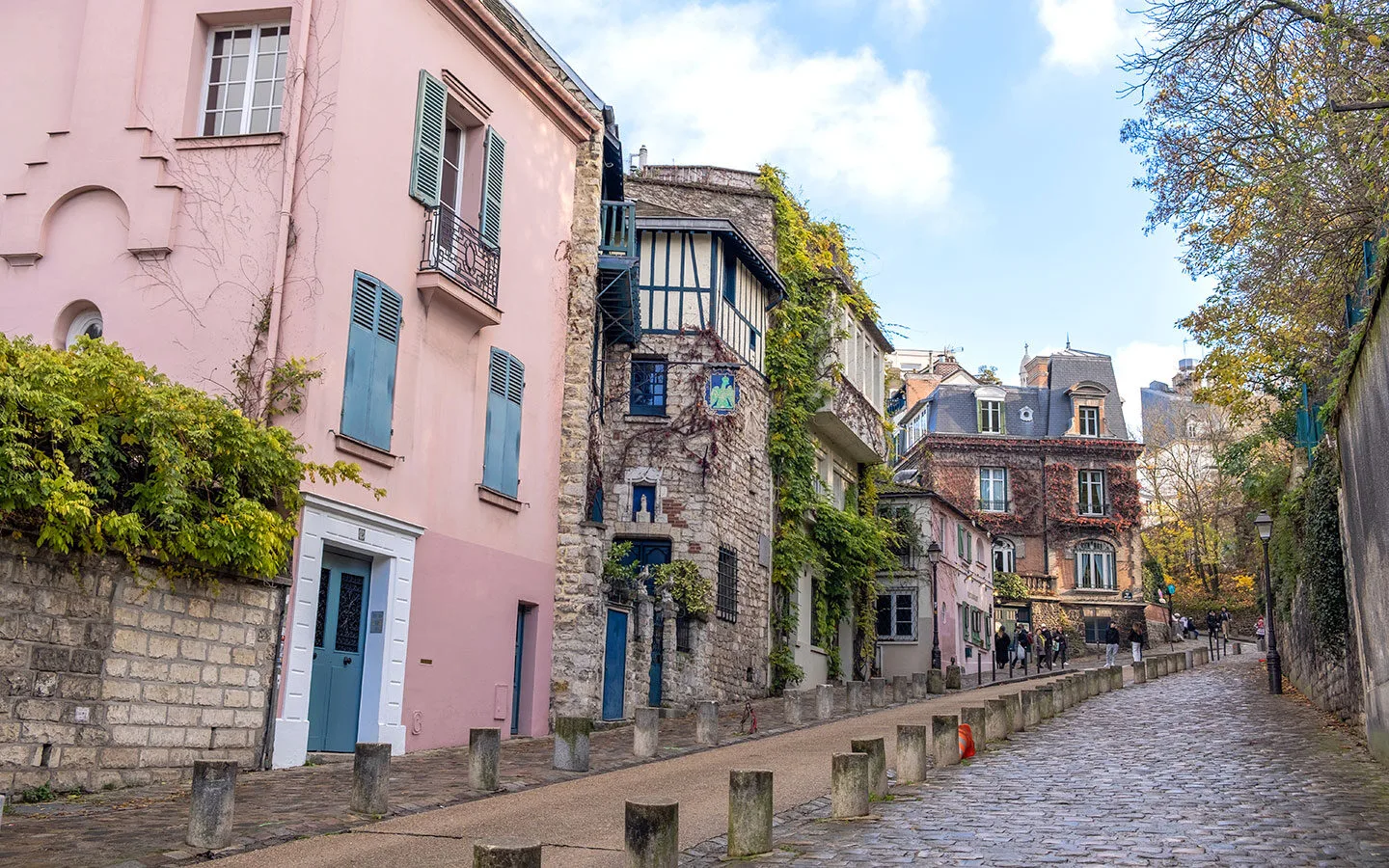 Start your Montmartre self-guided walking tour at Blanche Métro station, which is on Line 2 (or you could also take the Métro to nearby Pigalle on Line 12 which is only a five-minute walk along the Boulevard de Clichy). From there, walk up Rue Lepic – you'll see the colourful Moulin Rouge cabaret hall on your left, home of the can-can.
Café des Deux Moulins
If you've seen the film Amélie then you might recognise a few of the shops along Rue Lepic, including the Café des Deux Moulins on the corner of Rue Cauchois. In the film, the main character Amélie Poulain, played by Audrey Tautou, worked here as a waitress.
The tobacco counter that featured in the film might not be there any more, but the café still has that classic Parisian bistro feel with its dark woodwork, red booths and zinc counters. There are a few nods to the film too, with a poster of Amélie on the wall and a tasty crème brulée d'Amélie on the menu if you're in need of a sugar hit.
Carry on along Rue Lepic, then when you come to the junction at the end, take a short diversion to the left to see the exterior of number 54 Rue Lepic. This was where Vincent Van Gogh lived with his brother Theo from 1886 to 1888, and he did several paintings of the view of Paris from the window of their third-floor apartment.
Then retrace your steps back to the junction and continue on down Rue des Abbesses. Turn left into Rue Ravignon and follow it to Place Émile Goudeau.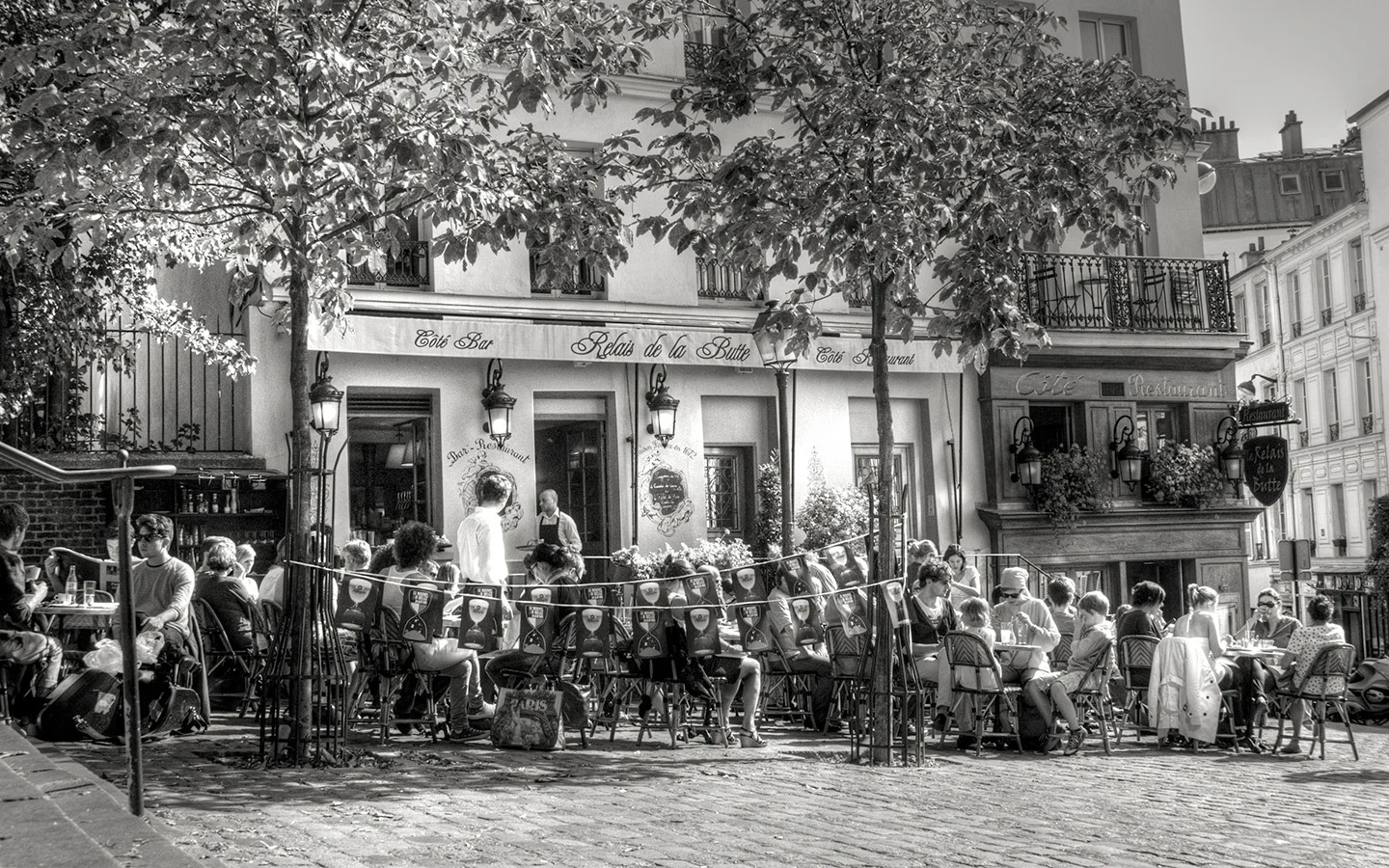 The Bateau-Lavoir
Place Émile Goudeau was at the heart of Montmartre's art scene in 1889 as the home of the Bateau-Lavoir artists' commune. This former factory was divided into 20 small studios. It was dark and dirty, had no heating and was so unstable it creaked and swayed on stormy days just like the laundry boats on the Seine that gave it its nickname.
But the Bateau-Lavoir was also was a hotbed of talent. Artists like Picasso, Matisse and Modigliani passed through its doors as well as composers, writers, actors and art dealers. They started moving out after the First World War and most of the original building was destroyed in a fire in 1970, but you can see its frontage at 13 Rue Ravignan.
At the end of the square, take a left up Rue d'Orchampt and follow it until you reach the junction with Rue Lepic and Rue Girardon, where you'll see a windmill in front of you.
The Moulin de la Galette
Montmartre's 17th-century windmills originally ground grains to make the bread which gave the Moulin de la Galette its name. But they were later turned into cafés and dance halls where people could socialise with a glass of local wine and bread from the mill.
Parties at the Moulin de la Galette were popular with local artists, including Renoir whose painting Dance at Le Moulin de la Gallette is on show in the Musee d'Orsay. A smaller version sold for $78 million in 1990, making it one of the world's most expensive paintings. The Moulin was also captured on canvas by Van Gogh and Picasso.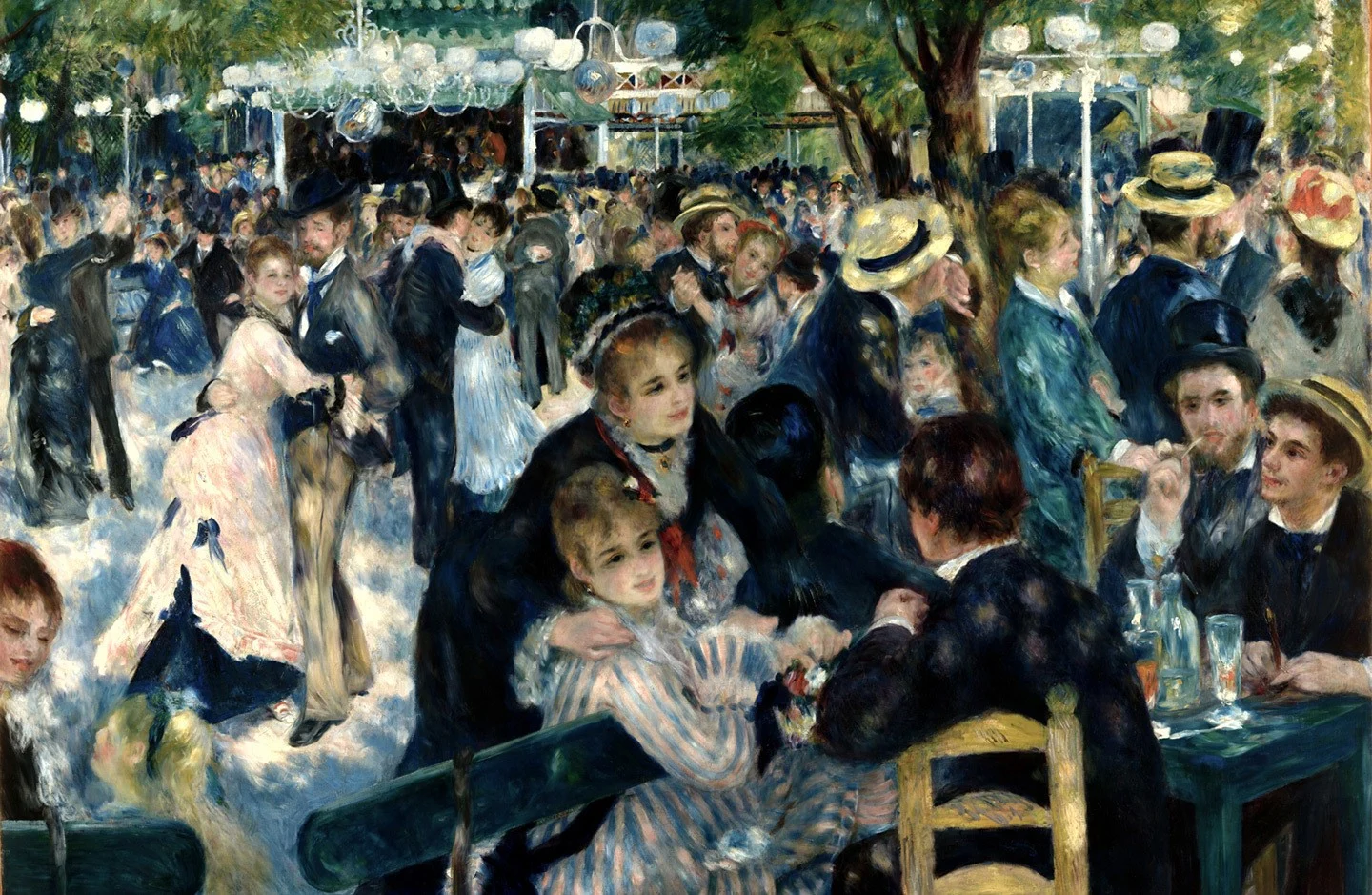 There were originally up to 30 windmills covering the hills around Montmartre, but only two are left now. The original Moulin de la Gallette (which is marked on maps as the Moulin de Blute-Fin, as that was its original name) is now private property so you can't take a look around. But you can get a glimpse of it from Rue Lepic or Avenue Junot.
And in front of it is Montmartre's other surviving windmill – the Moulin Radet, which was built slightly later in 1717. Today it sits on top of a restaurant (slightly confusingly) called the Moulin de la Galette, which has a terrace underneath the windmill.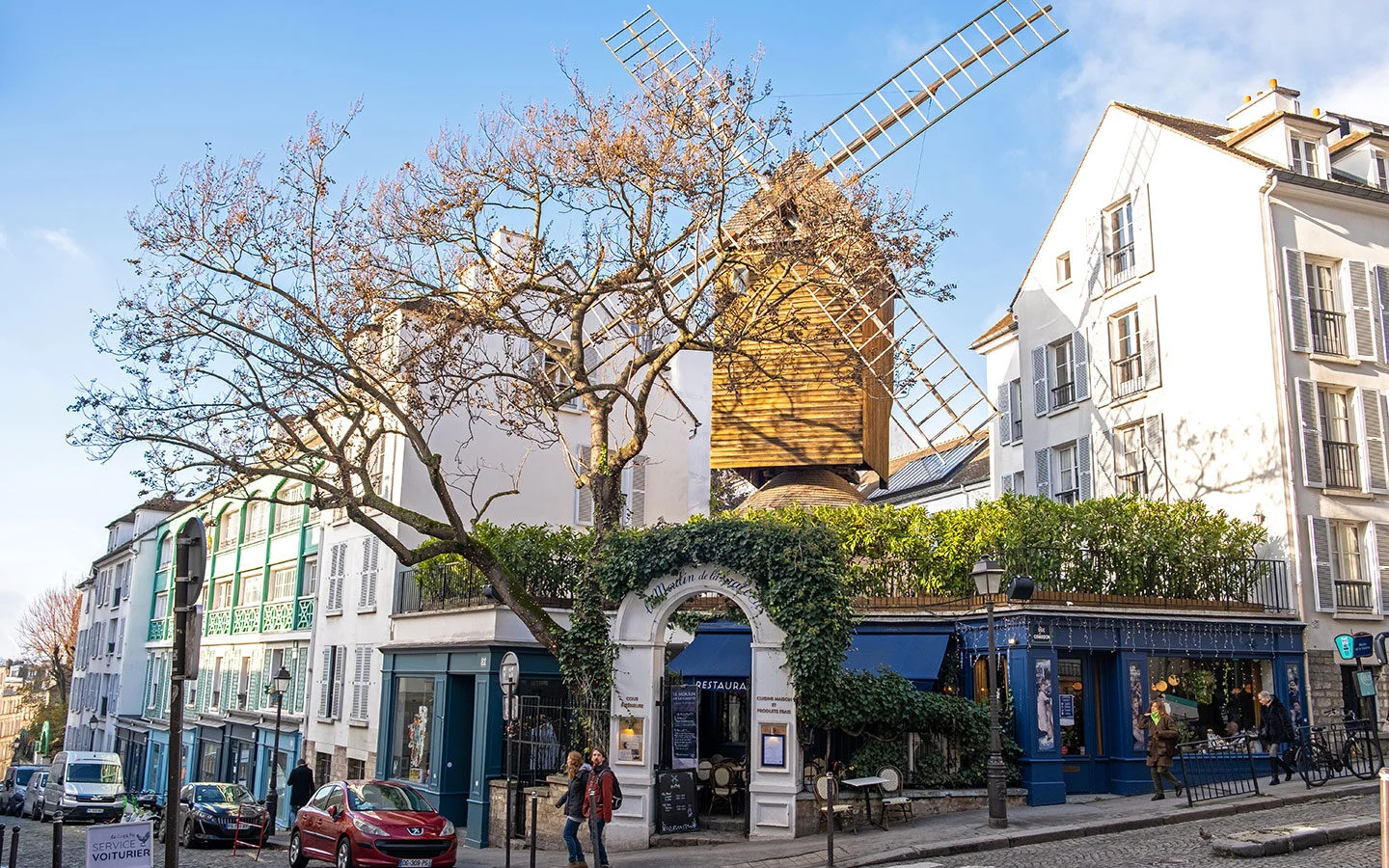 Next walk up Rue Girardon until it turns the corner into Rue de l'Abreuvoir, where you'll see a small square with a bronze bust of a woman on your left.
Place Dalida
This tiny square is named after an Egyptian-born singer who became a huge star in France during the 1960s and 70s. Dalida – originally named Iolanda Cristina Gigliotti – lived on Rue de l'Abreuvoir and is commemorated with a bronze statue in the square.
She sold millions of records, but her life was full of tragedy, and after she lost several lovers and friends to suicide she eventually killed herself with an overdose in 1987 at her house in Montmartre. Dalida is buried in Montmartre cemetery nearby. And she's still a cultural icon in France, with films, documentaries and over 50 biographies written about her.
Carry on walking along picturesque Rue de l'Abreuvoir, which has great views of the white dome of Sacré-Cœur Basilica rising up behind the buildings.
Rue de l'Abreuvoir
With its ivy-covered houses, Rue de l'Abreuvoir is one of Montmartre's prettiest streets. It's though to be one of the oldest streets in Paris too, dating from the 14th century. Though the name (from the French for a watering trough used by livestock) came much later.
At the top of the street is La Maison Rose, a candy pink café and restaurant. It was once the home of Catalan painter Ramon Pichot, who turned it into a restaurant which hosted his friends Salvador Dali and Picasso. It was also painted by artist Maurice Utrillo. Today it's a favourite for Instagrammers and a filming location for TV series Emily in Paris.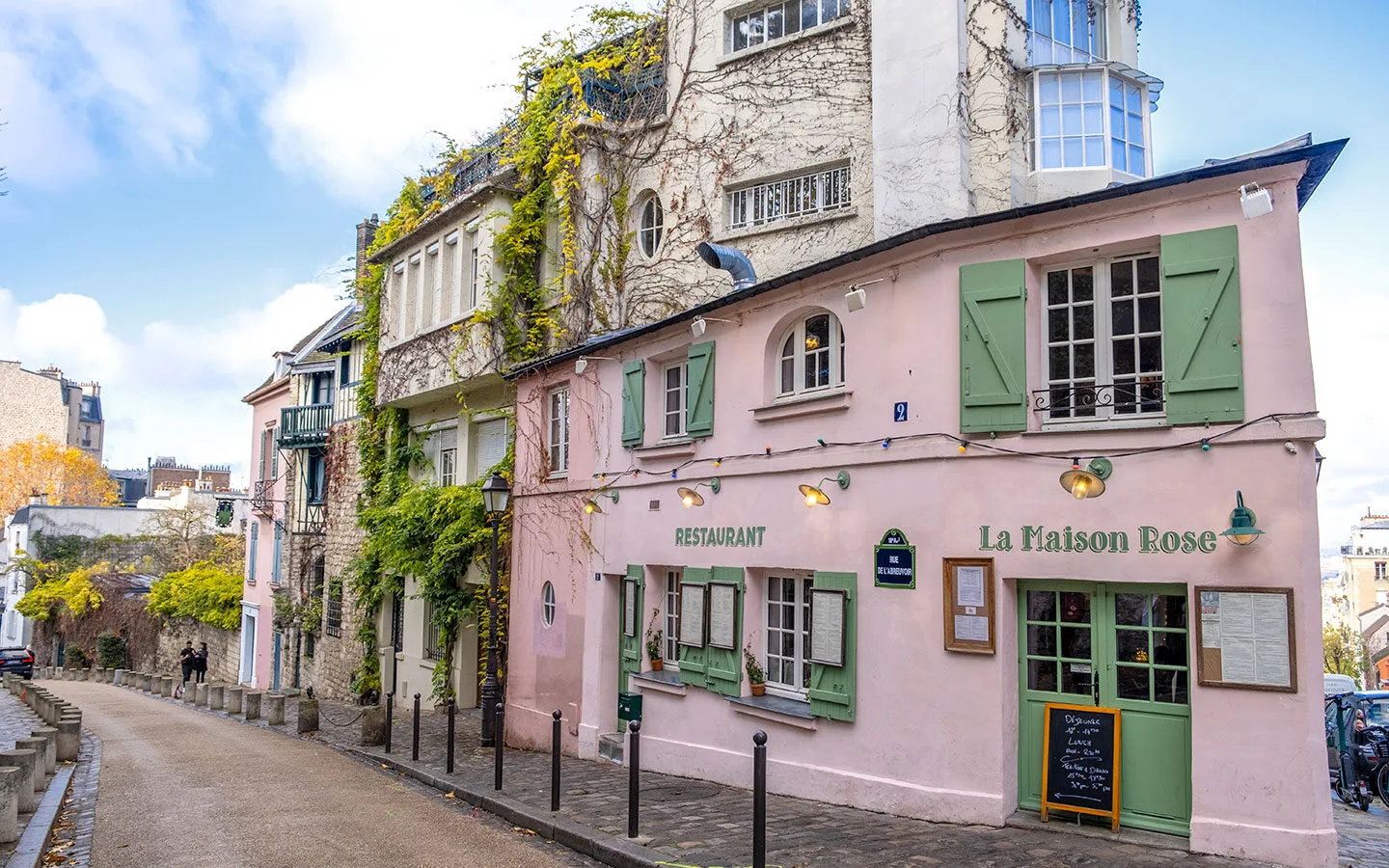 Once you reach the end of Rue de l'Abreuvoir, turn left and take a short diversion down Rue des Saules to see Paris' last remaining vineyard.
Clos Montmartre
Vines have been grown in Montmartre since the Romans, who built a temple here dedicated to Bacchus, the god of wine. Most of the vineyards were sold off for development over the years, but 1500m² of vines were saved by a group of artists in the 1930s.
The Clos Montmartre vineyard produces 1500 half-litre bottles of wine each year, which are auctioned off for charity. They're not France's finest wine, but get snapped up for the novelty value. You can visit the vineyard during the Fête des Vendanges, a five-day celebration of French food and wine each October with stalls, parades and fireworks.
Just past the vineyard you'll see the orange building of the Lapin Agile. This has been a cabaret since the mid-19th century and got its name from their speciality sautéed rabbit. Past regulars included local artists Picasso, Modigliani and Utrillo.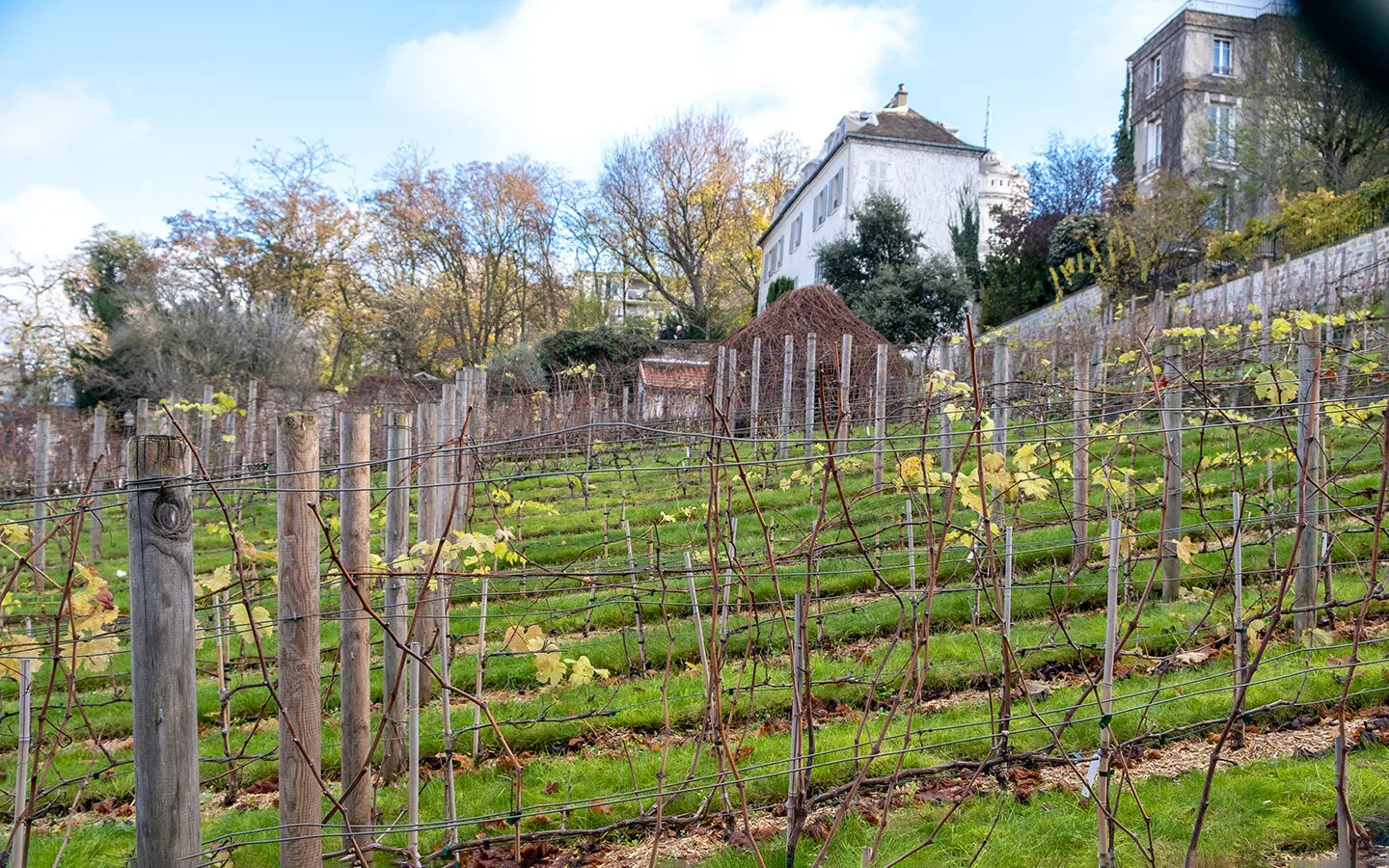 Backtrack to La Maison Rouge, where you can turn left into Rue Cortot to visit the Musée de Montmartre* if you want to find out more about the area's history. Otherwise head south down Rue des Saules and left along Rue Norvins past the pretty Le Consultat café – another Montmartre Instagram hotspot – to the Place du Tertre.
Place du Tertre
The Place du Tertre was once the centre of Montmartre village, located on the site of an old Benedictine Abbey. Singers, musicians and artists would gather there, and it's still one of the city's artistic hubs. You can wander around and watch the artists in action painting a mix of Parisian street scenes, portraits, caricatures and silhouettes.
Competition for a pitch in the square is so fierce that there's a 10-year waiting list. Each artist only gets a tiny one-square-metre space to work in, and you don't even get it to yourself – each spot is shared between two different artists who use it on alternate days. It's a good spot for people watching, with café terraces all around the square.
Leaving the Place du Tetre behind you, take the Rue du Mont Cernis then turn left into Rue Azais and follow it along the edge of the park to Sacré-Cœur Basilica.
Sacré-Cœur Basilica
Sacré-Cœur was built between 1876 and 1912 to honour the victims of the Franco-Prussian war, using travertine limestone that's designed to get whiter as it ages. It's a real mix of architectural styles which was a bit controversial at the time – some people described it like a gaudy giant wedding cake – but it's grown on Parisians as time's gone by.
The steps outside the front of Sacré-Cœur are one of Paris' best viewpoints, with the city stretching out in front of you. You can climb up 300 spiralling stairs to the top of the basilica's tower for an even higher view. There also a huge golden mosaic of 'Christ in Majesty' behind the alter inside, and a crypt which allegedly contains Christ's heart.
Walk down the steep lawned area in front of Sacré-Cœur, which is packed full of sunbathers, picnickers and street performers on sunny days. Then turn right at the bottom of the hill into Rue Tardieu and go straight on to Abbesses Métro station.
Mur des je t'aime
Finish your self-guided walking tour of Montmartre at the Le mur des je t'aime (Wall of Love) in Square Jehan Rictus, just behind the entrance to Abbesses Métro station. The wall is made up of 612 tiles which say 'I love you' in 250 different languages. It's a favourite selfie spot for loved-up couples, honeymooners and wedding photoshoots.
From there you can catch the Métro Line 12 on around Paris. Or find a café or bar to finish off your walk with a drink – GCD Montmartre is a good wine bar on Rue Durantin or Marlusse et Lapin on Rue Germain Pilon is a quirky cocktail bar.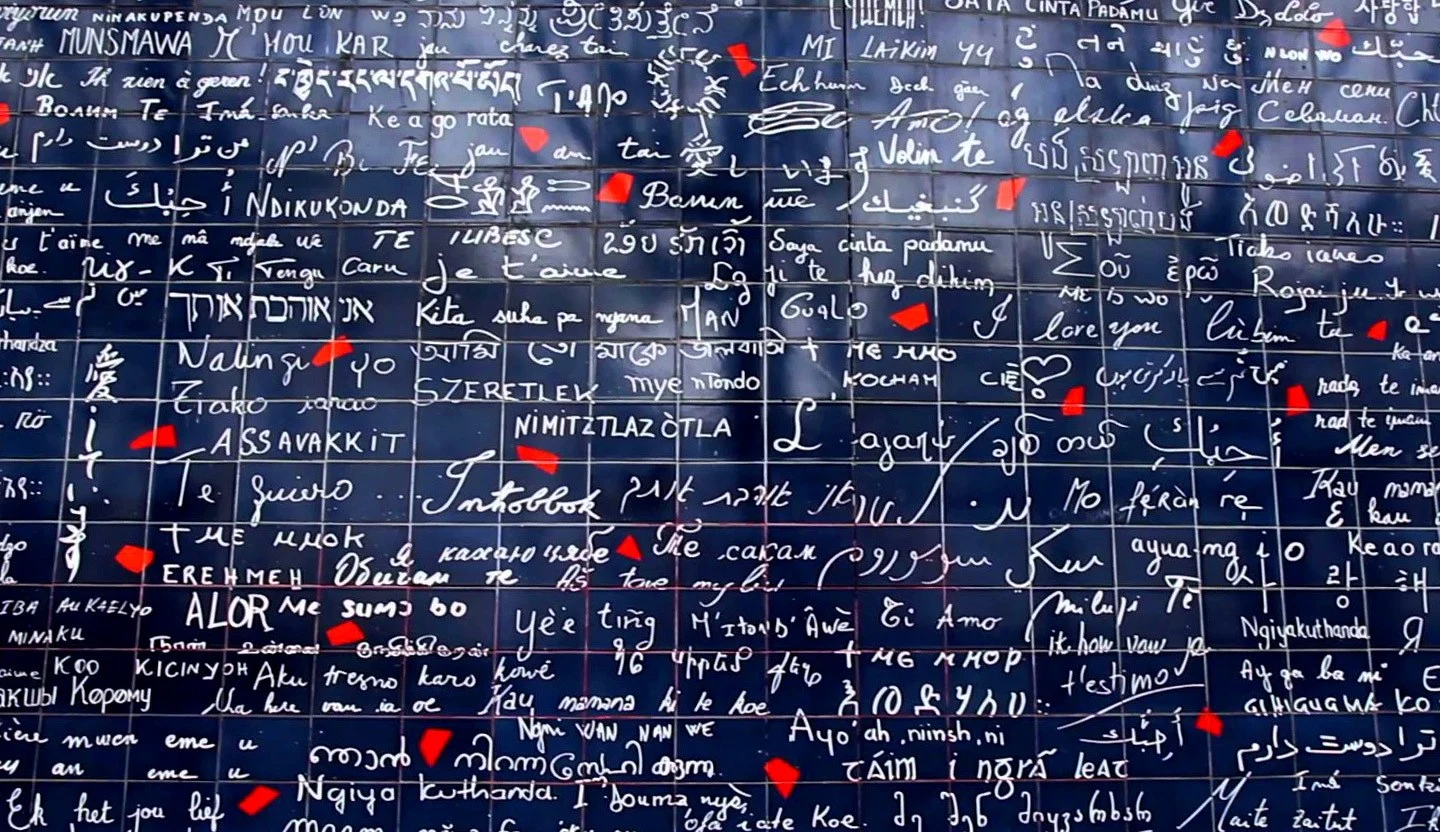 Self-guided Montmartre walking tour map
If you'd like to do this Montmartre walk yourself, click on the map below to access directions through Google maps. The route is just over 2.5km (1.6 miles) and takes 35 minutes to walk straight through, but allow a couple of hours to include stops.
It's not a particularly challenging walk, though there are hilly sections, and Montmartre has some cobbled streets so trainers or walking shoes are a good idea.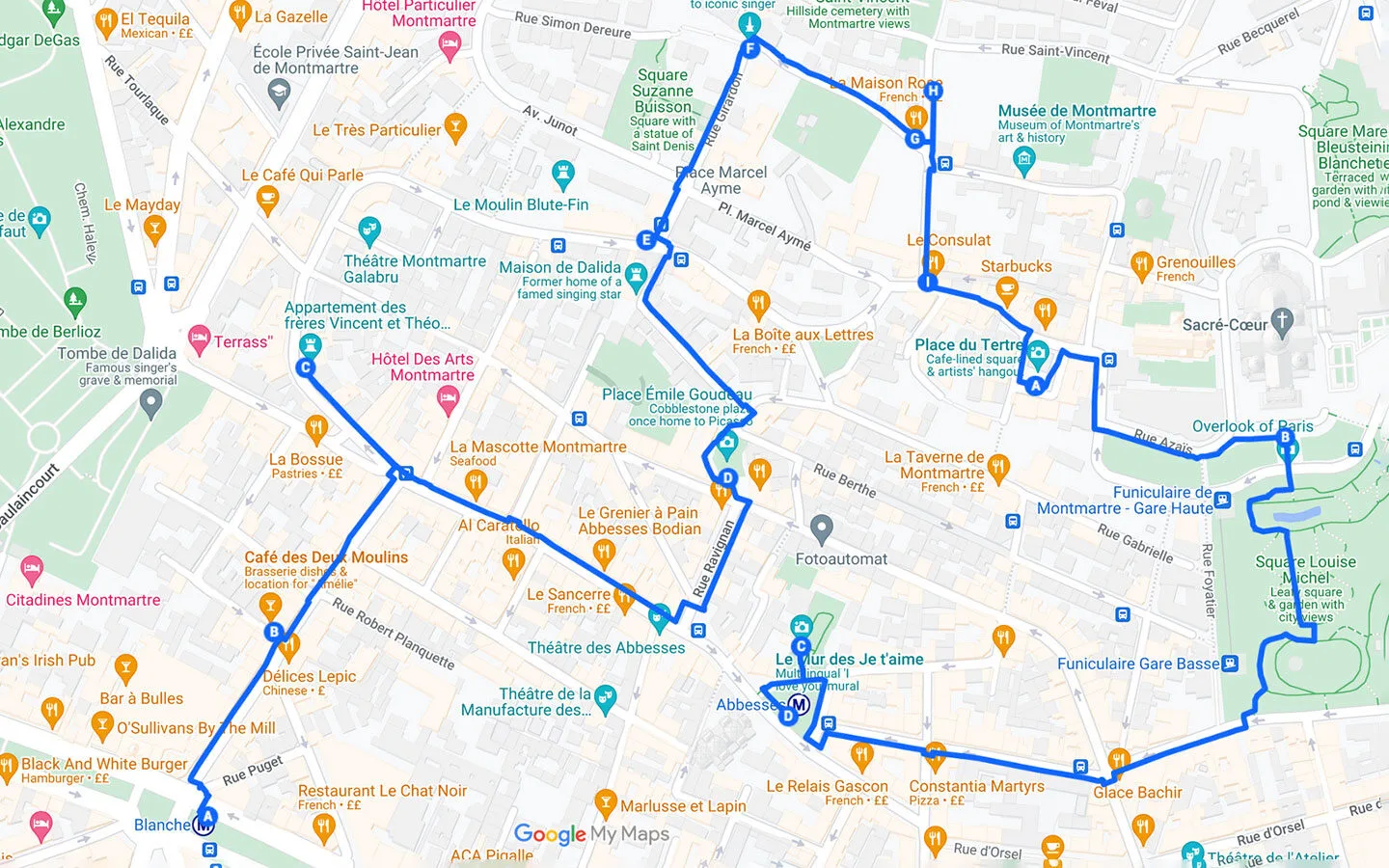 Save for later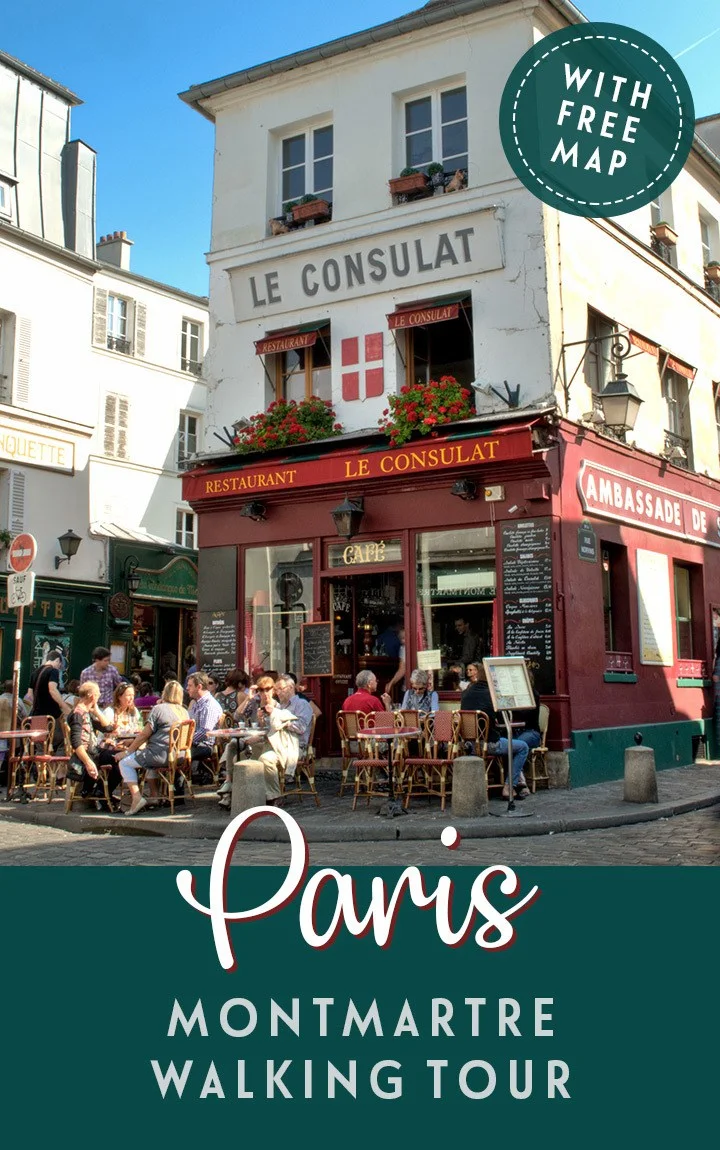 You might also like