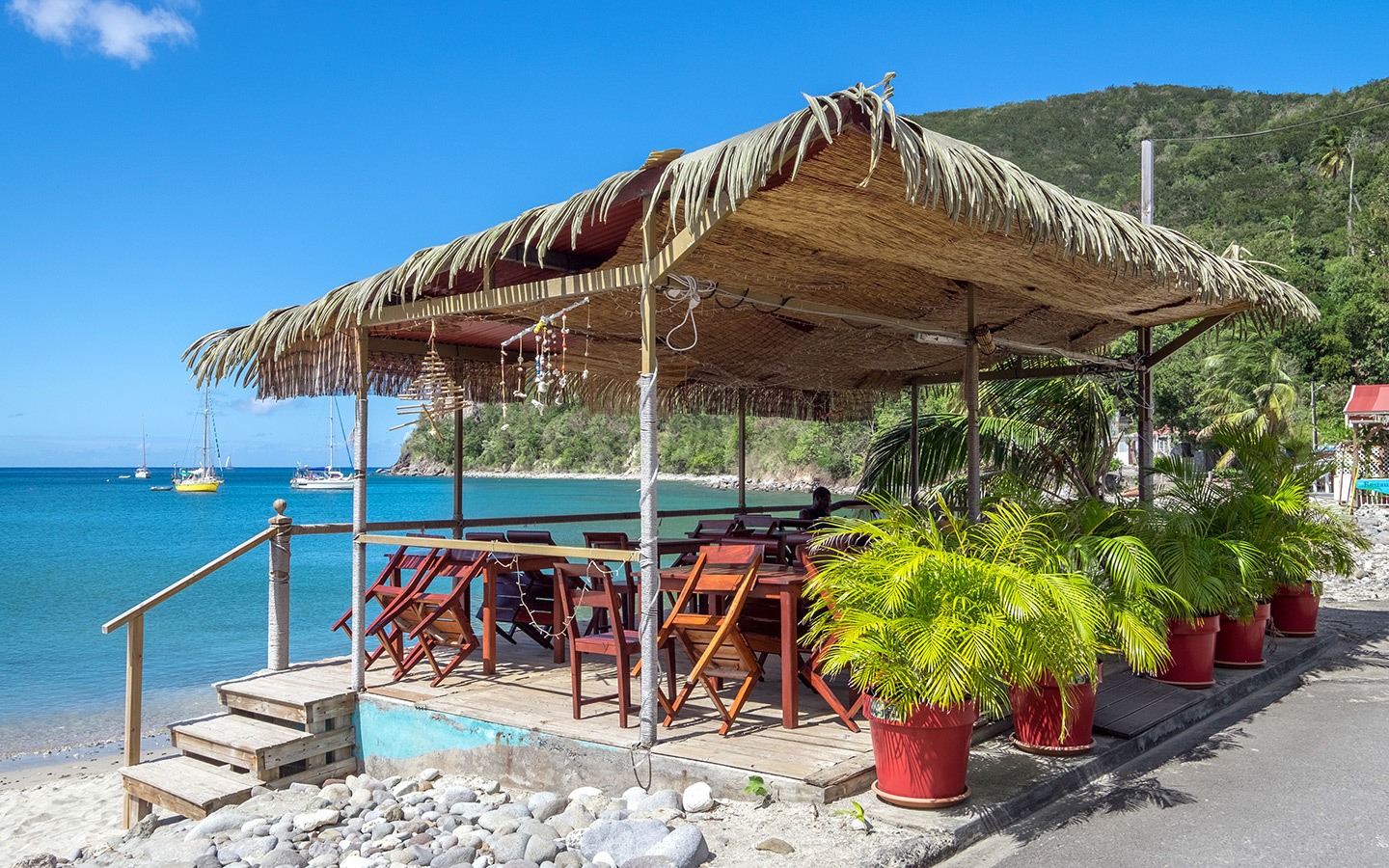 Outside the rain's lashing down, the wind's blowing a gale and the temperature is well below freezing. So you turn on the TV to be greeted with sunny skies, sandy beaches, palm trees and colourful streets (plus a dead body, but we'll skate over that bit). On air during the worst of the British winter, it's no wonder the BBC TV series Death in Paradise has become so popular and is now into its seventh series. Yep this series about a slightly bumbling British detective solving murders on a Caribbean island might be a bit formulaic and you do have to wonder how many people can possibly be knocked off on one tiny island. But when it's cold and grey outside, the show is like a dose of virtual sunshine beaming into your living room.
Read more: Guadeloupe: Where France meets the Caribbean
Where is Death in Paradise filmed?
The series is set on the Caribbean island of Saint-Marie, which supposedly lies just off the coast of Guadeloupe. But you'll have trouble tracking it down on any map. Saint-Marie is just a figment of the writers' imagination, but those gorgeous locations you see on screen do exist, and in reality most of them are found on Guadeloupe's Basse-Terre island. Death in Paradise is what first introduced me to Guadeloupe, so I couldn't resist tracking down some of its filming locations when I visited the island. Would everything be as picture-perfect as it looks on screen or is there any TV trickery? And would we make it out alive?
Where are the Death in Paradise locations?
On the north-west coast of Basse-Terre, Deshaies is the epicentre of all things Death in Paradise in Guadeloupe. It features as Honoré, the capital of Saint-Marie, and is also where the cast and crew are based when they film in Guadeloupe for six months each year (how do I apply for that job?). It's the pretty town you see in all the aerial shots on the show, with rows of buildings and a red-roofed church set around a semicircular bay full of boats. In real life it's a fairly sleepy fishing port with a waterfront row of bars and restaurants that's a favourite stop for yachties – and definitely not a hotbed of crime.
One thing I found when I started looking at the series' locations is just how many are in and around Deshaies. As well as the main locations it crops up as the harbour where people arrive or leave the island, it's in a lot of background street scenes, and practically every swanky rental villa in the area has had at least one murder. The location team have done a very clever job in making one small stretch of coast look like a whole island worth of different locations. Which is good news if you want to explore it yourself – their concentration around Deshaies makes it really easy to do your own DIY Death in Paradise location tour.
Honoré police station
Our first stop had to be the show's most important location – Honoré's police station. It's right next to Deshaies church in the centre of town, so it's really easy to find. In real life the police incident room is Deshaies' priest's office, and the church hall next door is used for the cells. It was closed up and deserted when we visited so no chance of having a peek inside, but other than the Honoré police sign being missing, it looked just like it does on screen – right down to the chickens pecking around outside.
Out front there's a car park which is where they park the police jeeps, and it's also been used for a street market in a few episodes. One thing you don't see on screen though is a cemetery – and they'd clearly need a huge one with that murder rate (though a disproportionate number of victims are Brits, so maybe they all get sent home?). There's actually a big cemetery on a hill on the edge of Deshaies but it's usually excluded from the filming, though you can sometimes spot it slightly out of focus in the background.
Catherine's bar(s)
Another series regular location is Catherine's bar (owned by Catherine Bordey – mayor of Saint-Marie and mother of original detective Camille Borday). It's pretty much compulsory for each episode feature at least one drinking session in the bar, either mid-case when there's a tricky problem to solve or to celebrate solving the murder (no one ever gets away with it!). We found the beachside terrace used in the show (shown in the top photo above) at the northern end of the bay, outside a restaurant called Le Madras.
Le Madras was closed for the day so we didn't get our beachside beer or to have a look inside, but I did find a very tasty pina colada at another Deshaies bar with a Death in Paradise connection. In the first series, they used a different, bigger bar as Catherine's bar. This one's called La Kaz and is just south along the waterfront from Le Madras. Apparently filming there used to block the street and hold up traffic so they had to move, but there are few photos on the wall showing scenes from when they used to film in there.
The beach hut
If there was one place on Death in Paradise that sold me on visiting Guadeloupe, it has to be the beach where the detective lives in a perfectly rustic beach hut right on the sand. It's filmed on Anse de la Perle beach, three miles north of Deshaies. In reality there are a few beach bars at one end and a little road along the back of the beach so it's not quite as remote as it looks, but it's still every bit as gorgeous.
The actual beach hut gets dismantled between filming because a lot of the sand on the beach gets washed away in winter storms. But you can still see the concrete foundations down one end of the beach. One thing we've spotted too after watching the show again is how many times this beach is used for other scenes. There are a couple of islands off-shore  – one fairly big (called Kahouanne – which was used as a private island in an episode from the third series) and one tiny. Once you know they're there you can spot them in the background in loads of scenes which supposedly take place in different locations!
The Botanic Gardens
About a mile south of town, Deshaies Botanic Gardens are a colourful riot of tropical plant, flamingos and parrots – and as you probably guessed there's been a murder there too. Not just any old murder either – this is where the show's first detective Richard Poole (played by Ben Miller) came to a sticky end with an ice pick. Filming was done in a private villa inside the gardens, with its own swimming pool and amazing views along the coast from the terrace. You can see the villa from the gardens but if you want to get any closer than that you'll have to hire it out – it sleeps 10 and costs a not-too-eye-watering €2000 for a week.
The hotel
From the far end of Anse de la Perle beach, you can see this big white building in the next bay that looks like a pile of sugar cubes. This is the Langley Fort Royal hotel, where most of the cast and crew stay during filming. You don't need to be staying there to go and have a drink in the bar and a nose around though. In another bit of inspired recycling, the hotel, bar and beach in front have appeared in lots of different episodes – including one where a bride was shot with a speargun and fell from a hotel balcony in series one.
With Death in Paradise being so popular – especially in the UK, but it's also shown in the US, Canada and Australia – I was surprised how little was made of it in Guadeloupe. We spotted a couple of other people taking photos of the police station in Deshaies, but most visitors are French and have probably never heard of the show. So there's no real tourism around it – no location tours, no signs or tacky souvenirs – which makes it feel even more like you're discovering the real Saint-Marie, and living to tell the tale.
Death in Paradise location map

Click on the map below for a custom Google Map with all the Death in Paradise locations marked.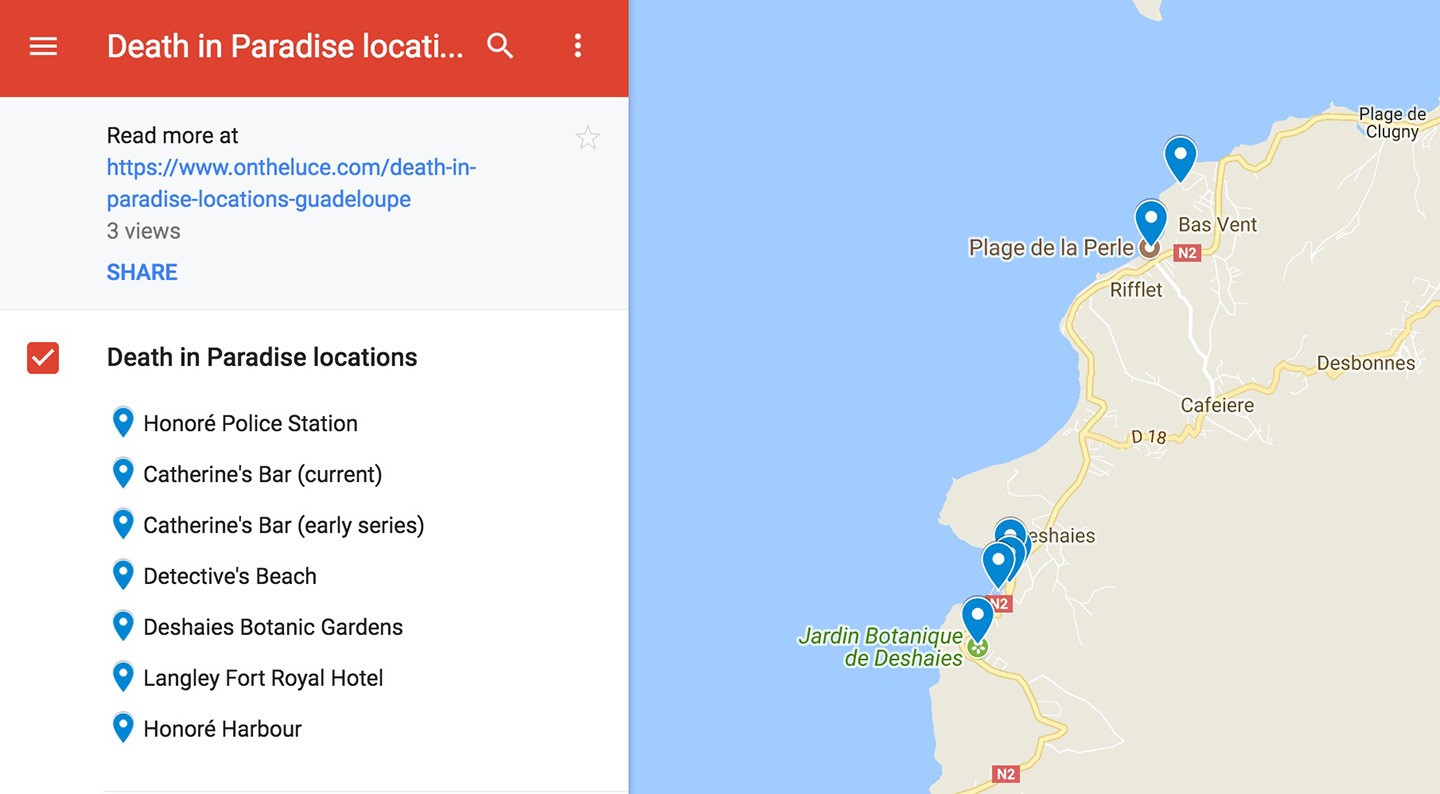 Pin it