Where is TV series Death in Paradise filmed? Discover the real-life Saint Marie island on a tour of Death in Paradise locations around Deshaies on the island of Guadeloupe in the French Caribbean.
* This site contains affiliate links, where I get a small commission from purchases at no extra cost to you.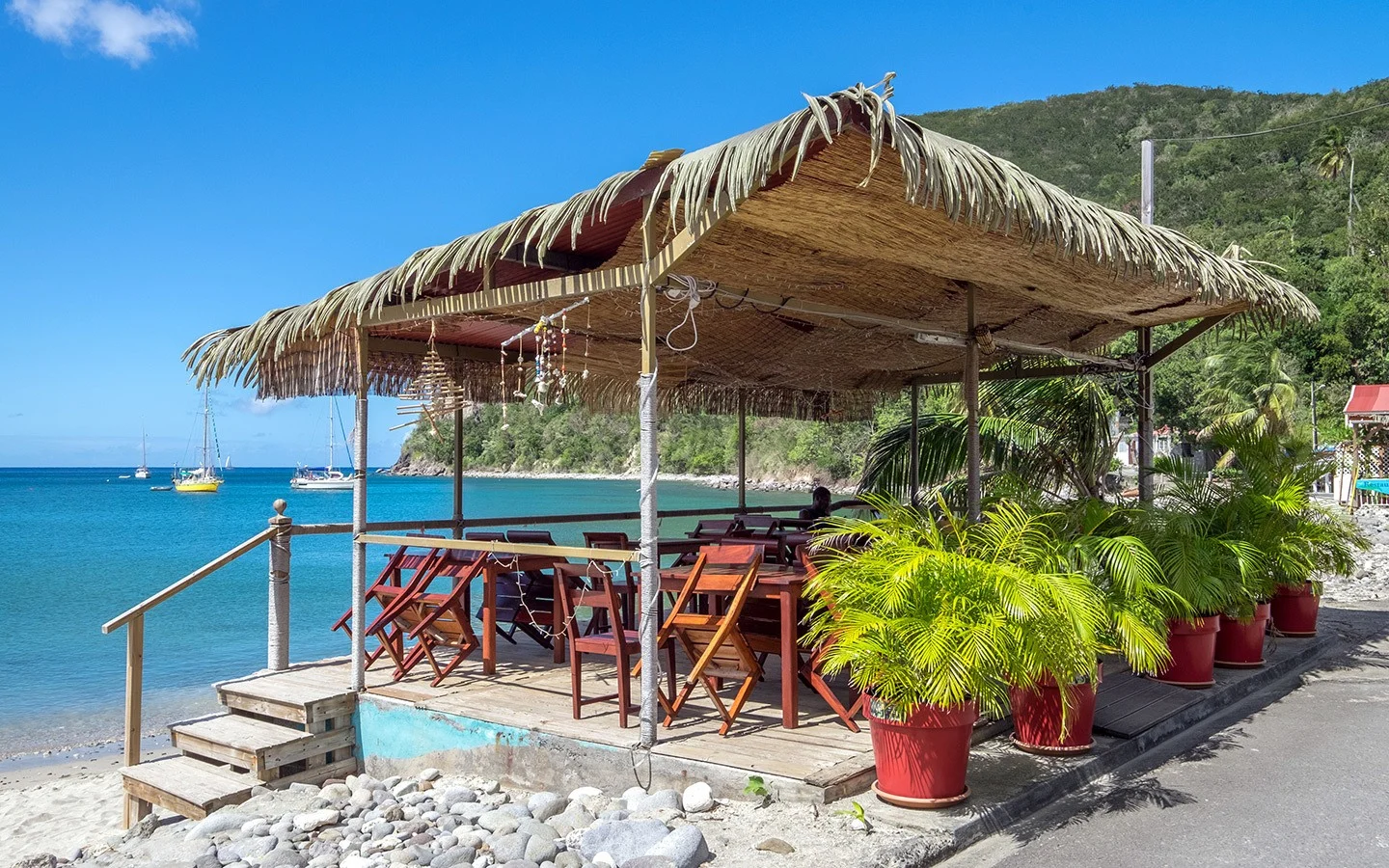 Outside the rain's lashing down, the wind's blowing a gale and the temperature is well below freezing. So you turn on the TV to be greeted with sunny skies, sandy beaches, palm trees and colourful streets (plus a dead body or two, but we'll skate over that bit).
On air during the worst of the British winter, it's no wonder the BBC TV series Death in Paradise has become so popular, with its 13th series hitting UK TV screens in 2024.
Yes this series about a slightly bumbling British detective solving murders on a Caribbean island might be a little bit formulaic – and you do have to wonder how many people can possibly be knocked off on one tiny island. But when it's cold and grey outside, Death in Paradise is like a dose of virtual sunshine being beamed into your living room.
Death in Paradise filming locations
Where is Death in Paradise filmed?
The series is set on the Caribbean island of Saint Marie, which supposedly lies just off the coast of Guadeloupe. But you'll have trouble tracking it down on any map. Saint Marie island is a figment of the writers' imagination, but the gorgeous locations you see on screen do exist, and in reality most of them are found on Guadeloupe's Basse-Terre island.
Death in Paradise is what first introduced me to Guadeloupe, so I couldn't resist tracking down some of its filming locations when I visited the island. But would everything be as picture-perfect as it looks on screen or is there any TV trickery at work?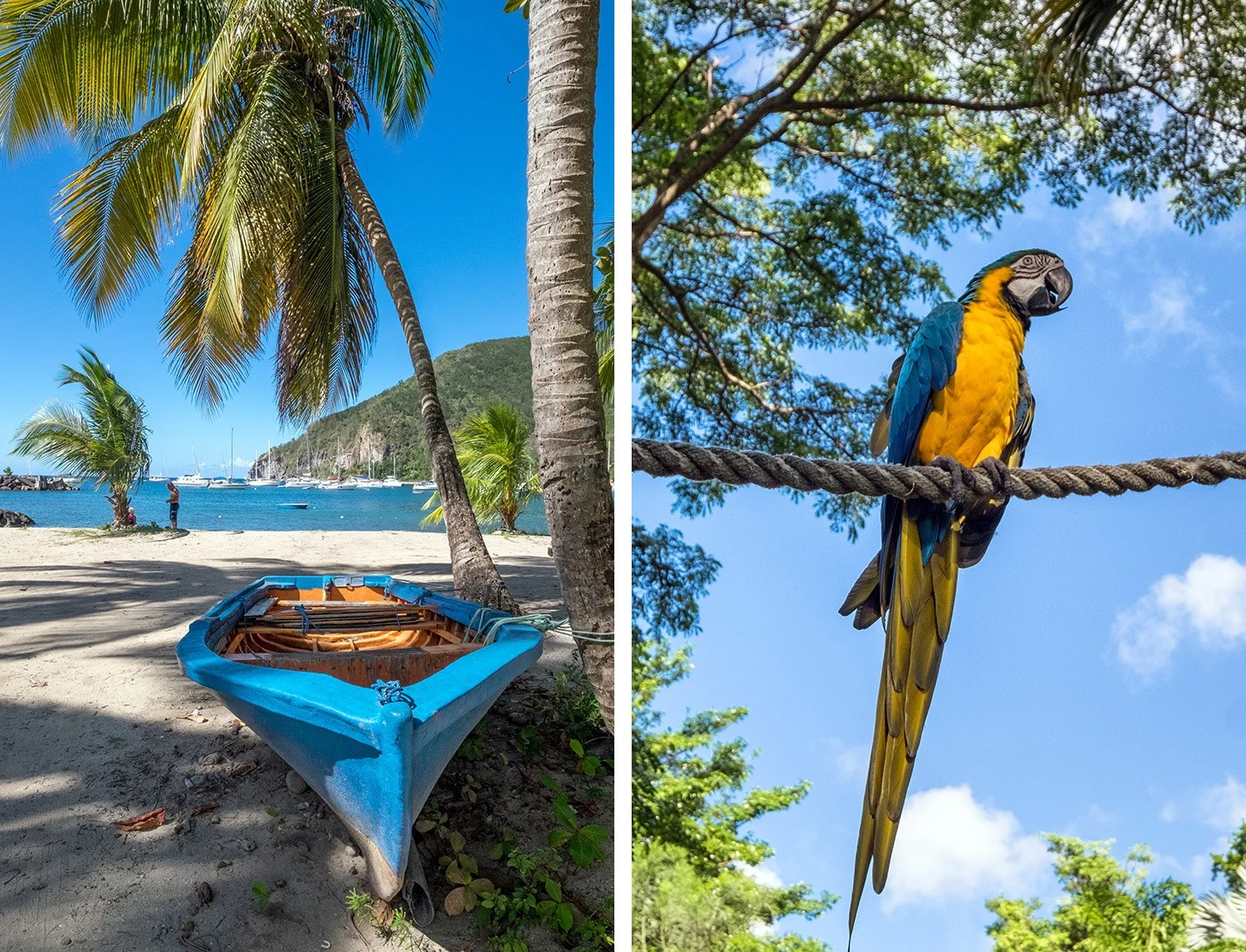 Where are the Death in Paradise locations?
On the north-west coast of Basse-Terre, Deshaies is the epicentre of all things Death in Paradise in Guadeloupe. In the show it's Honoré, capital of Saint Marie, and is where the cast and crew are based when they film in Guadeloupe for six months each year.
Deshaies is the pretty town you see in the aerial shots, with a red-roofed church and colourful buildings set around a semi-circular bay surrounded by jungle-covered hills. In real life, it's a fairly sleepy fishing port with waterfront bars and restaurants that are a favourite stop for yachties sailing the Caribbean – and definitely not a hotbed of crime.
One thing I discovered when I started looking for Death in Paradise locations is just how many of them are in and around Deshaies. As well as the main filming sites, it also crops up as the harbour where people arrive or leave the island, it's in a lot of background street scenes, and practically every posh rental villa in the area has had one murder in it.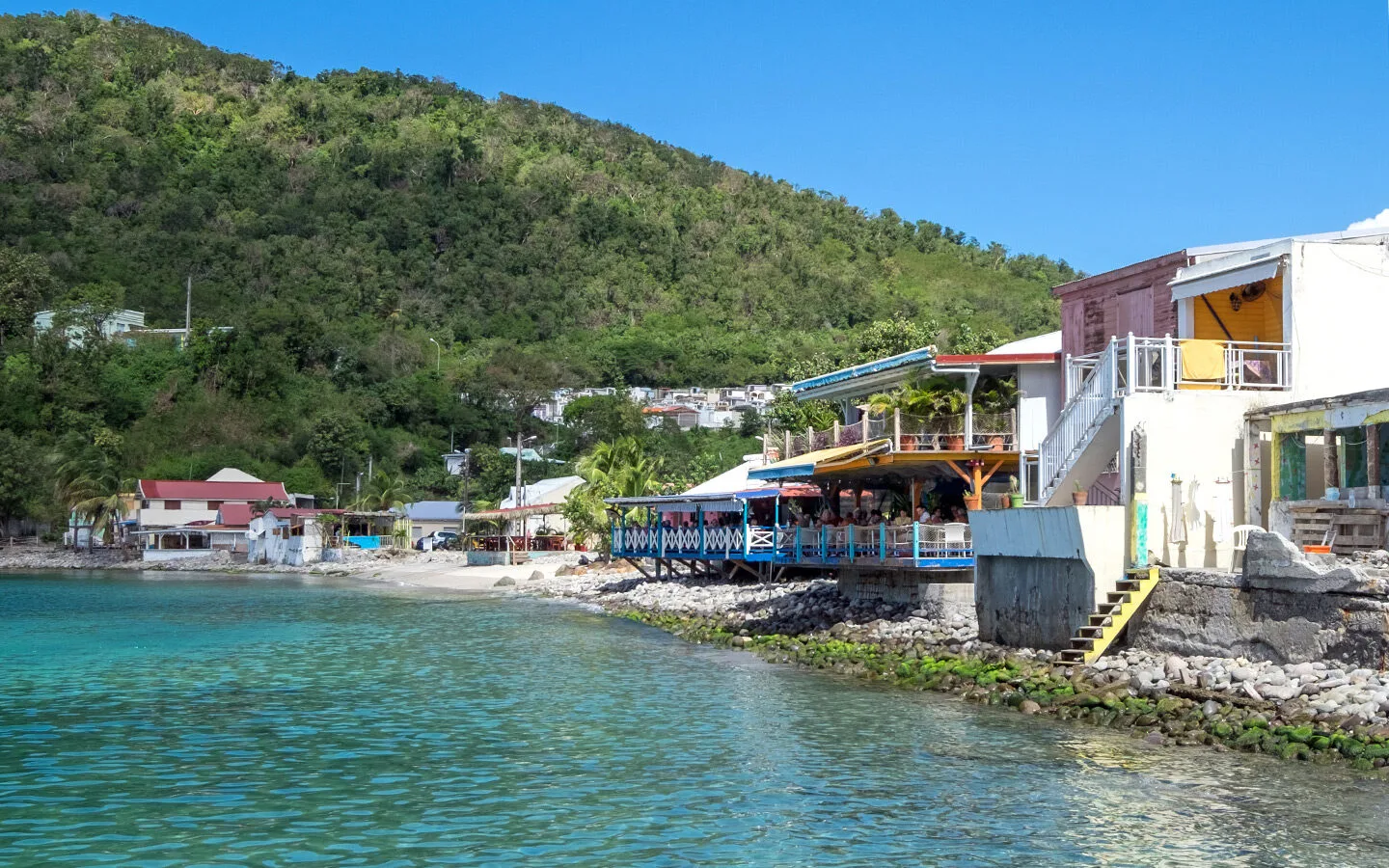 Death in Paradise filming locations around Deshaies
The show's location team have done a clever job in making a small stretch of coast in the north-western corner of Guadeloupe look like a whole island worth of different locations. Which is good news if you want to explore them yourself, as their concentration around Deshaies makes it easy to do a do-it-yourself Death in Paradise location tour.
Here's where to find the main Death in Paradise filming locations – from the detective's beach hut and Catherine's bar to the sites of some of the most iconic murders.
If you're short on time or don't have a car, you can spend the day in Deshaies (reachable by taxi or bus from the island's capital Pointe-à-Pitre) and explore the main locations on foot. But if you want to see further afield, there are a couple of guided tours available though Karukra Experiences and Low-Key Tours*, or you could hire a car and driver.
Honoré police station
One of the show's most important locations is Honoré police station. It's located next to Deshaies church in the centre of town, so is really easy to find. In real life, the police incident room was Deshaies' priest's office and the cells next door were the church hall.
If you're visiting outside of the filming season (normally May to October), the police station is a small museum which is set up as it is in the show. You can see the Honoré Police sign, sit at the detective's desk and buy a few souvenirs. Out front there's a car park where they park the police jeeps, which has been used for a street market in a few episodes.
One thing you don't see on screen though is a cemetery – and they'd clearly need one with that murder rate. There's actually a big cemetery on a hill overlooking Deshaies but it's usually edited out of filming, though you can sometimes spot it in the background.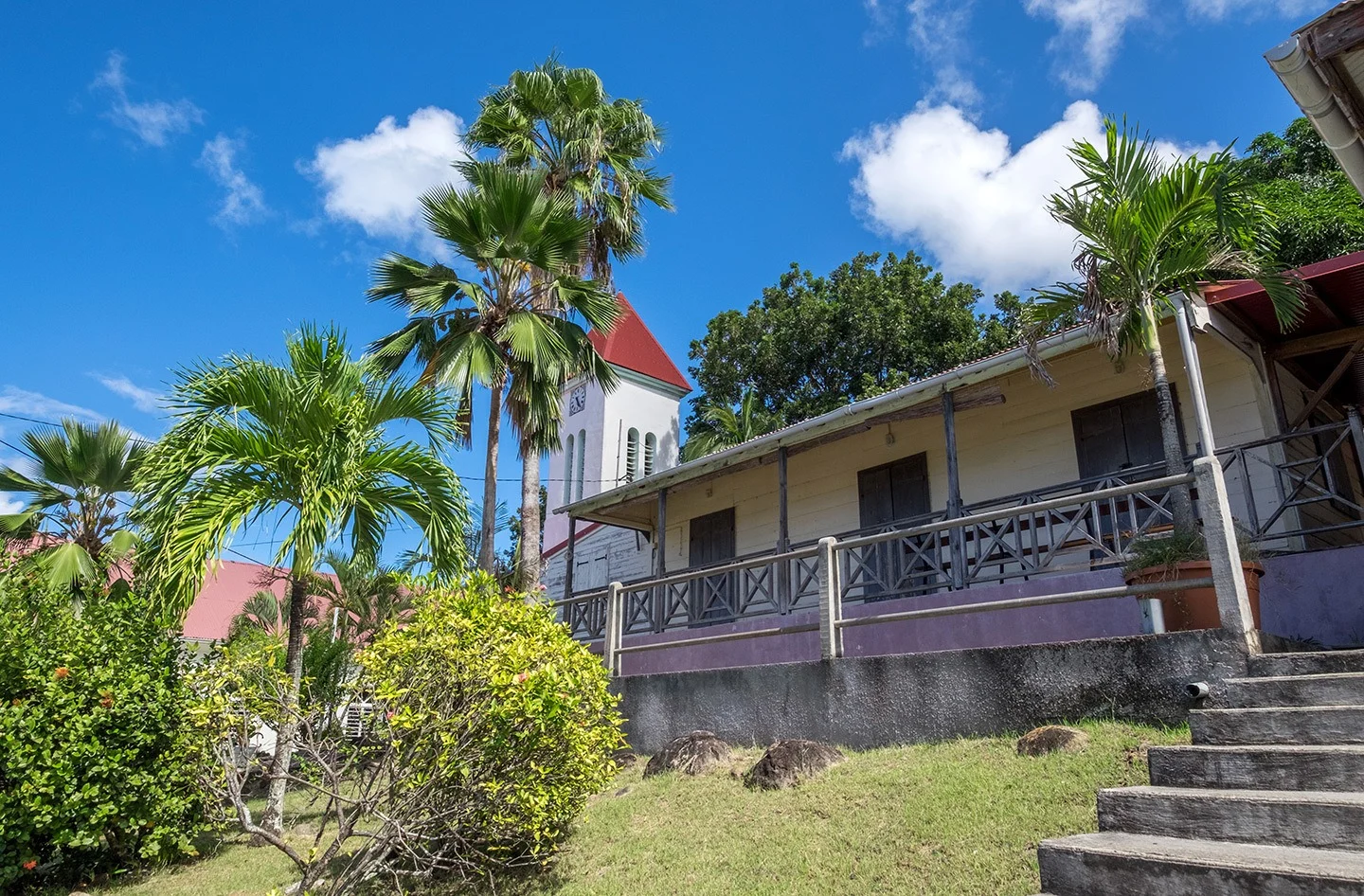 Catherine's bar(s)
Another regular location is Catherine's bar (owned by Catherine Bordey – mayor of Saint Marie island and mother of original detective Camille Borday). It's compulsory for each episode feature at least one drinking session in the bar, either mid-case when there's a tricky problem to solve or to celebrate solving the murder (no one gets away with it!).
We found the beachside terrace used in the show (shown in the photo at the top of the post) at the northern end of the bay, just outside a restaurant called Le Madras. Le Madras was closed for the day so we didn't get to have our beachside beer or look inside, but I did find a very tasty pina colada at another Deshaies bar with a Death in Paradise connection.
In the first series, a different, bigger bar was used as Catherine's bar. This one is called La Kaz and is just south along the waterfront from Le Madras. Apparently filming used to block the street and hold up traffic so they had to move, but there are few photos hanging on the walls which show scenes from the show back when they used to film in there.
Honoré church
Its location next to the police station means that Deshaies church often featured in passing shots, but it took until series 10 until it finally got its own starring role on screen. In episode five, a concert pianist is murdered and his funeral is held in the church. And it also featured in the 2022 Christmas special as the venue for a school Christmas carol concert.
In real life it's the Catholic Church of St Peter and St Paul, and is often used by local residents for services. Building work was started in 1840 but a misunderstanding between the parishioners and the bishop meant it took until 1947 for it to be finished. You can go inside to take a look around, or attend mass (in French) to listen to the singing.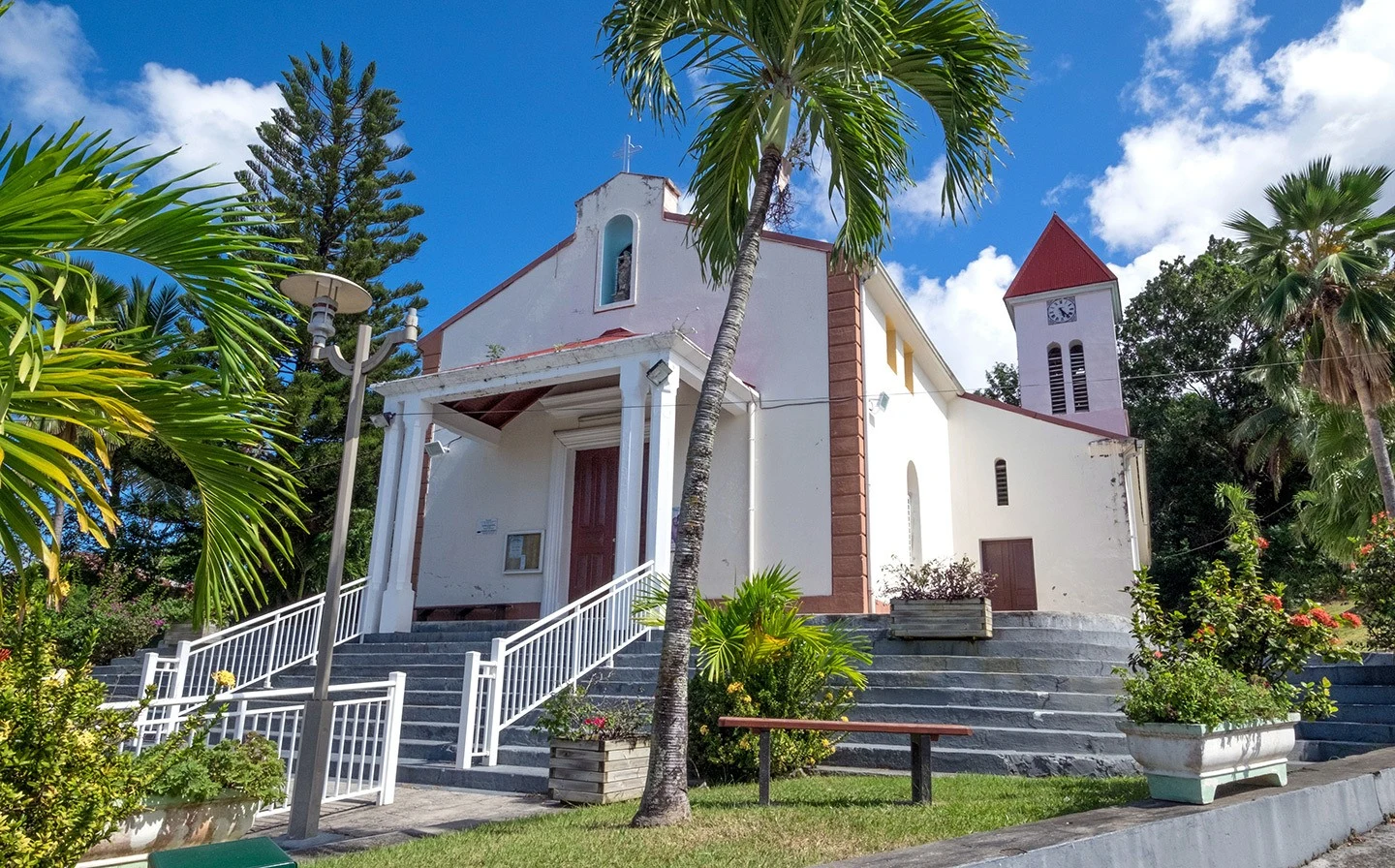 The beach hut
If there was one location in Death in Paradise that sold me on visiting Guadeloupe, it has to be the beach where the detective lives in a perfectly rustic beach hut right on the sand. This picture-perfect spot is found at Anse de la Perle beach, three miles north of Deshaies.
In reality there are a few bars at one end of the beach and a little road behind the sand so it's not quite as remote as it looks on TV, but it's every bit as gorgeous. The actual beach hut gets dismantled between filming because a lot of the sand on the beach gets washed away in winter storms. But off season you can sometimes see foundations at one end of the beach.
One thing I spotted too after watching the show again is how many times this beach is used for other scenes. There are a couple of islands off-shore – a fairly big one (called Kahouanne, used as a private island in an episode from the third series) and a smaller one.
Once you know they're there, you can spot them in the background in lots of beach scenes which supposedly take place in different locations around the island!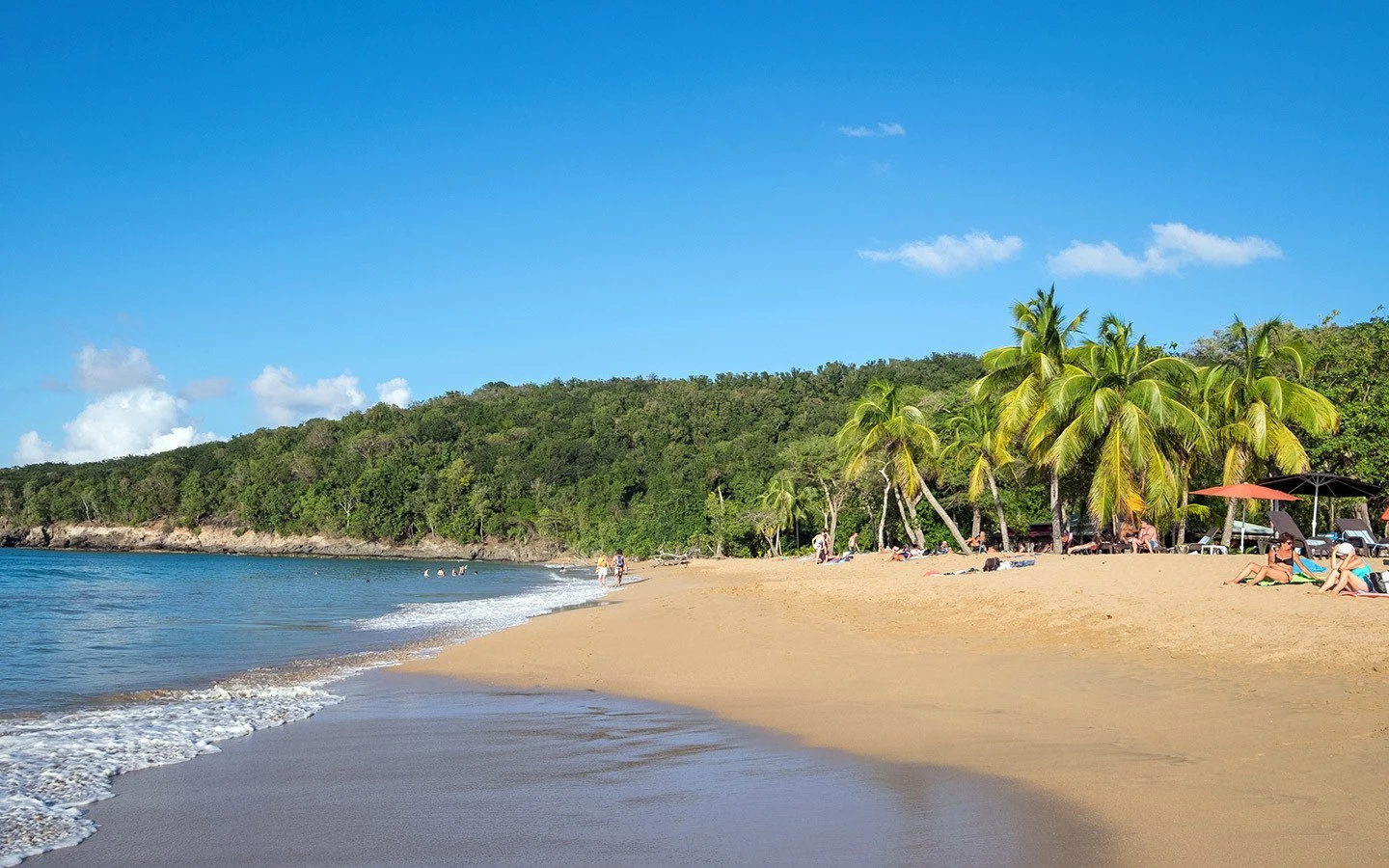 The Botanic Gardens
A mile south of town, Deshaies Botanic Gardens are a colourful riot of tropical flowers, flamingos and parrots – and as you probably guessed there's been a murder too. And not just any old murder either, this is where the show's first detective Richard Poole (played by Ben Miller) came to a sticky end with an ice pick in the first episode of series three.
Filming was done in a private villa inside the gardens, with its own swimming pool and amazing coastal views from the terrace. You can see the villa from the gardens but if you want to get closer you'll have to hire it out – it sleeps 10 and starts from €2000 a week.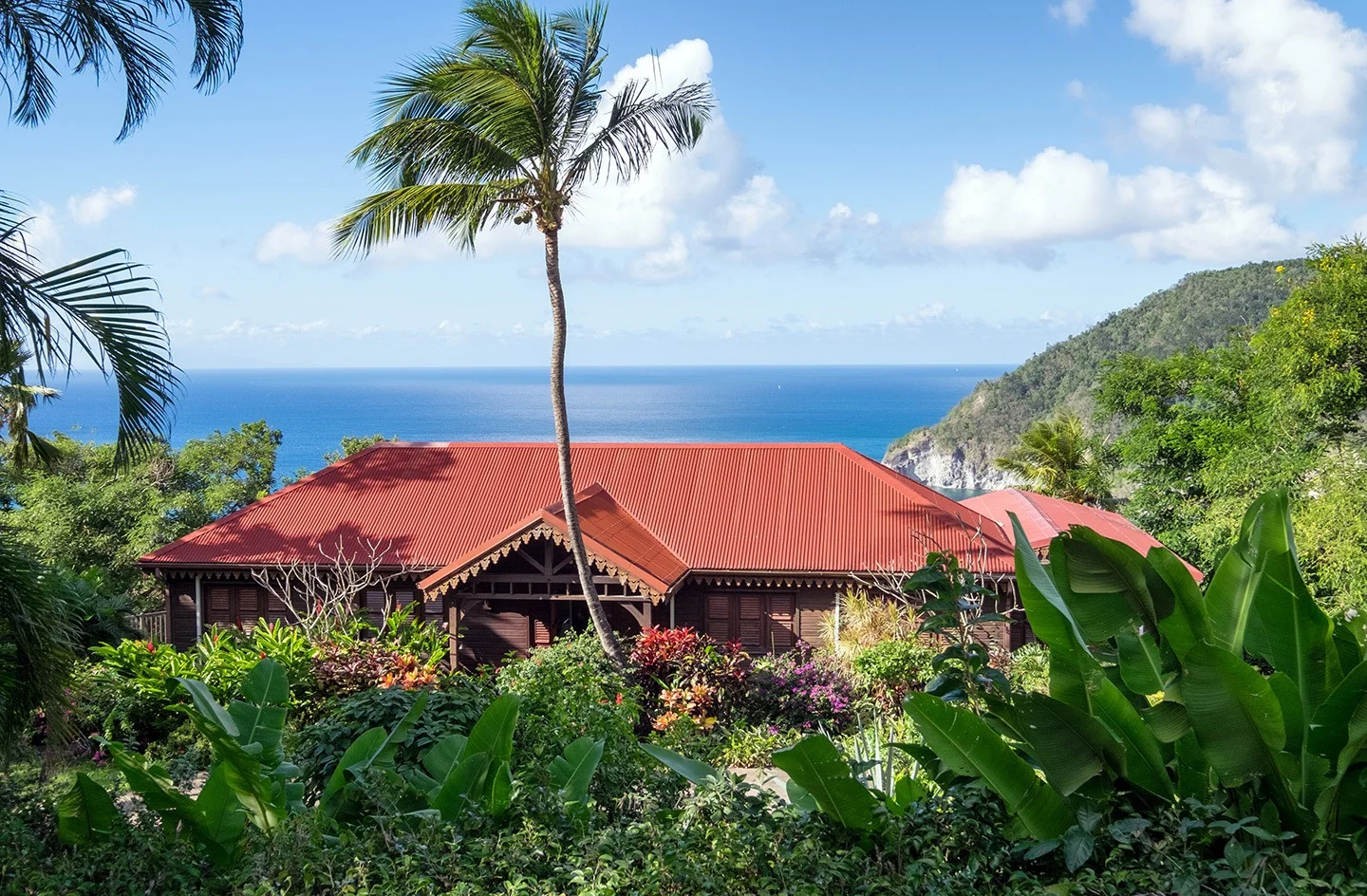 The zoo
Saint Marie Zoo was location for series eight, where a zookeeper was murdered with a tranquiliser gun. In real life it's the Zoo de Guadeloupe au Parc des Mamelles, which is 30 minutes down the coast from Deshaies. The zoo is home to 85 different species from the Caribbean and Guyana, from big cats to tiny reptiles, spread across four acres of jungle.
One of the best parts of the zoo is its treetop walkway, which also featured in the show. A network of wobbly narrow wood and rope bridges runs 50 feet above the ground. You're high up among the thick green tree canopy with great views down to the animal enclosures.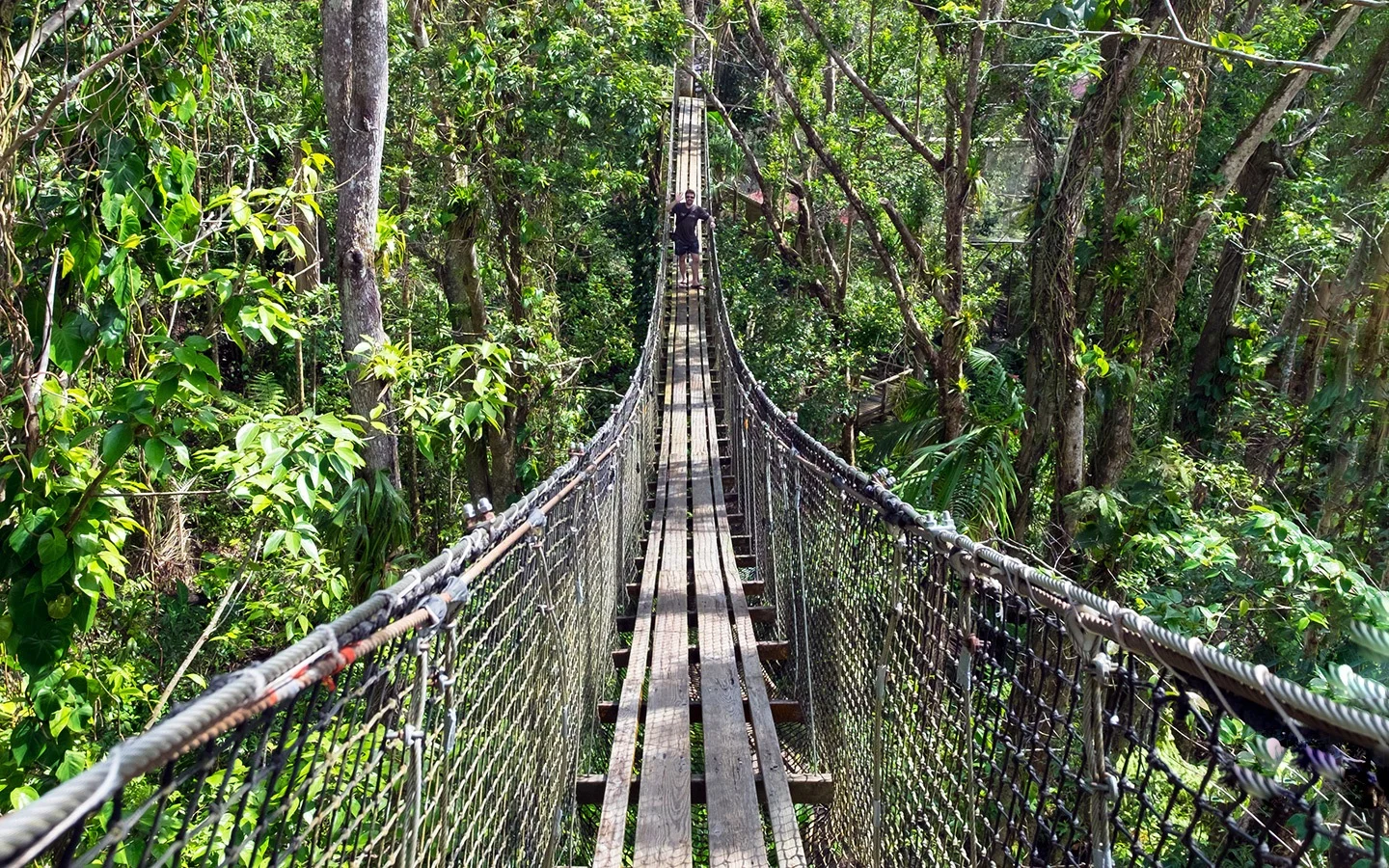 The hotel
From the far end of Anse de la Perle beach, there's a big white building in the next bay that looks a bit like a pile of sugar cubes. This is the Langley Fort Royal* hotel, where most of the cast and crew stay during filming, either in the main hotel or the cute pointed-roofed bungalows. But you don't need to stay there to have a drink in the bar and a look around.
In another bit of inspired recycling, the hotel, bar and beach in front have appeared in many different episodes – including one where a bride was shot with a speargun and fell from a balcony in series one and where TV presenter drowned in series eight.
Death in Paradise in Guadeloupe
With Death in Paradise being so popular – especially in the UK, but it's also shown in the US, Canada and Australia – I was surprised how little was made of it in Guadeloupe. We spotted a fe other people taking photos of the police station in Deshaies, but most visitors to Guadeloupe are French and many of them have never heard of the show.
So there's not a lot of tourism around Death in Paradise and its filming locations in Guadeloupe – other than an occasional cruise tour group – which makes it feel even more like you're discovering the real-life Saint Marie island… and hopefully living to tell the tale.
Death in Paradise location map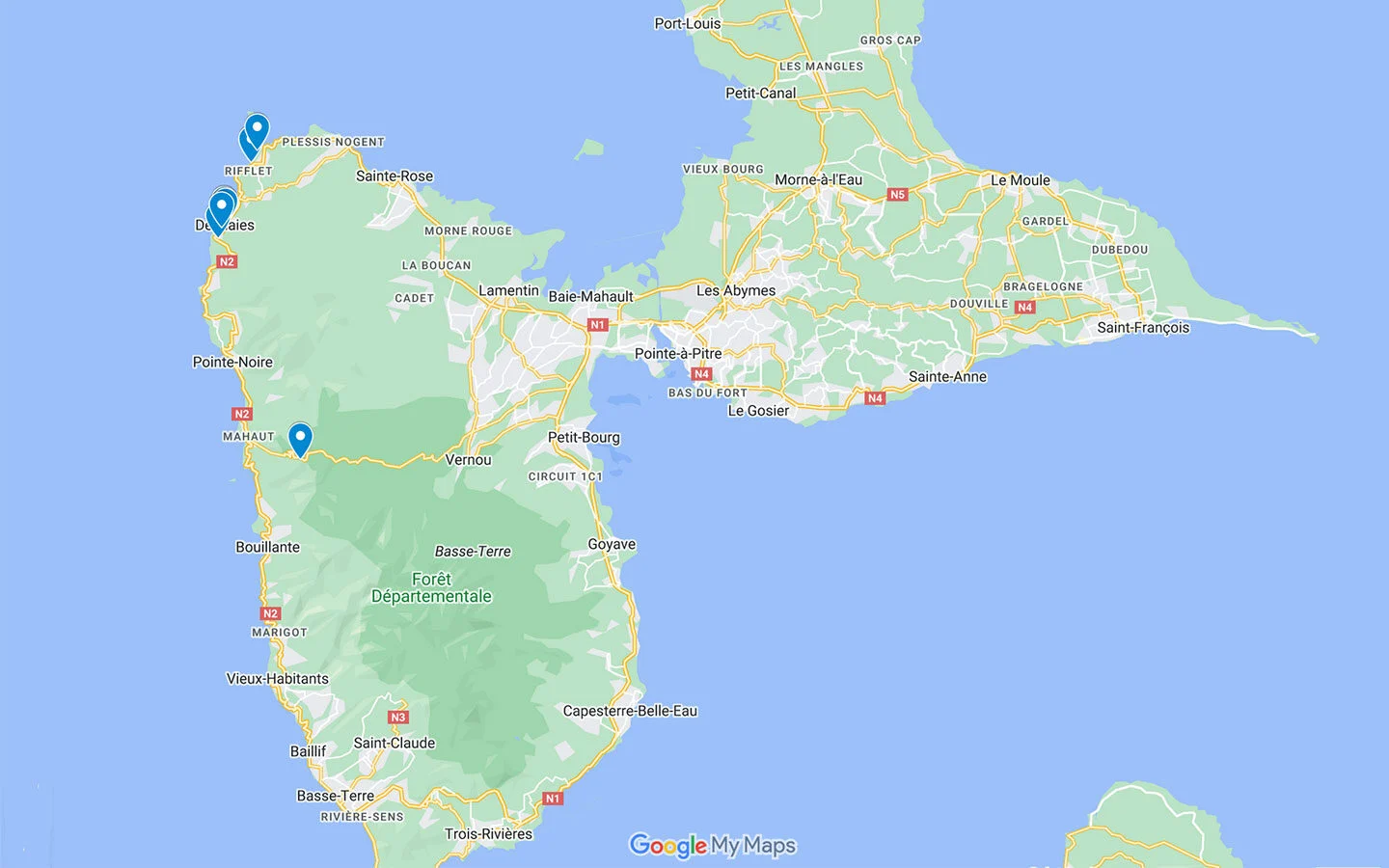 If you're looking for the exact position of any of the Death in Paradise filming locations, here are the longitude and latitude details for each of those mentioned above:
Honoré police station: Church hall 16.30655, -61.79384
Catherine's Bar (current): Le Madras 16.30756, -61.79448
Catherine's Bar (early series): La Kaz 16.3057, -61.79461
Honoré church: Church of St Peter and St Paul 16.3067, -61.79384
Honoré harbour: 16.3051, -61.79581
Detective's beach: Anse de la Perle 16.34044, -61.7793
Botanic Gardens: 16.29935, -61.798
Langley Fort Royal Hotel 16.34707, -61.77613
Zoo de Guadeloupe au Parc Des Mamelles: 16.17921, -61.75114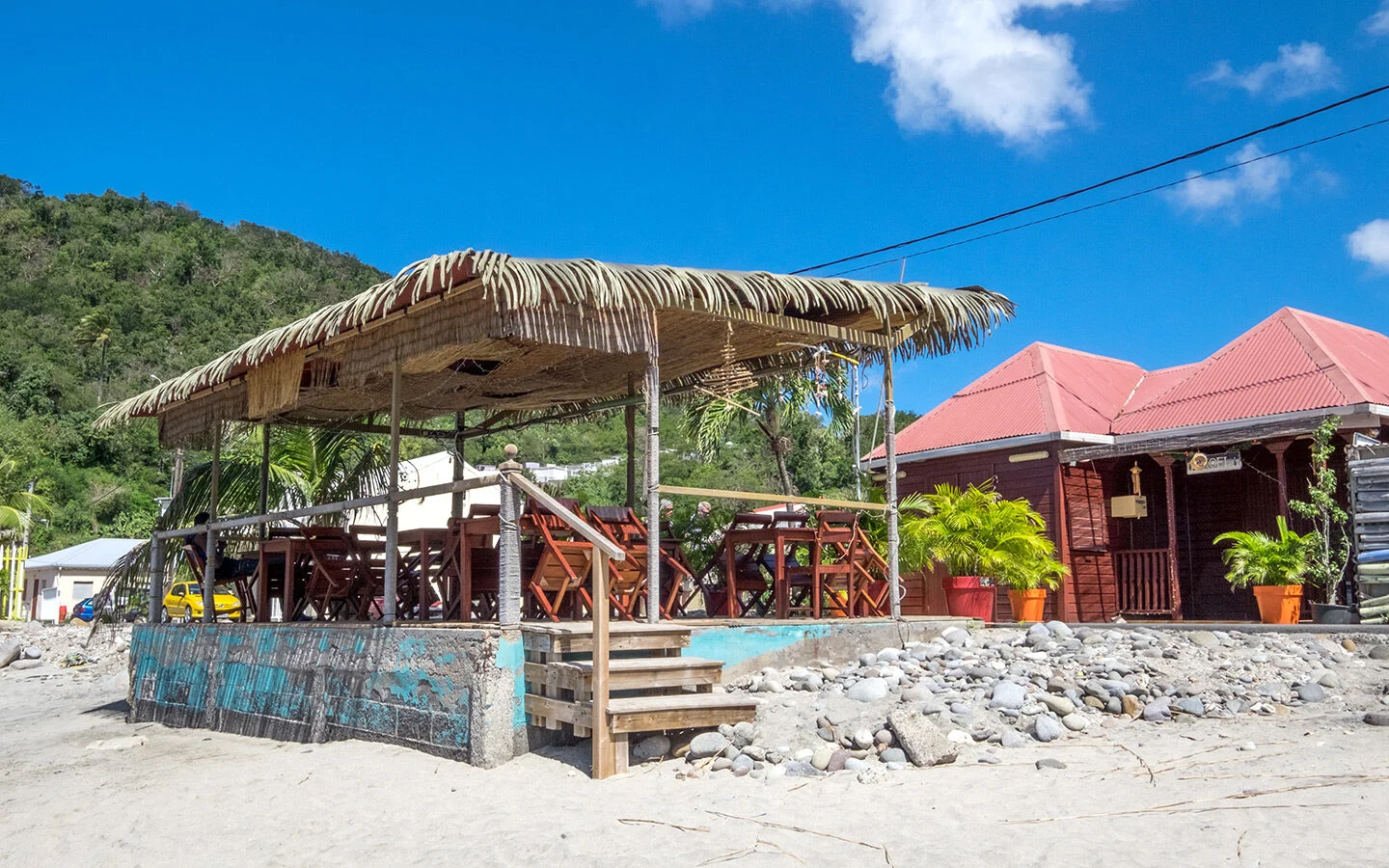 Save for later
You might also like